The NFL Goes Trick-or-Treating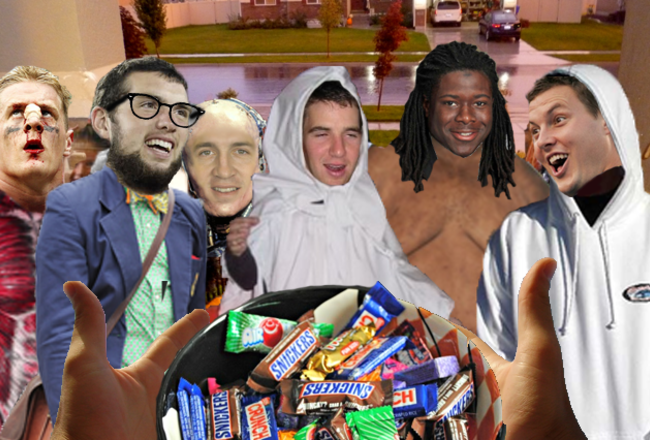 Collin McCollough
You probably haven't given much thought as to what Jerry Jones, Andrew Luck, Greg Schiano and Adrian Peterson are wearing as Halloween costumes this year.
But then, you probably have a "social life" and "friends" and "wear pants" in "public libraries."
Hey, why should kids get to have all the fun on Halloween, in their cute little bumblebee costumes. Or sorority girls in bumblebee costumes of the same size?
Why shouldn't the NFL get in on the fun as well? I mean, wouldn't you like to see Haloti Ngata in a child-sized bumblebee costume?
No. No, neither would I. So I did not include that.
But I did include more than a few scenarios that are sure to circumvent Supreme Court rulings and common decency bylaws. So put down the bag of candy corn (just kidding, no one intentionally eats more than three candy corn pieces before remembering that they're eating candy corn) and read on to see what costumes your favorite NFL personalities have picked out this year, boys and girls!
Peyton Manning as "RoboCop"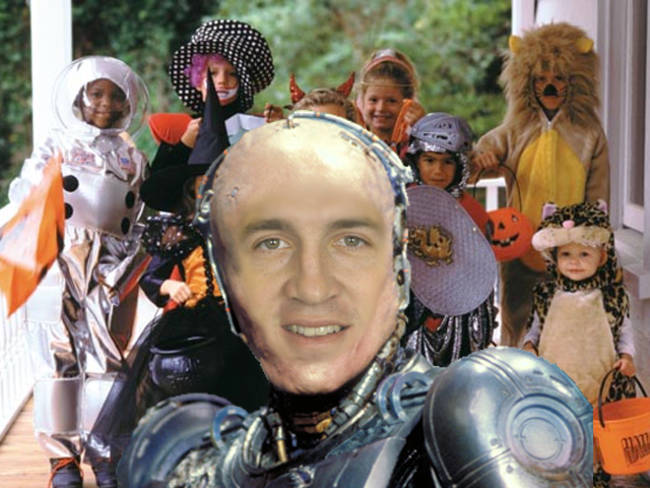 Collin McCollough
It makes perfect sense, right?
Rebuilt after catastrophic injury with titanium fusion to spine. Onboard computer that calculates cold-blooded logic. Ascension from hospital bed to Honolulu. Forehead large enough to disrupt air travel in Northern Europe for several weeks.
You can just see Peyton Manning pointing out Josh Wilson in man coverage right now: "your move, creep!"
RoboManning would be the worst kind of trick-or-treater, though. Even worse than Philip Rivers, and that's saying something.
First, you have to imagine his cold-hearted "trick or treat" greeting would ring with all the enthusiasm of Bob Dole making a timeshare pitch in an Amish furniture market. Peyton means business.
Beyond that, though, you know Peyton would never settle on the first piece of candy he spies in your bowl. No. The process would turn into an hour-long Socratic seminar.
"Twix. No, check, check. Reese Cup, Reese Cup," he would command while sifting through cavity heaven, while frantically gesticulating the process of unwrapping a candy bar and somehow doing the Charleston at the same time.
That process could take hours. I only imagine it's ended as midnight approaches, cold weather approaches, and the sight of fog on his breath sends Peyton home early.
Eli Manning as "Whatever Archie Manning Wants Him to Be"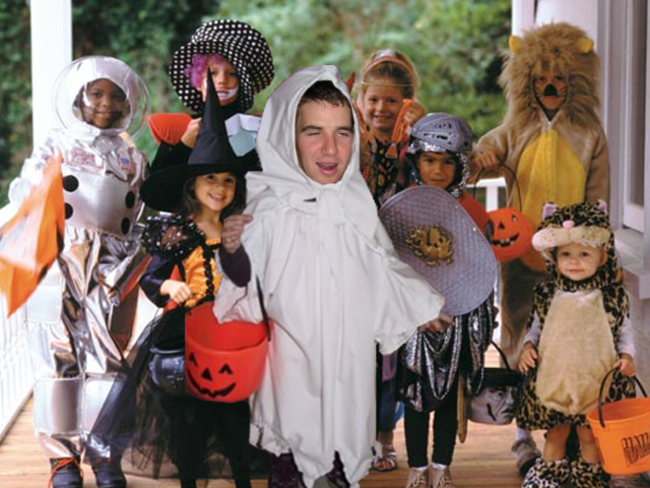 Collin McCollough
Does Eli Manning do anything without the tacit approval of Archie Manning's larger machinations? If Archie wants Eli to be a ghost, Eli is going to be a ghost, which only makes him slightly more visible than his level of play has actually allowed during this NFL season.
Rumor has it he wanted to go as brother Peyton, but with a 51-point deficit in compared passer rating, Archie would not approve. Presumably, Archie also did not let Eli get a Roy Orbison tattoo, eat rare steak or buy Grand Theft Auto V.
Of course, Eli doesn't actually want to dress up and go trick-or-treating. He's 32. It's embarrassing at this age! But Archie has the ultimate trump card—threatening to have him traded to the Jaguars alongside 52 David Wilsons—so Eli will be forced to comply, as always.
Andrew Luck as "A Hipster"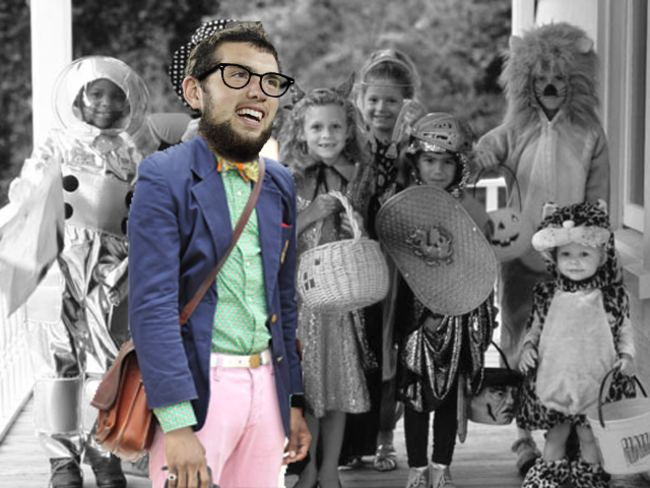 Collin McCollough
Neckbeard. Settlers of Catan enthusiast and Egyptian soccer fan. Retro technology. English folk rock connoisseur.
Yup. Andrew Luck is a hipster.
Imagine Luck stubbing out his American Spirit Perique-blend cigarette on your front porch whilst pausing his Walkman and tossing his scarf over his shoulder just so that you'll see his duds are clearly secondhand, reappropriated from discotheques past—so forcibly twee even Wes Anderson would ask him to tone it down a bit.
You wait for him to say "trick and treat." But he doesn't. Because that's conventional Halloween. So you just awkwardly offer the candy bowl.
"Um, do you want some candy?"
He scoffs and rolls his eyes behind frameless glasses.
"You still give out candy on Halloween?"
"Well, yes. That's generally how Halloween works."
"That's how Wal-Mart wants Halloween to work. I celebrated Halloween before Halloween was Halloween though."
"You celebrated Samhain? The pagan, Celtic celebration of the end of harvest season?"
Of course, because it's Andrew Luck, he answers with a Mensa-esque dissertation on why Samhain actually does have some Christian influences—using the word "vociferously" at least six times—and is not a purely pagan tradition, though he can't resist the urge to remind you that he was aware of Satan before he was underground.
Dumfounded, and unable to speak intelligently on Icelandic math rock, you ask him what he wants, if neither candy nor traditional Halloween offerings.
"Oh, do you have any PBR?"
Joe Flacco as "A Bank Robber"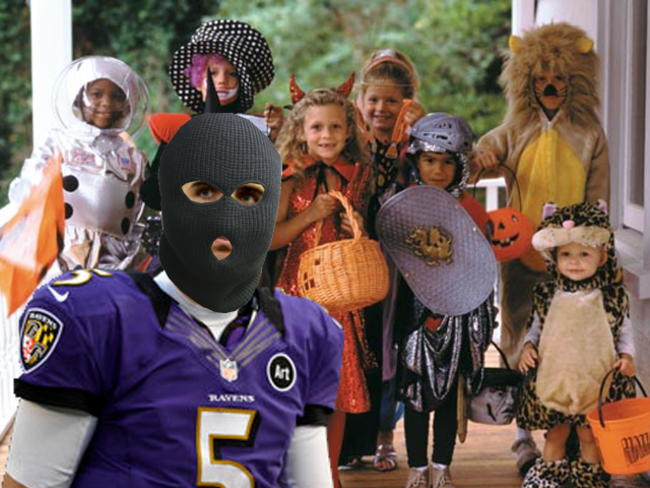 Collin McCollough
Joe Flacco signed off on a cool six-year, $120.6 million contract this offseason in much the same way John Dillinger signed off on a $52,000 withdrawal from the First National Bank of Mason City, Iowa, in 1934.
Flacco's numbers this year? 1,917 yards, eight touchdowns, eight interceptions with a 59.5 percent completion percentage. Yes, Flacco has less passing yards than Eli Manning, less touchdown passes than Alex Smith and Matt Schaub and a passer rating just above Mike Glennon's but below EJ Manuel's.
He's also thrown two interceptions and no touchdowns on passes longer than 20 yards downfield, just a year after tallying 11 touchdowns and zero interceptions on passes of the same distance, per Chad Parsons of Footballguys.
Yes, Flacco is a regular Clyde Barrow. It's just too bad for the Ravens that Bonnie Parker is calling San Francisco home these days.
Adrian Peterson as "Kid Embarrassed to Be Seen with His Parents"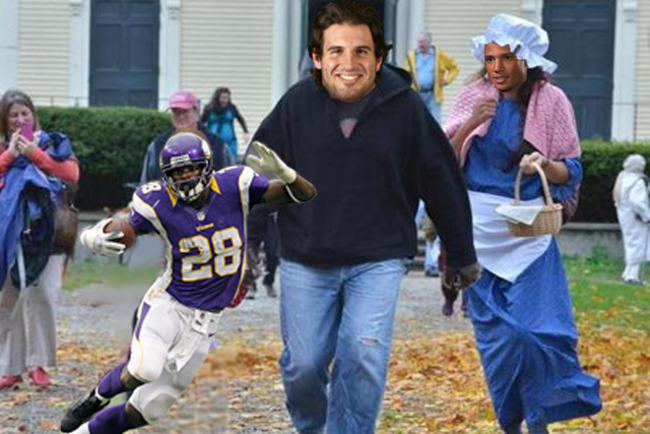 Collin McCollough
Poor Adrian Peterson.
He just wants his candy. He deserves it. But he's handcuffed to his parents all night, which means he's totally going to hear about it in gym class tomorrow. Matt Forte gets to go out by himself. Hell, even Ronnie Hillman doesn't have to hold anyone's hand, though he has a nasty habit of dropping his trick-or-treat bag.
But All Day? He has to brave the public eye with two people trying their damnedest to ensure no one ever invites him to sit at the cool kids' table ever again.
You can see the miserable look in his eyes as he shuffles up to your door.
"Trick or treat," he mumbles.
"Oh, he's so precious. Take a picture!" says Mom, a few feet to his rear.
"Honey, how do you do Instagram on this phone?" Dad asks.
"Wait, you put Instantgrams on that phone? But we don't have a data plan."
"Instagram isn't data, honey. It's pictures."
"But don't they charge you for pictures?"
"Not if you have the unlimited texter plan."
"Are you sure? Because I just renewed Netflix on the Visa. And it's either Netflix or Instantgrams cause we can't keep downloading all this data right before our Christmas shopping."
You take pity on the kid, and hand over the king-size Snickers you were hiding in the bottom of the bowl. He accepts it, recognizing it as the token of sympathy it is, and exchanges a knowing glance not entirely dissimilar to that of a butcher passing a steer in the slaughter queue, before quietly thanking you and returning to his cringe-inducing chaperones.
Eddie Lacy as "Fat Eddie Lacy"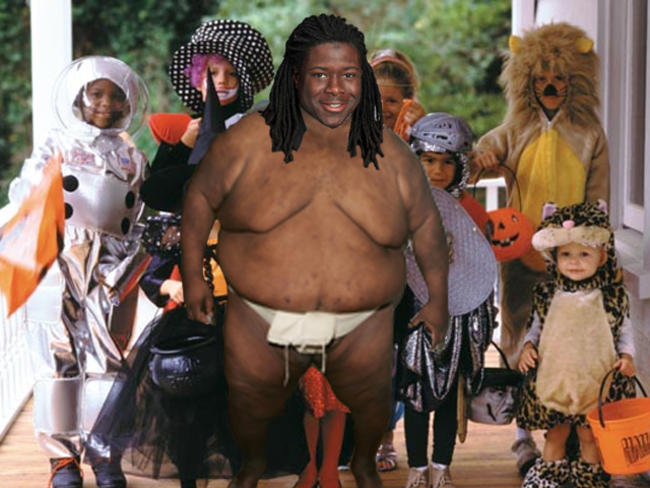 Collin McCollough
Joke's on us after all! Fat Eddie Lacy only trick-or-treats at awkward camera angles.
Jerry Jones as "Mom Pulling Kids from House to House on a Leash"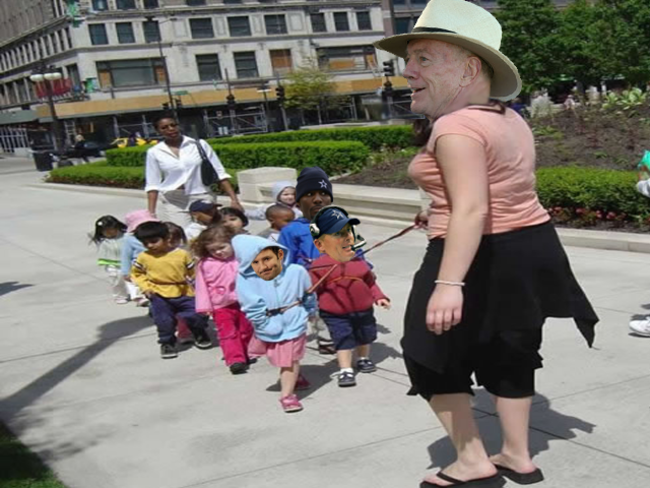 Collin McCollough
The only way Jerry Jones is getting the Cowboys through Halloween in one piece is through firm-handed use of a child leash.
No one is spared. Jason Garrett, Tony Romo, Dez Bryant. Sure, there will be awkward moments. Dez will slug Tony on the shoulder and steal his Butterfingers while he cries. Tony will tattle on Dez. Jerry will tell Tony to shut up, and encourage Dez to take another Butterfinger, because only winners get to eat Butterfingers. Jason will quietly look at his shuffling feet and try to avoid conflict at all costs.
But Jerry will get them through. He always does! Except in the playoffs. Or past a .500 record in the last three years.
Greg Schiano as "The Old Man Who Hates Halloween, Puppies and Orphans"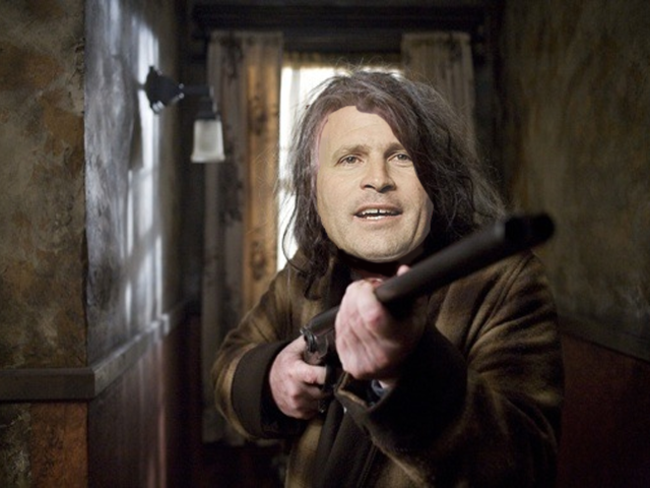 Collin McCollough
Every Halloween, we hope that Greg Schiano bites into a gourmet caramel apple and has a Ratatouille-esque recall of a childhood where fun was celebrated and medical information wasn't intentionally and maliciously leaked (allegedly).
But every Halloween, we get Old Man Kreeg, allergic to any and all holiday spirit and alleviating his symptoms one handle of Jim Beam at a time.
Want candy? Tough luck. Schiano only hands out shotgun shells, two barrels at a time. "Please take one" bowl? Sure, at the conclusion of a live minefield. Dared to work up the gall and ring his doorbell? Well, then, technically you're trespassing. And, you know, then we're back to the shotgun shells.
Matt Schaub and Brandon Weeden as "The Worst Costumes You'll See This Year"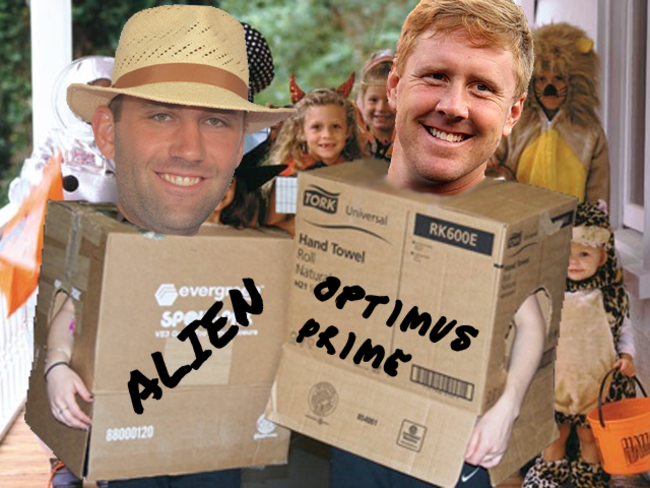 Collin McCollough
If Matt Schaub and Brandon Weeden trick-or-treat anything like they quarterback, I expect them to be beat up and have their candy stolen by a lot of 9-year-olds!
Philip Rivers as "The 14-Year-Old Who Doesn't Dress Up, Takes All the Candy"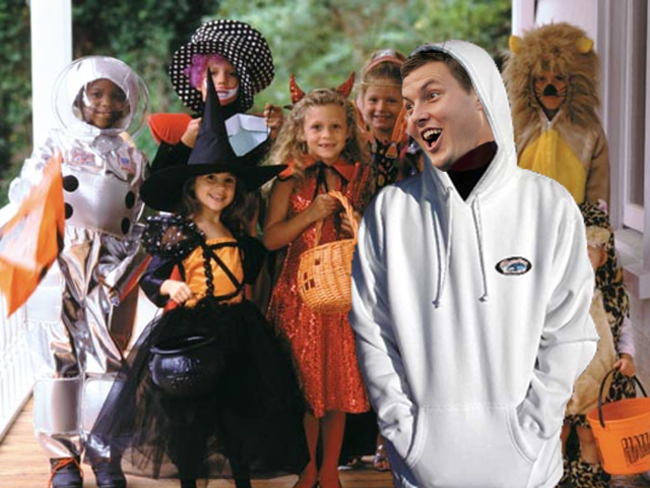 Collin McCollough
Philip Rivers is way too old to still be trick-or-treating, but he shows up at your doorstep anyway.
"And what are you supposed to be?" you ask.
"A conehead. You got any king-size bars?"
As he holds out his bag, you can see no less than three popcorn bowls with a "please take one" sticker still attached to the exterior.
"Aren't you a little old to be trick-or-treating?"
"Aren't you a little old to be having that face?"
"I'm confused. Your tone suggests an insult. Your sentence structure suggests my age is greater than my youthful face reveals."
"Whatever. You got candy or not?"
"I have fun-size Three Musketeers."
"Three Musketeers suck. But whatever, give me, like, 10."
"I'll give you two if you leave this planet and never come back."
"Whatever. You're poor, and your house looks like the Weasley's anyway," he shrugs, reaching into the bowl and grabbing a handful.
Yes, Philip Rivers is the reason people put razor blades in candy apples.
Philip Rivers as "The Kid Who Smashes All Your Pumpkins"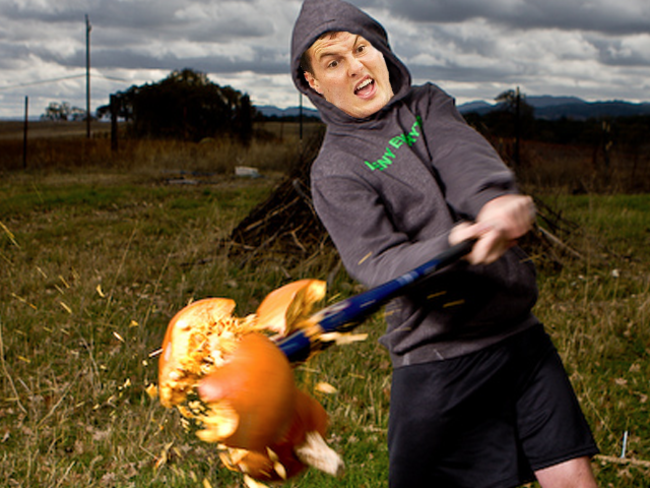 Collin McCollough
Of course, as he descends your porch and begins to exit your yard, Philip Rivers can't escape the temptation to smash all of your pumpkins as well.
J.J. Watt as "The Really Gross and Gory Kid"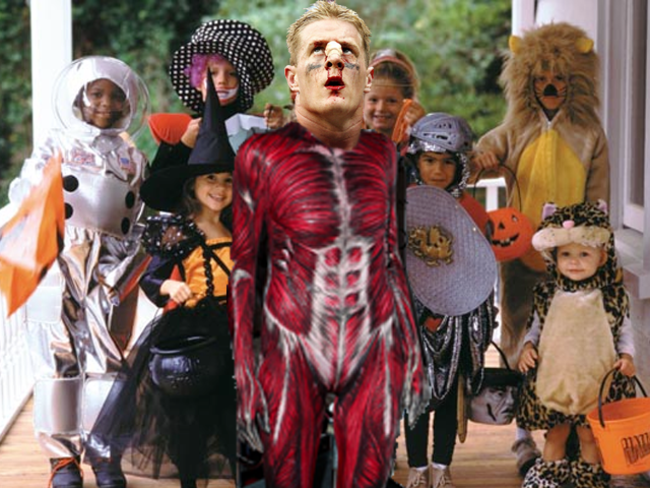 Collin McCollough
J.J. Watt is just gross.
You open the door at the sound of a knock and instantly recoil in horror. After a night of ghosts and princesses and Spidermen and bumblebees, he shows up, the weird kid with enough stage blood to make Eli Roth blush. You know the only reason his left eye isn't dangling from his optic nerve is because he ran out of time while making sure his skin was peeled just right.
He doesn't say "trick or treat". He doesn't say anything. He just looms and drips as you ponder your new TiVo password.
"Uh...hey kid...nice...yeah. Have some candy," you insist, as if Skittles have assumed substitution for spring lamb in a new-age Passover ritual.
He slowly reaches for the bowl and seeks out the package of Smarties everyone else has intentionally ignored, never breaking eye contact with you for the duration, while you wonder how many more houses he plans to hit before he returns home to Haddonfield.
As if exchanging money for hostages, he backs away slowly, sliding the Smarties in his pocket. You nod, eschew a goodbye as the tidal wave of discomfort washes over you, close and triple-lock the door behind you. Just in case.
Rex Ryan and John Idzik as "Zapp Brannigan and Kif Kroker"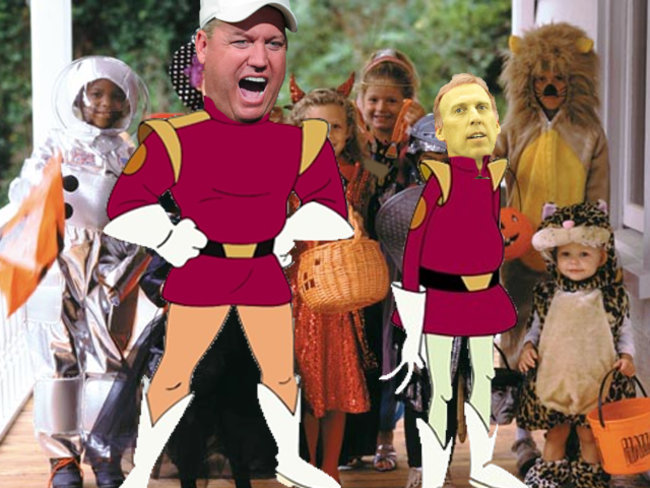 Collin McCollough
You can hear the sigh in John Idzik's voice every time Rex Ryan opens his mouth. Why change that dynamic for Halloween? It's a perfect buddy comedy that will only improve as the Jets lose more games by 40-point margins!
Okay, sexlexia and foot fetish aside, Rex is actually captaining his team like a true 25-star general this year, taking them further than most projected at the season's midway mark. Maybe he deserves a little more Halloween love than being reduced to an arrogant cartoon character who makes his intellectual superiors' eyes roll back further than Walmart prices after the Y2K bug.
But it's Rex. His charisma and ego demand it.
Blaine Gabbert and Chad Henne as "The Human Centipede"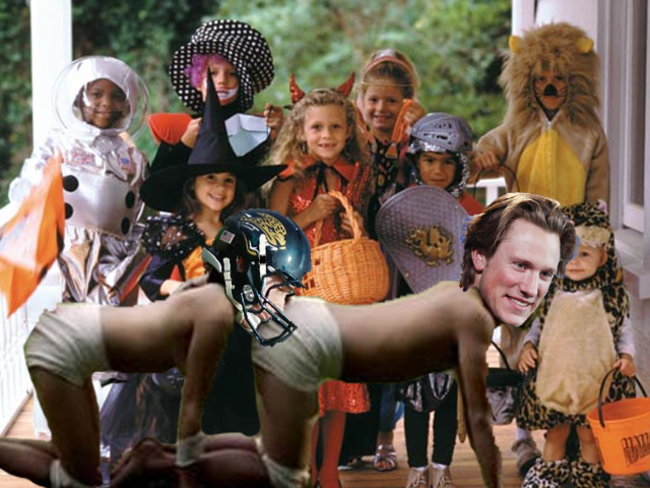 Collin McCollough
"Congratulations on winning the starting QB gig, bro!" Blaine Gabbert exclaims, genuinely happy for Chad Henne, and totally oblivious to the notion that winning the Jaguars' starting QB gig this season is the surest way to ensure everybody loses.
"WhythankyouBlaine," Chad Henne mumbles through the stitching.
"Yup. I guess my job here is done. You know what that means," Gabbert exclaims, kicking his feet up on an Ottoman drenched in cat urine and Cheeto dust, "Real American burrito time!"
The resulting scream can be heard all the way from Louisville, Kentucky.
Calvin Johnson as "Every DB's Worst Nightmare"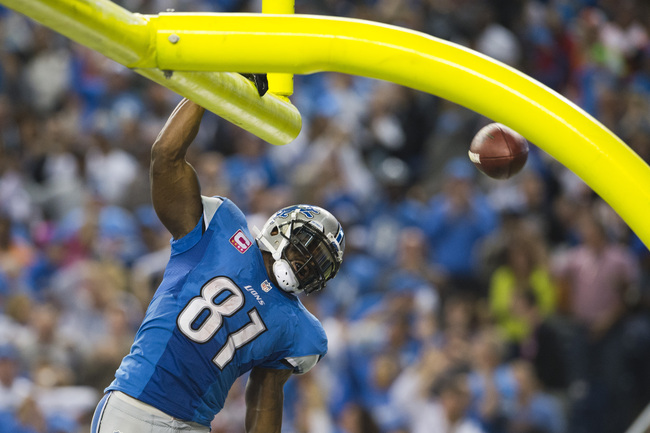 I mean, why the hell would Calvin Johnson need to wear a costume on Halloween? There is nothing out there scarier than Calvin Johnson.
Keep Reading