It's Safe to Believe in 49ers Again as Colin Kaepernick Hits High Gear
October 21, 2013

Wesley Hitt/Getty Images
By no means was this the case for everybody, but there were some fans and media members alike who lost confidence in the San Francisco 49ers after they started the season 1-2. These people not only lost faith in the team as a whole, but more specifically in third-year quarterback Colin Kaepernick.
Many felt he could no longer be effective without a deep arsenal of pass-catching targets.
Yes, wide receivers Michael Crabtree and Mario Manningham both played a pivotal role in his development as a starter last year, but it's not like he didn't have any weapons left. 
Kaepernick still had Pro Bowl tight end Vernon Davis and Pro Bowl wide receiver Anquan Boldin starting on a weekly basis. During the 49ers' current four-game win streak, it became evident that San Francisco's early-season problems had less to do with the passing game and more to do with its ground attack. 
It's not like the Niners' backfield or offensive line magically regressed from 2012 to 2013. The offense's struggles at the onset came down to play-calling.
Over the course of the first three games of the season, offensive coordinator Greg Roman called 94 pass plays and 77 run plays. This meant that 55 percent of his play calls were passes and 45 percent were runs.

Cary Edmondson-USA TODAY Sports
Since the team's Week 3 loss to the Indianapolis Colts, Roman has gone back to his bread and butter—the run game.
Against the St. Louis Rams, Houston Texans, Arizona Cardinals and Tennessee Titans, Roman has called 88 pass plays and 155 run plays. Those numbers average out to 22 designed pass plays and 39 runs per contest. That's an incredible ratio that has indeed favored the 49ers during their win streak.
Even though it took Roman two consecutive losses to revert to his old plan of attack, it's safe to say the losing streak sparked a fire that San Francisco has benefited from.
Moreover, the run-heavy game plan has not only helped take pressure off Kaepernick's shoulders, but it has helped Kaep steadily improve week in and week out. 
In fact, his performance on the road in Tennessee on Sunday was his best of the season.
No, I'm not talking about his best statistical performance of the season. I'm talking about the way he protected the football, took command of the offense and converted key third-down opportunities. The 49ers offense converted eight third-down tries on 16 attempts and scored three touchdowns on three trips to the red zone.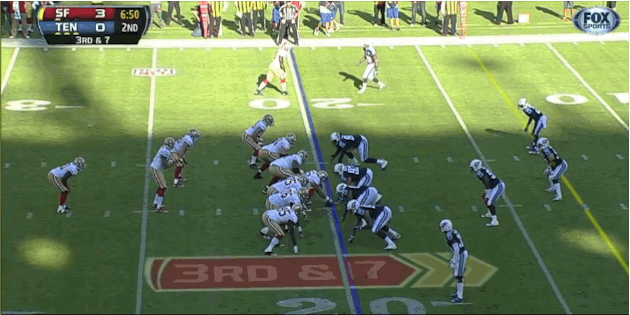 Additionally, Roman's play-calling took advantage of short-yardage situations by unleashing Kaepernick's ability as a runner. Kaep rushed 11 times for 68 yards and found the end zone in the process. The majority of San Francisco's run calls were out of 21 and 22 personnel.
By my unofficial count, the 49ers ran 21 personnel 28 percent of the time and 22 personnel 48 percent of the time. That translates to a lot of tight sets that favor looks from under center featuring multiple tight ends and running backs.
As a result of the successful run plays out of the heavy personnel packages, the play-action pass was there to be had all game long. Kaepernick thrived because of it.
When the clock struck zero, he posted a QBR of 99 and passed for 199 yards on 13 completions.
According to ESPN Stats and Info, his QBR on Sunday is the best any quarterback has posted this season. When you take the time to think about it, that's pretty amazing, considering Peyton Manning has been shredding a different defense every week.
With nine games left to play in the season, there's no question Kaepernick and Co. are sitting pretty. The tough part of their schedule is over and they have four home games remaining.
Furthermore, only two teams on their remaining schedule have records above .500 (the New Orleans Saints and Seattle Seahawks).
Pundits have been quick to crown the Seahawks as NFC West favorites, but there's a lot of football left and the Niners only trail in the division by one measly game. Despite the lackadaisical start to the season in all three phases, this team has finally hit its high gear seven games in.
Don't look now, but the 49ers are starting to resemble the team they were in 2012, when they made a convincing Super Bowl run.