Ranking the Indianapolis Colts' 10 Biggest Developments in Season's First Half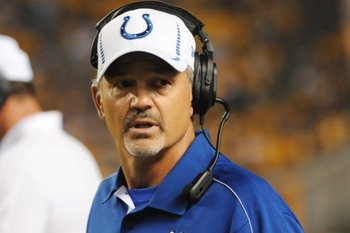 Photo via Associated Press
The Indianapolis Colts are continuing to build on their solid 2012 season, posting a 4-2 record through the first six weeks of 2013.
Whether it is the continued development of second-year quarterback Andrew Luck, finding the perfect running back for their scheme or the continued production of key veterans, the Colts are finding ways to win tough games.
Here are 10 biggest developments through the first six games of the year.
10. The Offensive Line Is Continuing to Develop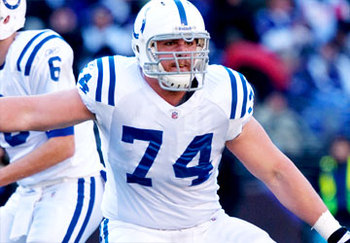 Photo via Colts.com
The Colts' offensive line has been problematic in the past few seasons.
After experimenting with multiple lineups and losing starting guard Donald Thomas for the season due to an injury, it appears that coach Chuck Pagano and company have finally found their best five linemen in Anthony Castonzo, Hugh Thornton, Samson Satele, Mike McGlynn and Gosder Cherilus.
The year started off rough, but they have improved in pass protection as the season has advanced. They have allowed 13 sacks, which ranks 19th in the league. Last season, they ranked 17th in the league after allowing 41 sacks. It's hard for a quarterback to be successful when he is getting hit on nearly every play, but Luck has found a way to do so.
Anthony Castonzo and Gosder Cherilus both look to be the long-term answers at the left and right tackle positions, respectively.
On the interior of the line, things are a little less solidified. Thornton is slowly improving, but he is making costly mistakes, perhaps none bigger than the one he made against the Chargers. After Trent Richardson dropped a screen pass on a second down in their own territory late in the fourth quarter, Thornton threw an illegal block at a Chargers player after the play ended. The penalty moved the Colts inside their own 10-yard line and would prove to be the final straw in their 19-9 loss.
Center Samson Satele has played decent, but I still don't see him being the Colts starting center after this season, especially with USC rookie Khaled Holmes developing.
Mike McGlynn continues to be the weak link of the offensive line for the second straight year after stepping in to replace Donald Thomas. If he continues his subpar play, the Colts could opt to insert Jeff Linkenbach into the right guard spot.
9. Jerrell Freeman Is Becoming a Defensive Building Block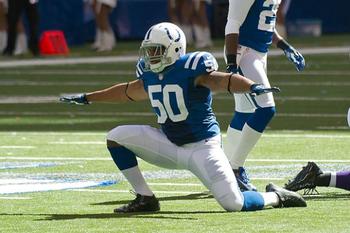 Image via Colts.com
When it comes to player development, there might not be a player who has become more important to the Colts than Jerrell Freeman.
Freeman was in the CFL until the Colts signed him last season, and he made an instant impact. Freeman had 90 total tackles last year with two sacks, one forced fumble and an interception.
This year, Freeman has 35 tackles (16 assisted), three sacks and two forced fumbles. The coaching staff is doing a fantastic job developing Freeman into one of the core members of the front seven.
At 27, Freeman could be a key member of the Colts for a long time.
8. Robert Mathis Is Still an Elite Pass Rusher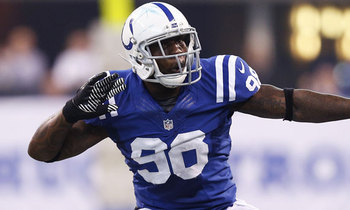 Photo via thescore.com
After switching from the strong side to the weak side, Robert Mathis has not experienced a dip in production. Actually, his numbers have elevated since the move.
With the loss of Dwight Freeney, Mathis became the Colts go-to pass rush specialist, and he hasn't disappointed. In 2012, Mathis finished the year with eight sacks. Through six games in 2013, Mathis has accumulated 9.5 sacks. Mathis is a huge reason as to why the Colts have been able to beat teams like the 49ers and Seahawks.
At 32, many thought Mathis was past his prime and slowly on his way out. Sitting just two sacks away from a career high, Mathis has the potential to continue to produce at this level for at least three more years.
7. The Colts Miss Dwayne Allen's Production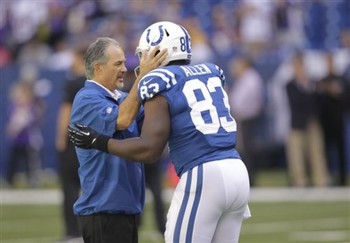 Photo via Associated Press
Going into the 2013 season, Dwayne Allen was being talked about as a guy who could emerge as a top-tier tight end. Unfortunately, Allen suffered a season ending hip injury in Week 1 against the Raiders.
Allen, the Clemson product who posted 45 receptions, 521 yards and three touchdowns as a rookie in 2012, got off to a solid start before the injury against Oakland. When Allen went down, he had one reception, a 20-yard touchdown pass from Andrew Luck.
Allen's absence has become a bigger issue than originally expected because of the subpar play of fellow second-year tight end Coby Fleener.
Fleener has nearly matched his production from last season with 17 receptions, 197 receiving yards and two touchdowns in 2013, but what doesn't necessarily show up on the stat sheet is what makes Fleener an underachiever thus far.
Against San Diego, the Colts were on a key drive in the last two minutes of the first half. The game was well within reach when Luck hit an open Fleener on what appeared to be a quick slant route. The ball hit Fleener in his hands and fell to the ground.
Just two plays later, Luck threw a very catchable ball to Fleener. Instead of securing the ball with two hands, Fleener attempted to extend one hand out and bring the pass in but dropped it.
If Fleener can minimize his drops, the Colts will be in good shape moving forward. If not, fans will have to wait until next year to have their best tight end back in action.
6. The Colts' Run Defense Is a Work in Progress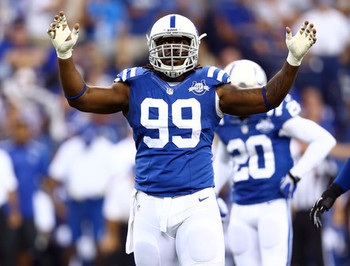 Photo via Zimbio
The Colts' pass defense has made a leap this season, ranking 10th in the league in opposing quarterback efficiency.
Their rush defense, however, remains a weakness. When it comes to stopping the run, the Colts rank 30th in the league. They are allowing 4.6 yards per carry and 132 rushing yards per game.
When they switched to the base 3-4 defense last season, it was expected that it would take some time for their players to adjust and to get the correct players for their scheme. Free agent additions such as Ricky Jean-Francois and Aubrayo Franklin haven't played as well as expected, which partially attributes to the early struggles. This offseason will be crucial in finding the right players to make their defense one of the best in the league.
In order for the Colts to be a true contender, they will need to fix this issue as soon as possible. For the Colts' sake, hopefully other players can step up and elevate the defense enough to make a deep playoff run.
5. Reggie Wayne Is Still One of the Best Receivers in the League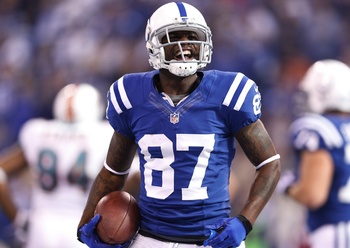 Photo via profootballroster.com
Reggie Wayne continues to find the fountain of youth.
At the age of 34, Wayne has posted the following numbers through six games in 2013: 33 receptions, 453 yards with three touchdowns while maintaining a 13.7 yards per catch average.
In addition, Wayne recorded reception number 1,000 of his career against the San Diego Chargers in Week 6.
Wayne's continued production is huge for the Colts. They don't really have another reliable receiver on the roster as Darrius Heyward-Bey and Coby Fleener both drop an above average amount of balls, and second-year slot receiver T.Y. Hilton has played well, but many expected him to have a much bigger impact this year.
The Colts will have to make a move for another alpha dog receiver soon, but having continued his production at a high level, it provides the Colts the luxury of filling other needs.
4. Trent Richardson Is the Perfect Fit for the Colts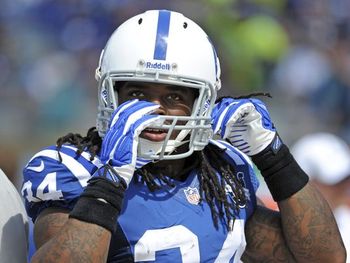 Photo via USA Today
Even if the Colts decide to become a more pass happy team, Richardson fits his role perfectly. His 3.1 yards per carry average isn't going to impress anyone, but Richardson isn't there to gain 100 yards a game.
When the Colts are in key short-yardage or goal-line situations, Richardson's bulky build and powerful running style provides him an almost unfair advantage.
Richardson still needs to improve his blocking, but that will improve as he becomes more familiar with his assignments.
Richardson, along with veteran Donald Brown, forms a formidable one-two punch for the Colts. Assuming Vick Ballard comes back at full speed next season, his addition will make the running back rotation lethal. Ballard's speed combined with Richardson's power will be very beneficial moving forward for the Colts.
3. The Colts Still Don't Have a Franchise Nose Tackle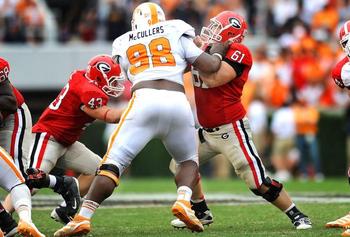 Photo via ESPN
The Colts are continuing to search for their franchise nose tackle.
Veteran free-agent addition Aubrayo Franklin has struggled to make an impact, and second-year man Josh Chapman has struggled to produce consistently, as well. Both Franklin and Chapman struggle to draw double teams, which is the most important trait seen in elite nose tackles.
The Colts will have to stick to this two-man rotation for the rest of the season, but it is never too early to look at possible solutions. There are plenty of guys available in the draft that could fill the void.
The Colts don't have a first-round pick because of the Trent Richardson trade, so prospects like Notre Dame's Louis Nix, Penn State's DeQuan Jones and Minnesota's Ra'Shede Hageman can be taken off of their board.
The Colts should consider Tennessee's Daniel McCullers or Cal's DeAndre Coleman, both of whom are late first to early second-round prospects. They might have to make a trade to acquire one of these players, but it will be well worth it in the long run.
2. Andrew Luck Is Becoming Elite Sooner Than Anticipated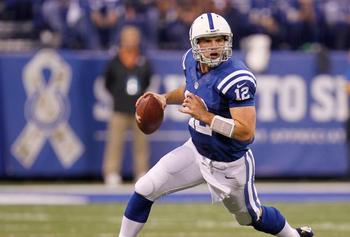 Photo via irishcentral.com
Everyone knew when Luck was coming into the league that he was going to be an elite player. What they didn't know was that Luck would elevate his play this quickly.
Luck's numbers don't jump off of the page, but his production is still above average six games through the season with 1,346 passing yards, seven touchdowns and three interceptions. His completion percentage is 61.8, which is much better than his 2012 mark of 54.1 percent. In addition, Luck's numbers on the ground are also impressive; Luck has rushed for 154 yards and two touchdowns while maintaining a 6.4 yards per carry average.
Luck's passing numbers aren't bad considering the Colts' offensive scheme is centered around pounding the ball inside.
Aside from Luck's on-field production, he is doing things that most seasoned veteran quarterbacks do. He is picking apart defenses before plays start, which is partially the reason his turnovers have decreased. Luck also goes through his progressions quickly and steps up in the pocket, even if he has a defensive lineman coming at him full speed.
According to teamranking.com, the Colts are passing the ball on just 54.6 percent of their plays. That is way too little when they have a player like Luck under center.
Luck's continued improvement is a very encouraging sign as the Colts attempt to make a second straight postseason appearance. In order for them to have a shot at another playoff appearance, however, offensive coordinator Pep Hamilton should consider airing the ball out on a more consistent basis.
1. Pep Hamilton's Power Run Offense Is Holding Andrew Luck Back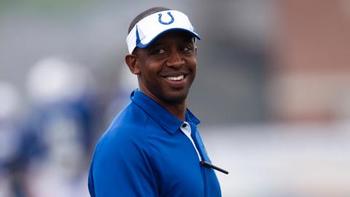 Photo via indystar.com
Perhaps the biggest development from the Colts' first six games of the season is in regards to their offense.
The power run offense was successful for years in the NFL, but it has seemingly become extinct because of the league's new player safeties rules and because the NFL has become a passing league.
Against the Chargers, there were multiple plays where the Colts would attempt a rush, only to gain around three yards.
With Andrew Luck leading the offense, offensive coordinator Pep Hamilton should start making adjustments in his play calling to play to Luck's strength.
It isn't that the power offense hasn't been moderately successful for the Colts, because it has been. The Colts rank 14th in the league with a 64 percent success rate when they run power run plays, which is eight percent less successful than they were last season.
They have only been stuffed on 14 percent of their power plays, which ranks third in the league. They are also getting to the second level at a higher rate than most teams, with an average of 1.24 yards, which is good enough to rank them seventh in the category.
Things get moderately shaky when Colts running backs get into the open field. Through six games, they are averaging .63 open field yards, which is 16th in the league.
With the moderate amount of success through their first six games of the year, it wouldn't be totally surprising to see the Colts choose to pass more as the season goes on, especially with the growing criticism the system has been getting league wide. Luck can put the team in situations to put up a lot of points very quickly; he just needs to be given the opportunity.
Keep Reading

Indianapolis Colts: Like this team?