The rebuilt and patched-up offensive line of the Green Bay Packers is currently enrolled in the NFL's most demanding version of on-the-job training.
By the time the Packers finish up with the Baltimore Ravens in Week 6 on Sunday, Green Bay's jelling offensive line will have faced five star-studded and scheme-varying defensive fronts to kick off this season.
Barring a catastrophe in Baltimore, a group pegged by many as the likeliest culprit for a offensive regression in Green Bay has so far performed above and beyond even the most optimistic expectations.
Remember, this is an offensive line that came into the season replacing a first-round left tackle, starting fresh at center and right tackle, and flipping its two starting guards. What could have been a disaster start while the group settled in has instead produced mostly encouraging results.
Now, the difficult matchups to start 2013 could actually pay off down the road.
In December and January, when the games increase in importance and the play of the offensive line becomes magnified, these early-season battles should serve as valuable learning points and confidence-builders.
Just consider the gauntlet of challenges thrown at the Packers' offensive line already this season.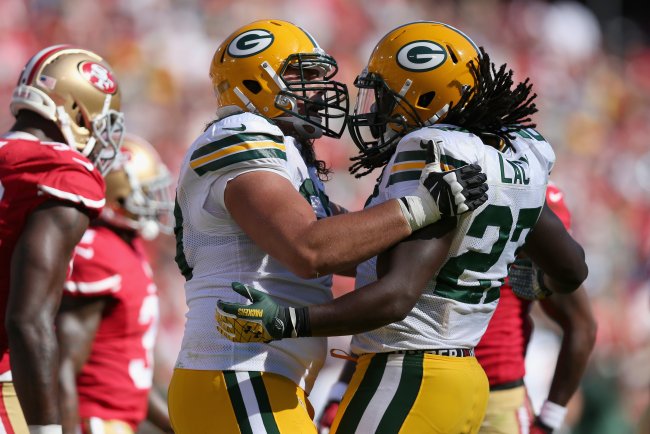 Jeff Gross/Getty Images
In Week 1, rookie left tackle David Bakhtiari made his first career NFL start against the 49ers' tandem of Aldon Smith, who has 38 sacks in 35 career games, and Justin Smith, who many consider one of the best 3-4 defensive ends in football.
On the right side, tackle Don Barclay went head-to-head with All-Pro Ahmad Brooks on nearly every snap.
What grade would you give the Packers' offensive line in 2013?
The following week, the Washington Redskins presented the challenge of Brian Orakpo and Ryan Kerrigan, an outside linebacker duo with eight sacks this season and 33 since 2011. While weak up the middle, Washington possesses the pair of pocket-collapsing edge-rushers that every 3-4 defense covets.
A Week 3 road trip brought Green Bay to Cincinnati, where the Bengals have invested roughly $47 million in 2013 salaries to the defensive line. All-Pro Geno Atkins remains the perfect blend of power and quickness on the interior, while defensive ends Michael Johnson and Carlos Dunlap combined for 17.5 sacks in 2012.
The Packers then came out of the bye last Sunday with a visit from the front four of the Detroit Lions. Few 4-3 defenses are better up front.
Ndamukong Suh (29 pressures) and Nick Fairley (nine) might represent the most disruptive defensive tackle combination in the NFL, and rookie Ziggy Ansah (15) is a raw but vastly talented rusher with speed and strength at defensive end.
According to Pro Football Focus (subscription required), all four of the defenses Green Bay has faced are in the top 12 in pass-rushing this season. And just look at some of the names that were listed above.
Smith, Orakpo, Atkins, Suh. These are legitimate pass-rushing stars, defenders who can change games and wreck plans.
Packers' Offensive Line in 2013

| | | |
| --- | --- | --- |
| | GB | NFL Rank |
| Sacks Allowed | 11 | 8th |
| Pass Blocking Efficiency | 82.0 | 7th |
| Rush Yards/Game | 141.0 | 5th |
| Yards Per Carry | 5.3 | 2nd |
Pro Football Focus
Yet the resilient Packers have allowed just 11 sacks and a sack percentage of 6.7 over four games. PFF has Green Bay as the seventh-best offensive line in pass-blocking efficiency (37 pressures over 169 passing plays) in 2013.
Even more shocking, the Packers are fifth in rushing yards per game (141.0) and second in yards per carry (5.3). In back-to-back games, Green Bay has rushed for over 180 yards.
What do those numbers mean? Guard T.J. Lang gave Bob McGinn of the Milwaukee Journal Sentinel his answer following a 22-9 win over the Lions.
"It says we're starting to jell as a unit," Lang said. "The biggest thing is for us to win one-on-one matchups, and today my first impression is we did that."
Lang and the Packers will be tested again Sunday.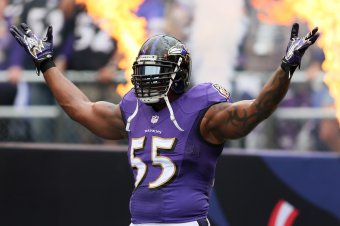 Rob Carr/Getty Images
Waiting in the wings are the Ravens, who bring Terrell Suggs (seven sacks in 2013) and Elvis Dumervil (three) off the edges and All-Pro Haloti Ngata up the middle of their hybrid 3-4 defense.
Baltimore is currently second in the NFL in sacks with 19, and Suggs is coming off a game in which he tallied three sacks of Miami Dolphins quarterback Ryan Tannehill. After getting torched by Peyton Manning in the season opener, the Ravens have turned up the heat on defense through the pass rush.
For Green Bay, the early trials along the offensive line continue.
In a perfect world, the Packers might have wanted a few cupcake defensive fronts to face early on. Two young tackles could have slowly gotten their feet wet and the interior of the line would have had time to settle in at new positions.
Instead, a trial by fire has been matched by promising results. In the process, this unit is gaining the confidence that it can handle whatever will be thrown its way later this season and into the playoffs.
The suddenly battle-tested Packers offensive line has already went round for round with a handful of the game's heavyweight fronts. These early bouts should prove critical as the wars in the trenches become more and more important.