The Seattle Seahawks may have just answered one of biggest questions they were going to be facing in this coming offseason. Rookie right tackle Michael Bowie has played well enough to now be in the long-term plans of the Seahawks.
Starting right tackle Breno Giacomini's contract expires at the end of the season, and he has been among the worst players at his position in the NFL over the last couple seasons according to Pro Football Focus (subscription required).
The Seahawks clearly need to find a long-term solution at the position, and Giacomini's knee injury in the early phases of this season has provided Bowie with an opportunity. Bowie has a chance to use this unexpected playing time to demonstrate that he deserves to be future at right tackle for the Seahawks.
Is Bowie making the most of this opportunity, or is he showing that he's not yet ready? To answer that question, let's examine his performance in Seattle's 34-28 defeat at the hands of the Indianapolis Colts.
Methodology
Every play was examined individually, and Bowie's blocks on that play are categorized as either a success or a failure. This distinction was made based on whether or not Bowie was able to sustain his block long enough to keep his defender from impacting the play.
Quarterback Russell Wilson's scrambles count as pass plays, since the offensive linemen are pass blocking on the play. Conversely, read-option plays and any other designed QB runs count as run plays.
General Observations
Bowie made a couple mistakes in blocking the wrong player and letting a defender run free. It is tempting to just call those plays "rookie mistakes," though it should also be noted that Bowie's more experienced teammates made more of those mistakes than he did.
Bowie has the lateral agility to beat the speed rush to the outside. The only times the defenders were able to get around the corner against him, they were forced so deep that they ran themselves completely out of the play.
The one major weakness that can be seen on the tape from this game is that Bowie doesn't always change directions well. When speed rushers would start outside and then spin back to the inside, Bowie occasionally struggled to stay in front of pass-rusher.
Another interesting note is that Bowie played better when he was on the edge of the line, without any help from a tight end. In the first half, Seattle rarely played a tight end on Bowie's side, and he was quite effective.
After halftime, the Colts tried to overload the right side of Seattle's line, and the Seahawks countered by moving the TE to that side to equalize the numbers. For Bowie, this hurt his overall productivity. When playing on the inside, Bowie occasionally seemed more tentative, as if he was unsure as to which defender he was supposed to be blocking.
First Quarter
First Quarter

| | | | |
| --- | --- | --- | --- |
| | Run | Pass | Total |
| Successful Blocks | 8 | 7 | 15 |
| Failed Blocks | 3 | 0 | 3 |
NFL Rewind
Bowie was incredibly solid in the first quarter. He didn't allow a single pressure on QB Wilson, and he was quite effective in run blocking.
Bowie did have three failed blocks in the running game, but two of the three were runs to the outside on the far side of the formation, so his defender still didn't end up a part of the play. Overall, Bowie's blocking only had a negative impact on one play in the entire quarter.
That one negative play could actually have gone into the success column had the grading criteria been slightly less strict.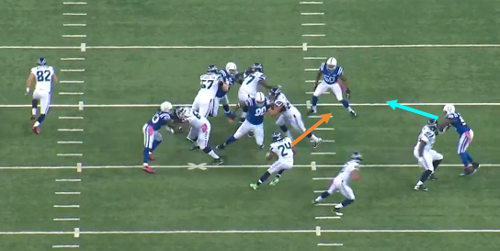 Bowie was in good position, but didn't engage the defender. When Seattle running back Marshawn Lynch cut back, the player Bowie was supposed to be blocking was able to turn back inside and make the tackle, but not until Lynch was already nine yards downfield.
This block graded as a failed block because Bowie didn't engage the defender and block him. Instead, he got in position and waited for the defender to come to him, and the defender never did. The play was a success, even though Bowie's block on this play was substandard.
Unfortunately, Bowie's solid blocking at right tackle on the rest of the plays in the first quarter didn't prevent Seattle's offense from having blocking problems at other positions. As you can see on this next play, Bowie (circled) had his man blocked, but both right guard J.R. Sweezy and center Lemuel Jeanpierre have been beaten.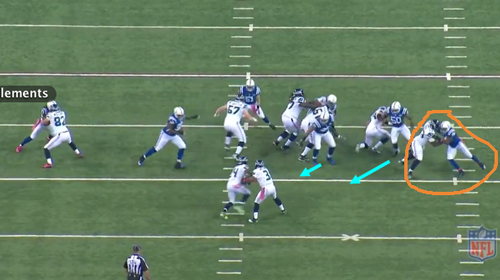 Second Quarter
Second Quarter

| | | | |
| --- | --- | --- | --- |
| | Run | Pass | Total |
| Successful Blocks | 9 | 12 | 21 |
| Failed Blocks | 0 | 3 | 3 |
NFL Rewind
In the second quarter, Bowie found his rhythm in the run game. He did a good job in both cut block and at the point of attack. The Seahawks had a lot of success running to Bowie's side of the field, and they weren't afraid to run behind the rookie.
Bowie made a couple of mistakes in this quarter that are easily correctable with experience and film study. On this play, Bowie and the tight end both moved to block the outside linebacker, but that left the inside player unblocked.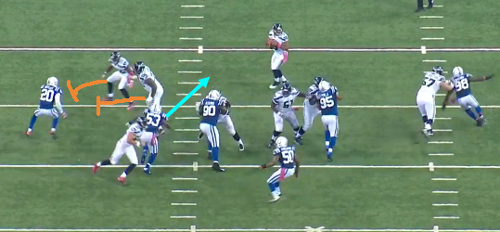 Before the play, Wilson made what appeared to be a protection change to account for the extra pass-rushers. Whether it was a mistake by Wilson, or Bowie making the wrong adjustment is unknown. Given the alignment, it was clearly Bowie who was supposed to block the inside player regardless of who's mistake it was.
There was another play in the second quarter that should get fans excited. Bowie initially double-teamed the defensive end with Sweezy.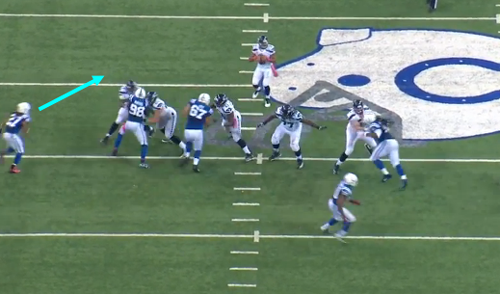 The outside linebacker came on a delayed blitz, and Bowie was able to peel off the double team and pick up the blitz.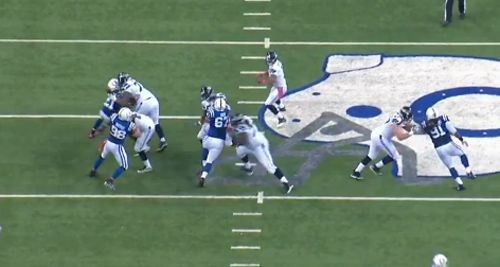 That shows an uncommon awareness, especially for such a young player. Very few players can keep their eyes actively looking for defenders once they are engaged in a block. Even fewer can peel off of a block and pick up a speedy blitzer that effectively.
Third Quarter
Third Quarter

| | | | |
| --- | --- | --- | --- |
| | Run | Pass | Total |
| Successful Blocks | 5 | 10 | 15 |
| Failed Blocks | 1 | 4 | 5 |
NFL Rewind
After what was a overall a good first half for Bowie, the third quarter was a little more rough. This was especially true on the team's first drive, when Bowie completely missed on his blocks on two consecutive plays.
The biggest problem was that the Colts defenders found a weakness they could exploit. They'd start out making a move to the outside, and then cut back into the inside once Bowie got his feet moving.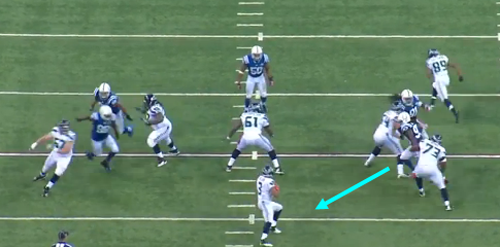 It didn't work every time, but it was successful enough for the Colts to continue to try that strategy repeatedly throughout the second half. When combined with a spin move, this technique caused Bowie a lot of problems.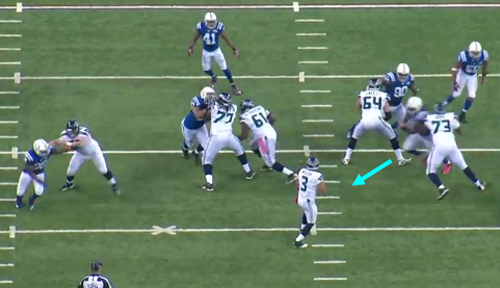 Bowie eventually adapted, but not until well into Seattle's second drive of the quarter.
Fourth Quarter
Fourth Quarter

| | | | |
| --- | --- | --- | --- |
| | Run | Pass | Total |
| Successful Blocks | 2 | 6 | 8 |
| Failed Blocks | 0 | 1 | 1 |
NFL Rewind
The Seahawks ran very few plays in the fourth quarter. The Colts were able to hang onto the ball, and the Seahawks struggled to sustain either of their drives in the period.
Bowie's play in the fourth quarter was not the cause of the offensive struggles for the Seahawks. He rebounded after a rough third quarter and played very well in the fourth.
He was successful in all of his blocks but one, and that play didn't count. The play was blown dead because of a delay-of-game penalty, but not before Bowie had been beaten by another spin move.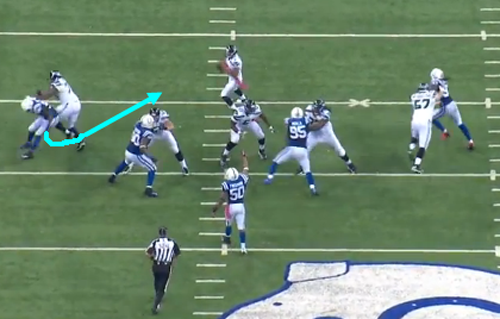 Overall Evaluation
Bowie made mistakes in this game, but he was still clearly the best offensive lineman on the field for the Seahawks last Sunday. His mistakes are also the type of mistakes that can be fixed with experience and coaching.
Bowie was never driven backwards into the pocket or just cast aside by defenders like other Seattle offensive linemen were. His play was solid, both from a technical and physical standpoint.
As long as Bowie continues to build on the early success he has had this season, the Seahawks clearly have found a potential long-term solution at right tackle.
Whether or not Bowie will have done enough to continue to play even after Giacomini is healthy again this season is a question that only head coach Pete Carroll and offensive line Coach Tom Cable can answer.