The Indianapolis Colts continued to impress in Week 5, defeating the Seattle Seahawks, 34-28, for their third straight impressive win.
At 4-1, the Colts are legitimate favorites not only to win the AFC South, but to win the AFC championship as well. While Denver is still the odds-on favorite to reach the Super Bowl in the AFC, the remainder of the conference playoff spots are up for grabs.
Indianapolis made a statement against Seattle and will continue to prove just how good it is over the next three weeks with games against San Diego, Denver and Houston.
Colts quarterback Andrew Luck and the defense have impressed over the past three weeks and have powered Indy through its impressive stretch. Head coach Chuck Pagano and offensive coordinator Pep Hamilton have imprinted the team with their brand of physicality on both sides of the ball, but the real reason behind the Colts' success has been clutch play. Pagano's team ranks among the top five in the NFL on both sides of the ball in third down conversions.
If the Colts continue to play this way, they'll be Super Bowl contenders in general manager Ryan Grigson's second year in Indianapolis, which would be a tremendous feat. But before the Colts get to face the Broncos—the consensus No. 1 team in the AFC—in Week 7, they must travel to San Diego next Monday night.
Division Standings
AFC South Standings

| | | | |
| --- | --- | --- | --- |
| Team | Wins | Losses | Point Differential |
| Indianapolis | 4 | 1 | +60 |
| Tennessee | 3 | 2 | +20 |
| Houston | 2 | 3 | -46 |
| Jacksonville | 0 | 5 | -112 |
ESPN.com
The AFC South is upside down after five weeks and Indianapolis is back in the driver's seat for the first time since Peyton Manning was in town.
The rest of the AFC South is not amused.
Well, that was a fun two years of not having to worry about the Colts in the AFC South. That's over. #foaud

— Rivers McCown (@FO_RiversMcCown) October 6, 2013
Tennessee fell back to earth this week with a loss to the still-undefeated Kansas City Chiefs. The Titans' defense did a decent job of stalling Alex Smith and the Chiefs offense, but Ryan Fitzpatrick and Chris Johnson couldn't sustain any success. The Titans will be better once Jake Locker returns under center, but they are at risk of spotting the Colts a few games if Fitzpatrick doesn't play better.
Houston, on the other hand, looks completely lost. The Texans' two wins over San Diego and Tennessee required comebacks and were lackluster. They've been blown out by Baltimore and San Francisco on the road and blew a 20-point lead against Seattle in Week 4. Houston's defense is talented, but Matt Schaub and the offense are a complete mess.
As for Jacksonville, fans have simply stopped caring at this point.
Not gonna let Henne screw up this tank job breh. RT @JohnOehser: Bradley says Gabbert will remain starter if healthy.

— Eric Stoner (@ECStoner) October 6, 2013
The Colts are the favorites in the AFC South, and for good reason. If they win in Houston in a few weeks, they will be well on their way to reclaiming the division.
Injury Report
Week 6 Injury Report

| | | | |
| --- | --- | --- | --- |
| Player | Position | Injury | Status |
| Bjoern Werner | OLB | Foot | Out |
| Stanley Havili | FB | Ankle | Questionable |
| Ahmad Bradshaw | RB | Neck | Doubtful |
| Ricky Jean Francois | DL | Groin | Questionable |
| LaRon Landry | S | Ankle | Questionable |
Yahoo! Sports
The Colts may get a few key players back this week, including safety LaRon Landry, defensive lineman Ricky Jean Francois and fullback Stanley Havili.
Landry's presence was missed against the Seahawks, as Howell missed a couple tackles and Seattle's running game was unstoppable for most of the contest. Howell is a versatile backup, but Landry's physical presence brings something extra to the Colts' defense.
The return of Jean Francois is expected after the Colts cut defensive lineman Lawrence Guy on Monday. Guy was brought in after Francois' injury and played well, but the Colts must be confident in their other linemen. So far this season, Guy has a higher grade from Pro Football Focus (subscription required) than any Colts defender other than Robert Mathis and Cory Redding—and Guy has only played in two games.
What Needs to Improve
A few weeks ago, the Colts had serious issues after halftime.
For whatever reason, they struggled to put things together offensively for Pagano's first seven games on the sideline. As I noted a few weeks ago, the Colts failed to score more than seven offensive points in each of those first seven games.
Well, it looks like that trend is over.
In the three weeks since, the Colts have scored 17 points in the second half of each game, outscoring their opponents, 51-9, in the three games.
Luck has been especially sharp, going 24-of-33 passing (72.7 percent) for 299 yards (9.1 YPA) and three touchdowns (130.7 passer rating). It hasn't been a huge schematic difference (although the decision to go to the no-huddle on Sunday sparked the Colts), but rather more focus and better execution.
Things aren't all rosy in Indianapolis, however. Now that the Colts are clicking in the second half of games, they need to work on their first halves.
The Colts have started slow in each of the past three games, especially on offense. The team fell behind Seattle, 12-0, before rallying to come back. Against San Francisco, the Colts scored just seven points before the fourth quarter, and in Jacksonville, they trailed, 3-0, after the first quarter.
The Colts simply made a few poor mistakes in their passing game against Seattle. Luck missed two throws during the Colts' three three-and-outs to start the game, like this out pattern to Trent Richardson.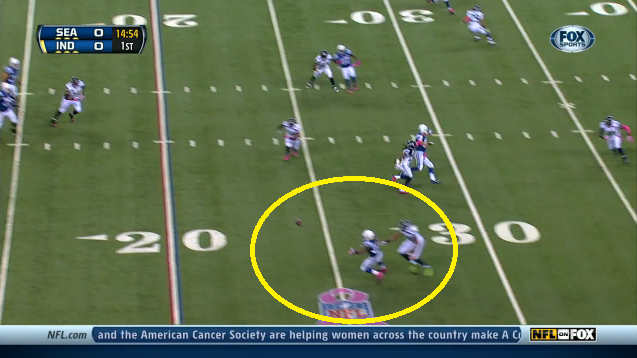 When Luck did throw accurately, his receivers didn't help him out, dropping three passes on third down.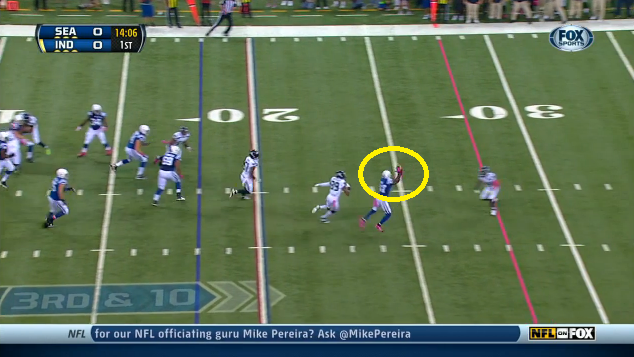 First it was Reggie Wayne and then T.Y. Hilton.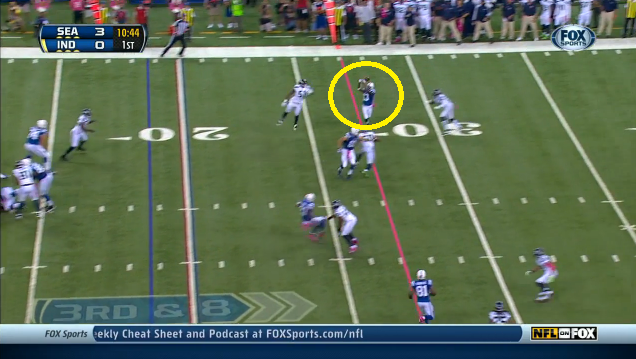 And then Wayne again.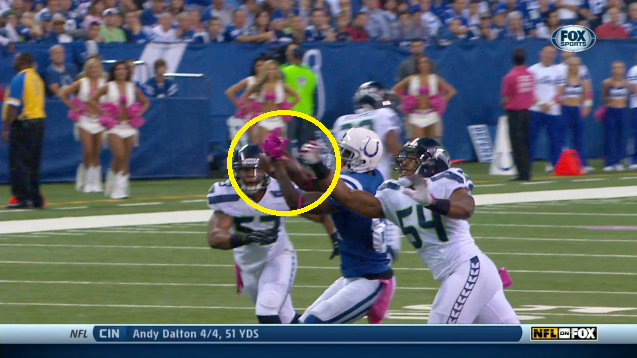 Those mistakes went away as the game wore on, but they killed the Colts early. If Indianapolis can limit those kinds of mistakes early and play a complete game, they'll be able to hang with anybody—even the team led by that "other" quarterback in the AFC West.