Last week, the Indianapolis Colts were coming off a win over the Oakland Raiders, but moods were subdued due to the small margin of victory over a lesser team. Now, however, panic has begun to set in in Indianapolis after their recent 24-20 loss to the Miami Dolphins.
There continues to be problems with the Colts' overall level of talent as well as some of the team's philosophies. The Colts desperately want to stop the run and run the ball, but passing is key in today's NFL.
There is a lack of talent at key positions that are critical to the type of scheme that the Colts want to run. Pep Hamilton and Chuck Pagano want to be able to run the ball, but the Colts offensive line and running backs are average at best.
Positives can certainly be found, but it was a disappointing loss for a team that is shooting for a playoff spot.
Division Standings
AFC South Standings

| | | | |
| --- | --- | --- | --- |
| Team | Wins | Losses | Point Differential |
| Houston Texans | 2 | 0 | +9 |
| Tennessee Titans | 1 | 1 | +1 |
| Indianapolis Colts | 1 | 1 | 0 |
| Jacksonville Jaguars | 0 | 2 | -36 |
NFL.com
The Tennessee Titans once again played a surprisingly good game this week, but this time couldn't overcome the Houston Texans' rookie receiver DeAndre Hopkins. Hopkins had 117 yards on seven receptions, including the game-winning touchdown pass. The Titans offense struggled to move the ball, but was able to put up points thanks to turnovers. Unfortunately for Tennessee, it wasn't enough against a superior Houston team.
Jacksonville continues to depress Florida residents, losing to the Raiders 19-9. The Jaguars offense was particularly putrid, as Chad Henne averaged just 6.5 yards per attempt and Maurice Jones-Drew was held to 27 yards on 10 carries.
Nobody in the division, including the Texans, has pulled ahead as a dominant team, but the Colts will need to play better if they wish to seriously challenge for the AFC South title.
Injury Report
Week 3 Injury Report

| | | | |
| --- | --- | --- | --- |
| Player | Position | Injury | Status |
| Dwayne Allen | TE | Hip | Day-to-Day |
| Darrius Heyward-Bey | WR | Shoulder | Probable |
| David Reed | WR/KR | Head | Questionable |
| Kavell Conner | ILB | Ankle | Questionable |
| Vick Ballard | RB | Knee | Out (IR) |
| Donald Thomas | LG | Quad | Out (IR) |
Per Indianapolis Colts' coaches and Colts.com
Another couple of devastating injuries this week as the Colts lost starting RB Vick Ballard and LG Donald Thomas for the season. Ballard tore his ACL earlier in the week, and Thomas tore his quad in the first half against Miami.
The Colts' depth at running back should be able to offset losing Ballard, with Ahmad Bradshaw and Donald Brown both running for 4.3 yards per carry and a success rate of at least 50 percent on Sunday. The one area that may be most impacted is pass protection. Ballard looked much improved in blitz pickup against the Raiders in Week 1, and the Colts hoped he could be their every-down back.
Thomas is a much more concerning injury. Not only is it the sixth-year lineman's second time missing 15 games on the injured reserve list, but the Colts simply don't have the depth to offset his absence. The interior line is already lacking with Mike McGlynn and Samson Satele struggling. Rookie guard Hugh Thornton has potential, but he's a rookie (and was supposed to take over for McGlynn at some point).
If the Colts can get Dwayne Allen back this week, it will be a big boost to their offense. Allen's flexibility allows the Colts to do a lot of different things that TE/FB Dominique Jones simply can't do.
Darrius Heyward-Bey's injury was minor, and he should return to practice by Wednesday, said head coach Chuck Pagano on Monday night.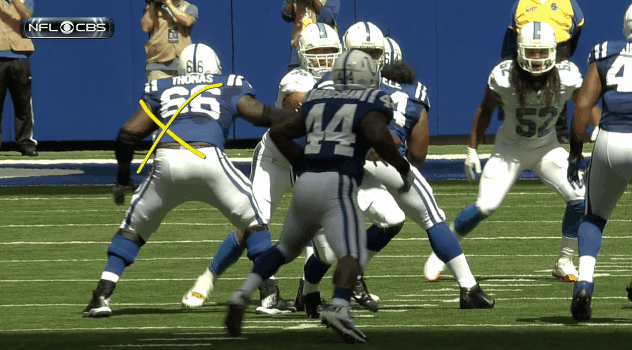 What Needs to Improve
The short answer to this question is that quite a bit needs to improve for the Colts to have a shot at the terrifying opponent that is San Francisco this week.
While the Colts offense has the talent to put up points against anybody, their defense may have to pray for another weather delay if they are going to have any shot at disrupting the 49ers offense.
The first thing that the Colts absolutely need to improve upon is the pass rush, specifically with their base-four rushers. The Colts were able to get five sacks on Sunday, but three of the five came when the Colts sent extra rushers.
Here are the first three sacks: the first having five rushers as the Colts sent both inside linebackers on the blitz and dropped Robert Mathis into coverage.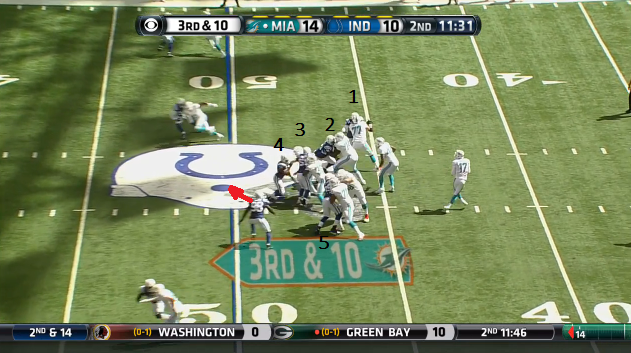 On the other two plays the Colts again sent both inside linebackers, but didn't drop anybody from the four "base" rushers.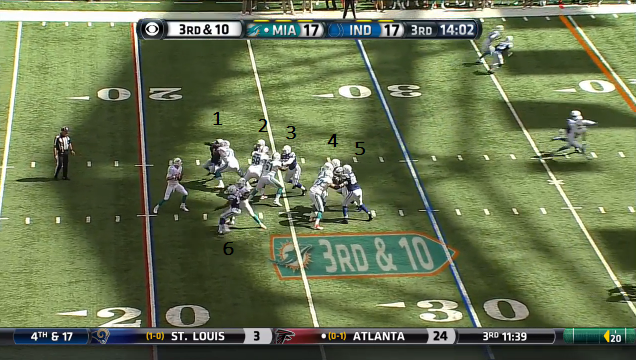 And the third sack: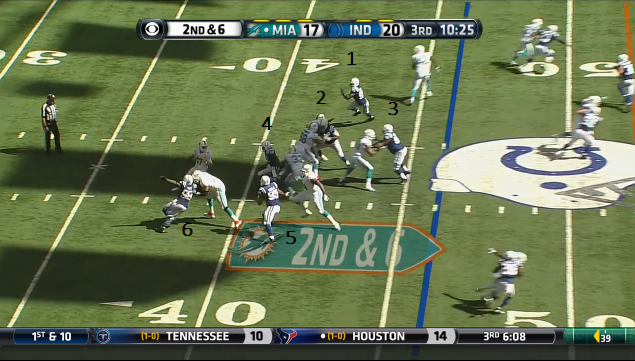 The other two sacks were both by Robert Mathis, the first a brilliant move and the second a coverage sack. But without any others adding to the cause, the Colts struggled to get any sort of pressure on Ryan Tannehill, and he finished with a 125.5 passer rating when the Colts didn't send extra guys, according to Pro Football Focus (subscription required).
The second thing that needs to improve is the Colts' offensive execution after halftime. The Colts' lack of offensive adjustments has been an issue throughout Chuck Pagano and Andrew Luck's time in Indianapolis.
Colts' Scoring by Half Under Chuck Pagano

| | | | | | |
| --- | --- | --- | --- | --- | --- |
| Year | Games | First Half | Second Half | Difference | Average Diff. |
| 2012 | 5 | 51 | 19 | -32 | -6.4 |
| 2013 | 2 | 31 | 10 | -21 | -10.5 |
| Total | 7 | 82 | 29 | -53 | -7.6 |
Scores from Pro-Football-Reference.com
As shown in the table above, the Colts' ability to score in the second half has been dramatically different from their first-half performances, something that is a glaring problem for a team that needs to be carried by their offense.
The Colts have never scored more than seven offensive points in the second half when Pagano has been on the sidelines, which hints at a problem with either halftime adjustments or poor situational play-calling (or both). Under Pagano, the team's points-per-drive average drops from 2.46 in the first half (would have been second-best in the league in 2012) to 1.08 in the second half (would have been second-worst).
The final thing that needs to improved after Week 2 is the Colts' short-yardage work.
In 3rd-and-short (three or less yards to go), the Colts have been inconsistent, converting just four times on eight attempts. That 50 percent rate is good for seventh-worst in the league in 2013 and would have put the Colts at the same rank last season (they were actually had the sixth-highest rate in 2012).
For a team that preaches power running and being able to impose their will on the ground, they've struggled to do so when they most desperately need to.
If the team is to pull off an upset in San Francisco, they will have to take advantage of those short third downs.