The New England Patriots are no longer undefeated, dropping an ugly 13-6 decision to the Cincinnati Bengals.
Check out final grades and analysis below.
Final
New England - 6
Cincinnati - 13
New England Patriots Grades

| | | |
| --- | --- | --- |
| Position Unit | First-Half Grade | Final Grade |
| Pass Offense | C- | F |
| Run Offense | C+ | C- |
| Run Defense | A- | A- |
| Pass Defense | B+ | A- |
| Special Teams | B | B- |
| Coaching | C+ | C |
vs. Bengals
Game analysis for the New England Patriots
Pass Offense: For the first time in 52 games, Tom Brady did not throw a touchdown. The offense had absolutely nothing going all game—it's not an understatement to say that everything in the passing game went wrong. Brady's wobbly interception in the pouring rain was a fitting way to end an ugly loss.
Run Offense: The Patriots didn't have much time of possession in the second half, and thus the run game was barely a factor. But when called upon, Blount could not drive in a touchdown on 1st-and-goal from the 1-yard line. Could have used those extra points on the final drive.
Run Defense: All things considered, they performed about as well as you could possibly ask. Factor in Tommy Kelly's absence, and the Pats run D was admirable. They gave Brady two chances at the end of the game, doing their job to extend the game.
Pass Defense: The Bengals never really challenged the Pats deep, a byproduct of another week of excellent one-on-one coverage from Aqib Talib. The only difference was that this time the offense could not scratch out enough to reward the defense.
Special Teams: Ryan Allen pinned the Bengals inside their 20 on numerous occasions, an important aspect in a field-position game. Unfortunately, the kick and punt return games did little to spark a moribund offense.
Coaching: Again, a good defensive game plan, especially considering the dearth of experience and bulk up the middle. Josh McDaniels tried to jumpstart the offense with more spread formations and some up-tempo play-calling, but today just was not meant to be for the Pats.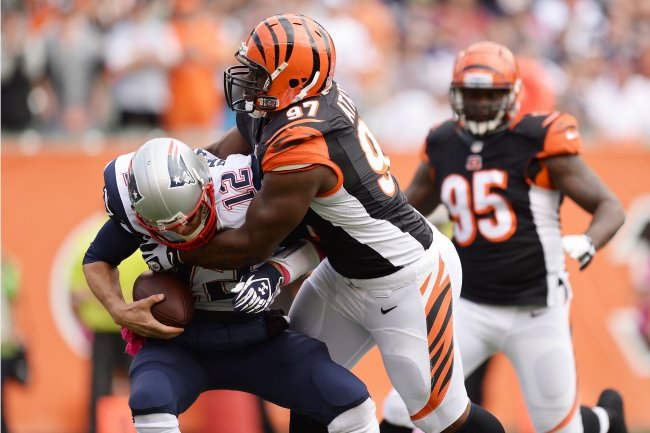 Jamie Sabau/Getty Images
First-half analysis for the New England Patriots
Pass Offense: Two early sacks on play-action passes reflect how the Patriots are losing the battle at the the line of scrimmage. As a result, Tom Brady's yards per attempt average sits at a horrifying 3.7. Things opened up a bit when the Patriots spread things out in the second quarter, but improving pass protection is a must.
Run Offense: LeGarrette Blount's fumble mars what was an unspectacular but effective rush attack. Despite not having a run longer than 10 yards, the Pats still averaged a solid five yards per attempt. With the Patriots down to only two healthy backs, don't expect Blount to sit because of his gaffe.
Run Defense: The Bengals sent an early message by challenging the Patriots with four straight runs to open the game. While the run defense has had a couple of shaky moments, it has held Cincinnati to 3.8 yards per attempt. Brandon Spikes has been particularly active, playing on nearly every snap.
Pass Defense: The Bengals offense has been a bit sporadic in its approach, switching between a two-tight end attack and a receiver-oriented passing game at the end of the half. Andy Dalton has a high completion percentage, but the Pats have done a good job of eliminating big plays.
Special Teams: Ryan Allen has been busy so far, punting five times in the first half. The kickoff return game hasn't made much of a ripple, with Leon Washington and Devin McCourty each netting an unspectacular return.
Coaching: Give them credit for constructing a defensive game plan that has mitigated the loss of Vince Wilfork. However, the Patriots will need more creative offensive play-calling to crack a stingy Bengals defense.