Denver Broncos vs. Dallas Cowboys: Breaking Down Denver's Game Plan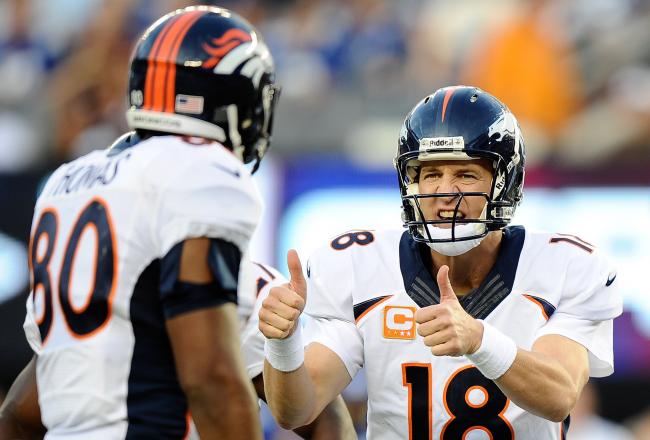 Maddie Meyer/Getty Images
The Denver Broncos absolutely smashed the Philadelphia Eagles in Week 4 with a 52-20 victory. This week they get to face another NFC East team as they travel to play the Dallas Cowboys.
Denver's 4-0 start marks the sixth time in team history they have won four straight games to begin a season. It was a team-record 15th consecutive victory with all wins coming by seven or more points. This is good for second in NFL history, behind the 1941-42 Chicago Bears, who won 16 straight by such a margin.
They once again proved in Week 4 that they are fully capable of scoring points in bunches. They scored 21 points in the third quarter for the second time this year.
The Broncos have failed to get off to a hot start in three out of four games. Instead, this team is heating up after halftime. The Broncos become really difficult for opponents to keep up with.
After a large lead is built, the Broncos like using the ground game to wear down the clock. As the season goes on, we could see more from backup running backs Ronnie Hillman and Montee Ball.
Defensively, the Broncos were able to slow down superstar running back LeSean McCoy in Week 4. That doesn't bode well for Cowboys running back Demarco Murray. McCoy did have 73 yards rushing against the Broncos, but Murray might be lucky to match that total on Sunday.
The Broncos pass defense is ranked 30th in the league as it allows 316.3 yards passing per game. This is not a true reflection of how the secondary is playing in 2013.
The reality of the situation is the Broncos secondary is under constant fire once opponents fall behind. When Manning builds a 14-point lead, then an opponent will go into a pass-happy mode in order to attempt a comeback. This is why the Broncos pass defense looks poor on paper.
The reality is the Broncos have a strong group of young playmakers in the secondary. Dominique Rodgers-Cromartie has been a fantastic free-agent addition for the Broncos, and second-year safety Duke Ihenacho has sparked the team with his ferocious playing style.
Tony Romo is a quarterback who can make things happen when the play breaks down. The Broncos defense will have to maintain its discipline in the secondary as Romo extends plays. Dez Bryant versus Rodgers-Cromartie is going to be a fantastic matchup to watch as well.
Let's take a look at how the Denver Broncos will attack the Dallas Cowboys on both sides of the ball.
When the Broncos Run the Ball
The Cowboys rush defense ranks third in the NFL, allowing only 77.8 yards rushing per game. The team is stout in the middle of the defensive line and has linebackers who can clean up at the second level.
The Broncos could run the ball more than some think. The Cowboys defense is likely to play off the ball in Monte Kiffin's Tampa 2 defense. This means the rushing lanes will be there up front.
On Wednesday after practice, Manning talked about the Cowboys defensive line, specifically defensive end DeMarcus Ware and defensive tackle Jason Hatcher.
They have a really good defensive front—those two guys especially. They're good players. It's pretty impressive with the injuries they've had with the defensive line, how well they've continued to play. It speaks to their depth. They've always played a number of guys, rotated in. That's impressive, they've had I think three significant injuries, yet they're still creating a lot of sacks and are disruptive against the run.
We should see Knowshon Moreno in as the starter as he is the most trusted back on the roster. Facing a defense that has generated 14 sacks in four games, it will be of the utmost importance for the Broncos to keep Manning upright. Moreno is the best pass-protecting back, and he should see more snaps than Ronnie Hillman or rookie Montee Ball.
When the Broncos Pass the Ball
While the Cowboys rush defense is strong, the pass defense leaves a lot to be desired. The Cowboys currently rank 27th against the pass, averaging 304.5 yards allowed per game. We should see Manning pass for over 300 yards for the fifth straight week in a row.
The Cowboys were simply abused by the Giants passing game and quarterback Eli Manning in Week 1. Manning threw for 450 yards, and he had four touchdowns passing. It wouldn't be a total shock to see Peyton Manning match—or best—what his little brother did against the Cowboys.
The Giants had three 100-yard receivers in Week 1, and we could see the Broncos finish the game with a similarly effective trio. Receivers like Demaryius Thomas, Wes Welker and Eric Decker should all have standout performances against the Cowboys on Sunday.
Dallas has a starting cornerback who can consistently make plays on the football. Brandon Carr has become one of the best in the game today, and he isn't tested by opposing quarterbacks that often. He only has one interception and two passes defensed in 2013.
Second-year cornerback Morris Claiborne is looking like a first-round bust, and he has lost his starting job to Orlando Scandrick. Claiborne was torched by Philip Rivers and rookie wide receiver Keenan Allen in Week 4. He will have a target on his back early and often when going up against Manning and the Broncos.
We see Claiborne getting burned by Allen in the pictures below. Claiborne fails to redirect the rookie, and he can't keep up with him downfield. Allen catches the fade stop with ease while Claiborne falls to the ground helplessly. The play was a 31-yard gain for the Chargers.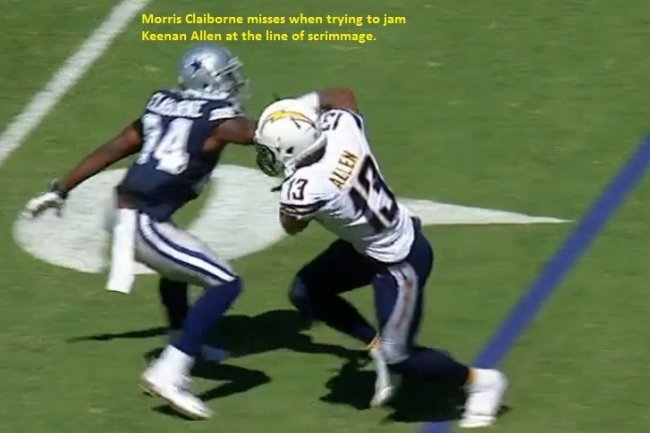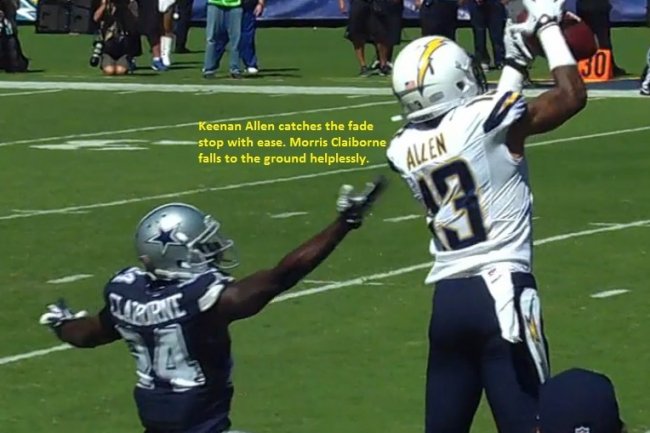 The Broncos passing game may have a few surprises to show us on Sunday. After practice on Wednesday, Eric Decker commented on how much of the offense has been shown so far.
We have the basis of what our offense is, and that's what we're doing. Obviously week-to-week, schematically what defenses do we might have to change certain things to help us in our favor. But again, if we can do the stuff that we've worked on this offseason and really dial that in, we can run that all the time. That's kind of our thing—make sure we go different tempo, different personnel and make sure that we are efficient at what we do.
The Cowboys have been regularly burned this year by running backs catching passes out of the backfield. In Week 4, Danny Woodhead caught five passes for 52 yards and two touchdowns.
This means the Broncos will likely pick on the Cowboys in the same place. We could see Ronnie Hillman have a good day as a receiver out of the backfield. He's the most explosive player in the backfield, and it would be wise for the Broncos to get him receptions in space.
We see Manning looking down the seam in the picture below. Pressure causes him to climb the ladder and hit Hillman instead.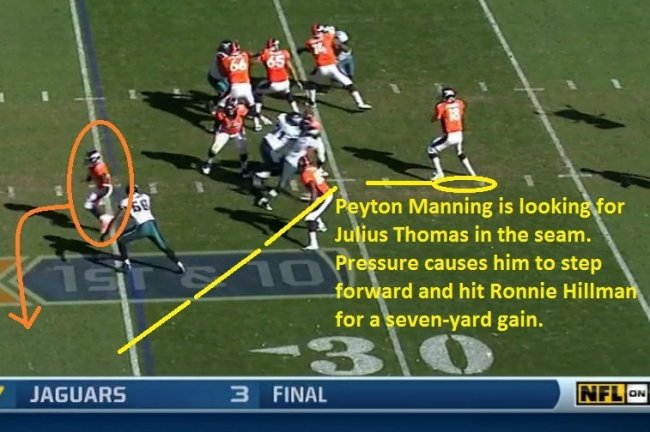 The Cowboys can also be picked on by tight ends in the middle of the field. Last week against the Chargers, tight end Antonio Gates caught 10 passes for 136 yards and one touchdown.
When he came out of Portland State in 2011, tight end Julius Thomas was often compared to Gates. We should see the Broncos have an extra emphasis on getting Thomas more involved than he was last week.
When the Cowboys Run the Ball
Sometimes the best defense is a strong offense. The Cowboys will try to hammer the Broncos up front to wear down the defense.
If successful, this will also have another effect. A productive ground game takes more time off the clock, and it keeps Peyton Manning off the field.
In the picture below, we see tight end Jason Witten lined up in the backfield after moving there in motion. After the snap, Witten goes across the formation to block down.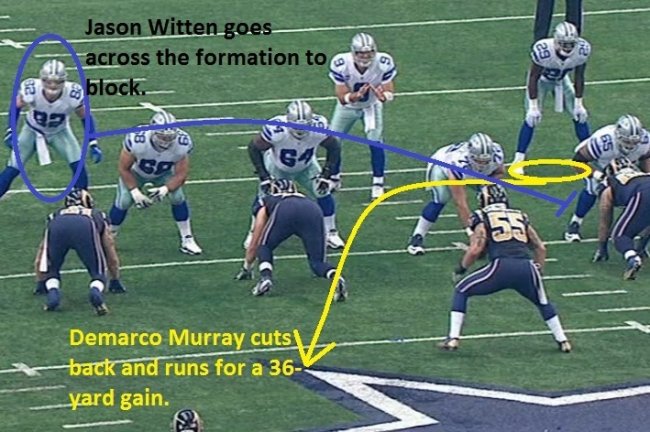 Demarco Murray does a good job of following the play initially. He then sees a cutback lane to his right and makes a swift move. Murray runs through an outstretched arm, and he gets to the second level in the blink of an eye.
Murray runs with a nice blend of power and speed. He can be the bell cow the Cowboys need to wear out the Broncos defense. When Murray breaks a tackle, he has the speed and vision to take it all the way.
Broncos safety Rahim Moore knows how important the defensive line is to stopping the run game. He commented on shutting down the Cowboys ground game on Wednesday after practice.
Our D-Line is doing a fantastic job. So far, they're so focused and they're jelling. They do a good job of rotating each other and helping each other out. They do this in practice. Without them, there is no [CB] Champ Bailey, [CB] Chris Harris, [CB] Dominique Rodgers-[Cromartie], Rahim, [S] Duke Ihenacho, [S] Mike Adams. They are our foundation. You can't build a house without a foundation, so you can't build a defense without a foundation. They're doing a good job down there and big ups to them. When they do a great job, we take that into consideration and thank them because that's what it's all about.
The Broncos need to work hard so they don't allow Murray to have a big game.
When the Cowboys Pass the Ball
The passing game is all about Dez Bryant. The superstar receiver is simply one of the best in the game, and he can make difficult catches seem routine. His matchup against Rodgers-Cromartie is going to be fun to watch.
Bryant could attract bracket coverage from the Broncos with safety help over the top. That won't stop Romo from peppering Byrant with passes early and often.
Broncos cornerback Chris Harris talked on Wednesday about the importance of slowing down Bryant.
We all know Dez Bryant is a great receiver, and we've got to match his mentality. We can't let him get going. That's the thing about him and Romo, they get into a great rhythm, and we've got to try to keep him from getting that rhythm.
In the picture below, we see how running the football can alter where the defense goes. The Chargers linebackers step forward on the play fake here. Bryant is able to find the soft spot behind the linebackers easily. It's a simple pitch and catch for Romo and Bryant.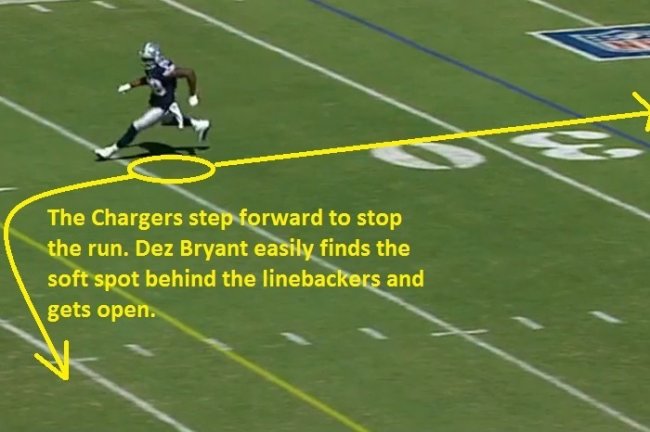 The Cowboys may not have their full complement of weapons on Sunday. Wide receiver Miles Austin has been battling a hamstring injury over the last two weeks. He has to be considered questionable to start on Sunday.
Backup wide receiver Dwayne Harris has been slowed by a hip injury, but he was listed as a full participant in practice on Wednesday. Harris is dangerous after the catch with his running back-like ability in the open field.
Rookie wide receiver Terrance Williams could get more playing time and targets than some think. He has worked hard to establish better chemistry with Romo since his error-filled performance in Week 1.
Tight end Jason Witten is a favorite target for Romo. He'll work hard as a blocker, and he also has the capability of slipping into the second level to catch passes. With the injury to linebacker Danny Trevathan, we could see the Cowboys try to isolate Steven Johnson in coverage.
Summary
The Broncos are going to have their hands full with a high-powered Cowboys passing game. This contest has shootout written all over it.
Denver needs to make sure running back Demarco Murray doesn't wear it down. The Broncos need to get pressure on Tony Romo in order to force him into making bad decisions with the football. They also need to figure out some way to at least slow down superstar receiver Dez Bryant.
Offensively, we could see Peyton Manning pick apart the Cowboys secondary. Demaryius Thomas, Wes Welker and Eric Decker should all have good games. We should see Julius Thomas create mismatches and get targeted more than he did in Week 4. Manning can also pick apart the Cowboys defense with targets to the running backs out of the backfield.
In the end, the Broncos should come out on top. It will once again be a thrill ride that all NFL fans can enjoy.
All quotes and injury/practice observations were obtained firsthand.
This article is
What is the duplicate article?
Why is this article offensive?
Where is this article plagiarized from?
Why is this article poorly edited?

Denver Broncos: Like this team?