When Russell Westbrook got hurt in the playoffs last year, the championship aspirations of the Oklahoma City Thunder evaporated. As he works to get back on the court for his team, the hopes of Oklahoma City once again rest on his shoulders.
Since making the NBA Finals in 2012, it's championship or bust for the Thunder, but Westbrook will need to come back healthy and better than ever for a title to be in the cards.
For starters, the Thunder go as Westbrook does. It may sound like a cliché (because it is), but Westbrook is the heart and soul of his team.
Kevin Durant is OKC's best player, but he doesn't have the same effect on his teammates that Westbrook has. Westbrook is aggressive and confident, and he's generally the catalyst for those explosive runs that the Thunder frequently make.
Without him in the playoffs, Durant took his game to ridiculous new heights by doing absolutely everything for the Thunder, but they looked tired and flat. Westbrook is like the energizer bunny that fuels the entire team and even the Chesapeake Energy Arena. His return will give the team its swagger back.
More importantly, Westbrook and Durant will be playing without an established third scorer for the first time in their young careers.
They netted Kevin Martin in the James Harden trade, and he was actually a better fit for the offense, providing better perimeter shooting to space the floor. When Westbrook and Durant rested at the same time, Martin was capable enough to carry the offense and make plays for others off the dribble.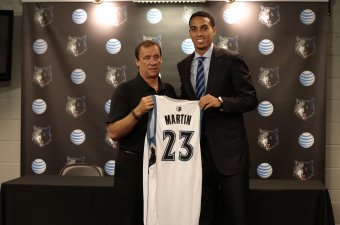 Jordan Johnson/Getty Images
Martin's departure left a void on that offense.
The Thunder are hoping that Reggie Jackson and Jeremy Lamb will be able to step into the role of "scoring punch off the bench," but that won't be enough. The offensive load needs to be picked up by the entire team.
That's where Westbrook comes in.
The Thunder offense needs Westbrook to attack and look to score, but the lack of a true third option means that Westbrook will need to be a better facilitator than he's ever been.
That responsibility also falls on the shoulders of Kevin Durant, but Westbrook's inefficiencies as a scorer mean that he needs to do a better job of picking his spots and choosing when to find shots for his teammates.
Westbrook has been a lightning rod for criticism due to his score-first tendencies, but he has never needed to be a "true point guard."
Now he does.
He doesn't need to morph into John Stockton, but he absolutely has to be a facilitator for the offense. He was second in the NBA in usage rate last year, according to HoopData.com, and that number has to decrease if the Thunder offense is going to evolve.
Additionally, HoopData.com reveals that Westbrook had one of the lowest percentages of field goals assisted, meaning that he created many of his own shots. While he is an excellent isolation scorer, the Thunder don't have enough scorers on the team to continue with the same game plan that has worked for them in the last three years.
Percentage of Field Goals that Were Assisted

| | |
| --- | --- |
| Player | %AST in 2012-13 |
| Serge Ibaka | 74.5 |
| Thabo Sefolosha | 76.2 |
| Kendrick Perkins | 67.6 |
| Nick Collison | 77.0 |
| Ryan Gomes | 93.5 |
HoopData.com
Outside of Westbrook and Durant, there isn't a player on the roster who can truly create their own shot. That may not pose a problem in the regular season, but it will be problematic in the postseason when the game slows down defenses can key in on the two superstars.
Consequently, there needs to be more ball movement and a more balanced offense for Oklahoma City to succeed.
Durant may be their best player, but we know what he's going to provide. The key to the Thunder's 2013-14 season will be whether Russell Westbrook can elevate his play and, more importantly, that of his teammates.