FIFA 14 Review: Breaking Down the Biggest Features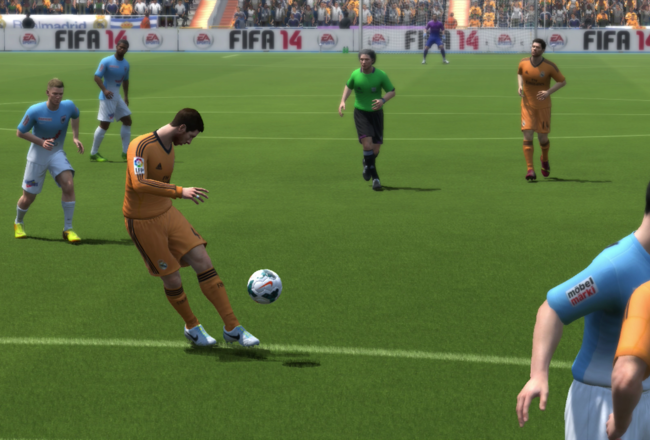 Image from FIFA 14

The FIFA series is a dynasty akin to the Boston Celtics of the NBA in the 1950s and 1960s or the UCLA Bruins college basketball program of the late 1960s and early 1970s.
Year after year, EA Sports has dominated the virtual world football scene with a product increasingly heavy in realistic gameplay and validated with an unprecedented amount of exclusive licensing.
As gamers head into the next-generation of gaming with Xbox One and the PS4, the Xbox 360 and PS3 are still the primary gaming consoles in most households.
Because of that, FIFA 14 on current-generation systems is quite possibly the biggest worldwide release in sports—and possibly all—video gaming this year. With hours of demo gameplay and even more hours of play with the EA Season Ticket version of FIFA 14, I'm ready to give my take.
Graphics and Animation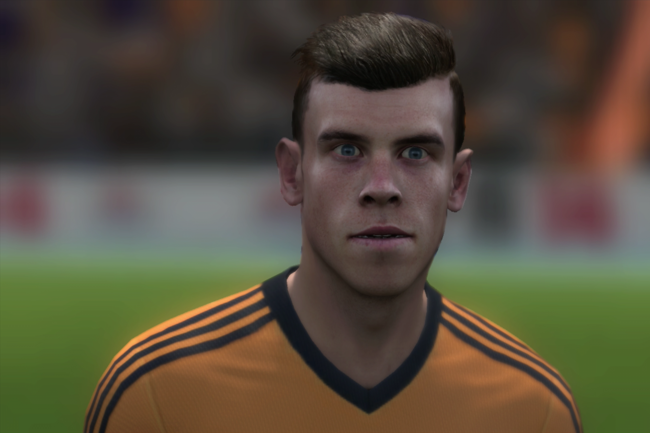 image from FIFA 14

The beautiful game was already attractive in FIFA 13, so current-gen gaming consoles are likely maxed-out on their visual capabilities. That said, EA Sports still took the time to improve a good number of the facial renders.
Gareth Bale pictured above is stunningly accurate.
You'll be hard pressed to find a sports game that handles facial textures and hair better than FIFA.
Overall, the player models look as they have in the past, still a tad bulky from the waist down, but realistic nonetheless. If there is an area with noticeable visual improvement, it's the stadium lighting. The shadows near the sidelines and crowd are a little better this year, but you'd have to be looking for the difference to notice in most cases.
As far as animation, sprinting players movements don't look as choppy as they did in the demo. I was actually surprised to see such a noticeable change this late in the development process. It looks great during closeups and in slow-motion replays.
As a complete visual product, FIFA 14 shines and will still cause your parents or spouse to double take when they walk in the room.
If Bale and other players look this real on current-gen systems, how real will they look on the Xbox One and PS4?
Gameplay and Realism
EA Canada deserves credit for putting consistent effort into improving the gameplay for the series. Within five minutes of playing FIFA 14, that effort shines through again.
Slow Down Player
The pace of this year's game is much more realistic and conducive to setting up plays on offense and defending. By slowing down the overall pace of the action, every game doesn't turn into a shootout and gamers are allowed to enjoy the prettiest aspects of the action.
The First Touch is Always Special
First-Touch control debuted in FIFA 13, but this year using the RT/R2 and right stick allows you to knock the ball in any direction as an augment to your First-Touch control. This takes some getting used to—especially if you're not a FIFA master—but having used the tactic to help setup a few goals, I can say it is definitely a reality and not just an overhyped trivial feature.
Did You Just Touch Me?
Most sports fans love collisions, but incidental contact is sometimes just as important as a vicious sliding tackle. You'll notice far more hand fighting and shoulder-to-shoulder bumps as players compete for control of the ball.
I don't remember seeing as many players hit the ground. It makes you play much more mindful of red cards.
Overall, there is much more respect given to the presence of others players on the pitch.
I Like Smart Teammates and Respect Smart Opponents
Nobody likes a dumb teammate. After a while, dumb opponents get pretty boring as well. Because of this, the increased artificial intelligence in FIFA 14 is a major plus. I first saw this improvement in the demo, and am happy to report it is still just as sharp in the full version.
Players on your squad pay more attention to potential offsides infractions and take advantage of potential passing lanes that can lead to scores.
On the other side of the coin, A.I.-controlled defenders are more aggressive when trying to win back possession. I still think my teammates could be a little quicker on defense, but I'd be lying if I didn't acknowledge there have been improvements.
Sound and Presentation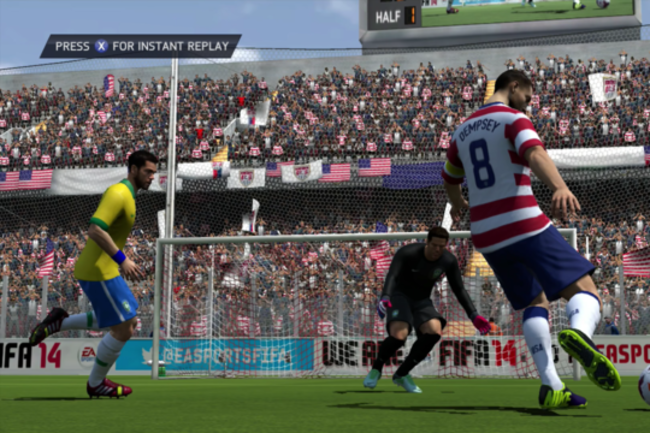 image from FIFA 14

FIFA is by far the best presented EA Sports video game franchise. The developers understand the importance of high-quality commentary and the attention to detail.
That trend has continued in FIFA 14.
I Love it When You Talk Current Transfers
One of the coolest things to here before a game and during a match is real-life transfer talk about players. There isn't a better way to make the game feel like a real TV broadcast. Martin Tyler and Alan Smith continually drop timely commentary and relevant stories about both clubs.
The commentary during the game is as sharp as it has been in the past with a few improvements.
In the early version, some of the references were off, but this could be remedied with a release-day patch. In all honesty, I'd be shocked if that wasn't the case.
Soundtrack Fitting the World's Most Popular Game
(Some NFSW Language)
When I first read the tracks that were included in the soundtrack, I wasn't overjoyed, though I did recognize the diversity. After playing this game all week, I've begun to like quite a few of the tracks included. Amplify Dot's "Get Down" is going to wind up being downloaded on my phone.
The music not only comes from a wide variety of genres, but it also evokes different moods. This 37-song soundtrack was smartly picked and could sell as a box-set quite easily.
Leagues, Clubs and Players, Oh My
With over 600 clubs from 30-plus licensed leagues and over 16,000 players, no sports game has a larger supply of options and licenses. If you like your sports games official, like most of us, it is hard not to be impressed by FIFA 14's authenticity.
The most feature-packed world football simulation is still bringing an abundance of options to gamers. There aren't a ton of new things available, but there are notable enhancements to the returning game modes.
Game Modes and Options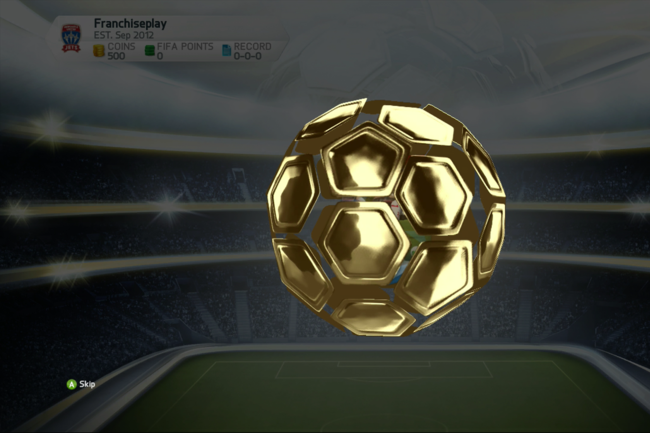 image from FIFA 14

FIFA is still bringing the heat with another loaded feature set for FIFA 14.
Ultimate Team Keeps Getting Bigger
The phenomena that is Ultimate Team could probably be a separate game in itself. The mode has become the most-played option amongst the FIFA community, and this year's version has implemented two noteworthy features.
The inclusion of legends ups the ante for gamers who win and purchase card packs to build their teams. Legendary footballers like Pele and Ruud Gullit are available in legends packs. This addition helps the franchise capitalize on the rich history of the sport, much like many other sports gaming franchises have done by incorporating the greats of their respective sports.
Aside from adding legends to the mix, constructing your Ultimate Team has become a bit more complex. In FIFA 14, gamers are rewarded for maintaining chemistry on their squad. Matching players from the same nation or real-life club creates a link and continuity. This familiarity gives the club a ratings boost.
The concept of Ultimate Team is golden for those who can get into it. These additions undoubtedly make it stronger.
Skill Games For Dummies
The only other sports video game series with compelling skills/mini-games is Virtua Tennis. That series did a great job creating a cool diversion from the regular game, but FIFA-style skills games are the best. They aren't just fun to play, the skills you're forced to master to gain a high score are easily applied to a traditional game.
Take a look at me giving it a go with the lob drill with Manchester United's Robin van Persie.
I did decently in the video, but I must admit, it took me like three tries to even manage that high of a score. Gamers are given the option to play random skills challenges before every match, or you can go into the standalone mode and pick any one you want.
I'd recommend doing this to improve your skills—if you aren't already a beast—or just simply to experience a very fun aspect of the game.
Searching the Globe For the Next Star in Career Mode
In addition to having the option to play a career as a single player, gamers can still live out their dream of being a manager for a major football club. The Global Transfer Network is now designed to make scouting a worldwide and season-long job.
Your scouts can keep players from all over the world on your radar. Depending on the ratings of your scouts, the information they provide could be spot on or less-than accurate. The information also has a shelf life. If you don't act on your scouts info, the player being scouted could improve or decline, thus making your information irrelevant.
Using the system can be a little intimidating at first. This isn't exactly the mode for a casual fan or novice, but for gamers who really love the management aspect of the sport, it is great.
If you just love playing through multiple seasons and don't want to wear the management hat, you can delegate the scouting responsibilities in career mode, or just play season mode for a more stripped down version.
Connecting Communities
FIFA nation is huge. It makes sense to create modes made to connect people in the name of soccer. In FIFA 14, there are even more ways to play online and combine offline and online experiences.
Co-Op Seasons is a new online mode that allows you and a friend to team up and take on other duos across the world in two-on-two ranked matches.
Like Drake, you start from the bottom in hopes of reaching Division One and even capture a league title. This mode is actually pretty fun and has some FIFA Street elements in the sense that it isn't conventional 11-on-11 play.
If you still want to team up with friends, but you want the full squad experience, Pro Clubs is the option you're looking for. You can still create and build a pro as you have in the past with the series. Putting your pro in 11-on-11 competition is a blast conceptually.
In FIFA 13, there were a few issues in execution, though. Finding players was challenging as the invite system wasn't very user friendly. This has been revamped early on, joining a game is much easier.
Overall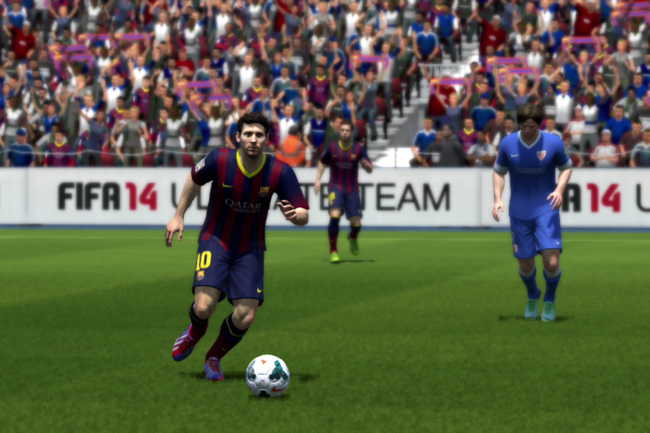 image from FIFA 14

After playing another stellar version from the FIFA series, I'm ready to put my evaluation into digit form.
Graphics and Animation: 8.5
Gameplay and Realism: 9
Sound and Presentation: 9
Modes and Options: 9.5
Overall: 9
If this is the last version of FIFA on current-gen consoles, the series will send the PS3 and Xbox 360 out with a fitting world-football bang. If you aren't committed to purchasing an Xbox One or PS4, but you're a diehard virtual footballer, this will tide you over nicely.
Follow me for musings on sports video games, boxing, MMA, NBA and WWE.
Keep Reading