Dolphins vs. Colts: Full Roster Report Card Grades for Indianapolis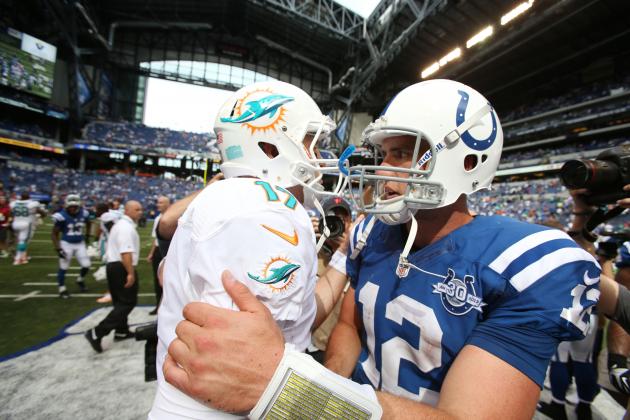 Brian Spurlock-USA TODAY Sports

This game wasn't a disappointing win for the Indianapolis Colts like last week, but instead, the team's conservative play-calling and lack of halftime adjustments came back to bite them as the Miami Dolphins won in Indianapolis by a score of 24-20.
The team was incredibly inconsistent throughout the game on both sides of the ball, as it only scored three points in the second half, and the defense allowed Miami to control the clock and field position with a lead in the fourth quarter.
The lack of explosive plays (on both sides of the ball) killed the Colts in the fourth quarter, and they dropped a very winnable game because of it.
With a matchup in San Francisco looming, who played well for the Colts this week?
Begin Slideshow

»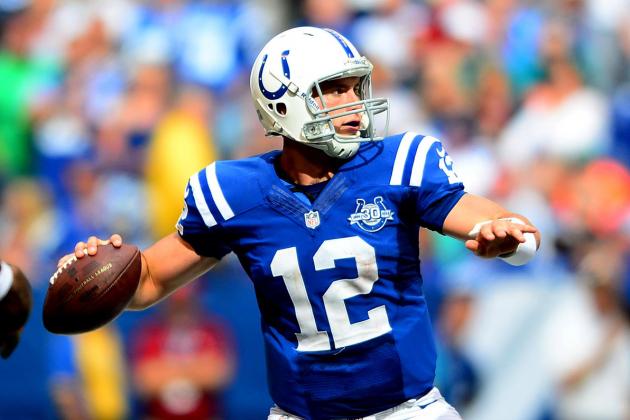 Andrew Weber-USA TODAY Sports

Andrew Luck: C+
After a very efficient start to the season, Andrew Luck saw more attempts against Miami, but his efficiency dropped dramatically—especially in the second half—as the Dolphins took T.Y. Hilton and Reggie Wayne out of the game.
Luck's final stats included 321 yards while going 25-of-43 (58 percent complete) with a touchdown and an interception. Luck's yards per attempt rate of 7.5 is perfectly acceptable, but his late interception and inability to get in the end zone at times killed the Colts' chances.
However, Luck isn't to blame for this loss.
The Colts are simply asking too much of Luck, putting him in poor situations time after time. The offensive line continues to be a huge issue, and the defense and running game offer little aid. Luck didn't play like a an all-time great Sunday, but he shouldn't have to every week in order for Indianapolis to win.
Unfortunately, that's probably what the Colts will ask from him.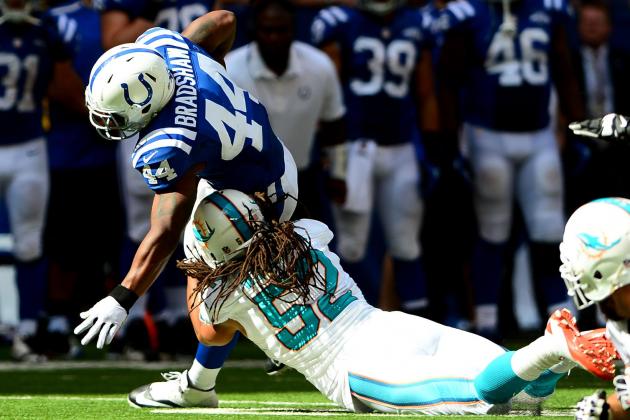 Andrew Weber-USA TODAY Sports

The veteran running back ran for 4.3 yards per carry against Miami with a success rate of 56 percent, which is fairly high. When it came to running the ball, the Colts didn't necessarily miss Vick Ballard as much as some may have thought.
Ahmad Bradshaw also added three receptions for 19 yards.
Donald Brown: C+
Like Bradshaw, Donald Brown also ran for 4.3 yards per carry and had a success rate of 50 percent. Brown also pass-blocked fairly well for most of the game.
Unfortunately, the play that most fans will remember, and arguably the most critical, was the final play of the game for the Colts offense. Brown's attempt to block Philip Wheeler was awful, and Wheeler slipped through and corralled Luck before he had a chance to read the field.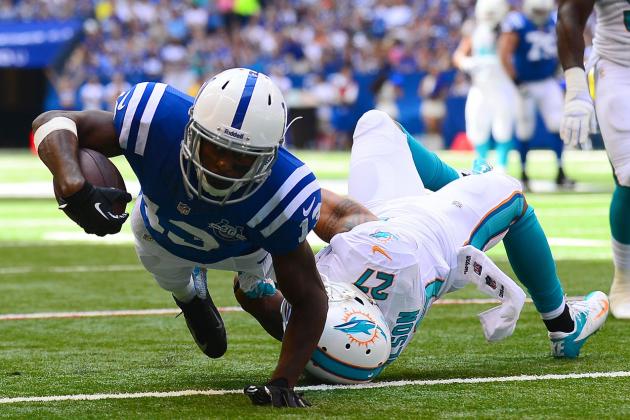 Andrew Weber-USA TODAY Sports

Reggie Wayne: B
Last week, Reggie Wayne caught eight balls on eight targets, and Luck's efficiency was due in large part to Wayne's ability to work the middle of the field.
This week, Miami knew who to corral, allowing Wayne to catch just five of his eight targets for 46 yards. Wayne, who caught four balls for 28 yards in the first half, was limited to just one look in the second half when the Miami defense tightened up.
T.Y. Hilton: A-
After a relatively quiet week against Oakland, T.Y. Hilton burst onto the scene Sunday with six receptions for 124 yards—the most of his young career. Hilton was Luck's best target and the offense's best weapon Sunday.
Hilton had one catch in particular that was jaw-dropping, going over the top of cornerback Brent Grimes for a 47-yard gain.
But like Wayne, Hilton was subdued in the second half, failing to catch a single pass.
Darrius Heyward-Bey: C-
Darrius Heyward-Bey left the game in the second half after injuring his shoulder on a screen pass but wasn't particularly good when he was in the game, catching just two balls on five targets for 10 yards.
Heyward-Bey had at least one drop on the day, although Hilton did catch the tipped pass for a first down.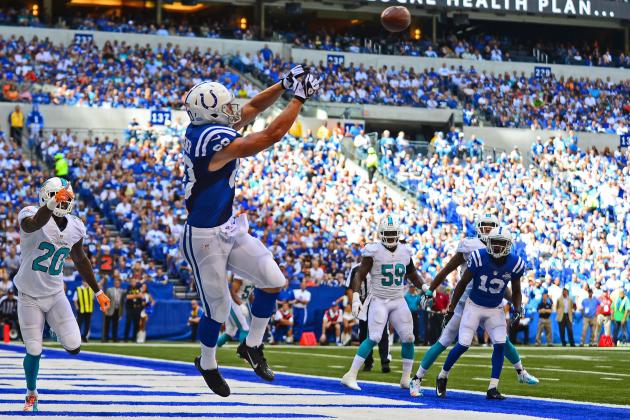 Andrew Weber-USA TODAY Sports

Coby Fleener: B
It was a surprisingly good performance from Coby Fleener, who had struggled to make an impact in the passing attack prior to Sunday's game. Fleener's hands were relatively sound for most of the game, and he caught four passes for 69 yards and a touchdown.
Outside of a missed diving attempt at one reception, Fleener was relatively impressive catching the ball. His blocking wasn't on Dwayne Allen's level, but it was adequate.
Dominique Jones: C
Dominique Jones nearly had a Fleener-lite passing impact, catching a pass for 13 yards and then having a target on the 1-yard line on the very next play. Although the initial ruling was a catch, the review showed that the ball hit the ground, and the play was ruled an incompletion.
Indianapolis would go on to kick a field goal on the possession, missing out on four points in what turned out to be a four-point loss.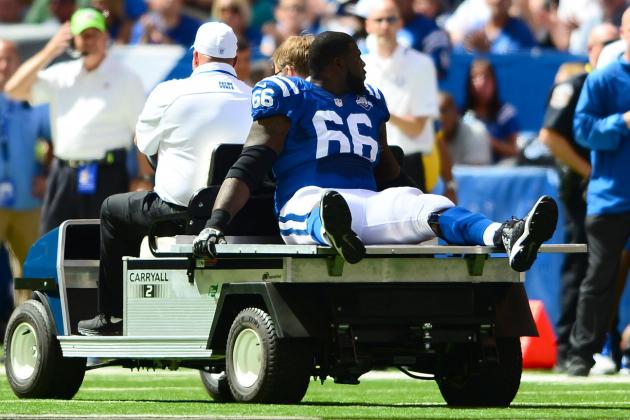 Andrew Weber-USA TODAY Sports

Pass Protection: C-
It wasn't a great performance from the offensive line, but it looked surprisingly adequate for most of the game, as Andrew Luck was given some room to sit back and find the open man for most of the first half.
Unfortunately, much like other aspects of the team, the pass-blocking became a glaring issue in the second half, and Luck was pressured on almost every snap.
Running back Donald Brown was the one responsible for the final pressure, but the line had played a big part (negatively) in the Colts' lack of effectiveness earlier in the half.
Run-Blocking: C+
The Colts were able to run for 4.3 yards per carry in this one, including a success rate of over 50 percent.
But when the Colts tried to pound the ball in the second half with a three-point lead, Miami stopped them with little difficulty and would go on to take the lead.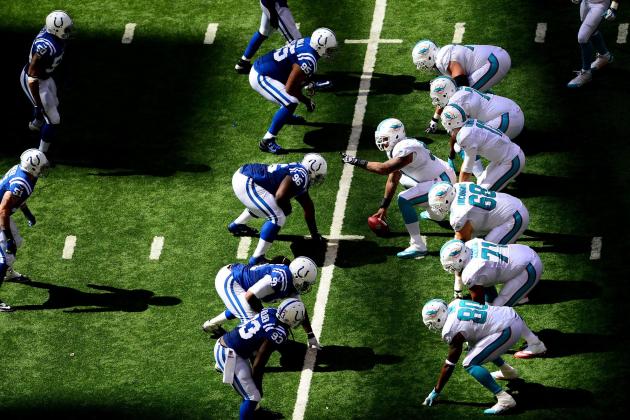 Andrew Weber-USA TODAY Sports

Pass Rush: C-
The line was much more active this week after a difficult time against Terrelle Pryor last week, and the Colts were able to bring down QB Ryan Tannehill five times.
However, none of those sacks were by a defensive lineman, and the Colts generally had to bring in extra men in order to get pressure on the second-year quarterback.
Run-Stopping: C
The Colts stymied Miami's run offense for a large part of the game but also allowed a lot of medium-length runs (seven to 10 yards). The running game was very boom or bust in that nature, and nothing exemplified that like the Dolphins' final drive.
Miami had the ball with 1:27 left in the game, and the Colts had two timeouts. Everybody knew it was going to run the ball three times. If the Colts stopped them, they could get the ball back with about 30 seconds left.
But after stopping Miller on two carries, they allowed an eight-yard run on third down, sealing the Colts' fate.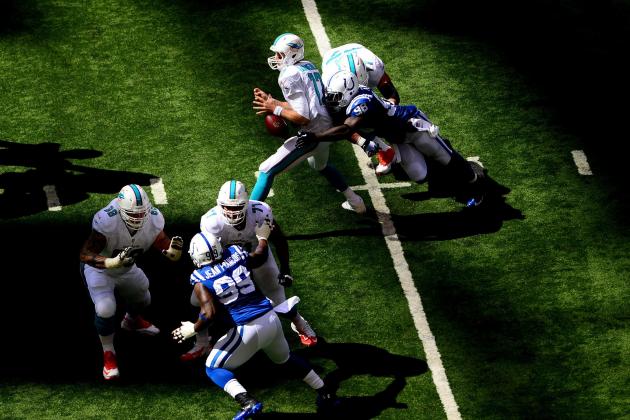 Andrew Weber-USA TODAY Sports

Robert Mathis: B+
Robert Mathis knew that there were criticisms after last week's game and made up for them with two sacks and a forced fumble in this one. He was a little weak in run defense, but that's to be expected at this point in his career.
Erik Walden: C-
Erik Walden continues to disappoint, both as a pass-rusher and an edge-setting run defender. Walden finished with just two tackles and didn't make any impact in the pass rush.
Bjoern Werner: C+
Bjoern Werner flashed a bit more pass-rush ability in this one, getting into the backfield for hurries several times and earning half a sack on the day. He has some learning to do about discipline in the running game, but this game was a step in the right direction.
Jerrell Freeman: B+
Jerrell Freeman made his impact all over the field Sunday, finishing with eight tackles and a forced fumble. He also earned two sacks while showing a blitz ability that hasn't been seen before.
Pat Angerer: B-
It was nice to see Pat Angerer back on the field looking like his 2011 self Sunday, a huge improvement over Kelvin Sheppard last week. Angerer flowed to the ball well but did give up a few big plays in coverage, including allowing a 67-yard reception to Charles Clay in the first half that led to a Miami touchdown.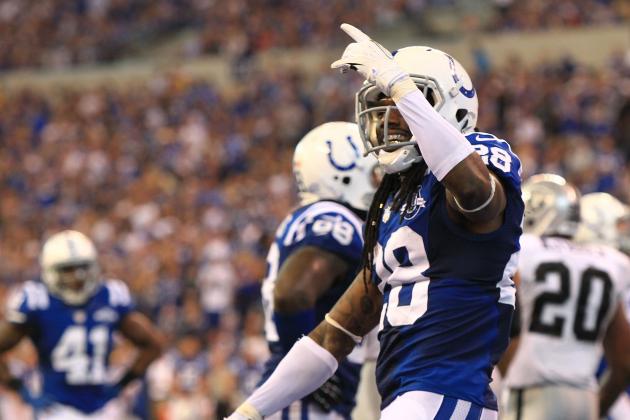 Pat Lovell-USA TODAY Sports

Vontae Davis: C-
Vontae Davis didn't have any huge mistakes in this one, but like last week, he allowed several passes in the intermediate-short range that helped the Dolphins move the ball up and down the field fairly efficiently. The Colts need him to be a lockdown corner, and he simply hasn't been that thus far.
Greg Toler: C-
Greg Toler manages to break up a couple passes in every game but seems to give up a long reception on three or four others. Mike Wallace burned him badly on the go-ahead drive for Miami.
Darius Butler: C-
See Davis, Vontae, but apply it to the slot position.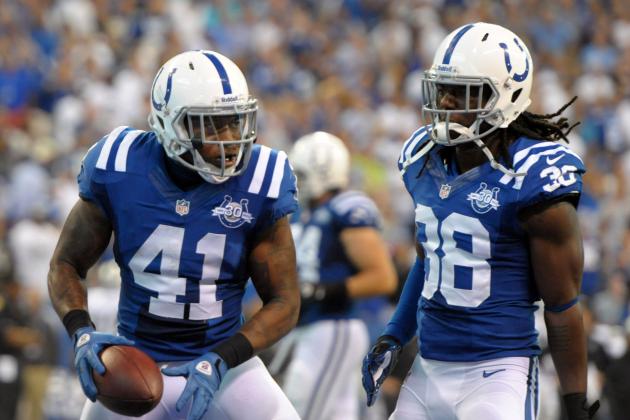 Kirby Lee-USA TODAY Sports

Antoine Bethea: B+
Antoine Bethea was extremely active Sunday, breaking up several passes and knocking the Miami receivers around. He was a force to be reckoned with for most of the game, but he did gamble on at least one pass that resulted in a long gain for Miami.
With the aggressive corners, Bethea needs to be a bit more patient in the back.
LaRon Landry: C+
LaRon Landry, along with Angerer, led the team with 11 tackles, but he wasn't nearly the force he was against Oakland last week. The Colts need him to be intimidating and play-making—not just adequate.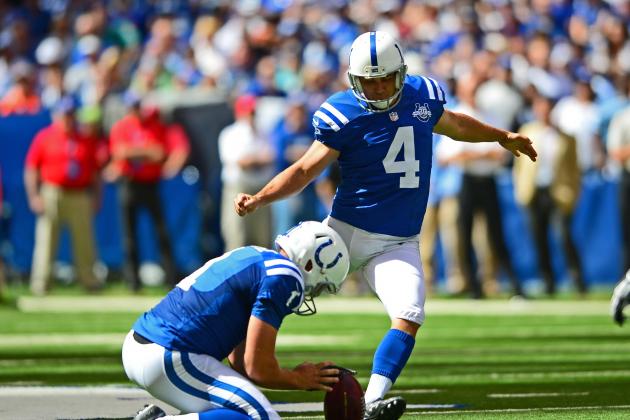 Andrew Weber-USA TODAY Sports

Pat McAfee: B+
Pat McAfee's leg looked much better this week than last, as he averaged over 50 yards per punt on four punts. But, he also kicked two touchbacks that could have pinned the Dolphins deep (although one was deemed a touchback due to an illegal touch by Joe Lefeged).
Adam Vinatieri: C+
Adam Vinatieri, normally a clutch kicker, missed a 52-yard field goal in the first quarter when his attempt (that had plenty of distance) bounced off the upright. He would hit a 30-yarder later in the half, but the Colts would miss those three points at the end of the game.