Before the 2013 season began, ESPN.com took a straw poll from its stable of 36 NFL writers on everything from which team will win the Super Bowl to who would pull down offensive and defensive rookie of the year honors.
Only one person predicted the Philadelphia Eagles would reach the postseason and nobody selected Chip Kelly as their Coach of the Year.
Sure, it's easy to sit here and say that might have been an oversight on The Worldwide Leader's part now that we're a week into the season and have had an opportunity to see Kelly's Eagles in action.
Up until five days ago, the facts were that this franchise was coming off a 4-12 campaign and had entered training camp with an unsettled quarterback situation. The Eagles had also completely overhauled their entire defensive scheme and a good portion of their personnel, not to mention that they are stuck in the always-crowded NFC East.
This isn't a case, though, where we're merely taking the results of one game—a more-lopsided victory over the rival Washington Redskins than the 33-27 final would indicate—and projecting that over the next 16 weeks. Anybody who spent more than a couple days around, or following, the Birds this summer should have noticed the signs.
It may take an offseason or two to build the Eagles into true contenders or it could be happening right before our eyes. What isn't in doubt is that Kelly suddenly appears to have the organization back on track and he will be in the conversation for NFL Coach of the Year when awards time rolls around in January.
Here's why.
Plenty of Leftover Talent
Departed head coach Andy Reid didn't exactly leave Philadelphia's roster in shambles, particularly on offense.
Eagles Pro Bowlers Left Over from the Andy Reid Era

| | | | | |
| --- | --- | --- | --- | --- |
| QB Michael Vick | WR/PR DeSean Jackson | OLB Trent Cole | | |
| RB LeSean McCoy | LT Jason Peters | LS Jon Dorenbos | | |
| | | | | |
| | | | | |
Philadelphia Eagles Media Guide
LeSean McCoy established himself as one of the NFL's premier backs in 2011. DeSean Jackson is the first player ever to be named to the Pro Bowl at two different positions (wide receiver and kick returner) in the same season. The offensive line was one of the better groups in the league, but was decimated by injuries last year.
Quarterback Michael Vick is not without his flaws, although even at age 33, he's an incredibly gifted athlete. It was said the four-time Pro Bowler would be a perfect fit in Chip's offense immediately upon the coach's arrival from Oregon.
If that style of offense ever stood any chance of working at the next level, there was absolutely no reason why the Eagles couldn't make do with what was already here. Add fourth-overall draft pick Lane Johnson to further bolster the line and you have all the necessary parts of the equation.
Even were we to assume the defense is still a work in progress, if Kelly's offense is anywhere near as good as advertised, this team should win some games with that kind of talent.
Strength and Conditioning Meets Science and Technology
Perhaps the most underrated aspect of Kelly's program is arguably its very foundation.
The Eagles are so far ahead of the curve compared to the rest of the National Football League when it comes to their new strength and conditioning procedures that the edge on game day should be unmistakable.
Every team is in the weight room and focused on achieving peak physical conditioning. In Philly, they're doing things other staffs haven't even dreamed of yet. Every player on the roster has customized meal plans, workout plans, even sleep plans and it's all geared toward one end—maximizing each individual's performance on the football field.
Under Kelly the Eagles became the first team to employ a full-time sports science coordinator in Shaun Huls, whose previous occupation was being a performance coach for the Navy SEALs. The Eagles also invested serious bucks into technology upgrades that were largely aimed at more closely monitoring players' conditioning.
Jenny Vrentas did her best to uncover the secrets of sports science and its application in Philly in an article for Sports Illustrated's The MMQB back in July—a tremendous read, by the way:
The premise is simple: Teams invest millions in players; why not devote significant resources, including a dedicated position on the coaching staff, to a cutting-edge approach that will help keep players on the field and maximize their performance? In mid-March, the Eagles began developing something of a sports-science laboratory. Team president Don Smolenski told the Philadelphia Inquirer the team invested more than $1 million in equipment and technology upgrades this offseason.

The array of technology creates a physiological dashboard for each player. Among the equipment: Catapult Sports' OptimEye sensors, which [Connor] Barwin was wearing; heart-rate monitors from Polar; an Omegawave system that measures an athlete's readiness for training and competition; and weight-lifting technology from a company named EliteForm, with 3-D cameras that record not just how much an athlete is lifting but how quickly he is doing it. There is also the low-tech end: Players are asked to urinate in a cup before practice to check their hydration levels.

The result is a data-driven approach to training, which is compatible with and perhaps even necessary for the way Kelly coaches. In the up-tempo style he brought from Oregon—the Ducks averaged more than 81 offensive plays per game last season—players are perpetually on the move. Some sports scientists, like the University of Connecticut's William Kraemer, say research does not support the perception that an up-tempo pace imposes extreme fitness and recovery demands. But even so, sports-science technology can play an important role in preventing overuse, overtraining and the often accompanying soft-tissue injuries.
The results for some players couldn't be more apparent. Vick, for example, arrived at camp this summer more bulked up than ever. So the next time somebody hints the Eagles' offense can't possibly maintain its hellacious pace over the course of an entire season, remember that they've been training for this since the moment Kelly was hired.
As Kelly likes to say, "Big people beat up little people." As long as he has it his way, Philadelphia will have its way as well.
"Revolutionary" System
Meanwhile, nothing—not one solitary thing—the Eagles are doing on the football field is original as a standalone idea. Offenses have been going no-huddle since the 90s. Quarterbacks choose plays at the line of scrimmage all the time. The zone-read option that Kelly is famous for is all the rage in the NFL these days.
Ask Kelly. He'll tell you all of this stuff is just football.
Having said that, when has an offense ever moved at the speed Philadelphia's did at on Monday night against the Redskins? They were lined up and snapping the ball in as little as 15 seconds on some plays, which appeared to be, literally, as fast as humanly possible.
That kind of unprecedented tempo can only happen because Kelly figured out a way to communicate plays in from the sidelines almost instantaneously. Oregon has been holding up these wacky signs for years, yet it's brand new to the NFL.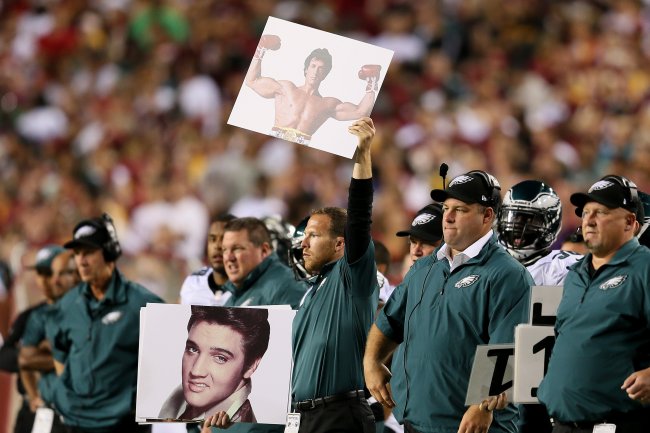 Rob Carr/Getty Images
Consequently, the offense itself couldn't be more simplistic. If the defense has six men in the box, the play should be a run. If the defense overloads the box, the play should be a pass—probably to whatever side of the field has fewer defensive backs.
Thanks to what are commonly referred to as "packaged plays," practically any snap has the potential to be either a run or a pass. The quarterback simply has to make a few basic reads—such as counting and perhaps something as arduous as identifying the middle linebacker—then make the right decision and execute.
The Eagles used the "same play" five times in one quarter against Washington, as diagrammed by Sheil Kapadia for Philadelphia Magazine's fantastic Birds 24/7 blog. I mean, how does a coaching staff attack an offense that moves at a lightning pace and is able to exploit the weak point of the defense without calling so much as an audible?
The answer is it could be awhile before anybody finds a way.
Are you sold yet?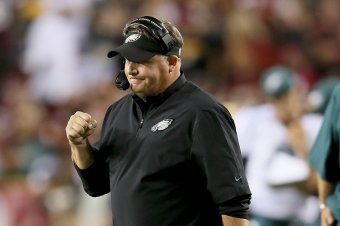 Rob Carr/Getty Images
I would probably look a heck of a lot smarter right now if I had written this story last week. Oh well, it should have been obvious even then.
Every year, there are a handful of surprises in the NFL and anybody who was taking the Kelly revolution lightly was making a huge mistake. His up-tempo offense, fused with a trendy zone-read system plus the glut of Pro Bowl talent that Reid left behind was a combination destined to give defensive coordinators headaches from the beginning.
Add in a last-place schedule plus the fact that the NFC East lacks a true powerhouse franchise at the moment and it's not hard to figure out where the wins are going to come from for the Eagles.
There's a chance the rest of the league will catch up to Kelly sooner than we think or that the holes on defense and/or lack of depth overall will come back to bite the Eagles. Maybe another head coach will simply be more deserving of NFL Coach of the Year recognition by the end of the year.
Anything is possible.
By the looks of things, though, Kelly's name is going to be in the mix and if even just one or two of these concepts that he is introducing and expanding upon takes root in the NFL this season, his contribution as a coach is going to transcend simple wins or losses in 2013.
Ultimately, that's why he will be the guy who brings home the hardware.