Pre-Training Camp Player Power Rankings for Indiana Pacers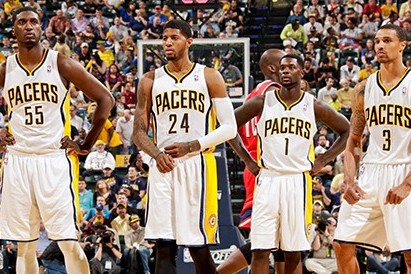 Joe Robbins/Getty Images
Hibbert, George, Stephenson and Hill are back for more in 2013-14 (photo courtesy of blogs.nba.com).
Just how does each Indiana Pacer stack up in the 2013 pre-training camp power rankings?
Will Chris Copeland's offseason workouts with defensive stud Ben Wallace catapult him to top-five status?
How about the best rim protector in the game, Roy Hibbert? Is his new, chiseled physique a reflection of how he'll become an even better player in 2013-14?
Don't underestimate up-and-coming shooting guard Orlando Johnson, who's also been busy with his offseason grind.
For the purposes of this article, the Indiana Pacers will be ranked according to their 2012-13 stats, as well as their potential to become key contributors to the team's title quest this season.
Bear in mind that these rankings only include the 13 players with guaranteed contracts, so don't expect Rasual Butler to be here just yet.
These Pacers are pretty stacked, so expect every player, from top to bottom, to figure in key roles in 2013-14.
Begin Slideshow

»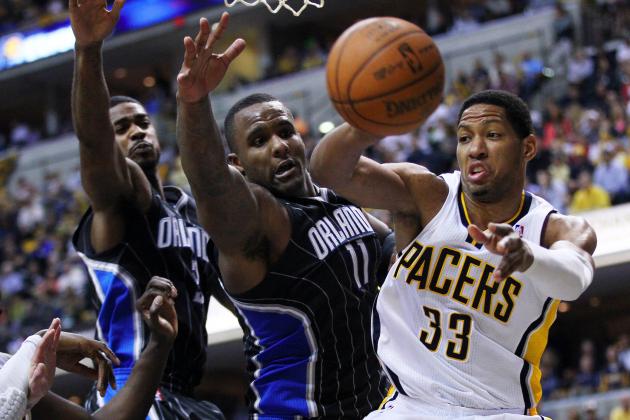 Michael Hickey-USA TODAY Sports
Will Danny Granger regain his old, deadly form in 2013-14?
Since Danny Granger missed all but five games of last season, it is only fair to leave him out of the rankings for now.
The good news for Indiana Pacers fans is Granger seems to be progressing as expected. No less than Pacers coach Frank Vogel affirmed as much on Aug. 27, according to Pacers.com:
It's really exciting. Danny is on schedule, looks really good, he's making progress each week and we're hoping that we're going to be having a full-strength Danny Granger this year to add to this team that made a lot of noise last year.
There's no question that Granger is a legitimate contributor. The bigger issue is if he will regain the old, deadly form that enabled him to average at least 20.5 points in three straight seasons and win the NBA's Most Improved Player award in 2009.
If he exceeds all expectations next season, he could very well bolt up these rankings, perhaps even cracking the top five.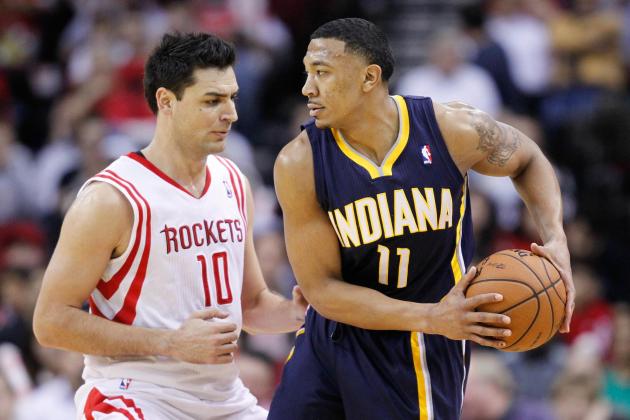 Thomas Campbell-USA TODAY Sports
Orlando Johnson (R) will compete for minutes at the 2-guard spot.
Donald Sloan's 2012-13 averages: 3.5 points, 1.2 rebounds, 1.7 assists, 0.0 blocks, 0.2 steals
Donald who? Donald Sloan, the Pacers' third point guard, that's who.
Sloan has played in a total of 56 games with three different teams in two seasons. Apparently, he has played well enough in his most recent NBA stint with the Cleveland Cavaliers in 2012-13 to merit a roster spot with Indiana.
Just to give you an idea, Cleveland assistant coach Nate Tibbetts says that Sloan can "change the game" with his defense and "does a real good job"of finding shooters.
He did show some potential in the Pacers' 2013 training camp in Orlando, but had a penchant for turning the ball over.
Let's hope he keeps this in check in the regular season.
Ian Mahinmi's 2012-13 averages: 5.0 points, 3.9 rebounds, 0.3 assists, 0.8 blocks, 0.5 steals
Mahinmi did a respectable job of filling in for Roy Hibbert when the latter struggled in the early going of last season.
However, when Hibbert got into a groove after the All-Star break, Mahinmi virtually disappeared. At least Mahinmi did make his presence felt in the playoffs against the Knicks and Heat in terms of his defense and rebounding.
As 2012-13 came to a conclusion, he wound up with sub-par stats that Pacers fans hope he improves upon in the upcoming season.
He does show some hustle whenever he hits the floor. If he will shine on defense even more and exploit his ability to knock down the medium-range jumper, he should flourish as Hibbert's main backup.
Unless he does otherwise, expect him to languish near the bottom of the player rankings.
Orlando Johnson's 2012-13 averages: 4.0 points, 2.2 rebounds, 0.9 assists, 0.2 blocks, 0.2 steals
Johnson is an intriguing two-guard for the Indiana Pacers.
According to Pacers.com's Mark Montieth, Johnson was Indiana's best three-point shooter in January and February 2013. During that span, he went 18-of-36 (.500).
Not bad for a rookie.
Johnson was also 6-of-11 on his three-point attempts during the Pacers' memorable West Coast road trip sweep in late March, per Montieth.
Plus, he runs the floor well and plays decent defense.
This simply tells us Johnson has the potential to shine in 2013-14. Last year, he was a project. Now, he figures to assume a role similar to what Byron Scott had with the Pacers in the mid-1990s in being a reliable shooter off the bench.
This is what Johnson implied when he told Scott Agness of the Pacers' official website on Sept. 6 that he is "trying to be an impact player."
With a slimmer and more explosive Johnson in tow, that goal shouldn't be too far-fetched.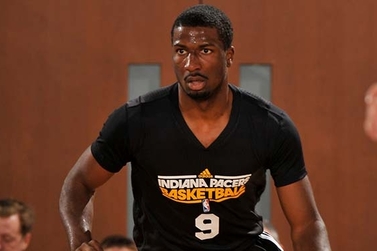 Solomon Hill made a great impression during the 2013 Orlando Pro Summer League (photo courtesy of NBA.com).
2012-13 averages: N/A
If Solomon Hill's showing during the 2013 Orlando Pro Summer League is any indication, the Indiana Pacers could very well have gotten a steal with the 23rd overall pick in last June's draft.
Hill averaged 12 points, 5.2 rebounds and 2.6 assists in five summer league games. He was also 10-of-18 from three-point distance.
Plus, he shot 49 percent from the field.
No less than team president Larry Bird said Hill should contribute immediately as a rookie, according to Scott Agness of the Pacers' website:
If you watch Solomon, he makes almost all the right plays. He makes the pass when he needs to, drives it, and he can hit the open shot. We wouldn't be afraid to put him in there right now and give him some minutes because he's a pretty good rookie and by the All-Star break he'll be a lot better.
Hill is also solid defensively, which would make him a respectable two-way player.
In spite of his credentials, Hill still has to earn his stripes just like any other rookie.
However, given his enormous potential, he's one Pacer who has what it takes to steadily climb these rankings.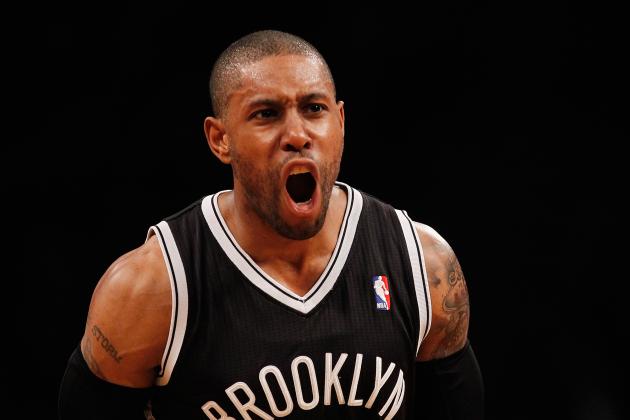 Mike Stobe/Getty Images
C.J. Watson represents an upgrade over the departed D.J. Augustin.
2012-13 averages: 6.8 points, 1.8 rebounds, 2.0 assists, 0.2 blocks, 0.8 steals
It was plain and clear that D.J. Augustin simply wasn't the answer for Indiana at the backup point guard spot last season.
Enter former Pacers tormentor C.J. Watson.
Pacers fans won't soon forget Watson's outside sniping as a member of the Chicago Bulls—an asset he brings to Indiana's title quest in 2013-14.
Mike Prada, of SB Nation, points out Watson allows the Pacers to "play small in the backcourt in certain matchups." This wasn't much of an option with the erratic Augustin on board last season.
Expect to see more of Watson and George Hill as a small backcourt combination that head coach Frank Vogel can put to good use.
All in all, Watson's production off the bench should be an excellent fit for the Indiana Pacers.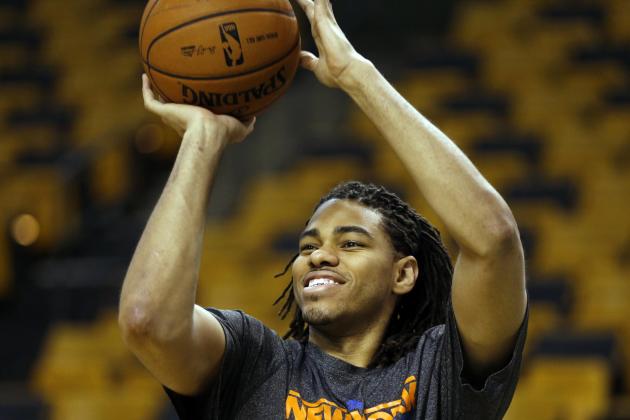 David Butler II-USA TODAY Sports
Chris Copeland should bring a much-needed scoring punch off the Pacers' bench.
2012-13 averages: 8.7 points, 2.1 rebounds, 0.5 assists, 0.2 blocks, 0.3 steals
His defense and rebounding are suspect, but make no mistake about it, Chris Copeland still will be of immense help to an Indiana Pacers' bench production that ranked second-to-last in 2012-13.
Pacers fans had a glimpse of what Copeland can do in Indiana's second-round playoff series against the Knicks, as he provided spot-up shooting and instant offense.
His off-the-bench scoring stats weren't bad at all for a rookie. Look for him to improve in the Pacers' scheme of things.
With Copeland and Luis Scola in tow, Indiana will no longer rely too much on its starting unit—something that will make them more unpredictable and hence, more effective.
Aside from helping out Roy Hibbert judge Area 55 aspirants, Copeland underwent arthroscopic left knee surgery after a trip to Argentina in July.
He told the Indianapolis Star's Michael Pointer that the knee is "much improved" and "he's training hard," but should be ready to go for the home season opener versus Orlando on Oct. 29.
That will be a moment that all of us are definitely looking forward to.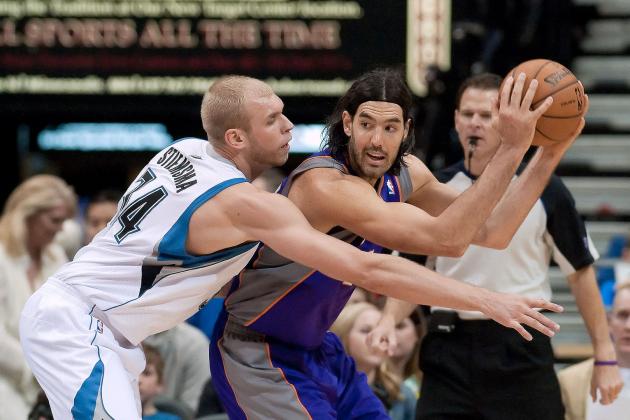 Greg Smith-USA TODAY Sports
Despite his age (33), veteran Luis Scola will still be a valuable contributor to the Pacers' cause.
2012-13 averages: 12.8 points, 6.6 rebounds, 2.2 assists, 0.4 blocks, 0.8 assists
Never mind if he's already 33 years old, that his production has tailed off in the past three seasons and that he is a mediocre defender at best.
Luis Scola is the Indiana Pacers' final ingredient in their NBA title quest.
In Scola, the Pacers get something they never got from Tyler Hansbrough—a big man with an array of post moves who is capable of knocking down jumpers from 20 feet and in.
In short, his offensive game is pretty similar to that of David West. That being said, having two David Wests in your roster is an absolute good thing.
A starter for most of his NBA career, it will be interesting to witness his transition to bench player. Being the consummate professional that he is, Scola said this shouldn't be a problem at all, per USA Today:
It's not my choice, but I am going to embrace my role. It's a different role, but I think we've got a bunch of new players that can make a difference in the role they play. I will try to be one of those players.
For now, his stats and potential to contribute in 2013-14 make him the sixth-best player on the Pacers.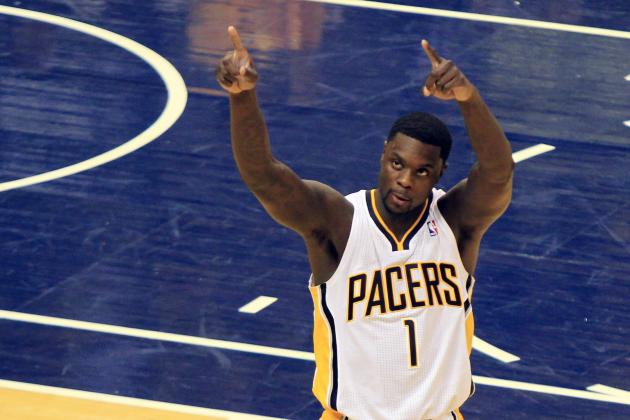 Pat Lovell-USA TODAY Sports
Pacers fans are hoping Lance Stephenson will be able to build on his success in 2012-13.
2012-13 averages: 8.8 points, 3.9 rebounds, 2.9 assists, 0.2 blocks, 1.0 steals
The good news is that Lance "Born Ready" Stephenson plays all out and has "superstar" written all over him whenever he gets it going.
The bad news is that Stephenson is just as capable of playing out of control—enough to make Pacers coaches, teammates and fans all shake their heads.
So which Lance Stephenson will show up in 2013-14?
Realistically, Stephenson doesn't figure to always be the player he was in Game 6 against the Knicks or in Game 4 against the Heat.
Because even though he and Paul George are both 23, George is more mature while Stephenson still has some growing up to do.
In spite of this, Stephenson's fearlessness and energy will once again bode well for Indiana. If he can improve his mid-range game and pick his spots better, expect his style of play to impress even more.
Stats-wise, Stephenson is just OK, but his overall value to the Pacers is priceless.
Joe Camporeale-USA TODAY Sports
George Hill enters his second season as the Indiana Pacers' starting point guard.
2012-13 averages: 14.2 points, 3.7 rebounds, 4.7 assists, 0.3 blocks, 1.1 steals
George Hill enters his second full season as the Indiana Pacers' starting point guard.
Last season, he quietly put up career highs of 14.2 points, 4.7 assists and 1.1 steals per contest in a performance that went largely under the radar.
More importantly, Indiana went 49-32 in the regular season, clinched the East's No. 3 seed and pushed the eventual NBA champion Miami Heat to a Game 7 with Hill directing the flow of the Pacers' offense.
Still, some fans aren't happy. They are clamoring for a traditional point guard who is better at setting up his teammates for open looks and feeding the ball down low.
They shouldn't forget that Hill had to fight his way through the effects of a shoulder injury which he suffered in Game 4 of the second-round series against New York.
Hill is tougher than you think. Count on him to use this season as motivation to prove his naysayers wrong and that he's capable of helping the Pacers win their first NBA title.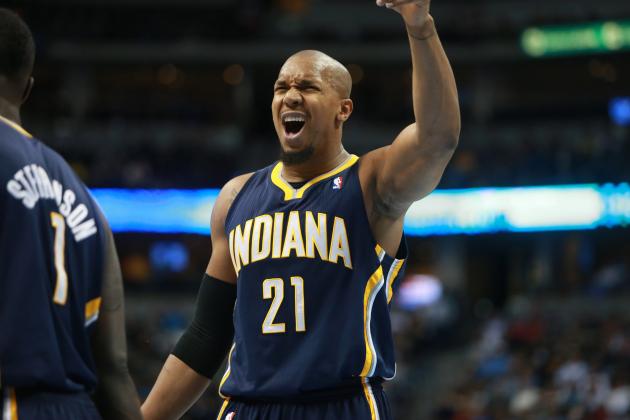 USA TODAY Sports
David West re-signing with the Indiana Pacers over the summer was absolutely critical to their long-term success.
2012-13 averages: 17.1 points, 7.7 rebounds, 2.9 assists, 0.9 blocks, 1.0 steals
Had David West not re-signed with the Pacers over the summer, their 2013-14 championship aspirations would have taken a major hit.
Sure, then-free-agent power forwards such as Paul Millsap or Carl Landry would have been attractive in the event that situation arose.
However, West is the heart and soul of the Indiana Pacers.
While Roy Hibbert is the Pacers' stonewall on defense and Paul George is their franchise player-in-the-making, West is the player whose savvy veteran presence and locker room influence have made all the difference in helping Indiana progress in the playoffs over the last two seasons.
There's no denying his stats reflect the great job he's doing for the Pacers, but it's really these intangibles that make him such a valuable steadying influence.
As a parting shot, being the team's heart and soul does not define these rankings—stats and potential for the upcoming season do.
That's too bad for West, because if the opposite does apply, he would have been No. 1 in a heartbeat.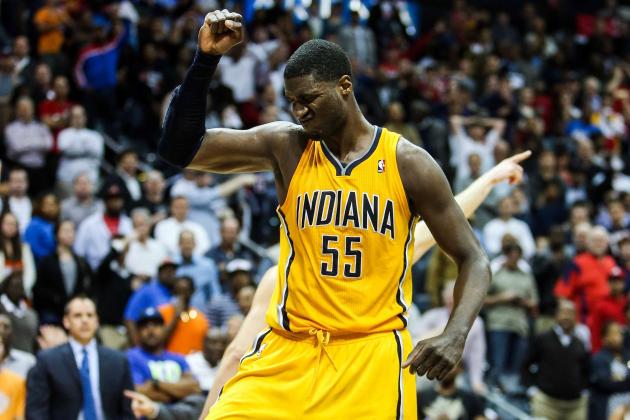 Daniel Shirey-USA TODAY Sports
Big man Roy Hibbert can potentially dominate the NBA's other centers.
2012-13 averages: 11.9 points, 8.3 rebounds, 1.4 assists, 2.6 blocks, 0.5 steals
Enter the Great Wall of Hibbert.
Roy Hibbert didn't exactly start the 2012-13 season on a high note. As a matter of fact, he arguably played the worst stretch of basketball in his entire career from November to late January of last season.
His worst month was November, when he shot a paltry .378 from the floor and a measly .563 from the stripe. Three grueling months later, somebody flipped the switch, and the rest was history.
If only Hibbert had played the same way he did in the playoffs for the entire season, he would have been the Indiana Pacers' best player.
But he didn't.
The good news is that Hibbert put in offseason work with the San Antonio Spurs' Tim Duncan. And in case you missed it, his latest physique heading into camp, which is nothing short of awesome, is a testament to his dedication.
In short, he's picking up where he left off after a dominant showing in the postseason.
Count on Hibbert to be the NBA's best rim protector for years to come.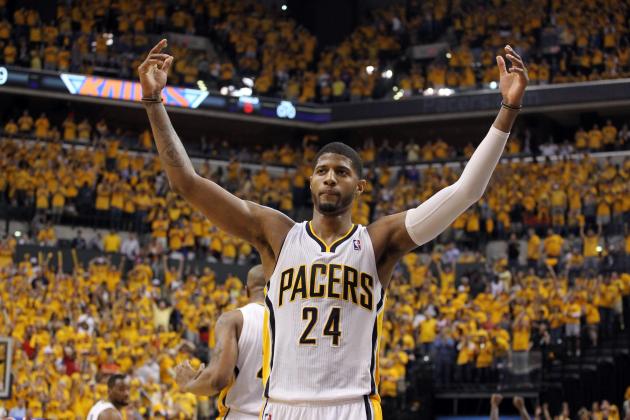 Brian Spurlock-USA TODAY Sports
Paul George is arguably the Indiana Pacers' best player.
2012-13 averages: 17.4 points, 7.6 rebounds, 4.1 assists, 0.6 blocks, 1.8 steals
Paul George can score in a variety of ways—drive to the hoop, dunk in traffic and in transition or pull up for the three-pointer. He can also pass.
His defensive anticipation is uncanny and second to none. George is also capable of pulling down at least 10 rebounds on any given night.
Stats don't lie. So what does he have to do in order to be an even better player?
Drastically minimize his turnovers and improve his mid-range game.
Again, stats don't lie.
Just imagine if this NBA All-Star, NBA All-Defensive Second Team-member and All-NBA Third Team-member improves even more.
Wow.
Seriously, if the showdown against league MVP LeBron James in the Eastern Conference Finals is any indication, George should be able to make even more strides in 2013-14, given his stellar work ethic.
George is the Indiana Pacers' best player.
Unless otherwise noted, all stat lines are courtesy of ESPN.com.