Buccaneers vs. Jets: Takeaways from New York's 18-17 Win over Tampa Bay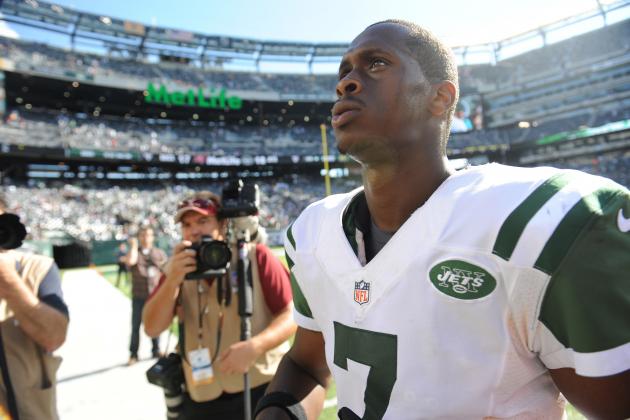 Joe Camporeale-USA TODAY Sports

It certainly wasn't pretty, but the New York Jets found a way to pull out a miraculous come-from-behind win in the waning seconds to get the biggest upset of Week 1.
Outside of a win, there were a lot of positives to take away from Geno Smith's debut, but he also has a lot to work on. Some rookies, such as Sheldon Richardson, shined while others, including Dee Milliner, struggled.
Here are some takeaways form the Jets' win in their season opener.
Begin Slideshow

»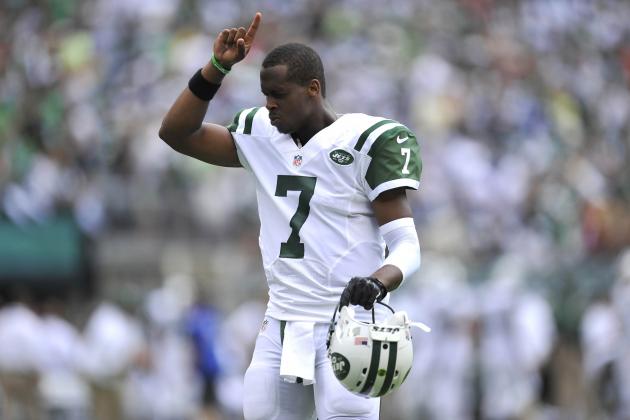 Joe Camporeale-USA TODAY Sports

Smith's regular-season debut was far from perfect, but the Jets have to be pleased with what they saw from their rookie signal-caller.
Going 24-of-38 for 256 yards, Geno showed a ton of improvement from his three-interception preseason debut a few weeks ago. He showed his impressive arm strength and ability to buy time and make plays with his feet.
More so than anything, however, was the poise Geno showed, and not just at the end of the game. The Tampa Bay Buccaneers started to dial up the pressure in the second half, and he did not let an ugly interception or fumble hurt his confidence. He threw the ball away when it was appropriate and kept his mistakes to a minimum.
Smith does have to learn how to get rid of the ball sooner—he wasted terrific pass protection early in the game on a lot of plays—but the arrow is pointing up for Smith, which gives the Jets hope that they will only be more difficult to beat with each passing week.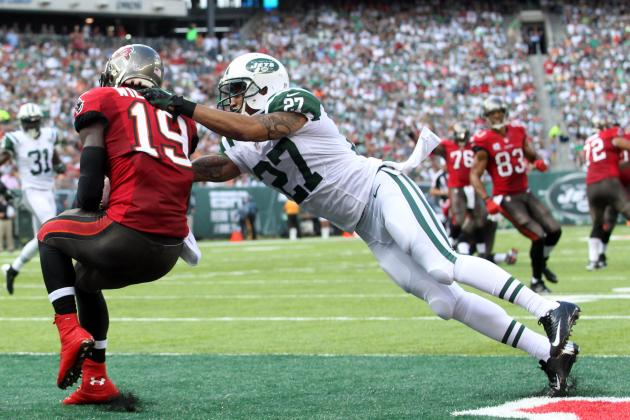 Brad Penner-USA TODAY Sports

The Jets defense was hardly a problem, but it was clear as day that Darrelle Revis was not on New York's sideline anymore.
While Revis turned in his typical shutdown performance for the Buccaneers, the Jets starting cornerbacks, Dee Milliner and Antonio Cromartie, had underwhelming afternoons.
Vincent Jackson got the best of Antonio Cromartie, catching seven passes for 154 yards. Dee Milliner was beat soundly by Mike Williams on a long touchdown grab.
Cromartie is not the first cornerback to get beat by Jackson, and Milliner is still a rookie, but it is now apparent that the Jets are not going to lose a player of Revis' magnitude without some kind of drop-off in production.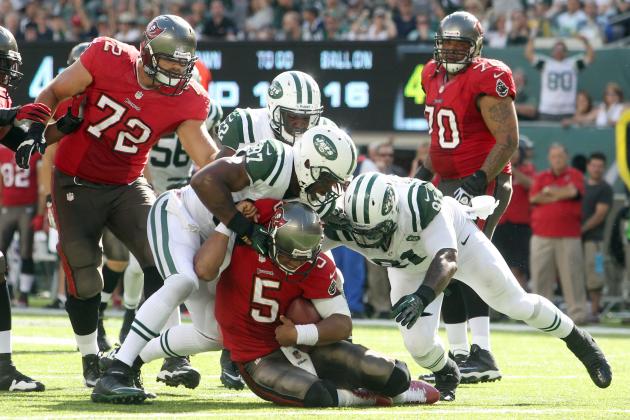 Brad Penner-USA TODAY Sports

While the Jets may have lost a star in the secondary, they have countered their losses by upgrading their pass rush in the offseason—and it showed.
The Jets were able to get pass-rush contributions from three different players. Antwan Barnes made his presence felt with an early sack, and Calvin Pace showed some untapped youth with a half of a sack, combining with rookie Sheldon Richardson.
Muhammad Wilkerson continued his dominant play up front with a sack of his own.
The Jets were burned on a handful of blitzes all afternoon, but they were able to get pressure when they only rushed three or four players. Perhaps Rex Ryan will tone down the aggressiveness on third down as his pass-rushers continue to get pressure on their own.
Joe Camporeale-USA TODAY Sports

Smith spent more time than he should have running away from pressure, but it was not usually because his linemen were getting beat in one-on-one battles.
Instead, Smith found himself under pressure because of a combination of him taking too long to get rid of the ball and the Jets having mental errors in protection.
There were a handful of occasions when simple stunts and blitzes were not picked up because of a mistake made by a running back or offensive lineman, which forced Smith to get rid of the ball long before he wanted to. Smith was sacked five times before all was said and done.
These types of issues are not uncommon for a season opener, but this is an area that needs to be cleaned up if the Jets want to sustain more drives on offense.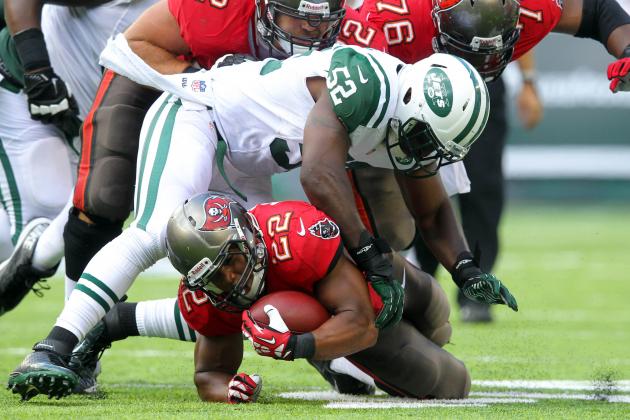 Brad Penner-USA TODAY Sports

The Jets run defense issues from 2012 appear to be over.
Rex Ryan's defense bottled up one of the best young running backs in the league in Doug Martin. Martin was held to just 64 yards on 24 carries, a 2.7 average.
Sophomore defensive tackle Damon Harrison, who went undrafted last year, had a dominant performance starting at nose tackle over Kenrick Ellis. Combined with great tackling from David Harris and Dawan Landry, Martin did not break a decent run until the final drive of the game.
The Jets' roster is far from perfect—but their defensive line is as deep and talented as any 3-4 front in football.
Keeping the Buccaneers one-dimensional was perhaps the biggest reason why the Jets were able to keep the score down and pull out the win.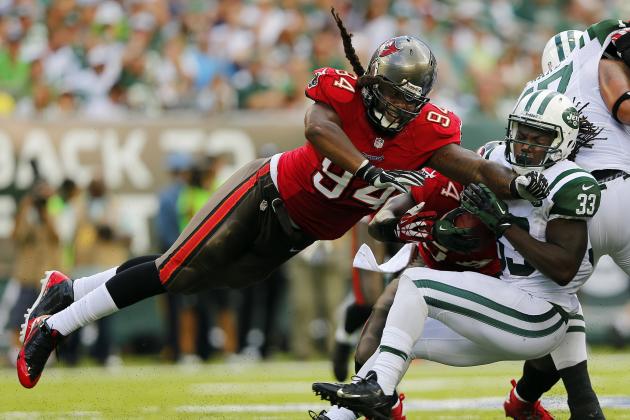 Rich Schultz/Getty Images

The Jets run defense was spectacular, but it was not even the best run defense in the stadium. The Buccaneers showed why they were the league's top-ranked run defense from a year ago.
Bilal Powell and Chris Ivory combined for a mere 44 rushing yards. In fact, Smith outrushed both of them with 47 yards on his own.
The Jets got little push at the line of scrimmage, and neither Jets running back was able to create room on their own. The biggest plays the Jets running backs made came on screen passes.
Smith was able to pick up the slack on the ground and make enough throws to overcome his lack of a running game, but the Jets need more from the ground game to stay out of so many 3rd-and-long situations.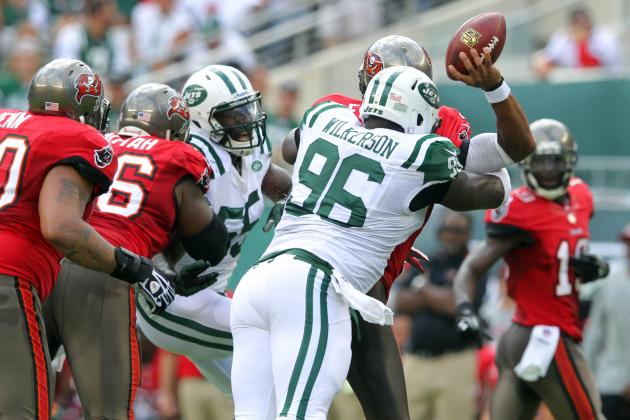 Brad Penner-USA TODAY Sports

Now that Mike Pettine is no longer around to keep Ryan in check, the Jets are back to playing defense like it's 2009 again.
The results, however, were nowhere near the dominance of the top-ranked Jets defense from 2009. The Jets were burned on several 3rd-and-long situations, including the long reception by Vincent Jackson that was a result of a blown assignment.
While I wouldn't expect Ryan to abandon his aggressive, blitz-happy philosophy altogether, the Jets clearly need to be sharper on third downs. Ryan also needs to be a bit more level-headed in end-of-game situations, as his defensive play-calling nearly cost his team the game.
The good news is that the Jets have shown enough improvement in their pass rush to take their foot off the gas pedal on third downs in high-stakes situations.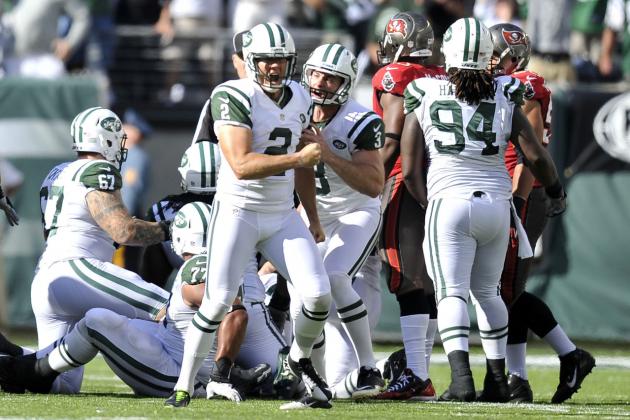 Joe Camporeale-USA TODAY Sports

Since he was brought on for the 2010 season, Nick Folk has quietly become one of the most consistent and clutch kickers in football—and his 48-yard boot to win the game for the Jets only adds to his growing resume of clutch kicks.
Whether it was the Wild Card Game in 2010 or his overtime kick against the Miami Dolphins last year, Folk has delivered in the clutch again and again—not an easy thing to do in a city like New York.
Folk was perfect on all three of his attempts of the afternoon. Without Folk, the Jets simply would not have won.
Folk has been so good that the Jets might start to get nervous that they are overdue for a devastating miss sooner or later.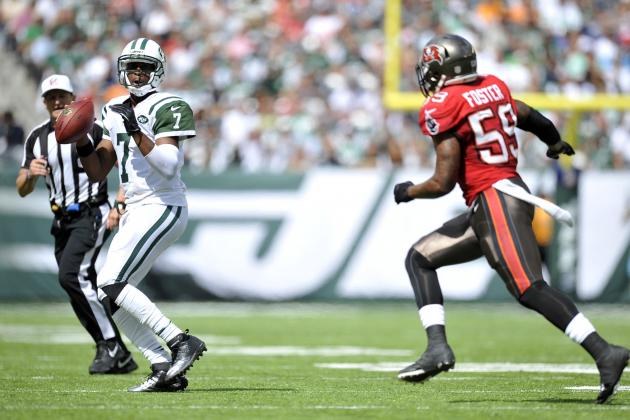 Joe Camporeale-USA TODAY Sports

"Ground-and-pound" is dead—and it isn't coming back.
In the past, the Jets would have run the ball three plays in a row to take the ball out of Mark Sanchez's hands. Instead, Marty Mornhinweg gave Smith as many chances to make plays as possible.
Smith threw the ball 38 times—a responsible-yet-healthy amount for a rookie making his debut. Working against one of the best run defenses in football, the Jets would have been foolish to keep putting Smith in 3rd-and-long situations after two unsuccessful run plays.
I would not expect the Jets to become an elite passing team anytime soon, but they have shown that they trust Smith enough to put him in a position to make plays without the support of a dominant running game.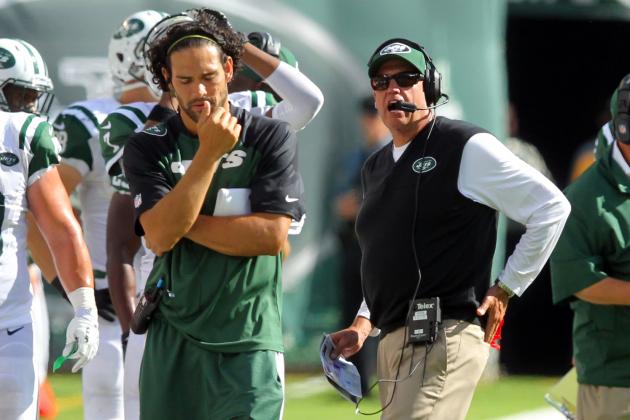 Brad Penner-USA TODAY Sports

When Folk's kick flew through the uprights in the waning seconds, it all but ended Sanchez's hope of starting again in a Jets uniform.
Not only are the Jets afraid that he may have a torn labrum, via Chris Mortensen of ESPN, but the cold reality of the NFL is that jobs could be lost due to injury, no matter how unfair it is.
No one knows for sure who was going to be the quarterback if Sanchez was healthy for this game, but if Smith keeps winning and playing a competent level, the Jets would have no interest in turning back to Sanchez no matter how strong his training camp was.
The only path to Sanchez being a starter for the Jets again is if he gets healthy and Smith either suffers an injury of his own or completely falls apart over the next few months—both of which are extremely unlikely.
In the end, perhaps a quiet exit from the starting gig in New York is best for Sanchez. After all, he wasn't flat-out benched for performance this season, so he can keep his head held high as he focuses on his rehab and getting on with his career somewhere outside of New York.