Baltimore Ravens vs. Denver Broncos: Full Roster Report Card Grades for Denver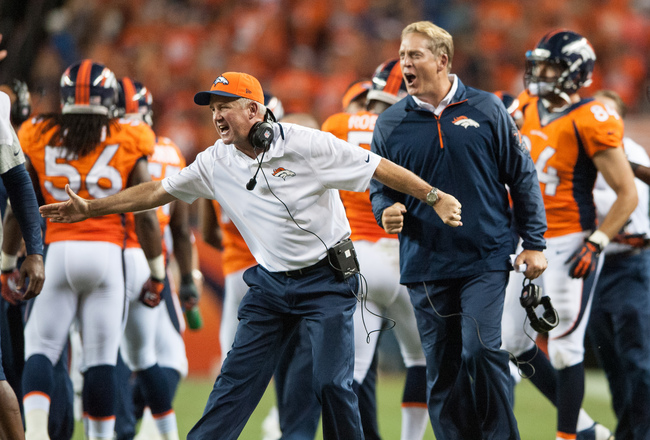 Dustin Bradford/Getty Images
Thursday night's season-opening 49-27 win over the Baltimore Ravens provided multiple positives for the Denver Broncos. It wasn't a revenge game for the Broncos, but they did seem to exorcise the demons from the loss to the Ravens in the playoffs last year.
Several storylines came from this game. Most players increased their stock as they had standout performances. Other players saw a decline in their stock because of deficiencies they showed in the opening game.
The game started out a bit slow on both sides of the ball for the Broncos. However, when the second half began, we saw them make the adjustments needed not only to win, but to also dominate their opponent.
Check out the grades for each Broncos player against the Ravens.
Quarterbacks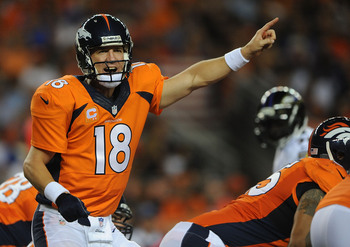 Dustin Bradford/Getty Images
Peyton Manning: A+

He's simply one of the best to ever play the game, and Manning was nearly perfect on Thursday night. He threw for 462 yards and a record-tying seven touchdowns against the Ravens.
Without the aid of a strong ground game, Manning put the offense on his shoulders. He managed to throw touchdown passes to four different receivers on the night. Manning spread the ball around and kept the Ravens on their heels defensively.
Manning did a good job of taking what the defense was giving him at times. When the moment arose to take a shot at the end zone, Manning did not hesitate. When the Ravens made adjustments in their coverage, he was already one step ahead.
I predicted Manning would throw for over 5,000 yards for the first time in his career this season. After such a large amount of production in the opener, Manning only needs to average 303 yards passing per game to reach that mark.
Running Backs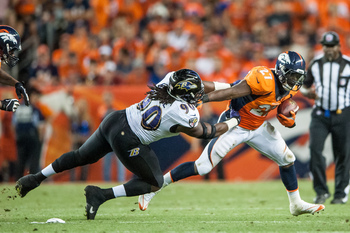 Dustin Bradford/Getty Images
Knowshon Moreno: C
Some were surprised when Knowshon Moreno got the starting nod to open the season. The move makes sense for the Broncos since Moreno is the best pass-blocker at the position.
Moreno played more snaps (40) than Ronnie Hillman (15) and Montee Ball (18) combined. He didn't do much with those snaps in terms of rushing or receiving yards. Moreno only had 28 yards rushing on nine carries. He also chipped in with 37 yards on three catches.
He best helped the Broncos by protecting Peyton Manning. Moreno even resorted to holding on a play in the third quarter to prevent Manning from getting crushed by the pass rush.
Ronnie Hillman: C
Even though he was at the top of the depth chart at the end of the preseason, Ronnie Hillman did not start on Thursday night. His fumbling problems have created a lack of trust, and Hillman must overcome that problem in order to earn more playing time.
On his limited snap count, Hillman was effective as a runner and receiver out of the backfield. He had a higher per-carry average (3.8) than Moreno (3.1) or Ball (3.0). Hillman finished the night with 15 yards rushing on four carries.
As a receiver, Hillman snared two passes for 27 yards. On those two catches, he showed great explosion and the ability to get by defenders quickly after the catch.
Montee Ball: C
The rookie is going to get eased into the lineup for the Broncos. Pass blocking is a problem for him now, and that's why Ball was only asked to do it three times on the night.
Ball has a nose for the end zone, and the team tried to get him a touchdown against the Ravens in the third quarter. He failed to make the corner from six yards away and ended up getting pushed out of bounds at the Ravens' 2-yard line.
He finished the night with 24 yards rushing on eight carries. Ball failed to record a catch in the season opener.
Wide Receivers
Ron Chenoy-USA TODAY Sports
Thomas started out the game slowly, but turned it on after halftime. Manning only targeted Thomas four times in the first half which resulted in two receptions. In the second half, Thomas was targeted seven times which turned into three catches and two touchdowns.
His 78-yard touchdown in the fourth quarter was the final nail in the coffin for the Ravens. Thomas took a short pass and turned it into a huge gain with his elite speed. He showed why he's one of the more exciting receivers in the game today.
Thomas finished the game with five catches for 161 yards and two touchdowns.
Wes Welker: A
The Ravens were paying a lot of defensive attention to Thomas early in this game. That left Welker open on most plays and Manning made them pay.
Welker showed instant chemistry with his new quarterback in the season opener. He was tough to cover and constantly getting open on underneath routes.
He would have earned an "A+" from me had it not been for one blemish on the night. Welker muffed a punt return which allowed the Ravens to get an easy touchdown in the second quarter.
Welker was targeted 11 times by Manning and finished with nine catches for 67 yards and two touchdowns.
Eric Decker: D
Decker is a quality player, but the season opener was not his best game. He finished with only two catches for 32 yards against the Ravens.
He was targeted seven times on the night, but recorded three drops, including one in the end zone. Decker also drew an offensive pass-interference penalty.
I'm fairly confident he'll bounce back and earn a better grade next week.
Andre Caldwell: B
Caldwell was only on the field for three snaps, but he made them count. He was able to slip by the defense down the left sideline and haul in a 28-yard touchdown pass from Manning. Caldwell would have earned an "A" had he caught the ball cleanly. He bobbled it a bit, but secured it for six points.
Tight Ends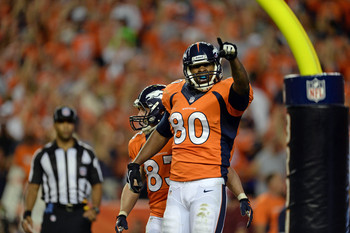 Ron Chenoy-USA TODAY Sports
Julius Thomas: A+
I've been waiting for Thomas to break out. He impressed me at the 2011 Shrine Game and I wrote about him at the NFL Scouting Combine that year. Thomas was a basketball star coming out of Portland State with limited experience playing football when the Broncos drafted him.
He missed most of the first two seasons with the team due to an ankle injury. Thomas is healthy now and looked every bit like a star on Thursday night.
The Ravens didn't have an answer for Thomas, and his two receiving touchdowns in the second quarter built momentum for the Broncos. He was targeted seven times and finished with five catches for 110 yards.
Thomas did most of his damage before halftime and was asked to block more in the second half. The Ravens also adjusted to Thomas defensively which left Demaryius Thomas with single coverage on certain snaps.
Jacob Tamme: C
Tamme was on the field for a small handful of snaps, but was asked mostly to block. He failed to record a catch in the season opener.
Virgil Green: C
Green was on the field for more snaps than Tamme because he's a better blocker. He also failed to record a catch on Thursday night.
Offensive Line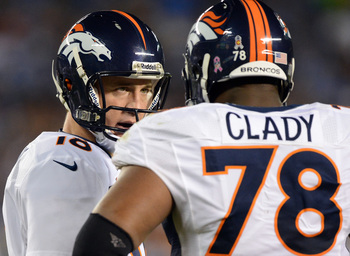 Harry How/Getty Images
Ryan Clady: C

The left side of the offensive line had to put up with a lot of defensive pressure in the opener. Clady allowed a rare sack when Terrell Suggs was able to push by him and get to Manning.
Clady allowed four quarterback hurries and was also called for a holding penalty that was declined.
Zane Beadles: C
Like Clady, it was a rough night for Beadles overall. He wasn't getting much push as a run blocker and let some pressure get to Manning.
Beadles allowed one sack, one quarterback hit and two pressures against the Ravens.
Manny Ramirez: B
Ramirez played a better game than I had anticipated. Last year, he had trouble at guard, lining up against Haloti Ngata, but fared better this year at center.
He didn't allow a single pressure on 45 passing plays for the Broncos.
Louis Vasquez: B
Vasquez was a prized free-agent addition by the Broncos. In the season opener, he did a good job as a run blocker. He was able to move his opponent with ease and helped open some holes for the ground game.
He also excelled as a pass-blocker. Vasquez didn't allow a single pressure on Manning in 45 passing plays.
Orlando Franklin: B
Franklin is a tremendous run blocker who can easily move defenders out of the way. He showed functional strength against the Ravens on running plays.
Pass protection is not known as his forte, but Franklin did a good job keeping the pressure away from Manning. Like Ramirez and Vasquez, we saw zero pressures allowed by Franklin on Thursday night.
Defensive Ends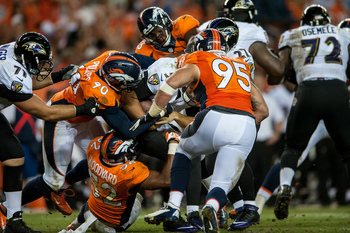 Dustin Bradford/Getty Images
Derek Wolfe: B
As expected, Wolfe was asked to rush the passer more in the season opener. He did not drop into coverage once, but was able to hit Joe Flacco once and hurry him another time.
Wolfe finished the game with four total tackles, three solo, and two tackles for a loss.
Robert Ayers: B+
Ayers was able to have a big night against the Ravens. He recorded six quarterback hurries on the night, including four hurries, one quarterback hit and one sack.
The Broncos asked him to drop into coverage a few times and, as always, Ayers helped set the edge as a run defender. He finished the night with one tackle for a loss.
Malik Jackson: C
Jackson was only on the field primarily as a pass-rusher. He was asked to drop into coverage only once, and most of his 37 snaps were spent trying to get after the quarterback.
Jackson finished the night with one quarterback pressure and one tackle.
Defensive Tackles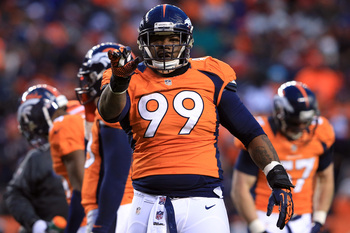 Doug Pensinger/Getty Images
Kevin Vickerson: B
On 21 carries, the Ravens only averaged 2.8 yards per attempt. A big reason why is the play of Vickerson and the interior defensive linemen.
Vickerson helped clog up the middle and finished the night with two tackles and one tackle for loss.
Terrance Knighton: B
Knighton had trouble standing his ground in the preseason, but had no such problems on Thursday night. He stood strong in the middle and swallowed up the ball-carrier whenever in his vicinity.
Knightonhad two tackles on the night and even recorded one quarterback hit.
Sylvester Williams: C-
The Broncos spent a first-round pick on Williams in the 2013 NFL draft. The rookie has a lot of learning to do and was sometimes pushed around as a run defender by the Ravens. Williams needs to do a better job of getting off the snap quickly. He did finish with one tackle for loss.
Mitch Unrein: C-
Unrein played 38 snaps against the Ravens and spent all but 10 going after the quarterback. He failed to record any hurries on the quarterback and finished the night with one tackle.
Linebackers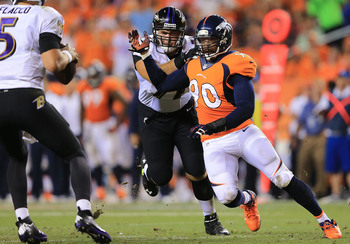 Doug Pensinger/Getty Images
Shaun Phillips: A+
Phillips was able to be the pass-rusher the Broncos needed on Thursday night. With Von Miller out for the first six games of the season, the Broncos will turn to Phillips as their lead sack artist.
He responded by having an outstanding three-sack performance against the Ravens. Phillips was constantly in Flacco's face and ended the night with seven total quarterback pressures.
Nate Irving: B+
Irving was on the field for only 25 out of 89 possible snaps on Thursday night. Out of those 25 snaps, he spent most of the time going forward to seek out the ball-carrier. On 10 snaps, he was asked to cover and did a better job than I had anticipated.
Wesley Woodyard: B
Woodyard showed well in the middle of the defense. He did a good job holding up against the run and was part of the second level that allowed only 2.8 yards per carry by the Ravens.
He also did a good job in coverage, helping to stifle the Ravens as they attempted to get back in the game during the second half.
Woodyard did allow one touchdown pass in the first quarter when fullback Vonta Leach slipped out of the backfield and into the end zone.
Paris Lenon: C-
Lenon didn't play many snaps on the night, but recorded two tackles against the Ravens.
Danny Trevathan: D
Trevathan is one of my favorite young players on the Broncos roster. He showed great ball skills after he intercepted Flacco. However, he failed to hold on to the ball and dropped it before crossing the goal line. That play earns him this low grade.
Cornerbacks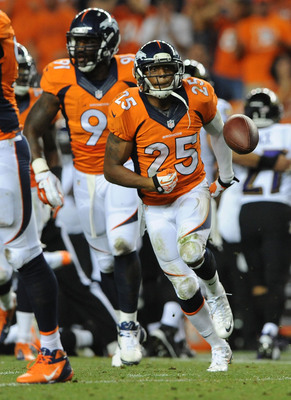 Dustin Bradford/Getty Images
Dominique Rodgers-Cromartie: A+
Rodgers-Cromartie has his swagger back. The Broncos added him in free agency to start opposite Champ Bailey, but he ended up as the lead corner with Bailey missing the game due to a foot injury.
We saw Rodgers-Cromartie targeted only one time, as he was all over any receiver lined up on his side of the field.
Chris Harris: A
Harris was able to get his hands on a Flacco pass intended for Brandon Stokley. He was targeted eight times by Flacco, but only allowed three catches for 48 yards on Thursday night.
With the injury to Champ Bailey, the Broncos needed Harris to have a big game, as he moved from the slot to the outside right cornerback spot.
Tony Carter: C

Carter is, and always will be, a gambler in coverage. He was targeted more times (10) than any other player on the Broncos.
He allowed five catches for 96 yards on Thursday night. Carter was able to knock away one of the 10 passes thrown his way.
Kayvon Webster: C-

The rookie had an up-and-down night against the Ravens. Webster was targeted twice on the night. The first target he knocked way. On the second target, he was burned by rookie Marlon Brown for a 13-yard touchdown catch.
Safeties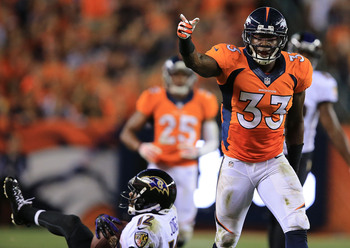 Doug Pensinger/Getty Images
Duke Ihenacho: A
This was a breakout night for Ihenacho. He was able to harass the Ravens all night, and his energy helped fuel the Broncos defense.
Ihenacho was sent on a blitz six times on Thursday night. He is constantly around the football and loves to make the big hit. He finished with 12 tackles, including one for a loss.
Flacco targeted Ihenacho seven times, and the young safety defended three of those passes. He allowed only four catches for 26 yards.
Rahim Moore: B
Moore played every defensive snap (89) for the Broncos. He didn't allow the ghosts of last year's playoff game haunt him on Thursday night.
He was targeted four times and allowed only three receptions for 18 yards. He finished third on the team with six tackles and had one pass defensed.
Mike Adams: C
Adams lost his starting job, as he simply can't make the plays around the ball that Ihenacho does. He got plenty of playing time as a reserve player late in the game.
The Ravens were trying to play catch up with the Broncos for most of the second half, and it led to an increase in targets for players in the secondary. Adams was targeted three times and gave up two catches for 25 yards. He also had two tackles and one pass defensed.
David Bruton: B
Bruton made his presence felt when he blocked a punt in the third quarter. He played only two snaps on defense and ended up blitzing both times. He recorded one quarterback hit on Flacco.
Special Teams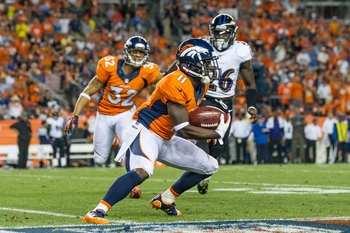 Dustin Bradford/Getty Images
Returner Trindon Holliday: B
Holliday held on to the ball and compiled 36 yards on four punt returns.
Kicker Matt Prater: A
Prater had an easy night at the office. With Manning throwing seven touchdowns we saw Prater on the field for seven extra points. He was, of course, perfect on the night.
Punter Britton Colquitt: A
Colquitt finished the night with seven punts for 319 yards. He had one touchback, five punts land inside the 20-yard line and a long punt of 59 yards.
Keep Reading

Denver Broncos: Like this team?