Eight Things We Learned About the Miami Dolphins During Preseason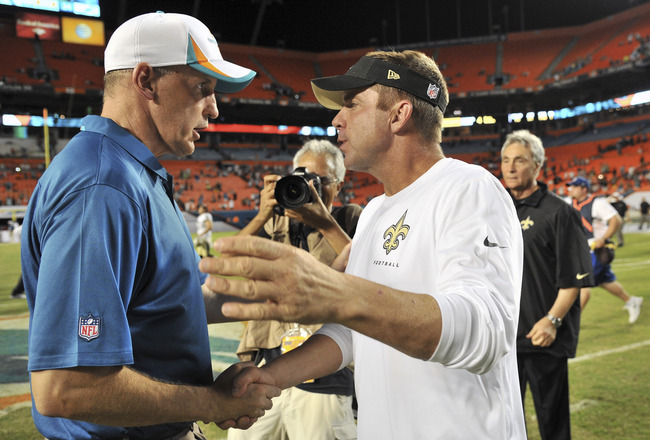 Steve Mitchell-USA TODAY Sports
I have written much on the Miami Dolphins' 2013 preseason. I have given plenty of observations and opinions. I gave you some burning questions for the regular season, in the wake of preseason developments. I highlighted what's new for the Miami Dolphins in 2013, especially in light of preseason observations. I gave you a report card for every position, and labeled my biggest snubs and surprises in the wake of final cuts.
You will notice that certain themes, questions, observations and opinions remain pervasive in my thoughts about the Dolphins, how their preseason went and how they approach the NFL season.
With this final piece about the preseason, I hope to draw it all together into the eight significant lessons I believe we learned from the Miami Dolphins' 2013 preseason.
Note: I often reference in the following slides detailed data provided to me by Pro Football Focus, a subscription-based statistics and ratings resource that I find second-to-none in worth.
Throughout the piece, I will annotate every instance in which the data I discuss came from Pro Football Focus, however I will not necessarily provide a link every time. Much of the data I cite has no link, as it is the result of my own constructed analyses utilizing raw data provided by Pro Football Focus.
Lesson 1: Quarterback Ryan Tannehill Is More Decisive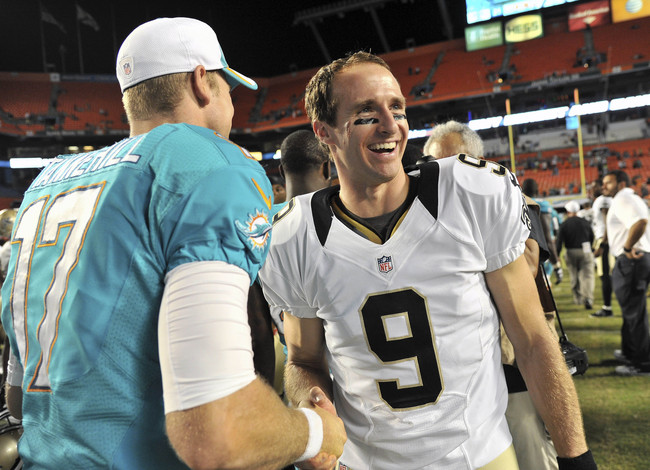 Steve Mitchell-USA TODAY Sports
I have discussed in several articles how much more decisive quarterback Ryan Tannehill looked with the football in his hands this preseason. The point cannot be emphasized enough, because it affects so many aspects of the offense.
According to data from Pro Football Focus, Tannehill ranked 11th in the league among qualified passers (those that took 50 percent or more of their team's snaps) in 2012 for percentage of drop backs where the quarterback got rid of the football in 2.5 seconds or less.
The top percentages in the league hovered around 60 to 61 percent, whereas Ryan Tannehill got the football out quickly on 51 to 52 percent of snaps.
What particularly interested me about Tannehill's performance this preseason were his last two appearances against the Texans and Buccaneers.
Admittedly, with very little in the way of game-planning or preparation, Tannehill looked sloppy against the Cowboys in the Hall of Fame game as well as against the Jacksonville Jaguars the following week. He seemed knuckle down in the next two games, as I personally clocked 37 of his 48 (77 percent) drop backs resulting in the football coming off his hands within about 2.5 seconds or less.
Why is this important? There are two primary reasons you like to see your quarterback get the ball out quickly.
The first is the simple fact that getting the football out of your quarterback's hands can mask deficiencies in pass protection.
Analyzing the raw data from the 2012 season via Pro Football Focus, we find that qualifying quarterbacks (those with 100-plus drop backs in the category) were only sacked once in approximately 78 drop backs within 2.5 seconds of the snap. When holding the football longer than 2.5 seconds, quarterbacks were sacked once every nine drop backs. This is a wide disparity.
The tendency to get sacked as often as once every nine drop backs detracts heavily from net yards per pass attempt, which figure heavily into winning tendencies. The Dolphins may have several problem areas along the offensive line, so Tannehill's ability to get the football out of his hands quickly could help the team mask them.
The second reason an increase in decisiveness could be important involves passer efficiency on plays where the football comes out in 2.5 seconds or less.
Once again analyzing the 2012 raw data from Pro Football Focus, we find that the median passer rating among quarterbacks with 100-plus attempts in the 2.5 seconds or less category was about 90.7. The median passer rating for passes that took longer than 2.5 seconds was only 77.0.
So not only are passes that take longer than 2.5 seconds less efficient on a net yardage per attempt basis due to sack damage, even excluding the sacks, the passes themselves also tend to be less efficient.
I do not expect Tannehill to be able to throw 77 percent of his passes in about 2.5 seconds or less in 2013. The remarkable results achieved during the Texans and Buccaneers outings doubtless had something to do with facing vanilla preseason defenses and a lack of extensive game-planning.
However, the increased decisiveness was still an excellent sign, and it could result in better passing efficiency in 2013.
Lesson 2: Left Tackle Jonathan Martin Is Not Necessarily a Deal-Breaker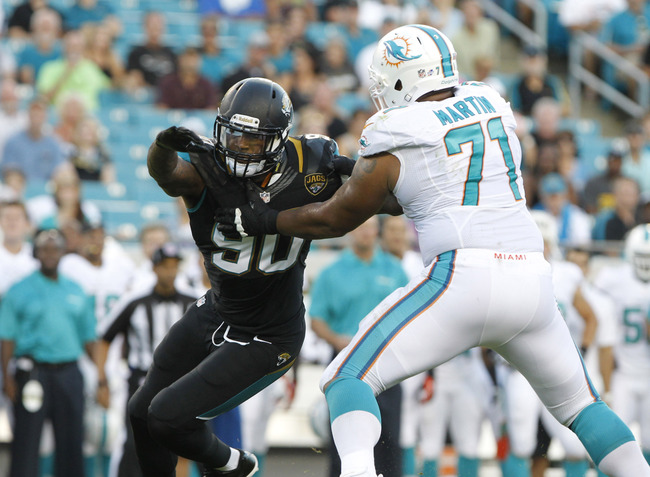 Kim Klement-USA TODAY Sports
Jonathan Martin was a terrible left tackle in 2012.
Let me reiterate that. He was a terrible left tackle.
There is no sugar-coating his performance during the five games he played the position. He was not just "below average" as many would like to believe. Nor was he better at left tackle than at right. Visually, statistically, and objectively, he was a terrible football player during those five games.
Let's get the ugliness of 2012 out of the way:
According to data from Pro Football Focus, Dolphins quarterbacks went from being pressured once every 3.5 drop backs (28 percent by snap count) to being pressured once every 2.9 drop backs (34 percent). That's a relative 22 percent increase in pressure.
Dolphins' quarterbacks went from averaging 2.0 sacks per game in the first 11 games, to 3.0 sacks per game in the final five games. That's a relative 50 percent increase in sacks.
The Dolphins offense went from averaging 321 yards of offense per game to averaging only 290 yards per game, a relative 10 percent reduction in total yardage per game.
The Dolphins offense went from averaging 19.2 points per game to averaging 15.4 points per game, a relative 20 percent reduction in offensive points per game.
The approximate 6 percent absolute increase (from 28 to 34 percent) of pressures-per-drop-back noted in point No. 1 can be tied directly to Jon Martin taking over for Jake Long at left tackle. Jake Long allowed a pressure on 4.9 percent of pass snaps the first 11 games. Martin allowed a pressure on 11.4 percent of pass snaps the final five games, which constitutes the 6 percent absolute difference.
It is a myth that Martin only allowed pressure to Aldon Smith during the 2012 campaign. Aldon didn't even account for the bulk of the pressures allowed by Martin. Martin allowed pressures to guys like Jason Babin, Kyle Moore, Trevor Scott, Rob Ninkovich, Chandler Jones, Justin Francis and—I believe—Jermaine Cunningham. Some of these players did not make a 53-man roster this season.
From 2008 to 2012, Pro Football Focus recorded 394 offensive tackles that took at least 150 pass snaps in a season. If you were to take the number of plays where these tackles allowed a pressure (hurry, hit, sack) and divide it into total snaps, you find the average is to allow a pressure on about 7.3 percent of snaps, with a sample standard deviation of about 2.3 percent.
Jonathan Martin's time at left tackle (the final five games of 2012) qualifies him for this study as he had 184 snaps in pass protection. His percentage ranked him No. 371 out of 395 (94th percentile) in terms of pressure per pass protection.
Not only was he poor in pass protection among 2012 offensive tackles, he was among the most inefficient pass protecting tackles to play the game in the last five years.
Now that we have the true ugliness of 2012 out of the way, let me back you off the ledge a little bit.
The title of this section reads that the preseason has shown me that Jonathan Martin playing left tackle for the Miami Dolphins will not be a deal-breaker for the team. There are two reasons why this is the case.
For starters, Martin himself has definitely improved his blocking prowess.
Physically, he no longer has a tendency to look overmatched in the strength department. That is a big improvement versus a year ago when he looked at times as if he just was not strong enough to handle mature NFL players.
He continues to have problems with the timing, efficiency and strength of his punch. He continues to stop his feet at inappropriate times during plays. He continues to leave his chest wide open for defenders to hit, and he also gets too perpendicular to the line of scrimmage at times.
However, physically he's shown that he can be an effective absorbing blocker that will not get run over as easily as we saw in 2012.
The second reason Martin's presence at left tackle should not be a deal-breaker is because of the improvements we saw in Ryan Tannehill's decisiveness during the preseason.
This preseason, Jonathan Martin commonly displayed many of the same technical flaws in his game that produced so much inefficiency and pressure in 2012. However, he did not get many sacks, hits or hurries recorded on the books. Why is that?
The reason is because Ryan Tannehill sped up his decision-making to such a degree that he took many pass snaps out of the hands of his offensive line.
Between the increased speed of the passing game, the potential use of left guard Richie Incognito to protect Martin's inside shoulder and the potential use of backs to chip the outside shoulder of Martin's blocking assignment, the Dolphins have plenty of weapons at their disposal to minimize whatever weaknesses in pass protection come from the left tackle position.
Lesson 3: Joe Philbin and Mike Sherman Prefer Unorthodox Slot Receivers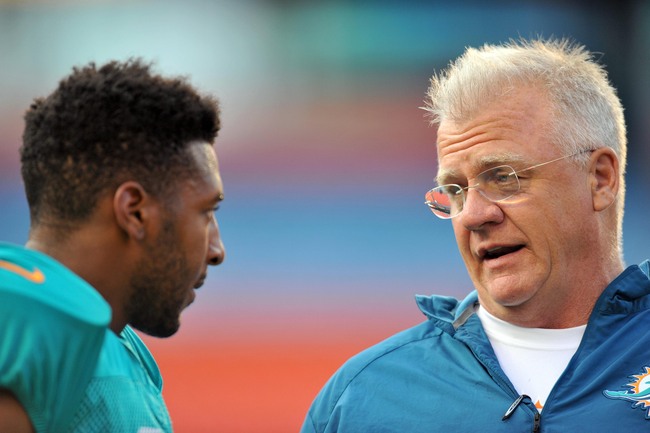 Steve Mitchell-USA TODAY Sports
Now that the offseason is over, we can step back and evaluate some of the minor moves and signals that may make up broader, cohesive trends. One opportunity comes at the slot receiver position.
The Dolphins signed wide receiver Brandon Gibson (6'0", 210 pounds) from the St. Louis Rams during the first few weeks of free agency. They gave him a significant contract worth approximately $3 million per year. It was unclear at first what they had in mind for him. Now, his role is crystal clear.
The team went on to trade slot receiver Davone Bess to the Cleveland Browns in exchange for some minor draft considerations, and have used Gibson almost exclusively in the slot throughout the 2013 preseason. When he played with the Rams, he was rarely used in the slot and was considered ill-suited to the position by his coaches.
During training camp, the Dolphins also developed a well-publicized fascination with receiver Armon Binns (6'3", 209 pounds) working out of the slot. Unfortunately, Binns injured his ACL and quickly exited the picture.
The Dolphins signed wide receiver Chad Bumphis (5'10", 202 pounds) as an undrafted free agent after the 2013 NFL draft. He impressed by leading all receivers in yardage production during the team's intra-squad scrimmage, as well as during the Hall of Fame game.
Despite this, the coaching staff immediately dialed down Bumphis' participation in the offense to minimal levels over the next three preseason games. Eventually, they cut him and did not even invite him to join the team's practice squad despite (according to data from Pro Football Focus) having led all Dolphins receivers in yardage per pass snap during the preseason.
Meanwhile, the team inserted Marvin McNutt (6'3" and 216 pounds) into the slot and gave him a good amount of snaps. He rotated into the offense with the second string all through the preseason. Eventually he was cut by the team along with Chad Bumphis, however McNutt was asked to sign onto the team's practice squad while Bumphis received no such invitation.
As you run through it all, the picture of what the Dolphins prefer at the slot position starts to become a lot clearer. Despite the natural receiving skills, impressive quickness, route-running and run-after-catch abilities displayed by the likes of Davone Bess and Chad Bumphis, these traditional slot receivers fell out of favor with the coaching staff. The staff instead keeps turning toward larger, straight line players like Brandon Gibson, Armon Binns and Marvin McNutt.
Though this is just speculation on my part, I believe the reason Joe Philbin and Mike Sherman prefer larger slot players is because they like to use them in to challenge the seam, as well as on deeper vertical routes toward the sidelines.
They like their players at this position to have a large frame so they can be a big target for the quarterback to throw to in the middle of the field.
Lesson 4: The Team Has a Hole at Right Guard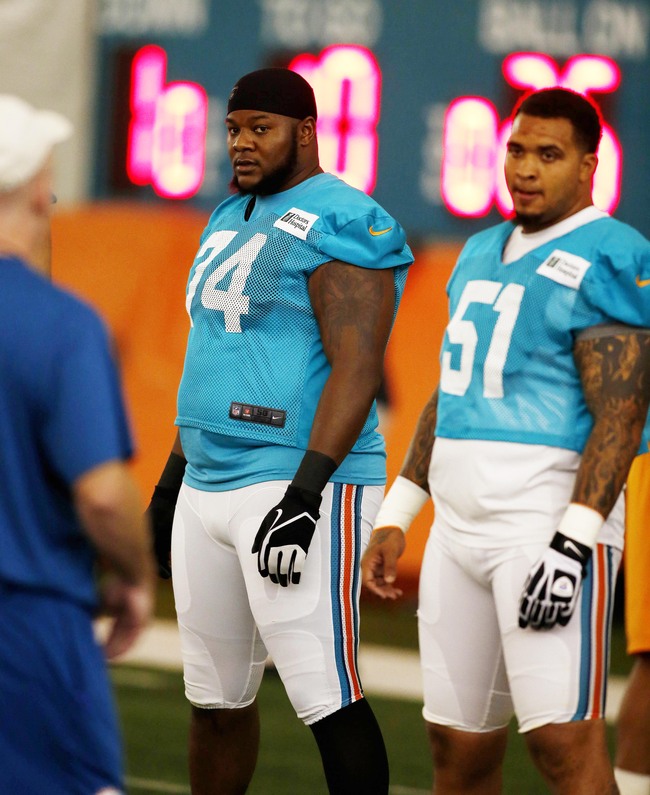 Robert Mayer-USA TODAY Sports
This is stating the obvious, but it does need to be stated: The team found no answers at the right guard position during the preseason.
The Dolphins brought many potential suitors for the position into offseason training activities, mini camps, training camp and preseason.
They rolled the dice on free agent Lance Louis, who was recovering from an ACL injury taken during the 2012 season. They had backup center Josh Samuda move over and try his hand at the position. They re-signed utility backup Nate Garner during the offseason and let him have a few whacks at the bat at right guard.
Offensive tackle Will Yeatman tried his hand at the position for a few days during camps. They even (briefly) toyed with the idea of moving left guard Richie Incognito to right guard which could have potentially opened the way for rookie Dallas Thomas to win the left guard position. All the while, the team knew it could fall back on the 2012 starter John Jerry, once he recovered from an injury taken early in training camp.
The preseason ended and all of the above plans seemed to fail. No player distinguished himself at the position. That includes the safety net John Jerry, who performed poorly against the Buccaneers and Saints after he recovered from injury.
This could be why, according to Mike Wilkening of Pro Football Talk, the Dolphins are currently showing interest in former first round pick Danny Watkins, recently cut by the Philadelphia Eagles.
Lesson 5: The Tight End Position Is a Mess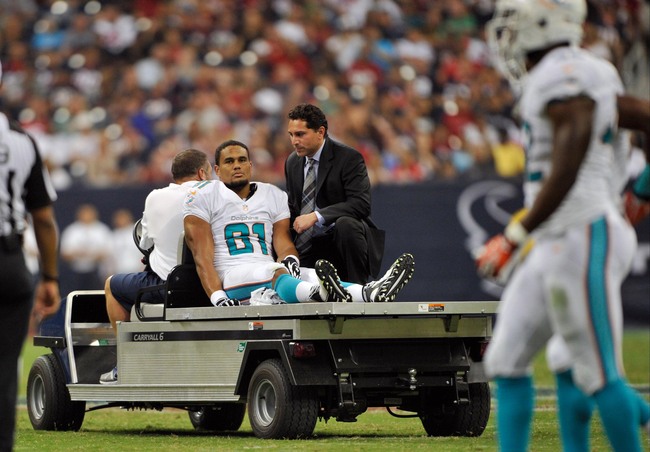 Jerome Miron-USA TODAY Sports
Once again, I feel as if I am stating the obvious.
In the wake of the controversial tackle by rookie safety D.J. Swearinger that destroyed free agent signing Dustin Keller's knee, the Miami Dolphins have an abjectly worrisome tight end position.
The default starter at tight end now appears to be Charles Clay, who had been the second tight end while Keller was healthy. The Dolphins loved the versatility that both Keller and Clay possessed when they were on the field together.
I saw plays where Keller lined up in the backfield while Clay lined up attached to the formation or split off into the slot. I saw plays where it was Clay who lined up in the backfield as Keller lined up in either an attached or unattached position on the line. I saw plays where both players lined up on the line, on the same side or on opposite sides.
The players had similar skill sets and that allowed the offense the ability to run the same plays from a variety of formations.
With Keller's injury came a change of plan. They no longer have two players with similar versatility to put on the field in tandem. Clay can still be used in as versatile a manner as Keller was to be used, but backups Michael Egnew and Dion Sims have significantly less versatility. Further, when the Dolphins attempted to get Clay heavily involved in the passing offense after Keller's injury, the results were poor.
According to Pro Football Focus, Clay has only caught one of the seven passes that were attempted in his direction this preseason. He has produced only five yards receiving despite having run routes on 36 pass snaps.
Michael Egnew and Dion Sims have been slightly more encouraging. Egnew has produced 71 receiving yards on his 66 pass snaps, but he only caught six of the 13 passes sent his direction. Dion Sims was the most impressive player as he produced 69 receiving yards on 49 pass snaps, while catching seven of his 11 targets and also producing a touchdown.
However, Sims is only a rookie and much of his promising work came against players that were on the roster bubble with their respective teams.
This position has the potential to be a disaster for the Dolphins, and it would not surprise me to see the team drastically reduce the number of snaps given to the tight ends.
According to data from Pro Football Focus, Miami tight ends in 2012 were given 1385 snaps on a total of 1057 offensive plays, averaging out to about 1.31 tight ends per play.
I would not be surprised to see that average sink drastically in favor of more work given to the team's wide receivers.
Lesson 6: Jared Odrick Looks at Home at Defensive Tackle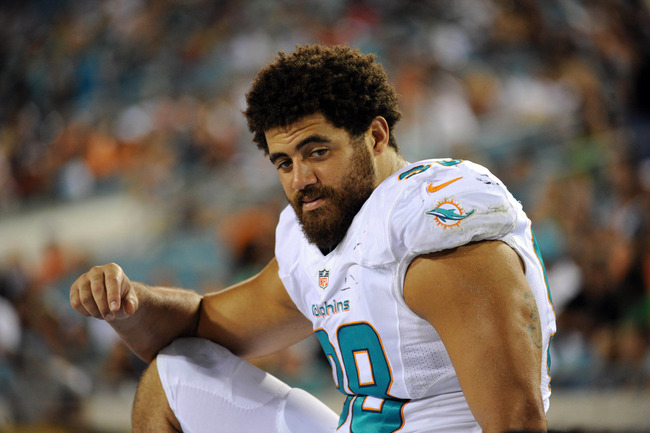 Melina Vastola-USA TODAY Sports
Last year, the Miami Dolphins moved Jared Odrick to the right defensive end position opposite Cameron Wake in their base defensive packages. I disagreed with the decision as I felt Odrick was ill-suited for the position, and it would detract from his focus on the position for which his skills were more suited.
I felt that what Jared Odrick brought to the table in that particular role at defensive end on base downs was not scarce. You could find players for relatively cheap that could give the team what Jared Odrick gave the team on those downs, which was a heavy-set run defender that had almost zero ability to rush the passer.
I felt the time he spent learning and practicing the defensive end position would dull his skills at the position for which his physical abilities made him potentially unique.
Odrick has the physical ability to be an above-average defensive tackle because he can penetrate the pocket and rush the passer, especially in nickel packages. I wanted Odrick to focus on those duties because snaps in that role constitute his best chance at being a game-changing player.
Instead, he focused on his attempt to be a good defensive end. Even worse, the duties at defensive end made him a lot less fresh during the game when he would shift inside as a penetrator in nickel personnel packages.
According to Pro Football Focus, Odrick took a total of 951 snaps in 2012. That was the most of any defensive lineman on the team. Not even Cameron Wake took more snaps.
Compared with defensive tackles around the league, only one defensive tackle in the entire NFL had more snaps in 2012 than Jared Odrick, that being Gerald McCoy of the Tampa Bay Buccaneers. Odrick was over-worked, and he got that way playing a position where the deck was stacked against him.
The coaches mishandled Jared Odrick in 2012 and they appear set to handle him better in 2013.
Though there is little in the way of statistics for a defensive tackle that will prove his higher impact, preseason tape study has shown that Odrick looks more like a fish in water at his new position of defensive tackle in the Dolphins' 4-3 base defense, which is more similar to the position Odrick played at Penn State. The Dolphins will actively rotate him on the inside along with Paul Soliai and Randy Starks, which should keep all three players fresher than in 2012.
Lesson 7: Place Kicker Caleb Sturgis Has a Leg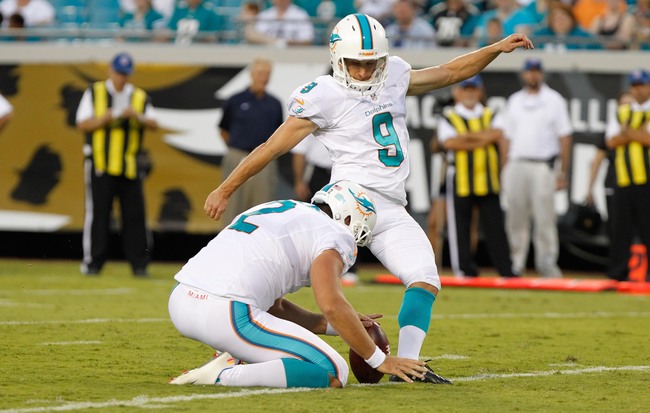 Kim Klement-USA TODAY Sports
I was skeptical when the Miami Dolphins drafted place kicker Caleb Sturgis in the fifth round of the 2013 NFL draft.
For one thing, I believed Florida State place kicker Dustin Hopkins was the best at his position in the draft, and he was still available when the Dolphins chose Sturgis. For another, I did not believe in taking a place kicker that high when the Dolphins already had Dan Carpenter at the position, and more pressing needs.
Carpenter had a relatively expensive contract for a kicker, but the Dolphins had a surplus of salary cap space in 2013, with perhaps even more salary cap space scheduled for 2014.
Thus far this preseason, Sturgis has done his best to ease my fears about the pick.
Not only has Sturgis come through on all nine of his field goal attempts this preseason (which included a whopping 58-yard field goal), according to Pro Football Focus he forced a touchback on 15 of his 21 kickoffs.
Amongst place kickers with at least 10 kickoff attempts this preseason, only Blair Walsh of the Minnesota Vikings and Thomas Morstead of the New Orleans Saints had a lower percentage of their kickoffs returned by the opposing team.
What makes this all the more interesting is that of Sturgis' six kickoffs that were returned by the opposing team, three were returned from very deep in the end zone. The Jacksonville Jaguars returned two of Sturgis' kickoffs from nine yards and seven yards deep into the end zone. The Tampa Bay Buccaneers returned one of Sturgis' kickoffs from eight yards deep in their own end zone.
Sometimes during the preseason coaches will ask their return men to return kicks regardless of how deep the place kicker pins them, simply because they want to get live fire reps on tape to evaluate their kick return units.
Therefore, not only was Caleb Sturgis' return percentage extremely low this preseason, it could have been even lower. This is the primary reason why amongst all kickers in preseason that had at least 10 kickoff attempts, the average start position of teams returning Sturgis' kickoffs was second only to Alex Henery of the Philadelphia Eagles.
Lesson 8: The Entire Team Lacks Depth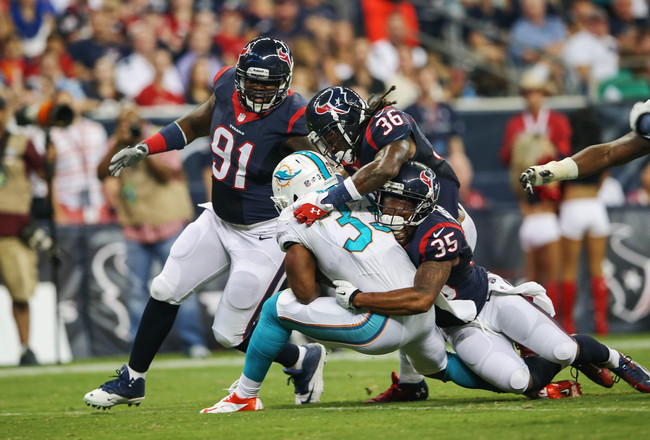 Kevin Jairaj-USA TODAY Sports
Heading into the preseason, lack of depth at certain positions on the team was predictable and understandable. Most teams have a few positions where they do not have very good depth. However, I believe the preseason revealed the Dolphins lack depth to a degree that I had not originally imagined.
Let's start at the macro level, and then reduce down to specific positions.
Pro Football Focus has a team of graders that grade every single player on every single play. They sum up the grades of all the players on offense and defense, respectively, and use that sum to offer a unit grade for the preseason.
The preseason tends to feature depth players a lot more than starters. For example, the 11 projected starters on the Miami Dolphins defense constituted only 601 of the 3,872 snaps (15.5 percent) accumulated by Dolphin defenders this preseason.
Therefore, when we add up the offensive and defensive grades of various teams during the preseason, the grades are more reflective of the quality of the backups and depth, as opposed to the starters.
Adding together each NFL team's offensive and defensive rating sums from the preseason, we find that the Miami Dolphins ranked dead last in the NFL with a total rating of -61.9 via Pro Football Focus.
What does this mean? It means that Pro Football Focus' graders did not care very much for the performance of the players that the Miami Dolphins brought to their preseason games, many of whom are currently depth players on the team.
Naturally, skeptics will look at that and wonder how much of the negative grade was tied up in players who were later cut by the team, as opposed to players who constitute the team's actual depth. The 27 players who remain on the team's 53-man roster from the preseason, but do not figure to be among the 22 projected starters, tallied a total Pro Football Focus grade of -40.1.
Therefore, about 65 percent of the Dolphins' league-worst negative grade this preseason came from current depth players that persist on the 53-man roster.
Getting into more specific positions, the supposed "competition" at tailback never manifested.
Lamar Miller far and away outperformed every backup tailback on the roster, and the backups played so poorly that one is left no choice but to question the paper-thin depth at the position. Daniel Thomas averaged only 2.7 yards per carry this preseason, after having been a sore disappointment during his first two years in the league.
Rookie late round pick Mike Gillislee did not do much better, having averaged only 3.0 yards per carry during the preseason. Return specialist Marcus Thigpen continued to be used more as a wide receiver than as a real tailback, and recently claimed fullback Tyler Clutts is a former defensive end that possesses no ball carrying skills.
The tackle depth along the offensive line was particularly disappointing as both Will Yeatman and Dallas Thomas struggled during the preseason. Thomas, a rookie, was arguably the worst offensive lineman on the team, which includes those players who were cut.
Even the players on the interior of the offensive line had weak showings as most were involved in the competition to start at right guard and none truly proved worthy of the honor, which saw the job return to 2012 starter John Jerry by default.
The tight ends unit not only lacks a valid starter, it also lacks for depth.
The backups at linebacker continued to perform poorly on the field. Like Dallas Thomas, rookie fourth round pick Jelani Jenkins was arguably the worst-performing player at his position this preseason, including players that were cut.
Backups Jason Trusnik, Jonathan Freeny and Josh Kaddu were not much better on film.
Whereas I initially believed the safety position would lack depth while the corner unit would show strong depth, the opposite came about during the preseason.
Backup safety Kelcie McCray finished up a strong preseason with an excellent performance in the final game. Yet, rookie backup corners Jamar Taylor and Will Davis had injury-plagued preseasons that featured a lot of negative plays.
Backup corners Don Jones and R.J. Stanford should not even have made the 53-man roster, arguably only having done so due to the failing health of the previously mentioned rookies. Nickel corner Nolan Carroll is sub-mediocre.
With the team once again heading into the season paper thin in the depth department, they're forced to hope for an abundance of health in order to sustain success in 2013. However, the Texans game showed us how quickly an entire position can be transfigured by one awkward hit.
Keep Reading

Miami Dolphins: Like this team?