Miami Dolphins 2013 Team Roster: Report Card Grades for Every Position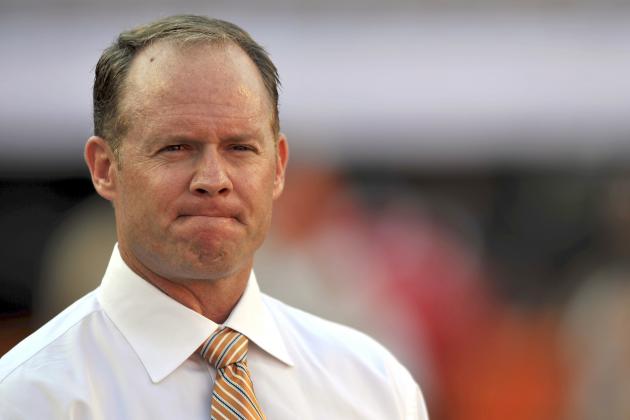 Steve Mitchell-USA TODAY Sports

Final cuts have been made, and the Miami Dolphins have trimmed their roster to the maximum allowable 53 players afforded to them by league rules. Though some players may not rest easy as the waiver claiming process has yet to play out, the Dolphins regular-season roster is mostly set.
Now that we are beyond cut-downs, we can take stock of what general manager Jeff Ireland has brought to battle this season. In this piece, I will set myself to grading the quality of every position on the Miami Dolphins roster.
As you read this, you should keep something in mind: I grade on a curve, and I detest grade inflation. If I feel the Miami Dolphins are "average" at a position, they're going to get a "C" for a grade. If I feel they are below average at a position, they're going to get a "D" or maybe even an "F."
Most fans seem to treat "C" grades like they would an "F" grade. And a "D" or "F"? My goodness, that's just unconscionable, right? If that is your manner of thinking, prepare to be disappointed.
That said, let's begin.
Begin Slideshow

»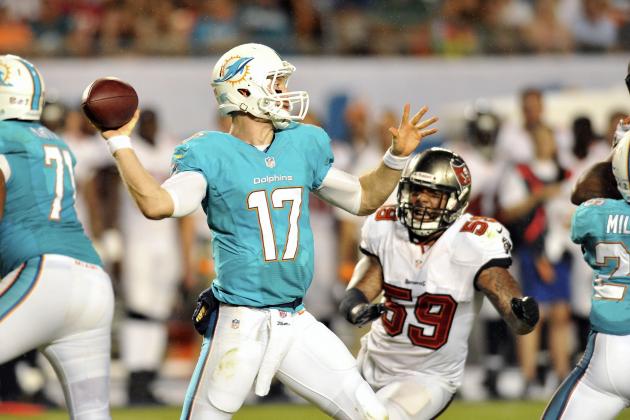 Steve Mitchell-USA TODAY Sports

2013 Miami Dolphins Quarterbacks
Ryan Tannehill
Matt Moore
Pat Devlin
The Miami Dolphins decided to keep Pat Devlin on the roster in order to round out the position along with Ryan Tannehill and Matt Moore. I consider the Dolphins' quarterback position to be (to date) very average for the NFL.
Why do I consider it thus? The NFL is full of capable quarterbacks, and thus far in his career Ryan Tannehill has not yet proven that he is more than that. Many teams in the NFL have established passers with records of strong performance. Of the ones that do not, most have a young-ish gunslinger in whom the fanbase has placed a lot of hopes.
Though backup Matt Moore is often touted by the team as being the best backup quarterback in the league, I do not find it so.
I believe there are several backup quarterbacks in the NFL that carry roughly the same quality grade as a Matt Moore, and that includes specifically the likes of Kyle Orton, Kirk Cousin, Nick Foles, Luke McCown, Ryan Fitzpatrick, Ryan Mallett, Tyrod Taylor, Jason Campbell, T.J. Yates, Matt Hasselbeck and Chad Henne.
Some of these players you would rank slightly ahead of Matt Moore, with some slightly behind. However, I do not think Matt Moore truly blows away any of them in terms of his quality versus theirs.
I gave the quarterbacks a "C+" rather than a "C" in deference to the fact that among young quarterbacks who have more promise than they do a record of efficient production, Ryan Tannehill has put together a strong preseason and has shown some qualitatively good things that legitimize the hope perhaps just a little more than some of the other guys out there.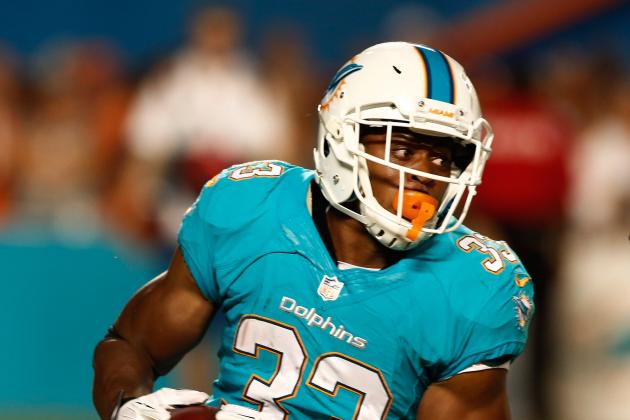 Robert Mayer-USA TODAY Sports

2013 Miami Dolphins Running Backs
Daniel Thomas
Mike Gillislee
Marcus Thigpen
Evan Rodriguez (FB)
I am sure this is where I will lose some fans by giving the Dolphins running backs a "below average" letter grade. However, the facts are plain. The Dolphins are bringing to battle this season a second-year former fourth round pick who has 51 career carries to his name, and naught else worth mentioning.
I had a good grade on Lamar Miller when he came out of the University of Miami in the 2012 NFL draft. I thought taking him at the top of the fourth round was an excellent pick. However, there are a lot of unknowns about him.
The heaviest workloads he saw in 2012 were 10 carries against the Oakland Raiders and 10 more against the Buffalo Bills. One of the reasons he fell into the fourth round was because he came into the league with injury and durability questions. Those questions are not any closer to being answered after a rookie season that saw him carrying very light duty as the team's third tailback down the depth chart.
His primary backup is all but a second-round draft bust. Daniel Thomas has averaged 3.5 yards per carry as a rookie and followed that up with 3.6 yards per carry as a second-year player and 2.7 yards per carry during the 2013 preseason. Fumbling and injury issues plagued his first two years, and he lacks valid instincts or vision for the position.
Mike Gillislee is a late-round rookie who showed a distinct lack of vision during the preseason, which was not surprising as you could see that same lack of vision in his tape at Florida.
I liked the pick as a late-round flier because I believe he has good physical ability and a few innate qualities that could be developed in the longer term, but 2013 does not qualify within that longer term time span. These grades are about what you present to the roster right now.
The Dolphins' primary fullback is Evan Rodriguez, whom they claimed off the waiver wire from the Chicago Bears during the offseason. He is a bit more of a tight end than a true fullback and has shown some interesting qualities after the catch. However, he is mediocre at best as a lead blocker and has almost zero ball carrying skills.
One reason this position carries such a low grade is because they are not versatile for all situations. Specifically, I do not know what the team plans to do in short yardage and tight red-zone situations where the first-down marker is too far out for a quarterback sneak.
Daniel Thomas has proven himself statistically and anecdotally bad on short yardage and red-zone carries. Fullback Evan Rodriquez cannot carry the ball in such situations. Their best bet seems to be Lamar Miller, and he was not at his best in those situations even as a Hurricane.
Steve Mitchell-USA TODAY Sports

2013 Miami Dolphins Wide Receivers
Brian Hartline
Brandon Gibson
Rishard Matthews
The Dolphins obviously plan to claim a fifth wide receiver off waivers, and we do not yet know who that player will be. One could argue that regardless of who the player turns out to be, the position is set.
I gave this position an above-average grade, despite misgivings I had with the contracts given to Wallace and Hartline, and my general disapproval of the signing of Gibson. Part of the reason I give the unit high marks is because the work they did during the preseason impressed me in some respects.
Particularly, Wallace and Gibson were very efficient during the preseason relative to their playing time and opportunities. I have always had my doubts about Gibson as a slot receiver, and some of those doubts persist, but as we catch more of a glimpse into the role head coach Joe Philbin and offensive coordinator Mike Sherman envision for their slot receivers, the fit starts to make a lot more sense as to why they seem to prefer guys whom you would normally like on the perimeter for this position.
The reason that I gave the grade on the low side is because the players produced extremely low yardage after the catch this preseason, and this is something that the team needs to keep an eye on as both Brian Hartline and Brandon Gibson have been poor run-after-catch players at the NFL level.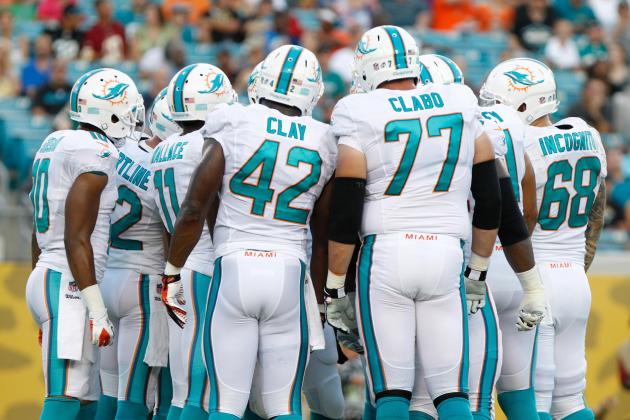 Kim Klement-USA TODAY Sports

2013 Miami Dolphins Tight Ends
Charles Clay
Michael Egnew
Dion Sims
This grade should not be much of a surprise in the wake of free agent signing Dustin Keller's horrific knee injury suffered during the preseason.
The Miami Dolphins tight end position is good distance away from "average" in this league. Charles Clay has provided some excitement at times since entering the league, but I can think of several second- and third-string tight ends who have done as much as him and present the same skills on the field. Arguably, some of the players cut this weekend could supplant Charles Clay on the depth chart.
By the time the season is over with, rookie Dion Sims out of Michigan State could very well be the starter. I did not have a high grade on Dion coming out of Michigan State.
I think he has stiff hips and struggles with change-of-direction. He is more of a straight-line runner, and after the catch he mostly uses his heft, which is not as comparatively impressive at the NFL level as it was in college. He has soft hands, and he proved that during the preseason, but I do not think he presents a game-winning skill set.
The final player at the position is everyone's favorite whipping boy, Michael Egnew. Egnew has improved tremendously in his blocking, yet his abilities in the passing game remain unproven. His concentration level and focus on the field are very poor.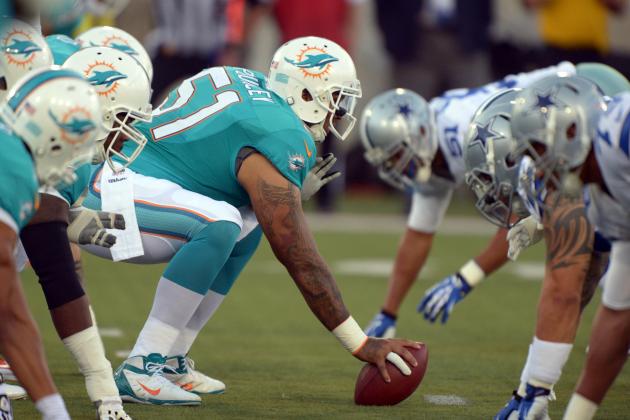 Kirby Lee-USA TODAY Sports

2013 Miami Dolphins Offensive Line
LT Jonathan Martin
LG Richie Incognito
C Mike Pouncey
RG John Jerry
RT Tyson Clabo
OG Josh Samuda
G/T Nate Garner
OT Will Yeatman
G/T Dallas Thomas
The presence of pro bowlers Richie Incognito and Mike Pouncey provides a floor for this grade at about the "average" level. Pouncey in particular is probably the very best center in the NFL. I consider Incognito to be a solid "B"-level player.
The situation along the offensive line starts going down hill from there. Tyson Clabo is the next-best player after the above two. Though capable and technically sound, his age shows on the football field as he has trouble sustaining his blocks and re-directing.
He has a powerful frame and can physically absorb pass-rushers, but he has trouble with physically gifted rushers who can out-cut and out-run him as the play extends. His run-blocking abilities are significantly below average for a right tackle.
Right guard John Jerry played worse this preseason than he played during the 2012 regular season. Part of this could be attributed to the injury issues that caused him to miss much of training camp.
However, even aside from the injury issues, he appeared out of shape during the games, and it will take time before the team can play him into proper playing shape. In the meantime, he will give the team significantly below-average performance at the position.
Jonathan Martin had a much better preseason than he could have had, if you predicted it based on his 2012 regular season. However, I remain unconvinced until I see him taking on the kinds of quality pass-rushers that he will face nearly every game this season.
Statistically, he was not only one of the worst offensive tackles in the NFL during his five games at left tackle in 2012, but he was also one of the worst offensive tackles to have played a significant number of snaps in the past five years. He was that bad. Technical flaws continued to manifest all over his tape during the preseason.
The team's backups along the offensive line do not promise to significantly improve the situation.
In fact, the team has no valid backup offensive tackle as Will Yeatman remains a project after his conversion from tight end to offensive tackle a year ago. He struggled during the preseason. Rookie Dallas Thomas was one of the very worst offensive linemen on the team during the preseason, and that includes players who were cut yesterday.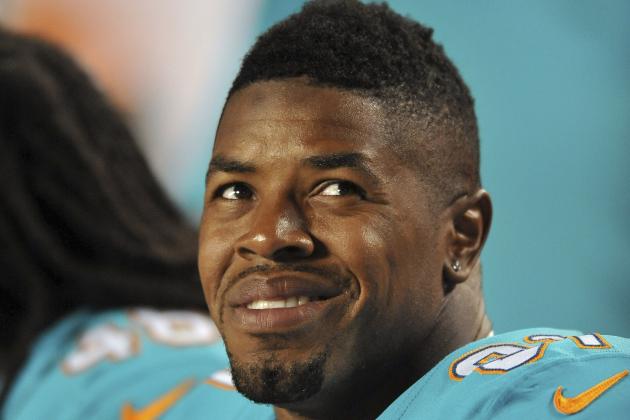 Steve Mitchell-USA TODAY Sports

2013 Miami Dolphins Defensive Line
DE Cameron Wake
DT Paul Soliai
DT Jared Odrick
DE Olivier Vernon
DT Randy Starks
DE Dion Jordan
DE Derrick Shelby
DT Vaughn Martin
This position is the strongest on the team, and it starts with their star player, Cameron Wake. Wake is one of the very best pass-rushers in the league. I believe he is as big an impact player as other highly touted players like Von Miller and even J.J. Watt. He is superb and (best of all) consistent.
However, you can't get an "A" grade with just one player. You have to bring a variety of threats to the front, and the Dolphins do that. For me, that starts with defensive tackles Paul Soliai and Randy Starks, whom I believe constitute one of the strongest pair of defensive tackles in the NFL today.
Former first-round pick Jared Odrick is less proven as a base personnel start but had a very strong preseason. He has proven in the past to be more than capable as a defensive tackle in nickel packages, which represent about half of the team's defensive snaps during the season.
The positives do not stop even after Wake and the defensive tackles. Second-year player Olivier Vernon is a defensive end with a high motor and strong hands and makes a very nice complement to Wake in base personnel packages. He is not a strong pass-rusher, but he will not need to be one considering his role.
When the team needs an extra dose of pass-rush, they have in the bullpen a third-overall pick, Dion Jordan, who is one of the most impressive overall athletes at the position that I have ever seen coming out of college. Most teams cannot claim they have a thoroughbred like this to bring off the bench in passing situations.
Defensive end Derrick Shelby had a strong preseason and played well even as a rookie. He will play very well whenever he gets on the field.
The biggest question mark along the defensive line is defensive tackle Vaughn Martin, whose performances in San Diego prior to being signed by the Dolphins this offseason were generally not great, and whose preseason performances in 2013 were uneven. He had a poor showing in the first four games this preseason and then knocked one out of the park in his fifth preseason game. This makes him a question mark.
However, take a step back and think about that for a moment. The most questionable player along the defensive line is the final player on the depth chart. That is why the defensive line is a very strong, league-leading position unit for the Miami Dolphins.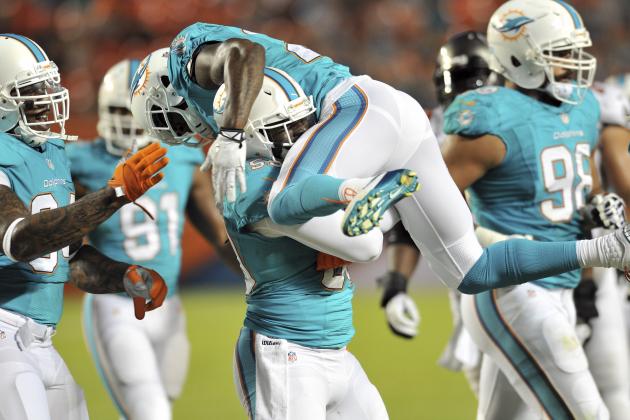 Steve Mitchell-USA TODAY Sports

2013 Miami Dolphins Linebackers
MLB Dannell Ellerbe
SLB Philip Wheeler
WLB Koa Misi
LB Jason Trusnik
LB Josh Kaddu
LB Jelani Jenkins
LB Jonathan Freeny
This position is a solid, above-average position for the Miami Dolphins. They paid a lot of money to bring in linebackers Dannell Ellerbe and Phil Wheeler during the free-agency signing period, and they did not disappoint this preseason at all.
Though I had, and still have, questions about their ability to cover, they did not show signs of a potential weakness during the preseason. They attacked the line of scrimmage exactly as defensive coordinator Kevin Coyle demanded, and they played at a high level.
The third man on the unit was arguably the best linebacker on the team a year ago. Koa Misi only plays during base downs and comes off the field in nickel packages, but he is another physically aggressive, attacking player that is capable of destroying run plays. The strides he has made in coverage over the last few years are impressive.
If this unit were just a little bit more proven in their Miami Dolphins uniforms, you get the feeling they could end up pretty close to an "A" squad.
However, I gave them a minus on their "B" grade. Why is that? Because the backups on the unit have been, and remain terrible.
If the Dolphins need to call on their backups during the season for any length of time, they will immediately have a gaping hole on the defense that can be exploited at any time, just as the San Francisco 49ers exploited backup linebacker Jason Trusnik's presence on the field at the end of the matchup between the two teams late in the 2012 season. Colin Kaepernick executed a read-option play, and Trusnik got out of position, losing containment as Kaepernick ran for a long touchdown at the end of a close game.
The other backups did not show any better during the 2013 preseason.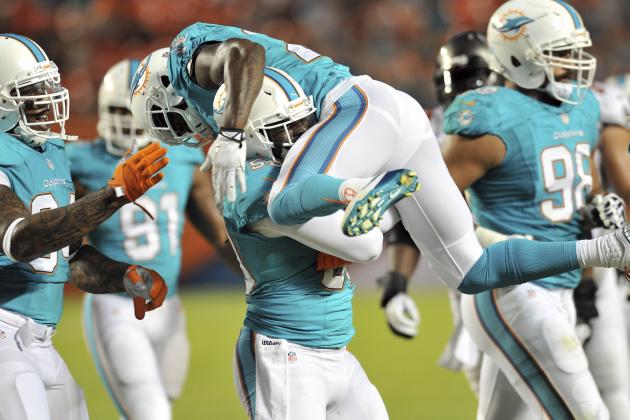 Steve Mitchell-USA TODAY Sports

2013 Miami Dolphins Secondary
CB Brent Grimes
SS Reshad Jones
FS Chris Clemons
CB Dimitri Patterson
CB Nolan Carroll
CB Will Davis
S/CB Jimmy Wilson
CB Jamar Taylor
S Kelcie McCray
CB R.J. Stanford
CB Don Jones
This position was a tough one to grade because there are two elements in the base secondary that are below average and two elements of the same that are above average. To me, that makes for an average base grade.
However, the nickel secondary needs to figure heavily into the grade as nickel defense makes up about half of the defenses that NFL teams play during games. There are three elements of the nickel secondary that are above average, versus two that are below average.
This would tend to lean me toward an above-average grade for the Miami Dolphins secondary. However, the depth players in the secondary are collectively below average, and this counters some of the advantage the team possesses in the nickel package.
Though he had some nits during the preseason game against the Buccaneers, free-agent signing Brent Grimes has given every indication that he will be a positive, game-winning player at corner for the Dolphins in both the base and nickel packages. Additionally, Reshad Jones was an excellent strong safety in 2012 and hopefully will continue his performance in 2013.
Things start to get a little hairy after those two. In base packages, the starting corner opposite Grimes will be Dimitri Patterson, whose record and tape in Cleveland strongly suggest he could struggle as a perimeter corner on the boundary of the field. When the Dolphins go into their nickel package, Patterson will slide inside to the slot. At that position, he is an above-average player.
The team also has Chris Clemons at free safety, and though his weaknesses were not properly exploited in 2012, I believe he is a player that defenses could test in the deep areas of the field. He is a positive force in run defense because of his blazing speed and ability to contain the damage of big runs once players break into the second level.
However, if you get him into the open field and give him a 50/50 situation where he needs to break down against a player that has a two-way go, Clemons can struggle in those situations. I also believe he could struggle to find the ball in deep passing situations if the defense is able to isolate him in coverage.
The depth in the secondary is generally poor. The best backups are two rookie corners Will Davis and Jamar Taylor.
Taylor missed much of the preseason and training camp battling hernia issues and is almost a complete unknown. He struggled during the preseason games in which he did play. Will Davis had very strong performances during training camp but followed up with a very uneven preseason in which he gave up big plays.
Ultimately it is well to remember that even talented corner prospects tend to struggle and be game-losing factors when they are rookies. Yet, they are the team's best backup players in the secondary. The other backups are even worse.