Chicago Bears' Roster: Report Card Grades for Every Position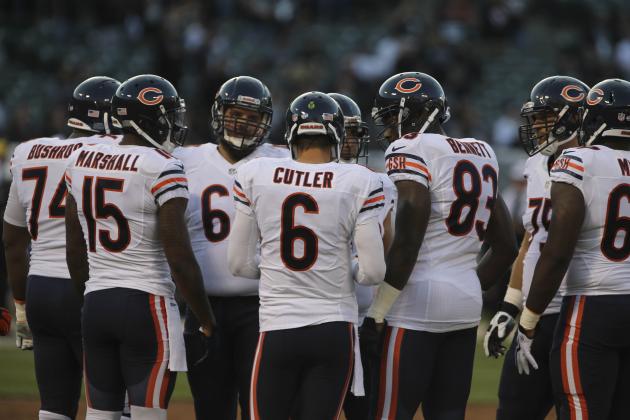 Kelley L Cox-USA TODAY Sports

As new head coach Marc Trestman's first camp has closed and the Chicago Bears have trimmed their roster down to 53 players, it's time to take a look at what they have heading into the season.
With a first-year head coach, it was hard to predict how many players the Bears would keep at each position. I made an attempt at the start of camp, correctly predicting 47 of the final 53 players. It would have been 50, but Sedrick Ellis retired and both Matt Blanchard and Kelvin Hayden were injured.
The Bears decided to keep just two quarterbacks, due to Blanchard's injury. They also have three halfbacks, one fullback, six wide receivers (not counting Devin Hester), three tight ends, nine offensive linemen, nine defensive linemen, six linebackers, 10 defensive backs and four specialists.
The biggest surprise on the Bears' roster was how J'Marcus Webb went from the starting right tackle to not even making the team. The Bears' elected to go with rookie Jordan Mills after the first preseason game and Webb didn't respond well to the demotion, struggling from then on.
The Bears elected to keep three undrafted free agents, while releasing 2012 third-round pick Brandon Hardin. Hardin is the second 2012 draft pick to have been released, joining fourth-round pick Evan Rodriguez. Should Hardin clear waivers, he could rejoin the Bears on injured reserve.
As every team does, the Bears are going to have injuries this season. There are some positions where they simply don't have adequate depth and that could come back to bite them. Of course, there are others where they're deeper than most teams.
Here is a position-by-position breakdown of the Bears roster.
Begin Slideshow

»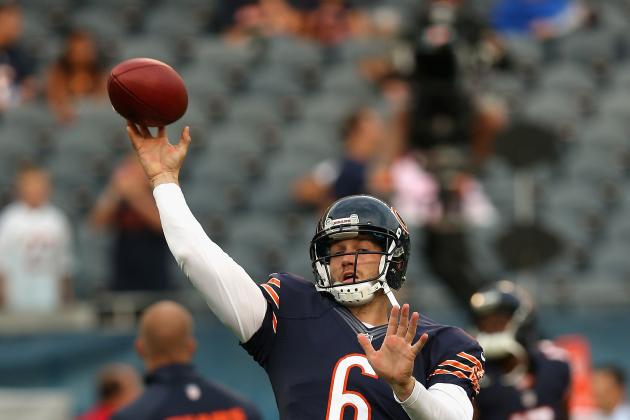 Jonathan Daniel/Getty Images

(2) Jay Cutler, Josh McCown
This is one of those positions that the Bears can't afford to have an injury to their starter.
Cutler is unquestionably one of the better quarterbacks in the league, and any team with a top flight quarterback would be in trouble if he were to go down. The Bears, however, may be in more trouble than most.
McCown has had a decent career and has a lot of starting experience. He's never been a guy teams want to start or build around, but has always seemed to be an adequate back up option. He was OK when he filled in for the Bears in 2011, completing nearly 64 percent of his passes, but still had twice as many interceptions (4) as touchdowns (2).
After his performance this preseason, it's worth questioning if age has caught up with him. Now 34, McCown struggled horrendously this preseason with a passer rating of just 44.9. He completed just 52 percent of his passes with an average of 3.9 yards per attempt.
Although his status on the roster was never in jeopardy, it's worth questioning if that had more to do with his close relationship with Cutler than his ability to play football.
Still, there's a chance McCown will never see the field. For the first time since he's come to the Bears, Cutler has a coach who is putting an emphasis on protecting him. If he's able to take fewer hits than past years, McCown should never see the field.
Grade: B-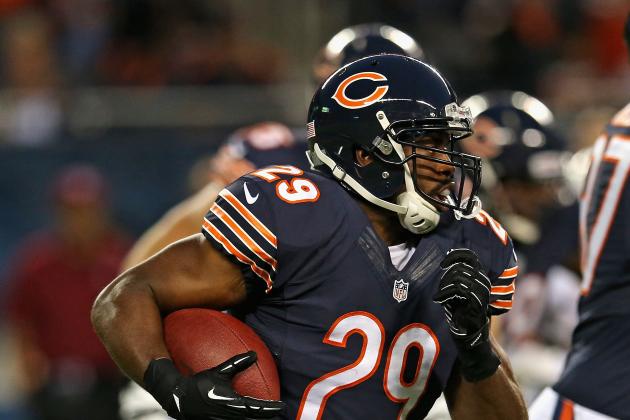 Jonathan Daniel/Getty Images

(4) Matt Forte, Michael Bush, Michael Ford, Tony Fiammetta
Forte is among the best and most versatile running backs in the league. He had an outstanding preseason and figures to have a big role for the Bears this year.
Bush is one of the best backups in the league. He's an elite short-yardage runner and a better receiver than most give him credit for. The Bears showed looks using both he and Forte in the backfield in preseason, so you can also expect Bush's role to increase this year.
After that, there are some questions.
Ford ran hard and showed special teams ability with a 100-yard kick return against the San Diego Chargers. However, it's worth questioning if he would've even made the team had Armando Allen not been injured early in camp.
Allen was a four-phase starter on special teams, but didn't have the same potential as a running back that Ford has.
I don't see what Fiammetta brings to the team. At his best, he's been a below average blocker and receiver. Perhaps he can play special teams, but I think the Bears would've been better off keeping another player at another position or trying to find a better fullback on the open market.
Still, they're strong at the top and Ford certainly has the potential to be a factor this year.
Grade: A-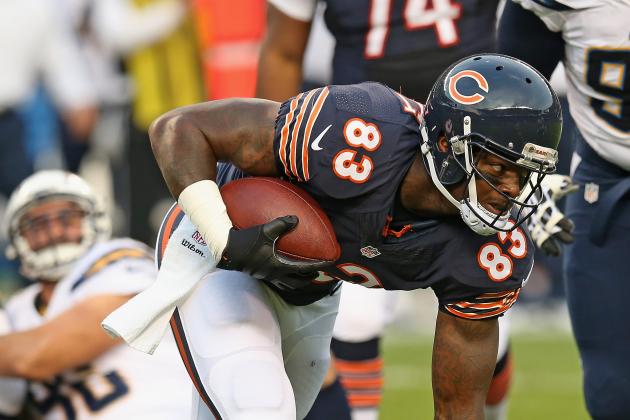 Jonathan Daniel/Getty Images

(3): Martellus Bennett, Steve Maneri, Kyle Adams
Bennett is expected to be a big upgrade for the Bears this season. He's not a great receiver, but certainly better than Kellen Davis and he's also a very good blocker.
Maneri is a former offensive lineman whose blocking locked him into the second tight end spot. He's only caught six passes in his career, but he makes up for that with his blocking.
Adams only caught one pass for two yards in preseason and has never been known as an effective blocker. It seems like the Bears didn't want to keep him, giving Fendi Onobun every chance to beat him out, but Onobun couldn't make the most of his opportunities.
Adams could see a lot of time as the Bears' H-Back this year as he doesn't have the strength to be a great blocking tight end or the athleticism to be a great receiver.
It wouldn't be a surprise to see the Bears make a move to add a player who was released from another team. While Bennett is solid, they'd be in trouble if he were injured because both Maneri and Adams are one-dimensional.
Grade: C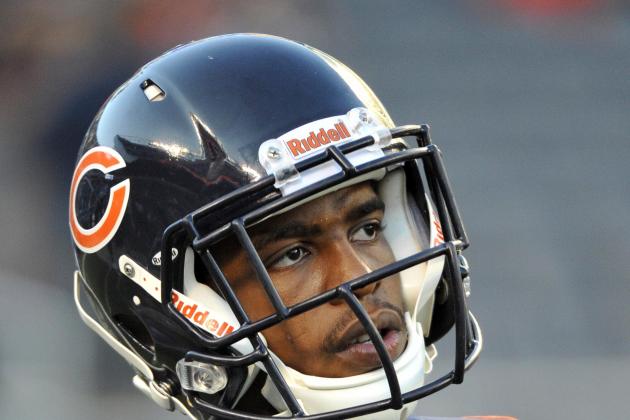 Rob Grabowski-USA TODAY Sports

(6): Brandon Marshall, Alshon Jeffery, Earl Bennett, Marquess Wilson, Joe Anderson, Eric Weems
The Bears have added a lot of talent to this group over the last two years as it appears they finally have some adequate depth.
There's no question about Marshall's status as a star. Although a recent tweet by ESPN's Adam Schefter caused some panic amongst Bears' fans, there's no reason to think he won't have a big year again this year.
Jeffery showed the ability to make plays last year and looked good in preseason. He needs to show consistency and, if he does, he could be a handful for any defensive back to cover one-on-one.
The Bears can't seem to rely on Bennett to stay on the field, but when he's played he's been very good. In his most recent weekly press conference, quarterback Jay Cutler noted Bennett's value and said he'll be an "immediate playmaker" when he returns to the lineup following his most recent injury, a concussion suffered early in training camp.
Where the intrigue begins with the Bears' receivers is with Wilson—a seventh-round rookie—and Anderson, who went undrafted in 2012. Both have shown the ability to make plays and could play big roles in the team's future.
Weems has also shown the ability to catch passes and play offense, however, his height limits him mostly to special teams.
The problem with this group comes with the uncertainty. Marshall's hip is obviously still a concern to him. We've never seen any of the other receivers make plays on a consistent basis. They get downgraded for that now, but this grade has the potential to get a lot better.
Grade: B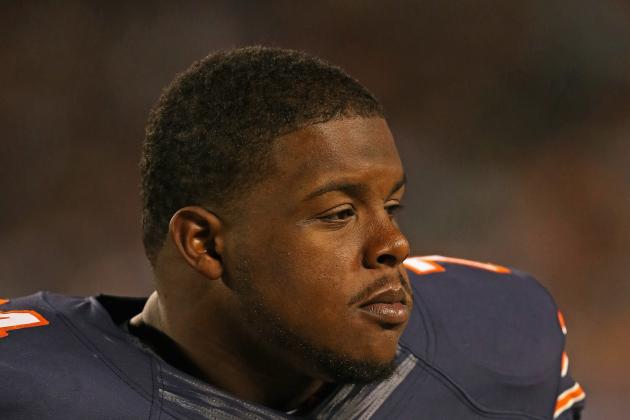 Jonathan Daniel/Getty Images

(4): Jermon Bushrod, Jordan Mills, Jonathon Scott, Eben Britton
Bushrod appears to have given the Bears some stability at left tackle as the pass protection woes that cursed him at times in New Orleans have yet to be a problem. At the very least he'll be a huge upgrade for the Bears' ground game, showing the ability to get outside and to the second level.
Mills has been a pleasant surprise. He was widely thought to be a developmental tackle when the Bears picked him in the fifth round, but he worked his way into the starting lineup and figures to be there for a while.
Scott has missed most of the preseason dealing with an injury, but he's a dependable veteran. The Bears could do a lot worse as far as swing tackles go.
Britton can play anywhere on the offensive line. While Scott continues to come back from injury, he'll be the team's backup at both right and left tackle. He can also play guard and may be the Bears' primary backup to Roberto Garza at center.
While Bushrod is solid, he's not spectacular and Mills will experience some bumps along the way. This group should be much better than they were last year, but still not elite by any means.
Grade: C+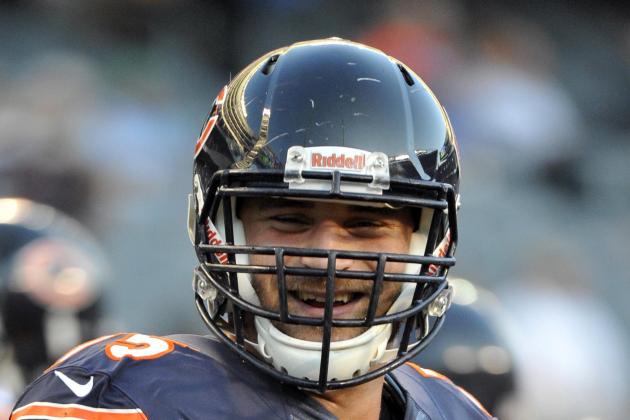 Rob Grabowski-USA TODAY Sports

(3): Kyle Long, Matt Slauson, James Brown
What's not to like about Kyle Long? The 2013 first-round pick was dominant in the preseason and is already well on his way to proving those who doubted him wrong. It's early and we can expect some struggles along the way, but he looks like a keeper so far.
Slauson is what the Bears hoped he would be: a solid veteran. He may not display some of the dominant traits that you see from Long, but he doesn't beat himself either. He's solid in both pass protection and making holes in the ground game.
Brown is still a bit of a question mark. He was praised by head coach Marc Trestman this offseason, but struggled in the preseason. He has potential and the opportunity to learn from a veteran like Slauson and coach like Aaron Kromer should help him maximize it.
While it's early, it's pretty clear that no position on the team is as improved as their guards. It could be argued that the Bears' guards were their worst position group in 2012, but it looks like it might be a strength this year.
I don't want to get anyone too excited since it's just been preseason, but the future is bright for this group.
Grade: B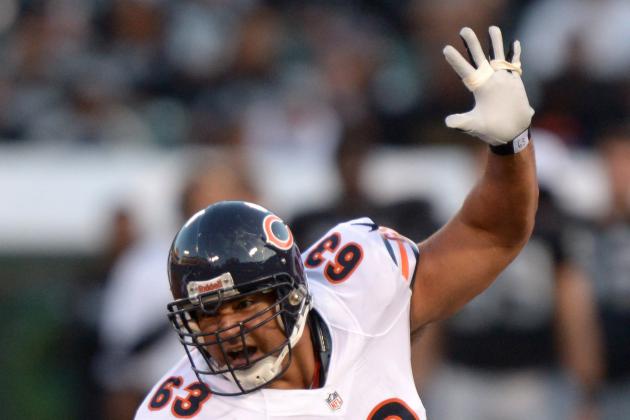 Kirby Lee-USA TODAY Sports

(2): Roberto Garza, Taylor Boggs
The Bears entered camp with four centers, but they'll enter the season with only Garza and Boggs at the position.
Garza isn't the most talented player and age could be an issue for him this year. Still, he's dependable and is still the leader of the line and one of the leaders on the team. What he brings in that area is tremendously valuable, especially with young players around him.
That said, leadership can go a long way, but it's much more important to have a player who can block at the position. The Packers found that out last year with Jeff Saturday.
If Garza were to suffer an injury, the Bears would be in huge trouble.
Boggs was an undrafted rookie out of Humboldt State in 2011 who has yet to play in an NFL game.
Adam Jahns of the Chicago Sun-Times indicated (via Twitter) Eben Britton could be the team's primary backup at this position, but he's never played there in preseason or the regular season.
Depth has to be a real concern for the Bears at center right now.
Grade: D-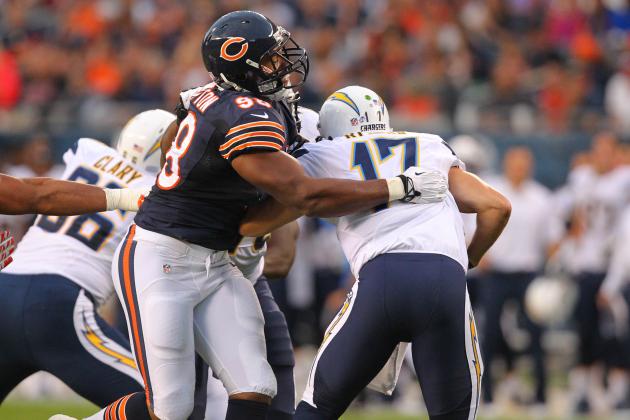 Dennis Wierzbicki-USA TODAY Spor

(5): Julius Peppers, Corey Wootton, Shea McClellin, Cornelius Washington, Cheta Ozougwu

Peppers is the household name and still one of the better players in the league at his position. He's rested for much of the preseason, but the Bears should expect him to be back and playing at his usual high level when the regular season starts.
Wootton and McClellin are both young players who have shown a lot of potential. Wootton came on strong last year and has had a very good preseason. McClellin is still developing, but his speed and athletic ability is an asset to the Bears' defense. If both players play up to their potential, the Bears' defensive line will be scary good this year.
Speaking of potential, it's possible that nobody has more than Washington. The physical freak—who they drafted in the sixth round of the 2013 draft—had a very good showing in preseason for the Bears and could be a steal.
Ozougwu is always an interesting player as he doesn't have the most talent, but works hard and has good burst off the ball.
This is one of the Bears' most talented and productive positions and they can be even better if Wootton and McClellin continue to develop.
Grade: A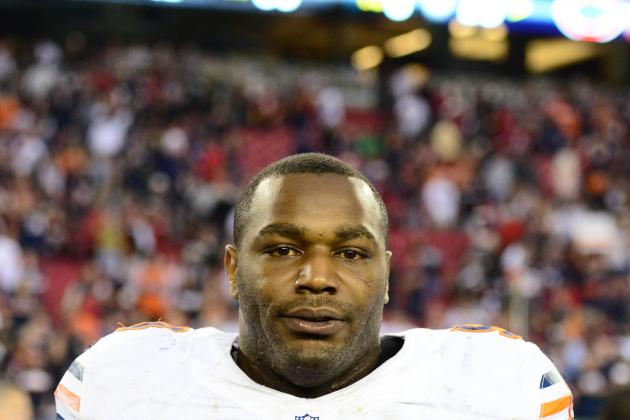 Mark J. Rebilas-USA TODAY Sports

(4): Henry Melton, Stephen Paea, Nate Collins, Zach Minter
While Melton is the star of this group, they showed they have some very good depth this preseason.
Melton has been an ascending player the last few years and voted into the Pro Bowl in 2012 after a very good showing. He's an elite interior pass rusher, but he's not the only one the Bears have.
He missed most of the preseason and Nate Collins was very impressive filling in for him. Collins registered a team-best two sacks in the preseason and his eight tackles were the most amongst the Bears' defensive linemen.
Although they didn't register sacks, Paea and Minter also were very good in the preseason. It's not a surprise to see Paea excel as he was a high second-round draft pick. Minter, however, is an undrafted rookie.
There was a lot of hype from fans about Minter entering the preseason and he lived up to it, making his way on the Bears' 53-man roster. It will be interesting to see how much he plays this season.
The one weakness of this group for the Bears' defensive tackles is that they don't appear to have a great run-stuffer amongst them. Paea has potential to be and perhaps Minter can develop into that as well. However, it's a passing league, so it's hard to downgrade them much because of that.
Grade: B+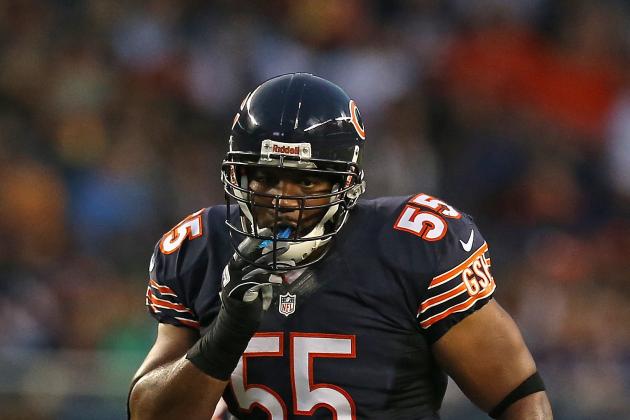 Jonathan Daniel/Getty Images

(6): Lance Briggs, Jon Bostic, James Anderson, D.J. Williams, Khaseem Greene, Blake Costanzo
Briggs is among the best in the league at his position and will be taking on an expanded leadership role this season, calling the plays for the defense.
Although it took an injury to Williams for him to break the starting lineup, Bostic appears to be a fixture in the middle of the Bears' defense. He showed the ability to make big plays and big hits this preseason. He's still just a rookie, but his potential has Bears' fans excited.
Anderson is a solid veteran and Williams gives the Bears great depth. It will be interesting to see how the Bears use Williams going forward and it wouldn't be a surprise to see him work his way on the field regularly.
Greene is raw, but has a lot of potential. He figures to be starting by the start of the 2014 season after leading the team in tackles during the preseason.
Costanzo is a special teams ace and has shown the ability to play in the team's base defense. The fact that he can play multiple positions on defense is likely what gave him the edge over J.T. Thomas.
Although they lost two solid players in Brian Urlacher and Nick Roach, the Bears' could be even better at linebacker this year. Bostic, Greene and Williams give them a lot more speed.
Still, with youth you get more mental mistakes. While Urlacher may not have had the physical skills he displayed in the past, he put everyone else on the defense in position to make plays. You might see more big plays from this group last year, but you'll also likely see more big mistakes.
Grade: B
John Gress/Getty Images

(6): Charles Tillman, Tim Jennings, Isaiah Frey, Zack Bowman, Sherrick McManis, C.J. Wilson
Tillman and Jennings are arguably the best duo in the entire league.
Tillman has always had a knack for creating turnovers, but he took that to a new level with 10 forced fumbles and three interceptions returned for touchdowns in 2012. Jennings was always a solid cover corner, but he became a playmaker last year with nine interceptions.
After that, there are serious questions about the team's depth at this position.
Frey was among the standouts early in camp and followed that with a solid preseason. It's hard to say for sure if that will transfer over to the regular season, however.
Bowman and McManis are great special teams players. Bowman has starting experience, but struggled in that role in the past.
Wilson—an undrafted free agent from N.C. State—flew under the radar during the draft process, but he impressed the Bears enough for them to keep him on their roster.
In a passing league, teams need three good corners. The Bears might have their third in Frey, but it's hard to say for sure. Still, their top two corners are so good, it's hard to grade this position group too harshly.
Grade: B+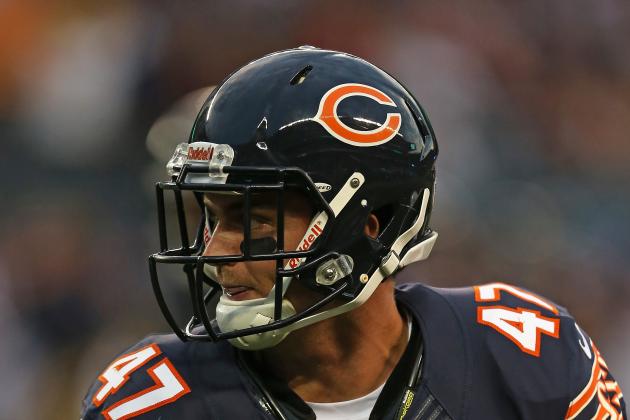 Jonathan Daniel/Getty Images

(4): Major Wright, Chris Conte, Craig Steltz, Anthony Walters
Wright enters 2013 after a breakout 2012 campaign as he was finally able to stay healthy. The Bears hope he can continue to improve and stay on the field.
Conte had a very good camp for the Bears and it's widely expected that he'll break out much like Wright did last year. He's always been good in coverage, but struggles in run defense.
Steltz is a solid veteran who can play either safety positions as well as special teams, while providing leadership to both units.
Walters was an undrafted free agent in 2012, but has continued to work hard and improve. He beat out veterans Tom Zbikowski and Derrick Martin as well as 2012 third-round pick Brandon Hardin.
Although Wright and Conte both have had trouble staying healthy, Steltz and Walters give the Bears very good depth at this position.
Grade: B+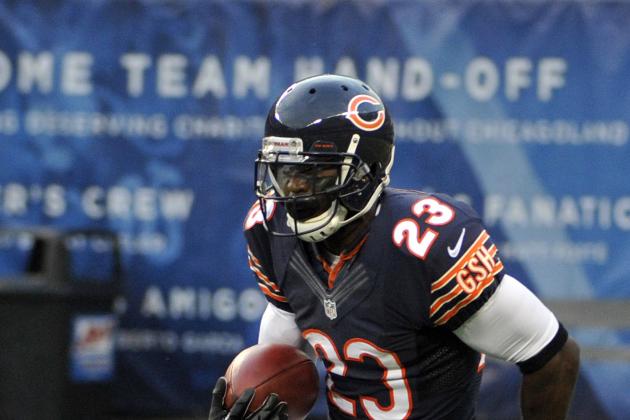 David Banks-USA TODAY Sports

(4): Robbie Gould, Adam Podlesh, Patrick Mannelly, Devin Hester
The Bears have two guys who are among the best ever at their positions and that doesn't include Mannelly because, well, who keeps track of long snappers?
Gould missed the end of last season with a calf injury and the Bears brought in some competition in Austin Signor. Signor didn't last long, however, and Gould showed neither age nor injury has slowed him. He made 10 of his 11 field goal attempts in preseason, including two from beyond 50 yards.
Podlesh also had some competition in Tess Way, but responded with a very good preseason. He was inconsistent last season, but averaged 45.8 yards per punt this preseason and put four of his 13 attempts inside the 20 yardline.
No player has played more games in a Bears' uniform than Mannelly and it's hard to remember any of his snaps not being on target.
Hester is the interesting player on this list. Many thought that his roster spot might be in jeopardy, but there was no indication of that during preseason. The Bears didn't give him many chances to return, but he averaged 30.7 yards on three kick returns. He only returned two punts for two yards, but it's hard to judge much on that.
The Bears are trying to maximize his potential as a return man this year by limiting his use on offense. If he's able to be the return man he was just two years ago, the Bears will have a weapon few can match.
My hunch is that he'll be better in 2013 than he was in 2012. I don't know if he'll ever be the dynamic weapon he once was, but he may not need to be for this unit to be the best in the league.
Grade: A