Making the Call on 49ers' Hardest Remaining Cuts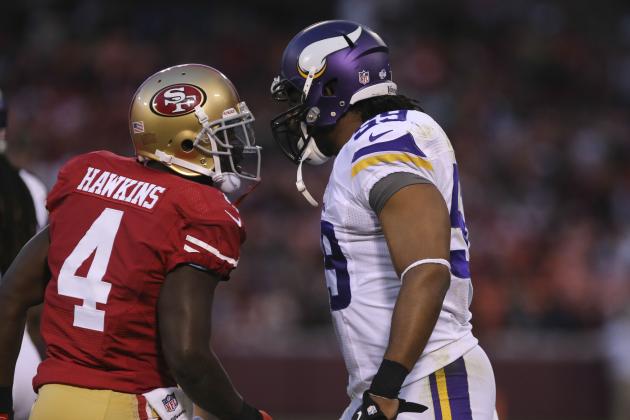 Kelley L Cox-USA TODAY Sports

NFL teams were given a 4 p.m. ET deadline to trim their roster to a maximum of 75 players. Of course, this is only the first round of cuts before teams must reduce their roster to the mandated 53.
The San Francisco 49ers are no exception. As of right now, the 49ers have released Lamar Divens and Lawrence Okoye.
Additionally, the 49ers have placed Tank Carradine, Quinton Dial, Marcus Lattimore, Luke Marquardt and defensive back Eric Wright on the reserved/injured list.
Don't forget that Michael Crabtree and Mario Manningham are also on the PUP list, meaning they won't be available until Week 6 of the NFL regular season.
Here is the official press release.
The players mentioned above don't count against the active roster. This bodes well for a few of these players, but expect this list to shorten in the coming weeks.
As the deadline looms for the final roster cut, we can expect to see a few surprise selections. I'm here to make that job easier.
Here are five 49ers likely to receive a pink slip.
Begin Slideshow

»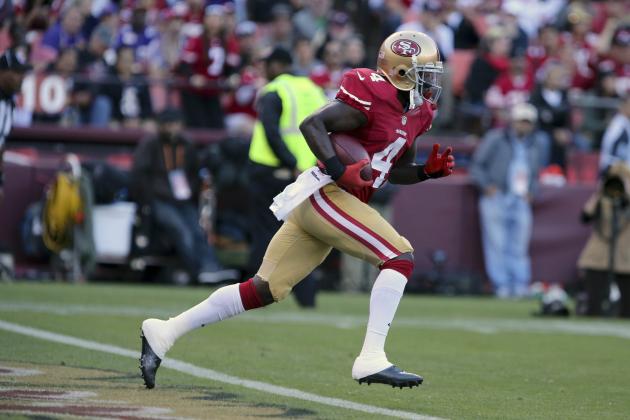 Kelley L Cox-USA TODAY Sports

Lavelle Hawkins was both spectacular and foolish in the 49ers' 34-14 win over the Minnesota Vikings. After his sensational 105-yard return, he was subsequently hit with two boneheaded penalties.
Penalties aside, you can't teach speed, as they say, and Hawkins has plenty to burn. In particular, the 49ers have been searching for a deep-threat receiver to open the field.
However, Hawkins has a steep hill to climb to make the 53-man roster. Marlon Moore and Jonathan Baldwin are far more talented, and Chad Hall has impressed during preseason action.
Hawkins does have special team value, but I still believe LaMichael James ends up with both return jobs.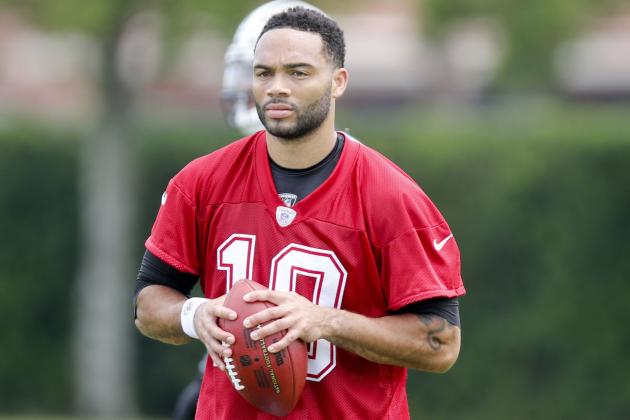 Derick Hingle-USA TODAY Sports

With Colt McCoy securing the backup quarterback job behind starter Colin Kaepernick, the third-string job will go to either Seneca Wallace or B.J. Daniels.
This battle will likely extend to the last and final preseason game, where both quarterbacks should receive plenty of playing time.
Both players are somewhat similar in style. Wallace, like Daniels, is a running quarterback with a strong arm, though Daniels has the stronger arm in my opinion.
Additionally, Daniels and Wallace have positional versatility. Their athleticism affords them the opportunity to play both receiver and quarterback.
With the 49ers likely introducing more read- and zone-option packages on offense, both quarterbacks should fit quite nicely. This will be a tough decision for Jim Harbaugh.
While Wallace is the more experienced quarterback, Daniels seems to have the upside teams crave in young quarterbacks. If the 49ers waive Daniels, will he last on the practice squad?
For now, I say Daniels wins the job.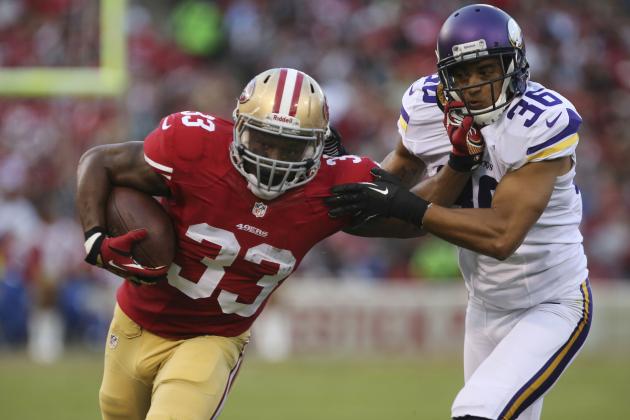 Kelley L Cox-USA TODAY Sports

In my previous articles, I have Jewel Hampton making the roster over Anthony Dixon. Sources haven't indicated what direction the 49ers are leaning toward at the moment, but my gut prediction is that Dixon wins the job.
Despite a strong showing in the 49ers' victory over the Vikings last week, Hampton has made little separation in the race. Also, the second-year pro still has practice squad eligibility, which should factor into the decision process.
From what we know, Dixon isn't much of a running back. However, Dixon does have value as both a fullback and special teams ace.
Nevertheless, this race will still be close. The final preseason game may be the deciding factor.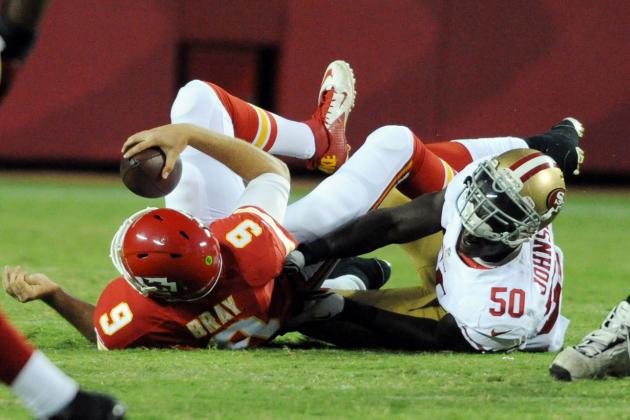 Denny Medley-USA TODAY Sports

This was a tough decision. Cam Johnson has some serious upside as an edge-rusher, but his latest injury could derail him.
Johnson hurt his shoulder in the 49ers' victory over the Vikings last week. We are unaware of the severity of the injury, but if he ends up missing the final preseason game, that could work against the second-year pro.
Dan Skuta and Corey Lemonier have been impressive in the preseason, and both linebackers bring some special teams value.
Fortunately, Johnson is still eligible for the practice squad.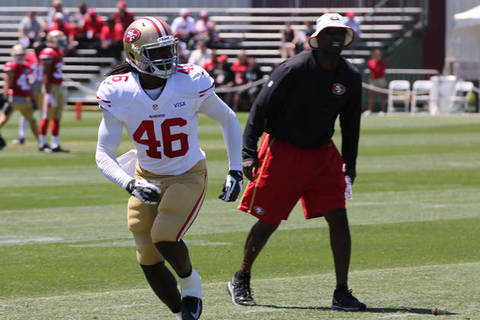 The third-string tight end job should be up for grabs. Garrett Celek hasn't impressed during preseason action, while MarQueis Gray has looked very solid.
His quick acclimation to the tight end position is extremely impressive considering he was a quarterback in college. I love his athleticism and upside.
However, Jim Harbaugh and GM Trent Baalke will likely stash Gray on the practice squad. I think Gray has a chance to be a solid pro prospect.
Watch out for Gray in the coming years.