Burning Questions for the Bears' 2013 Season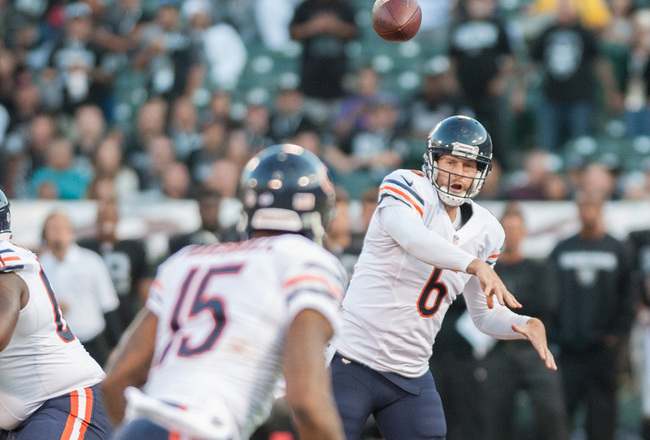 Ed Szczepanski-USA TODAY Sports
The Chicago Bears have had a solid training camp and have looked very good at times during the preseason, but they're still left with some unanswered questions.
The team's first training camp under new coach Marc Trestman has been an interesting experience. After years of playing under the defensive-minded Lovie Smith, the Bears offense finally has some leadership. The difference was clear early in the preseason.
Conversely, the Bears defense has continued to force turnovers at a high rate. Rookie linebacker Jon Bostic got them started with a pick-six in their first game. Bostic has been just one of a few young defenders who have made their impact felt.
While things have been mostly positive for the Bears so far, there are still questions that have yet to be determined. When the Bears open their season on September 8 against the Bengals at Soldier Field, we'll start to get answers.
Can Isaiah Frey Hold Up as the Team's Slot Corner?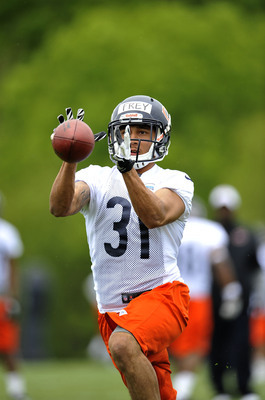 Brian Kersey/Getty Images
It's been a very good camp for the Bears second-year cornerback out of Nevada and they'll need it to carry on into the regular season.
Nobody really knew what to expect from Frey entering camp, but it was widely thought he needed to play well just to make the team. Frey did play well, then Kelvin Hayden was injured and now he will enter the season as the Bears' starting slot corner.
In the modern, pass-happy NFL, having a good third cornerback is just as important—if not more—as having three good linebackers. In a division with the Packers and the Lions, the Bears figure to be playing a lot of nickel and dime defenses, so they need Frey to hold up.
He has looked the part in the preseason and got his first interception in their third game against the Raiders. He hasn't been going against the caliber of competition he'll see once the regular season starts, however.
None of the Bears' preseason opponents has a deep group of receivers, certainly not comparable to what the Packers will throw out.
The true test for Frey won't come until the season starts. Teams have very vanilla game plans and play calls during preseason contests, once the games start to matter, we'll learn if Frey has what it takes.
Can Devin Hester Rebound from a Bad Season?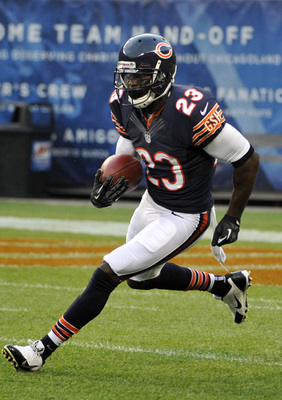 David Banks-USA TODAY Sports
We haven't seen much of Devin Hester so far. The Bears appear to be trying to save him for the regular season, which is a surefire sign that his roster spot is not in jeopardy as some thought it might be.
He's returned just three kicks and two punts this preseason as the Bears didn't even put him back to return punts until their third preseason game. He's shown flashes of being a Pro Bowl-caliber return man again, averaging over 30 yards per kick return, with a long return of 45 yards. He has only managed two yards on his two punt returns, however.
It's hard to judge much from preseason performance, but it seems the coaches must like what they saw from Hester in practice.
It wasn't that long ago that he was one of the best return men in the league. Despite having opponents kick away from him, he returned three kicks for touchdowns in 2011. There's little reason to think he can't do that again, but we'll need to see it before we can say for sure.
Who Will Be the Fourth Receiver?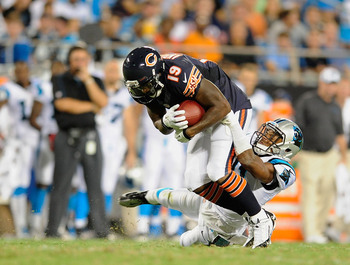 Grant Halverson/Getty Images
Although ESPN's Adam Schefter reported the Bears might be looking to move on from starting slot receiver Earl Bennett, I expect him to remain on the roster. Still, with Bennett's injury woes of the past few seasons, the Bears' fourth receiver has to be ready to play. Who that will be, however, is still up for grabs.
Early in camp it looked like Joe Anderson was a lock for this spot. Though, as time as passed, the Bears have played different players with the first-team offense while Bennett has been out with a concussion.
Most notable of those is seventh-round rookie, Marquess Wilson, who caught a big pass for a first down with the first-team offense against the Raiders. The biggest question about Wilson is in his ability to play special teams. At just 20 years old, he isn't as strong as most of the players he'll be going against.
Perhaps Anderson already has locked the job up, so the Bears are looking at other players. Terrence Toliver—considered a long shot to make the roster—and veteran Devin Aromashodu—who has already been released—also played with the Bears starters the last two weeks.
It certainly doesn't appear that Anderson has done anything to fall out of favor with the coaching staff. Unlike Wilson, he can also be a standout special teams player.
Whoever doesn't win the job as the team's fourth receiver may find themselves out of a job. It will be interesting to see how many receivers the Bears keep.
Eric Weems—who has also worked with the starting offense—is considered by many to be a lock because of his special teams ability. Brandon Marshall and Alshon Jeffery are definitely locks. Assuming they can't trade a player who has missed the entire preseason with a concussion, Bennett will be on the team.
Counting return man Devin Hester, the Bears are already at five players at a position that teams usually don't keep more than six at.
The Bears could go with Anderson because of his versatility or Wilson because of his ability to catch the ball and get open. Or, they could keep both and end up a player short at another position.
Is Josh McCown a Capable Back Up Quarterback?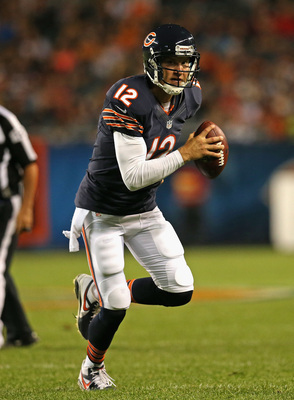 Jonathan Daniel/Getty Images
The Bears hope they never have to find the answer to this question, but Jay Cutler hasn't started 16 games since his first year with the team.
McCown is a veteran with quite a few starts under his belt, but he has been adequate at best. He saw some action for the Bears in 2011 and looked solid—at least in comparison to Caleb Hanie.
He completed nearly 64 percent of his passes that season, but had twice as many interceptions (4) as touchdowns (2). Ball security has always been an issue for him as he's thrown 44 interceptions and fumbled 41 times in his career.
In his defense, he's never been surrounded by a decent supporting cast, which makes his statistics hard to judge. However, at 34 years old, it seems likely his talent—as limited as it may have been—has likely eroded.
He hasn't looked good for the Bears in the preseason, completing just 52 percent of his passes with an average of 3.9 yards per attempt and a passer rating of 44.9. It's worth questioning if Matt Blanchard had a chance to beat him out if he hadn't suffered an injury.
As it stands, the Bears brought in two other journeymen: Jordan Palmer and Trent Edwards. However, neither appears to be a serious threat to McCown's job as Cutler's clipboard holder.
The Bears better hope Cutler stays upright and McCown is capable of holding down the job if he doesn't.
Can Shea McClellin Play a Bigger Role?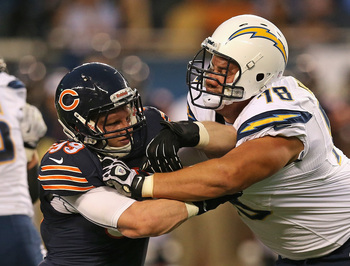 Jonathan Daniel/Getty Images
2012 first-round pick Shea McClellin is still an unknown among Bears fans. If he's going to be a significant part of their future, he's going to have to show he's capable this year.
His rookie season wasn't as bad as some make it seem. Although he only had 2.5 sacks, he was credited with 22 hurries by Pro Football Focus (subscription required). That is the fourth most on the team, despite only getting 268 chances to rush the passer.
The Bears need him to be able to finish plays and stay on the field on running downs if they're ever going to justify spending a first-round pick on him.
The common thought on McClellin coming out of Boise State was that he would be a great outside linebacker in a 3-4, but lacked the bulk to be a defensive end in a 4-3. So far, that scouting report looks to be true. He still has to get better at using his hands and developing more pass rush moves.
Although he looks bigger physically, we won't know much about his run defense until the season starts.
If the Bears are going to be a great defense again this year, they need to be able to consistently get to the quarterback. They need McClellin to be a big part of that now and in the future.
Can Kyle Long and Jordan Mills Continue to Play at a High Level?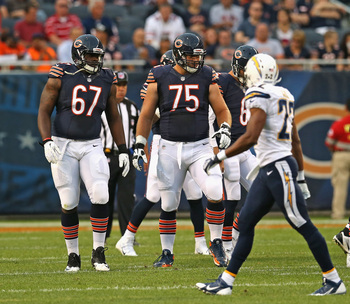 Jonathan Daniel/Getty Images
Although it's only the preseason, it's hard not to be impressed with the right side of the Bears' offensive line, where first-round pick Kyle Long and fifth-round pick Jordan Mills are holding their own.
Bleacher Report's Dan Hope called Long the most impressive rookie he's seen so far in the preseason as he's been nothing short of dominant. He is the highest rated offensive guard on Pro Football Focus (subscription required) as he's been dominant in the passing game and more than serviceable as a run blocker.
While Mills hasn't been one of the best tackles in the league, he's more than held his own—especially considering his draft position.
That being said, they haven't gone against the caliber of competition they will in the regular season.
While San Diego's defensive line is solid, Oakland's is quite weak. When they start the regular season, they'll open with a very good Cincinnati defensive line followed by the Vikings.
Within their division, Long and Mills will have to match up with three very defensive fronts in the Vikings, Lions and Packers. Over the last few years, the Packers have tormented the Bears with a wide variety of blitz looks that have helped them harass quarterback Jay Cutler.
It can be hard for any player to figure out Dom Capers' defense and he'll certainly try to test the rookies with confusing looks.
The Bears are taking a huge risk by going with two raw rookies. It should pay off in the future, but they also need them to hold their ground now.
Can Someone Step Up Opposite Marshall?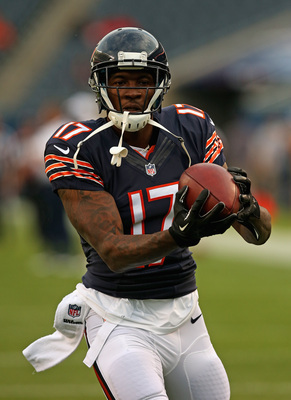 Jonathan Daniel/Getty Images
In Jay Cutler's first three years with the Bears, the thought was they had a bunch of complementary receivers, but no star. They added a star in Brandon Marshall last year, but didn't have anyone to complement him.
The Bears obviously targeted Marshall too much last year, but they didn't have much of a choice. Their second and third receivers both battled injuries and Devin Hester gave them next to nothing in their absence.
They tried to make Kellen Davis into a receiving tight end, something that failed miserably. While doing that, they were keeping Matt Forte—known as one of the best receiving running backs in the league—in to block.
New coach Marc Trestman is going to make sure Forte is a factor in the passing game. The team also added tight end Martellus Bennett, although he's never been known as the most consistent receiver either.
Even with those, the Bears will need receivers other than Marshall to make plays either after the catch or down the field.
It looks like they have potential to do so, but the same could have been said last year.
Earl Bennett is an above average slot receiver, but he has a hard time staying on the field. He's missed the entire preseason with a concussion and it's unknown when he'll play again. Alshon Jeffery has looked very good, but he has to show he can be consistent and that he can stay on the field.
Both Joe Anderson and Marquess Wilson have shown the ability to make plays at times this offseason, but they're still unproven.
If Earl Bennett can get back on the field and Jeffery can consistently play like he did in the team's third preseason game against Oakland, the Bears offense could be very explosive this year. If they can't, they might be in trouble.
How Big of a Season Will Matt Forte Have?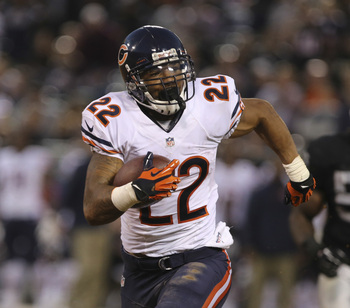 Kelley L Cox-USA TODAY Sports
It would be hard for anyone to get off to a better start than Matt Forte has this preseason for the Bears.
Despite having just 15 carries, Forte has run for 149 yards, an average of 9.9 yards per carry. He's also caught three passes for 38 yards and a touchdown. While that pace can't possibly carry into the regular season, big things are expected from Forte in 2013. Just how big is a very interesting thought.
Former offensive coordinator Mike Tice didn't use Forte as a receiver in 2012, but in 2011. With Mike Tice calling the plays, he was on pace for well over 2,000 all-purpose yards.
Last March, Marc Trestman told the Chicago Sun-Times he took a look at how Forte played in 2010 and indicated many of the same things are in store for the Bears in 2013.
With Marshall, Alshon Jeffery and Martellus Bennett now in the fold, Forte likely won't have the number of touches he got in 2010, but—as he's shown in preseason—that doesn't mean he won't make a lot of big plays.
Forte figures to be the key cog in the Bears offense and he's shown in the past that he's capable of carrying the load. With their apparent upgrades along their offensive line and receivers to help open some running lanes up, he could have a huge season in 2013.
Can Jay Cutler and Marc Trestman Co-Exist?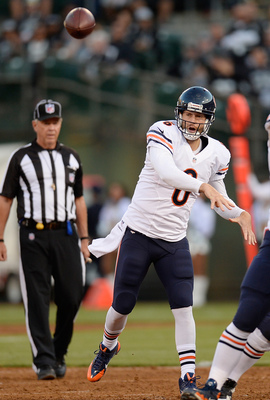 Thearon W. Henderson/Getty Images
This is the million dollar question that could determine how the Bears do in 2013 and what they do going forward.
While some question the mesh of their personalities, it's about scheme and style. Trestman wants his quarterback to protect the ball at all costs, while Cutler has been known to take risks and put the ball where it shouldn't go.
In Cutler's defense, it has been hard to find where the ball should go in the Bears offense. Their receivers have struggled to get open and their line has been among the worst in the league since he came to Chicago.
After having 15.9 percent of his passes travel over 20 yards in the air in 2012—the fourth highest rate in the league, according to Pro Football Focus (subscription required)—Cutler will be getting rid of the ball quicker this year under Trestman.
Just three—8.8 percent—of his passes travelled that far in the preseason, according to Pro Football Focus (subscription required). While that number will likely increase when the regular season starts, it's a clear sign that the Bears will use the short passing game to open up plays down the field.
The result has been a higher completion percentage. He's completed 64.7 percent of his throws this preseason, after finishing below 59 percent the last two years. His preseason completion percentage would be much higher if not for a handful of drops against Oakland.
We've still seen some of his recklessness, however.
He's thrown two interceptions, both on throws that were off the mark. His first one came on his first pass of the preseason in a throw to Alshon Jeffery. While Jeffery should share the blame on that play for not fighting for the ball, it was still a turnover that never should have happened.
The second interception was a bad read, bad throw and the exact kind of play he can't make.
That said, part of what makes Cutler good is his ability to make big plays when nothing is there. While that also leads to some mistakes, most of those plays end up being good for the Bears.
Trestman can't make him into a "Check Down Charlie," or the Bears offense won't operate as well as it could.
They have to find a common ground. Cutler still has to be able to trust his instincts and arm and Trestman has to let him do that, just not as often as he'd like.
Keep Reading

Chicago Bears: Like this team?