Chicago Bears: 8 Things We Learned Through Week 3 of Preseason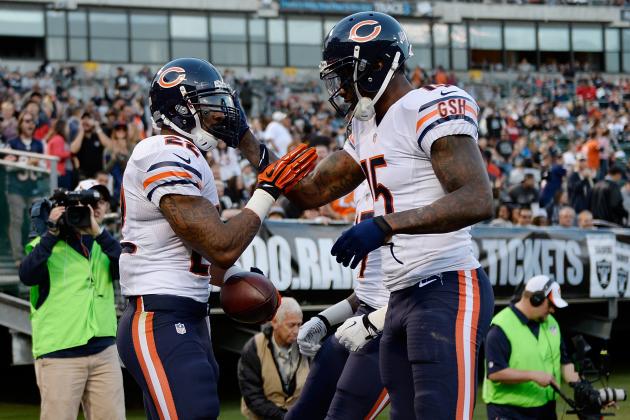 Thearon W. Henderson/Getty Images

Three preseason games are now in the books and the regular season is less than two weeks away, but there are still plenty of unknowns with the Chicago Bears.
The offense showed what they can do with increased reps on Friday night against the Oakland Raiders, and the defense has proven throughout the preseason that they are looking to build off of last year's stellar season.
With three preseason games down and one to go, here are eight things we learned through Week 3 of the preseason.
Begin Slideshow

»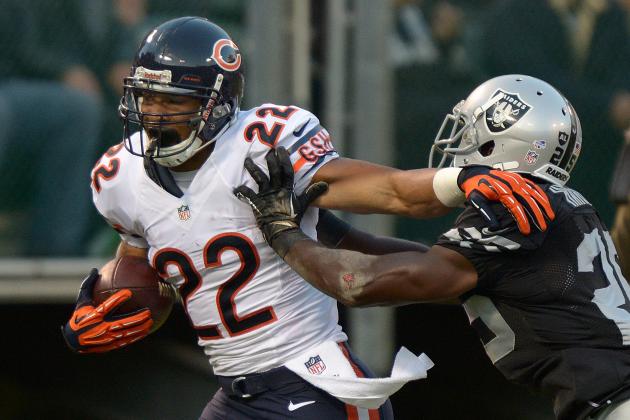 Kirby Lee-USA TODAY Sports

Throughout Matt Forte's career in Chicago, he has been one of the most efficient running backs in the league. In his five seasons, he has averaged 1,065 yards rushing, 53 catches and 465 yards receiving.
His role is likely to expand in Marc Trestman's West Coast offense, which will rely more on getting the football into his hands not only as a runner but also as a receiver.
His versatility as both a runner and receiver were on display Friday night in Oakland, where he had six carries for 76 yards and two catches for 33 yards and a touchdown in what was a dominating first half for the Bears' offense.
As long as he can stay healthy, he could have his best statistical season in 2013.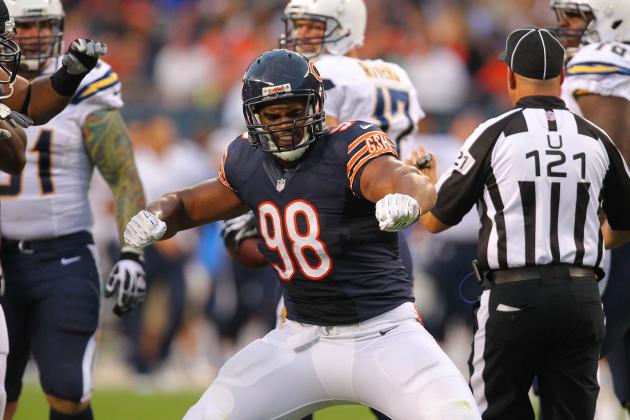 Dennis Wierzbicki-USA TODAY Spor

2012 was a banner year for a Bears defense that finished No. 1 in takeaways, including 24 interceptions (eight returned for touchdowns) and 26 forced fumbles.
Through three preseason games, the team has seven nterceptions and two forced fumbles and appears to be headed toward a season like they had in 2012.
The defense returns four Pro Bowlers in Charles Tillman, Tim Jennings, Julius Peppers and Henry Melton, and they also return one of the best 4-3 outside linebackers in the game in Lance Briggs.
Even with the departure of Lovie Smith and his staff, the defense will be running a similar system under defensive coordinator Mel Tucker. While some questions may linger regarding whether or not rookie Jon Bostic and second-year man Isaiah Frey are ready for key roles, this team has enough veteran depth that it should return to form in 2013.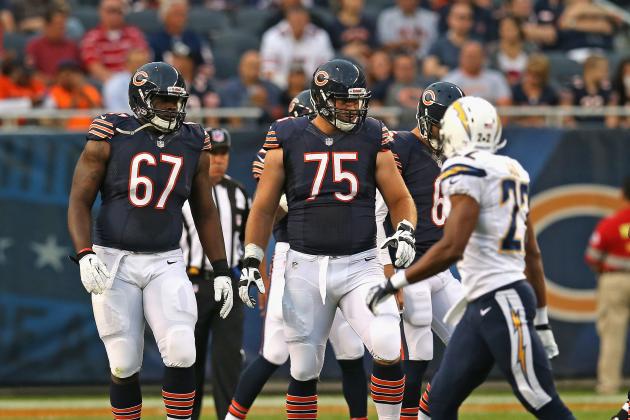 Jonathan Daniel/Getty Images

When selected 20th overall in April's draft, many questioned whether Kyle Long was a reach pick for the Bears. Through three preseason games, it appears he has proved the doubters wrong.
Long impressed in his first start against the San Diego Chargers during the second preseason game, showing off his nastiness at the point of attack and his athleticism when getting to the second level.
With J'Marcus Webb struggling and veteran Jonathan Scott nursing a knee injury, the Bears were forced to see what they had in fifth-round pick Jordan Mills.
While his play has not jumped off of the page like Long's has, Mills has quietly begun to solidify his role as the team's starting right tackle. He has been showing power off of the line of scrimmage, and other than a bad false start penalty in Oakland on Friday night, he has played mostly mistake-free.
If Long and Mills continue to progress from week to week, general manager Phil Emery may have finally found his long-term solution on the right side of the offensive line.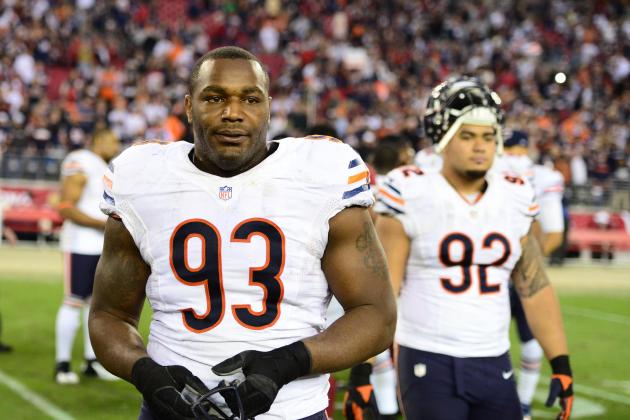 Mark J. Rebilas-USA TODAY Sports

After suffering a concussion during the first preseason game, Henry Melton has not seen the field, opening up more opportunities for Nate Collins.
Collins racked up his third sack of the preseason on Friday night and has been one of the team's most impressive players throughout training camp.
He found a spot in the defensive tackle rotation after a strong showing in training camp and the preseason in 2012. He showed flashes at times last season and has the ability to not only stop the run, but he also showed the ability to get off the ball quickly and get pressure on the quarterback.
He has the ability to play both the 3-technique position and the nose tackle, and if Melton is able to return for the season opener, he could push Stephen Paea for the starting nose tackle spot.
Collins has caught the eye of some national writers, with Peter Schrager of FoxSports.com tweeting Friday night, "Bears player everyone's buzzing about this preseason-- Nate Collins. Playing very well in Melton's absence."
If he continues this type of play into the regular season, the Bears could have one of the more productive defensive tackle groups in the NFL.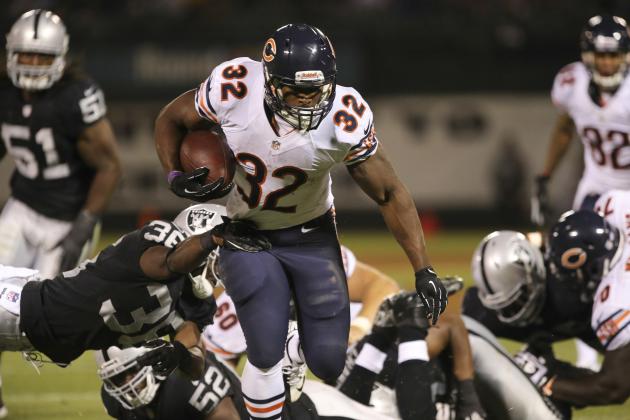 Kelley L Cox-USA TODAY Sports

Some questioned Michael Ford's decision to leave LSU early and enter the 2013 NFL draft, and when he was not selected during the seven rounds, it appeared he really did make the wrong decision.
The Bears signed Ford as an undrafted free agent, and although he started training camp as fourth on the depth chart at the position, an injury to Armando Allen has opened the door for him to stick on the 53-man roster.
He made splashes against both the Carolina Panthers and the San Diego Chargers as a return man and turned some heads Friday night against the Raiders with his running ability.
Ford finished the game with 58 yards rushing on nine attempts, including a powerful 15-yard run for a touchdown in the fourth quarter.
Ford should get a bulk of the carries during the last preseason game on Thursday night, and as long as he continues to run strong and does not suffer an injury, he appears to be a lock to make the roster.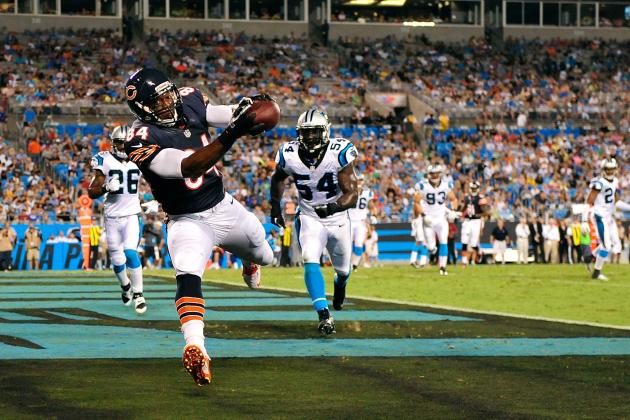 Grant Halverson/Getty Images

Outside of the signing of Martellus Bennett as the team's No. 1 tight end, there was plenty of buzz for journeyman Fendi Onobun.
While he looked great this offseason and during parts of training camp, he dropped a sure touchdown against the Panthers in the first preseason game and he struggled again Friday night against the Raiders, dropping two passes and often looking overmatched in blocking situations.
Steve Maneri has shown an ability to be a solid blocker but has not shown much as a receiver. Kyle Adams has shown his versatility in the past as an H-back, but he has gotten limited opportunities throughout training camp and the preseason.
The second and third tight end position still remain wide open, and one or two of these tight ends will need to step up in Thursday's preseason finale against the Cleveland Browns.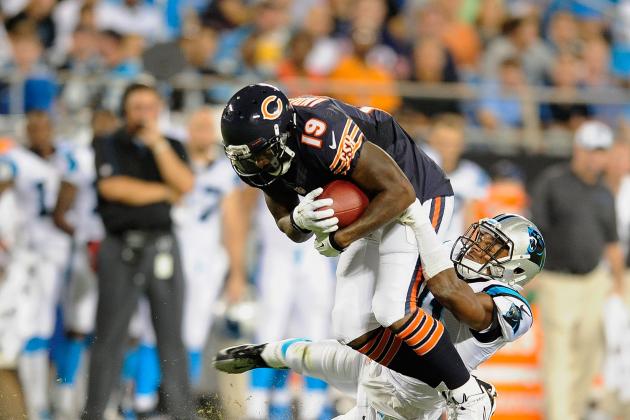 Grant Halverson/Getty Images

Wide receivers Brandon Marshall, Alshon Jeffery and Earl Bennett (if healthy) are givens on the Bears' wide receiver depth chart, but the remaining spots still appear to be wide open.
It is unknown how many receivers the team will keep, but it more than likely will be five or six. Joe Anderson, Eric Weems, Marquess Wilson and Terrence Toliver have all been getting their fair share of reps in the past two preseason games, but none has really been able to stand out.
Anderson was the talk of camp earlier this offseason but has not recorded a reception since the first preseason game. Weems and Wilson both made receptions Friday night against the Raiders, while Toliver was targeted once but failed to show up in the box score.
It is unlikely that Marshall, Jeffery or Bennett play Thursday night against the Browns, so these receivers will have their last opportunity to make an impression on Marc Trestman and his staff.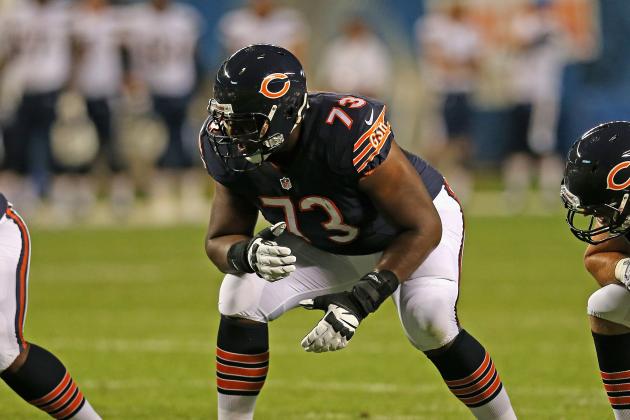 Jonathan Daniel/Getty Images

After losing his starting spot at right tackle to a rookie (Jordan Mills) and, according to the Chicago Tribune's Brad Biggs, agreeing to a pay cut, J'Marcus Webb has not had a very promising training camp or preseason.
Webb had been former offensive coordinator/offensive line coach Mike Tice's prized pupil since being taken in the seventh round of the 2010 draft. Webb possesses all of the ideal size and athleticism to be a solid NFL tackle but has failed to pick up on the mental aspects of the game.
He has been extremely durable for the Bears in the past and only he and Roberto Garza started every game on the offensive line last season.
With the emergence of Mills and the cut in playing time, Webb's only hope of sticking with the team is if Jonathan Scott cannot successfully return from a knee injury before the season begins.