Full Stat Predictions for the San Francisco 49ers' Regular Season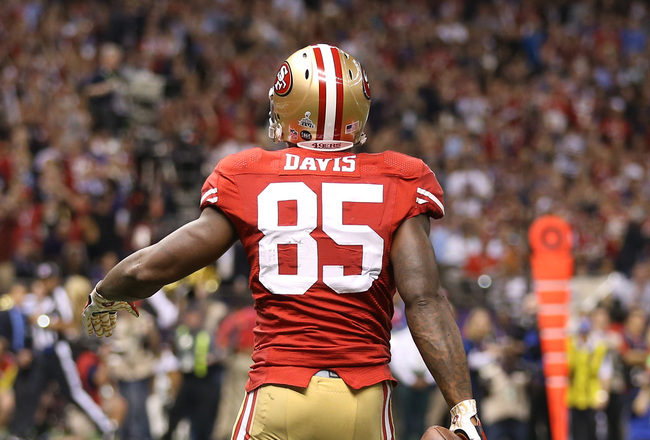 Mark J. Rebilas-USA TODAY Sports
21st century sports have the average Joe football fan keyed in on the statistical side like never before, largely thanks to the escalating craze of fantasy gaming leagues. But even if pretending to be a general manager with your buddies and co-workers is not your cup of tea, the visual aid of numbers helps to look at a player and understand their value, much like a stock.
For the San Francisco 49ers—a roster in flux at several positions—there are stocks soaring and there are others plummeting, which could drastically change the landscape of this team in 2013. Not necessarily for better or worse, just different.
From injuries to departed free agents and new arrivals, the radical changes to the personnel from one year to the next will require the coaching staff to adapt to their players.
Quarterback Colin Kaepernick will be orchestrating the show, but with his go-to receiver Michael Crabtree out, it will force the first-year starter to rely on the scope of his WR corps, along with his two-tight-end tandem and backs.
Ball distribution, transcendent playmaking ability from the QB position and hard-nosed, attacking style defense will characterize the 2013 49ers.
The following provides full statistical projections and analysis for offensive starters, as well as all relevant skill players on defense and special teams for the upcoming season.
Statistics provided by Pro Football Reference, unless otherwise indicated. Contract information is courtesy of Spotrac, while the 2012 snaps were provided by Matt Maiocco of CSN Bay Area.
Quarterback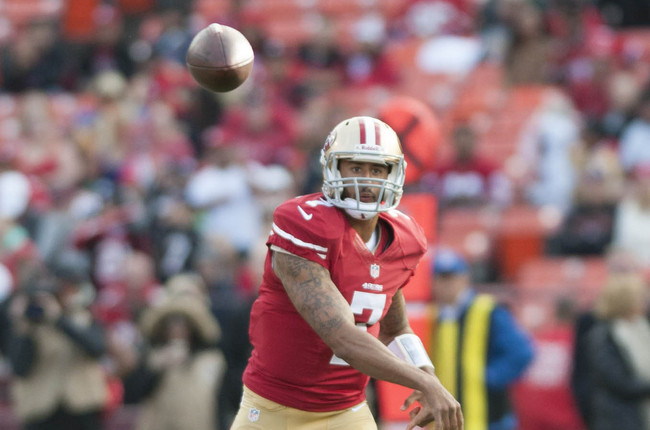 Ed Szczepanski-USA TODAY Sports
Colin Kaepernick
4,310 Yards Passing, 778 Yards Rushing, 41 Total TDs, 13 INTs, 67% Completion
Removing kneel downs and fumbled snaps, which count for one rush for zero yards, the 49ers quarterback had 73 runs for 691 yards in a truncated 2012 season (9.47 YPC), per Scott Kacsmar of Football Outsiders.
If Kap had as many carries as Robert Griffin III did with that average in 2012 (125 attempts in 16 games), he'd finish with 1,183 yards on the season. But considering his desire to prove his value from the pocket, mid-to-high 700s on the ground is more than reasonable, dropping the remainder in the passing yardage column.
Moreover, 11 quarterbacks broke the 4,000-yard mark in 2012—few of whom have a deep ball quite like Kaepernick.
His undeniable penchant for breaking off huge chunks of yards at a time—combined with his ability to keep defenses honest with his presence as a dual-threat—will allow him to pile it on in his first full season as a starter.
5,000-plus all-purpose yards and over 40 scores puts Kaepernick in the MVP running.
Running Back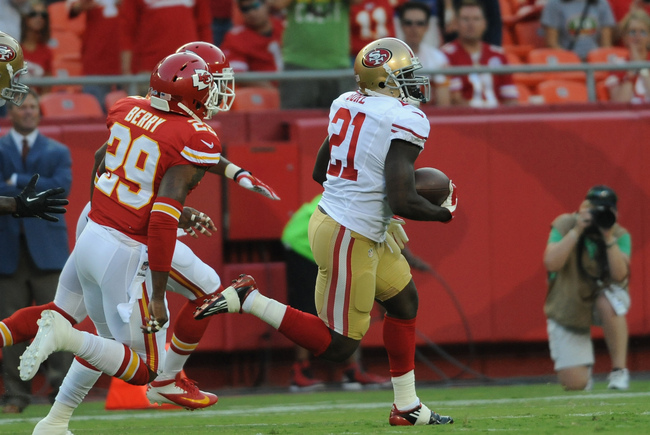 Denny Medley-USA TODAY Sports
Frank Gore
244 carries, 1,171 yards, seven touchdowns
The 'Niners have run the ball over 490 times in consecutive seasons under the offensive methodology of coaches Jim Harbaugh and Greg Roman. During that time (2011-12), Gore has continued to operate as the featured back, though his workload has decreased each season.
That trend continues as his carries drop again, however, they still remain in the mid-200s. With this number of carries, Gore's latest average of 4.7 yards per attempt is good enough to get him over 1,000 yards for a seventh time, helping the 49ers' rushing king to surpass 10,000 career yards in 2013.
Kendall Hunter
113 carries, 531 yards, 11 catches, 89 yards, three total touchdowns
Despite being a change-of-pace back, Hunter is stylistically closer to Frank Gore than he is to LaMichael James—there is feature potential with No. 32. Built like a fire hydrant, Hunter is a powerful little runner who shines both in and outside the tackles.
As the secondary option behind Gore, coming off a whopping 5.2 YPC average in 2012, third-year running back Kendall Hunter goes on to do plenty with his 100-plus carries with San Francisco.
LaMichael James
103 carries, 462 yards, 29 catches, 341 yards, six total touchdowns
They say big things come in small packages.
That is exactly the case with James, who, in his first full 16-game campaign in the NFL, projects to serve a high level of functionality within this cutting-edge offense. While there is not much of a sample size to base this year's numbers on, the mock-up above is indicative of the type of role he will play.
Modest stats if you look at Darren Sproles' affect on the New Orleans offense. In the end, his total yardage—rushing and receiving—may be in the ballpark of 1,000.
Wide Receiver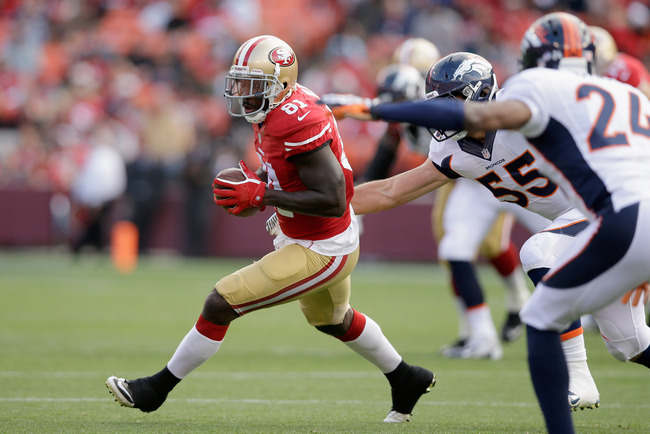 Ezra Shaw/Getty Images
Anquan Boldin
65 catches, 877 yards, six touchdowns
As hot a receiver as he was in the 2012 playoffs, Boldin has not had a 1,000-yard season since 2009, when he was a 29-year-old pass-catcher for the rival Cardinals. He will carry on his productive output in red and gold, but 800-900 yards is about what he averaged in three years in Baltimore.
Will he be the top wideout for the 49ers? Yes. But Boldin is not likely to be the focal point of the air raid attack—that spot is reserved for someone else. Instead, his role as a chain-mover, tempo-setter and powering red-zone rebounder will take precedence this season.
Kyle Williams
40 catches, 575 yards, four touchdowns
The approach-by-committee continues with the fourth-year receiver from Arizona State. As the most acclimated wideout on this 2013 roster, Williams is easily one of the eminent candidates to carry the load for the group behind Boldin.
The projections for Williams are tough, seeing as how the WR corps is a mystery and he only has 461 yards in three years prior. But if Williams takes the job and runs with it, we could potentially be talking about him doubling his career yardage in the span of a season.
However, the smart money says Williams is a supplemental weapon on a team that will spread the ball around a great deal.
Mario Manningham
32 catches, 386 yards, two touchdowns
Though he is immensely talented, nagging injuries and the state of the depth chart has forever resulted in middle-of-the-road numbers for Manningham. The last two seasons, he only played in 24 games out of a possible 32. He also has not surpassed 600 yards since his career-year in 2010 with the New York Giants.
Coming off a serious season-ending knee injury (ACL, PCL), Manningham will get a late start once again and could lose out while others are proving their worth. Hopefully he springs to life by mid-to-late season, in time for the playoffs, when wins count, not stats.
Quinton Patton
28 catches, 362 yards, one touchdown
All of a sudden, Patton is looking like the third-best WR on the roster as the 49ers head into Week 1. He will likely see time early on in the season, which will allow him to get his feet wet behind the starters. In all likelihood, the rookie holds it down until the rest of the group can get healthy.
Expect him to look sharp in limited action.
Jonathan Baldwin
9 catches, 120 yards
Apart from the average yards per catch, low numbers like these for Baldwin won't win the fan base over. But pundits have to consider, this is a player who came in late (under unique circumstances), and has little-to-no pro success that would warrant a 50-catch season.
All in all, this is an okay start for Baldwin, who is more of a breakthrough candidate for 2014 than he is this year.
Marlon Moore
3 catches, 22 yards
The ex-Dolphin receiver and Fresno State alum manages to cling to the 49ers roster after a commendable preseason showing, but he is not by any means a staple in this offense.
Moore will dress on Sunday until the 49ers can regain players like Mario Manningham and Michael Crabtree, but he will not be relied on for serious production when the games begin to count in September.
Michael Crabtree (+)
N/A
To all my fans.. I'm working everyday to be at my best.. #Adversity

— Michael Crabtree (@KingCrab15) August 3, 2013
Tight End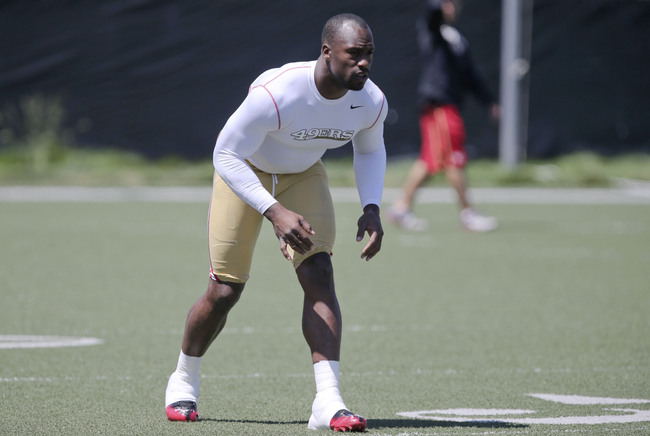 Kelley L Cox-USA TODAY Sports
75 catches, 1,140 yards, 11 touchdowns
Here is your receiving leader for the 2013 San Francisco 49ers.
After seven years of dealing with mediocrity at quarterback, one of the National Football League's most elite physical specimens on the offensive side of the football will be on an absolute warpath with Colin Kaepernick.
Davis finally surpasses the 1,000-yard mark and hits double-digit touchdowns for the second time in his career.
Vance McDonald
27 catches, 420 yards, five touchdowns
McDonald is bursting at the seams with potential, giving the 'Niners what looks to be another starting-caliber tight end. He will replace departed receiver Delanie Walker as the No. 2 option behind Davis, putting him in line for decent production in San Francisco's TE-friendly offense.
Seeing as how Walker was in for nearly 57 percent of the offensive snaps and targeted 38 times in 2012, McDonald can expect to be a featured contributor in an offense that needs players to step up in the wake of all the injuries.
Defensive Tackle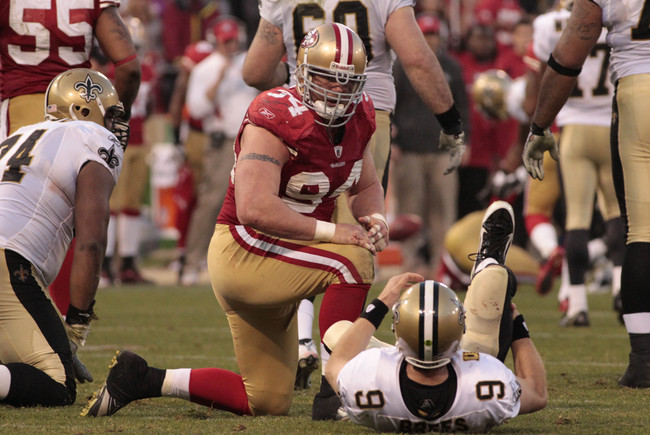 Cary Edmondson-USA TODAY Sports
Justin Smith
44 solo, 16 assists, 3.5 sacks, two forced fumbles
Getting back to form from his injury, entering the twilight years of a stupendous career, Smith will look to reinsert himself as a dominant force in the trenches. No. 94 is not as much a stat hog as he is an enabler of those around him. His ability to dictate match-ups and free up the linebackers is his most valuable quality.
Over the past two seasons, Smith has averaged 65 total tackles. But this year, in a bulked up defensive front, which includes a gaggle of new and unique pass rushers, Smith's assignments will likely be more geared toward utilizing his skills as a clogging defensive lineman.
Ian Williams
23 solo, eight assists, one sack
Like it is for top dog Justin Smith and the rest of the 49ers defensive line group, the ongoing melee in the trenches will be a war of attrition for young nose tackle Ian Williams. It is an unglamorous position he plays and stats are not always the telltale sign of a strong performance.
Earning high praise from camp, backed by strong play in the exhibition, Williams looks to be a force in the middle. He will probably play significantly better than Isaac Sopoaga, but it won't show in the box score. For Williams and Co., it is more about controlling the line of scrimmage.
Glenn Dorsey
14 solo, 11 assists
Once Dorsey was signed as San Francisco's first 2013 free agent, it looked like he'd be the starter. Akin to Justin Smith, Carlos Rogers and Donte Whitner before him, Dorsey appeared to be the next former first-round pick who went on to find his identity as a 49er.
Instead, he lost out to Ian Williams, an undrafted free agent who is light years ahead of where he was a year ago. Dorsey will be a luxury as a rotational lineman, playing all the techniques along the defensive front in a variety of packages.
Ray McDonald
27 solo, 15 assists, 1.5 sacks
McDonald is steady but not flashy—he is neither a sack artist nor an overly instinctive run-stuffer. Very simply, he is well-rounded player who is important to the fluidity of the attack from the D-line. He plugs in and everything around him works.
In his past two seasons in a starting role, McDonald has had over 30 tackles. Not gaudy numbers but he helps finish tackles, redirects run plays into the linebackers, sets the edge and consistently holds his ground against top-level competition.
Tank Carradine (+)
10 solo, three assists, 4.5 sacks
Even though he is coming in off a knee injury, Carradine is expected back this season and should forge a role for himself fairly quickly. As a non-participant in camp, the No. 40 overall pick has been taking a ton of mental reps in camp.
Once he is cleared for contact, he should be one of the team's top rotating defensive line guys, especially in the nickel package when the 49ers deploy four down linemen to get after the quarterback. His final sample size will likely be small and strictly concentrated on rushing the passer.
Inside Linebacker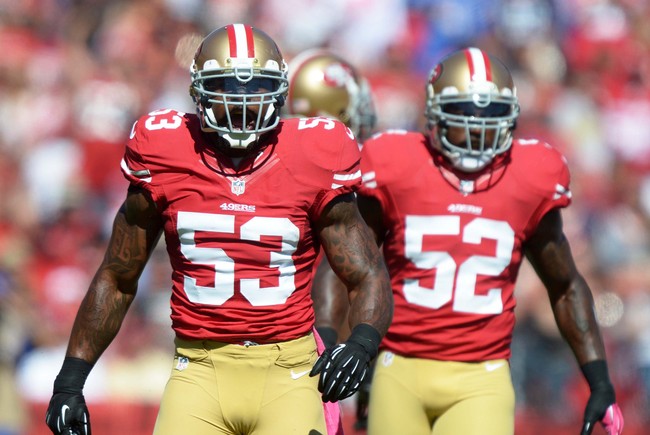 Kirby Lee-USA TODAY Sports
89 solo, 33 assists, three forced fumbles, one interception
Willis will be all over the place but it does not look like he will be the team's No. 1 leading tackler anymore. Over the last two years, he has continued to lose time in the nickel and dime packages to partner NaVorro Bowman.
This season, he'll be the same unstoppable force he has always been, but statistically, Patrick Willis is not going to have the 100-plus solo-tackle seasons he did prior to teaming up with No. 53.
NaVorro Bowman
94 solo, 56 assists, one sack, two interceptions
For the third-straight season, Bowman goes on to lead the 'Niners in tackles, largely because of the extra time he logs on passing downs and as a special teams contributor. Since taking over for Takeo Spikes in 2011, Bowman has out tackled Willis in his two years as a starter (294 in 32 games).
Pending unforeseen circumstances, there is no reason to believe that Bow fails to maintain his stellar average this season.
Outside Linebacker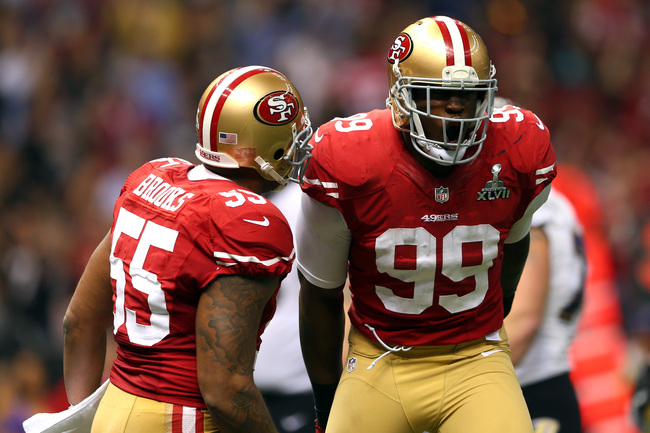 Mike Ehrmann/Getty Images
Aldon Smith
51 solo, 12 assists, 18.5 sacks
In his very first season as an NFL starter, Smith surfaced as a top-five tackler on a team with a pair of All-Pro inside backers. He also demonstrated a special knack for arriving in the opponent's backfield. In 2012, 30 percent of Smith's tackles were sacks (19.5 of 65 total).
His value as a pass-rusher keeps him on the field and it is likely his sack total reaches the high teens once again. A unique talent, Smith is capable of surpassing 20 but he will now be racing his teammates to the quarterback. In a restocked front, the sacks in 2013 will be more evenly distributed.
Ahmad Brooks
29 solo, 14 assists, 3.5 sacks
Playing over 92 percent of the defensive snaps in 2012, Brooks only finished with 34 individual takedowns. That is a number that should go down this season with a vigorous new rotation of outside linebackers coming in (the 49ers sure won't take Aldon Smith off the field).
Brooks is the No. 1 option on first and second down. However, when he's winded on third down or the 49ers need to kick start the pass rush, Brooks is going to be taken off the field for one of the two names listed below him here.
Corey Lemonier
13 solo, four assists, five sacks
In the 2013 draft, the 49ers traded up in Round 3 to select this player, whose claim to fame was his ability as an edge rusher.
Similar to Aldon Smith's role two seasons ago, Lemonier will fill in as a terrorizing presence on obvious passing downs. Predominantly featured in the nickel, his snap count wont end up being terribly high and his numbers will appear very pedestrian from a league-wide perspective.
The biggest difference Lemonier makes does not show up here and that is QB pressures.
Parys Haralson
18 solo, five assists
Haralson, 29, restructured his contract this offseason to remain with San Francisco—the franchise that drafted him at No. 140 overall in 2006. Not including special teams players, he is now the second longest-tenured member of the 49ers, only after running back Frank Gore.
Haralson will list as the third OLB but with Lemonier emerging as the more explosive pass rusher, the veteran may see his role diminish.
Cornerback
Matthew Emmons-USA TODAY Sports
Carlos Rogers
44 solo, five assists, six pass deflections, two interceptions
At age 32, Rogers reprises his role as San Francisco's No. 1 corner in 2013. After a Pro Bowl showing in his inaugural year in red and gold, there was a noticeable regression in his coverage week-to-week.
This season, the 49ers have no clue what they're getting. It is a rocky situation, but Rogers has a chance to right the ship with a strong supporting cast, which includes a beefed up front seven.
Tarell Brown
51 solo, four assists, 16 pass deflections
Easily the best cornerback for the 49ers heading into 2013, Brown has remained dependable in all phases of the game. His consistency and identity as a technician far outweighs his physical talent (5'10", 193 lbs.).
Brown led the 49ers with pass breakups last season with 14. The year before, he had a team-high 15. He will once again stake his claim as a disruptor, as well as one of San Fran's top tackling corners.
Nnamdi Asomugha
39 tackles, eight assists, 13 pass deflections, two interceptions
In the wake of Chris Culliver's season-ending ACL injury, Asomugha is one of the new faces working to get in the mix this year. In training camp and preseason, the 49ers have stuck their new free-agent acquisition at right cornerback, playing a lot of press man coverage.
This is Asomugha's bread and butter, which could lead to a bounce-back season in 2013.
Perrish Cox
21 tackles, four assists, five pass deflections, two sacks
Cox is entering his second year in this defense, having been reunited with secondary coach Ed Donatell who was his instructor in Denver. Having matured under the wing of this defensive staff, Cox is set to see his role expand this year, placing him as one of San Francisco's top four cornerbacks.
They'll be depending on Cox to perform well on the boundary and in the slot, as well as functioning as a special teams gunner and as a return specialist.
Tramaine Brock
14 tackles, eight assists
Brock is a favorite of the coaching staff and will likely split time with Cox, operating as cornerbacks 4a and 4b. For as far down the depth chart as Brock is, he is a legitimate NFL corner with a very disciplined style. He will compete on defense, while contributing on special teams.
Safety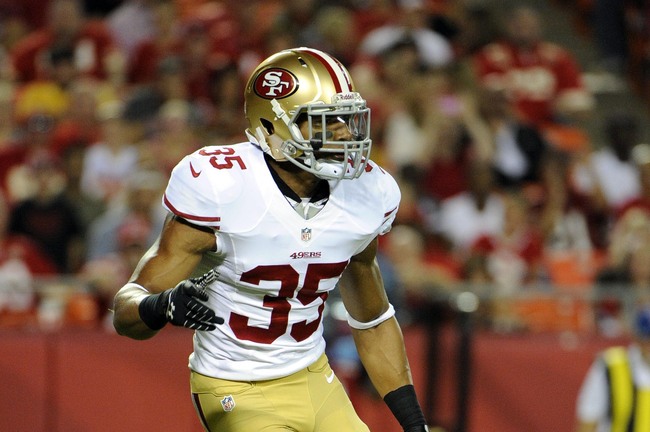 John Rieger-USA TODAY Sports
Eric Reid
61 solo, 24 assists, one interception, two forced fumbles
This projection pins Reid as the third-leading tackler on the team.
Seeing as how safeties Dashon Goldson and Donte Whitner were Nos. 3 and 4 in tackles, it would hardly be a shock to see the LSU product finish with this high. He certainly looks the part. On top of that, his aggressive tendencies and persona as a homing missile always put him around the ball carrier.
Donte Whitner
54 solo, 17 assists, two forced fumbles
It's true, Whitner is not much of a coverage safety, but he does lay some pretty bone-jarring hits. Moreover, the legality and frequency of these thumps give him value as a tempo setter for the 49ers' prestigious defensive unit.
Coming off an 83-tackle season, Whitner's total takedowns decrease with a more filled-out roster and a star first-rounder to his immediate right. Eric Reid may wind up stealing some of his thunder in what is a contract year for Whitner.
Special Teams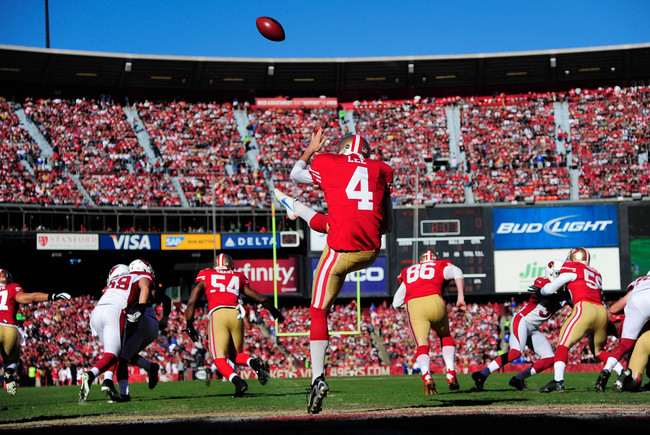 Kyle Terada-USA TODAY Sports
Phil Dawson
27-of-29 field goals made, 57 long
Though he is the league's reigning All-Pro place kicker, Dawson has never been 100 percent from the field. That won't happen, but he will get pretty close. The longtime Browns special teamer is coming off career-highs, in which he knocked in 93.5 percent of his field goals, including 7-of-7 from 50-plus yards out.
Andy Lee
48.5 gross punt average, 33 inside 20-yard line, 65 long
Andy Lee is a model of consistency. A big reason for the team's success is his uncanny ability to pin offenses back, allowing his defense to start with very favorable field position. He continues his unbelievable career, which will one day end in the 49ers team Hall of Fame.
LaMichael James
32 kick returns, 890 yards
On 14 kickoff returns in 2012, James finished with an incredibly high average of 29.7 yards per attempt. The only two players with equal or more returns to finish ahead of the 49ers rookie were Percy Harvin (35.9) and Jacoby Jones (30.7), via NFL.com.
James will greatly help this offense with his ability to set them up outside the 20 on a consistent basis.
Dylan DeSimone is the San Francisco 49ers' Lead Columnist for Bleacher Report. He also co-hosts the Niner Talk Central podcast for PFC. To talk football with Dylan, follow him on Twitter @DeSimone80.
Keep Reading

San Francisco 49ers: Like this team?