Full Stat Predictions for Chicago Bears' Regular Season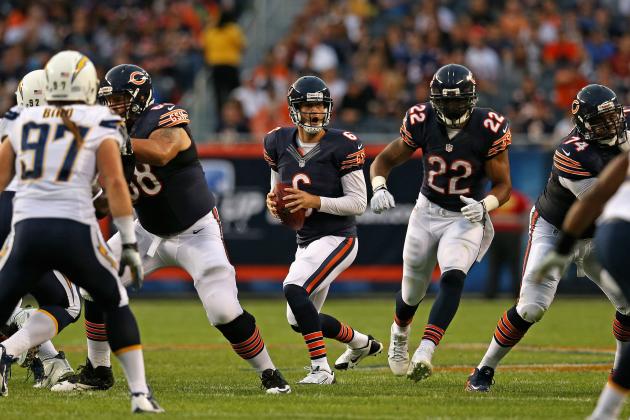 Jonathan Daniel/Getty Images

On paper, the 2013 Chicago Bears do not appear to be much different than the 2012 Chicago Bears. But, with a new head coach and a shift in offensive philosophy, 2013 just might yield better results than in years past.
Marc Trestman and his staff have made it a point to emphasize offense this season and there will likely be a statistical increase for all of their offensive players. Even with a new commitment to the offense, the defense will look to build off of their 2012 defense that finished third in the league in points, fifth in yards and first in turnovers (h/t Pro Football Reference).
Here are the full stat predictions for the Chicago Bears' regular season:
Begin Slideshow

»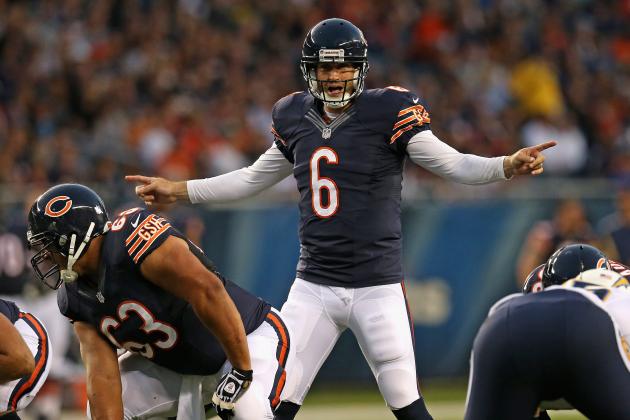 Jonathan Daniel/Getty Images

4,245 Yards Passing, 29 TDs, 19 INTs, 60% Completion
One of the biggest reasons for bringing in Marc Trestman was to help make Jay Cutler a better quarterback. During Trestman's 15 years in the NFL as quarterbacks coach, offensive coordinator or assistant head coach his quarterbacks have thrown for an average of 3,404 yards, 19 touchdowns, 18 interceptions and have completed 59% of their passes.
Steve Young and Rich Gannon both threw for over 4,400 yards, 26 touchdowns and 16 or less interceptions during their peak seasons with Trestman.
Cutler should be able to improve on his career average in both passing yards (3,045) and touchdowns (19) in 2013 under Trestman's offense and with weapons such as Brandon Marshall, Matt Forte and Martellus Bennett.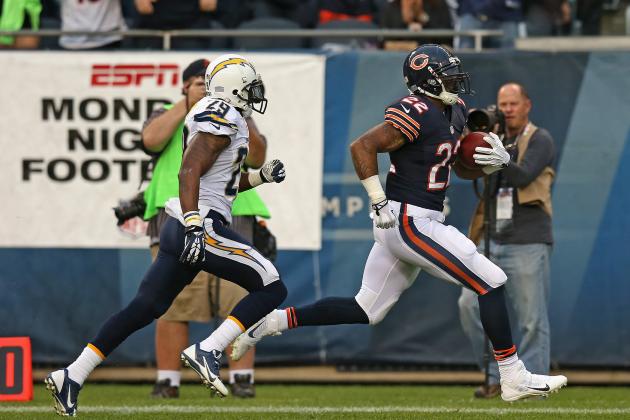 Jonathan Daniel/Getty Images

Matt Forte
230 carries, 1,155 yards, 80 catches, 804 yards, 9 total touchdowns
During a two-year period from 2002 to 2003, running back Charlie Garner flourished in then offensive coordinator Marc Trestman's system in Oakland. In those two seasons, Garner averaged 196 rushing attempts for 900 yards on the ground while averaging over 81 catches and nearly 760 yards receiving.
Forte, an already consistent pass-catching option, will likely be one of the biggest beneficiaries of the Bears' new offensive system. He has averaged over 252 carries per year during his five years in the league while averaging 1,065 yards on the ground with over 53 catches and 465 yards through the air.
He will be expected not only to be a guy that can produce on the ground, but someone who could find himself lining up as a receiver and putting up the sort of numbers that Garner produced as a pass-catcher under Trestman.
Michael Bush

115 carries, 415 yards, 22 catches, 195 yards, 7 total touchdowns
In the past, Bush has proven to be an effective short-yardage running back that has a nose for finding the end zone. While his rushing numbers might not come close to his career average (149 carries, 610 yards) he will likely be a threat in the red zone and should get himself a handful of touchdowns.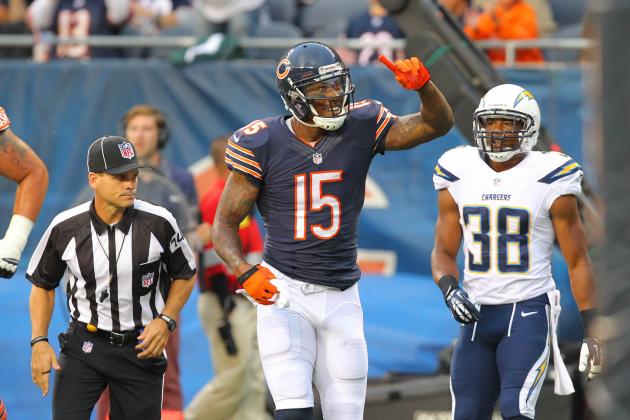 Dennis Wierzbicki-USA TODAY Spor

Brandon Marshall
95 catches, 1,255 yards, 9 touchdowns
2012 was a record breaking year for Brandon Marshall as he set career highs in catches (118), yards (1,508) and touchdowns (11). He clearly has the best rapport with Jay Cutler and will likely get the highest percent of targets in the passing game.
An improved offensive line, the addition of a pass-catching tight end in Martellus Bennett and the desire to utilize Matt Forte more in the passing game will likely drop Marshall's numbers but he will continue to be one of the team's most explosive weapons.
Alshon Jeffery
45 catches, 575 yards, 6 touchdowns
Due to injuries during his rookie season, Jeffery was never truly able to get into a rhythm within the offense last season. When active, he caught 24 balls for 367 yards and three touchdowns. He has shown an ability to catch the deep ball and averaged over 15 yards per reception last season. As long as Cutler can spread the ball around the field, Jeffery should be due to have a solid sophomore campaign.
Earl Bennett
21 catches, 218 yards, 1 touchdown
Prior to Brandon Marshall's arrival last season, Bennett was viewed as Cutler's most reliable passing target. Year after year his numbers have decreased and there is no indication that 2013 will be much different.
Joe Anderson
25 catches, 324 yards, 2 touchdowns
Similar to Bennett in size and style, Anderson could find himself platooning the slot receiver position in 2013. He showed the ability in college to play the slot and to fight for extra yards after the catch.
Marquess Wilson
12 catches, 216 yards, 1 touchdown
During his tenure at Washington State, Wilson proved his ability to make the big yardage plays, averaging 17 yards per catch in three seasons. Getting some time on the field may be difficult for him this season but they could use him as a situational burner.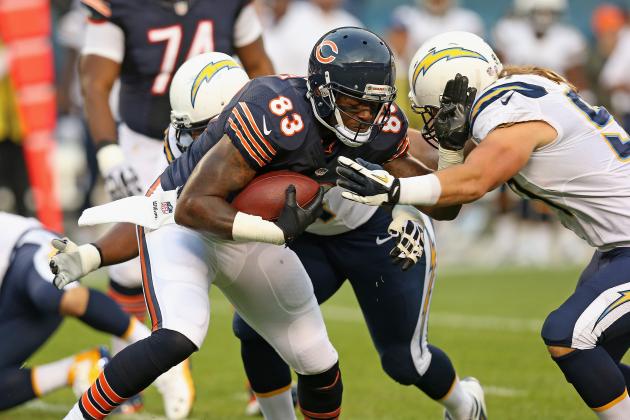 Jonathan Daniel/Getty Images

Martellus Bennett
42 catches, 550 yards, 6 touchdowns
The NFL has quickly evolved into a league that loves to utilize the tight end position. Guys like Rob Gronkowski and Jimmy Graham have become the new standard at the position and the Bears hope that Martellus Bennett can provide that pass-catching threat.
In his five year career he has averaged 28 catches for 294 yards and just under two touchdowns, but he went above his average last season with 55 catches for 626 yards and five touchdowns. While his catches and total yards could drop off due to the increased targets to Matt Forte and Brandon Marshall, he will likely still be a threat in the red zone.
Leonard Pope
12 catches, 110 yards, 1 touchdown
Pope has mainly been a blocking tight end throughout his career but has averaged 15 catches, 140 yards and a touchdown during his seven year career.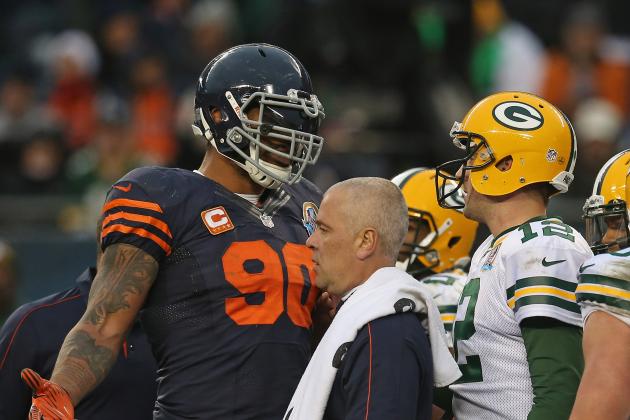 Jonathan Daniel/Getty Images

Julius Peppers
49 tackles, 11 sacks, 2 forced fumbles
Throughout Julius Peppers' NFL career he has been a model of consistency at the defensive end position. He has averaged 10 sacks and three forced fumbles a year during his career and has amassed 10 or more sacks in eight of his 11 seasons.
As long as he can keep himself healthy, he will have a good shot at maintaining his career averages in 2013.
Corey Wootton
52 tackles, 10.5 sacks, 1 forced fumble
2012 was a coming out party for Wootton as he went on to register seven sacks and two forced fumbles. Despite suffering from injuries during training camp, a lot of buzz has been surrounding Wootton this offseason.
He is entering a contract year and should be able to build off of his strong showing in 2012.
Shea McClellin
18 tackles, 6.5 sacks
After a somewhat disappointing rookie year in which McClellin missed some time due to injuries, he will be getting a bigger role in 2013.
He is still viewed as a speed rusher and has to improve in the running game, but he should get plenty of opportunities to rush the passer this season.
Cornelius Washington
5 tackles, 1.5 sacks
Initially viewed as a possible fit at outside linebacker in a 3-4 defense, the Bears took Washington in the sixth round with the hope of using him as a speed rusher in passing situations. His reps will likely be low this season but he may be able to find the quarterback a time or two.
Kyle Moore
8 tackles, 1 sack
A former fourth-round pick of the Tampa Bay Buccaneers in 2009, Moore finally found his name in the sack column last season with the Buffalo Bills.
In 12 games he registered 24 tackles and three sacks. Given the talent at the position ahead of him, he may not get much playing time this season, but he has shown in the past that he can play well against the run and can get to the quarterback.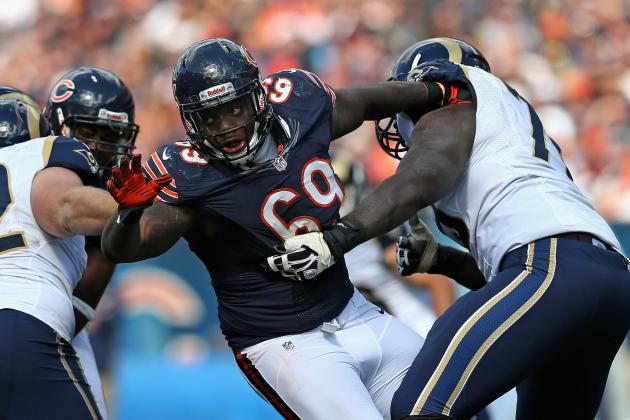 Jonathan Daniel/Getty Images

Henry Melton
48 tackles, 7.5 sacks, 1 forced fumble
In 2011, Melton showed flashes of his ability to get to the quarterback, but in 2012 he showed he can also stop the run. He has averaged 6.5 sacks over the last two seasons and will have to prove his worth while he is playing on the franchise tag and looking for a long-term deal.
Stephen Paea
28 tackles, 2 sacks
2013 is a big year for Paea, who has to prove he can take the next step as a nose tackle and become more consistent against the run. He has shown the speed and ability to get to the quarterback at times but will have to shown an improvement in stopping the run.
Nate Collins
19 tackles, 3.5 sacks
An injury to Melton has put Collins at the forefront this offseason and he has been making an impact with his increased reps with the first team.
He has registered a sack in each of the first two preseason games and offers the ability to play both the nose tackle and the three-technique. He will likely continue to get more reps throughout the season and could make a case for becoming a starter over Paea by the year's end.
Corvey Irvin
8 tackles
A former third-round selection of the Carolina Panthers in 2009, Irvin has also spent time with the Detroit Lions and Tampa Bay Buccaneers before signing with Bears in May after a tryout during the team's rookie minicamp. He appeared in 12 games last season for the Bucs and could find himself getting some reps in the defensive tackle rotation.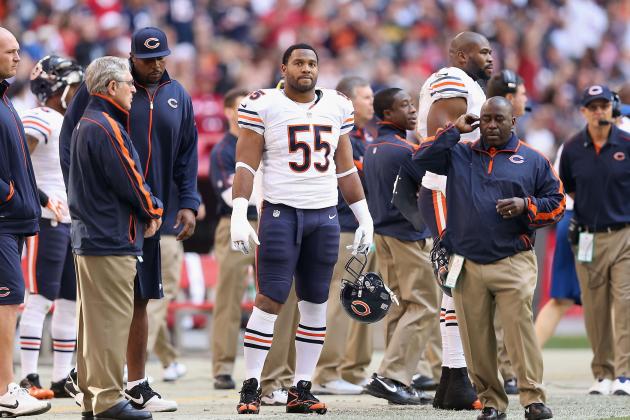 Christian Petersen/Getty Images

Lance Briggs
110 tackles, 1 sack, 1 forced fumble, 1 interception
Often overshadowed by pass-rushing 3-4 outside linebackers, Briggs has been one of the most efficient outside linebackers in the game since his rookie season in 2003.
He has been a tackling machine throughout his career and that does not look like it will change in 2013. His sack numbers and interceptions have never been particularly high but he should still be able to put a mark or two in those stat columns.
James Anderson
120 tackles, .5 sack, 1 interception
Anderson started 43 of the last 44 games he has played, but missed the final four games last season due to injury. He has been a solid contributor for the Panthers during the past three seasons, including a 2010 season in which he recorded 130 tackles, 3.5 sacks and one interception.
He has the ability to cover running backs and tight ends in the passing game and has proven to be a solid tackler.
Jon Bostic
78 tackles, 1 sack, 1 interception
Bostic appears to be the immediate heir to Brian Urlacher's middle linebacker position with D.J. Williams suffering from an injury for the majority of training camp.
He will have his growing pains and bumps along the road but he has shown an ability to be a solid tackler and in just two preseason games, he has been able to make the highlight reels.
D.J Williams
42 tackles
Initially signed to replace Brian Urlacher this season at middle linebacker, Williams has missed the majority of training camp and his return date is still unknown (h/t Chicago Tribune).
If he can get himself healthy, he could see the field in certain packages, particularly when the team gets into nickel coverage.
Blake Costanzo
12 tackles
Costanzo filled in last season at strong-side linebacker after the injuries to Brian Urlacher and Geno Hayes. He provides depth at the position but his biggest impact will be on special teams.
Khaseem Greene

9 tackles
Greene will benefit from watching from the sidelines this season but he will be called upon to make an impact on special teams.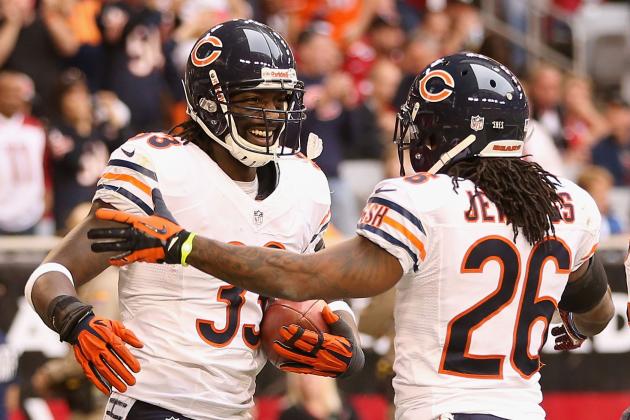 Christian Petersen/Getty Images

Charles Tillman
90 tackles, 9 forced fumbles, 4 interceptions
After years of unheralded play, Tillman was voted to his second straight Pro Bowl last season. He finished the year with 86 tackles, 10 forced fumbles and three interceptions that were all returned for touchdowns.
After career years like last season, it is naive to think a player can duplicate those type of numbers but there is little to suggest that he will not have the same impact this season.
Tim Jennings
55 tackles, 1 forced fumble, 5 interceptions
After having recorded just seven interceptions in six seasons, Jennings busted onto the scene last season with a league high of nine interceptions.
While it is safe to assume that Tillman will have a similar season in 2013 as he did the year before, Jennings' season is still an unknown.
Was 2012 a fluke or is Jennings the real deal?
Isaiah Frey
31 tackles, 1 interception
Selected in the sixth round of the 2012 draft, Frey spent the majority of the season on the Bears' practice squad.
At 6'0" and 190 pounds, he is an ideal size for the position, but is still considered a raw prospect in the Bears' eyes. At Nevada he showed good quickness and athleticism but often struggled while playing press coverage up on the line of scrimmage. The nickelback position is his with an injury to Kelvin Hayden and he will have to prove that he is worthy of taking that spot.
Zackary Bowman
12 tackles
After four years in Chicago and a brief stint in Minnesota, Bowman returned to the Bears for the final 11 games, registering 11 tackles and two pass deflections.
His biggest role will likely be on special teams but he could fill in as a starter if either Tillman or Jennings get injured.
Sherrick McManis
7 tackles
Acquired for fullback Tyler Clutts prior to the 2012 season opener, McManis was a solid contributor on special teams before an injury ended his season.
Jonathan Daniel/Getty Images

Chris Conte
65 tackles, 2 interceptions, 1 sack, 1 forced fumble
In Conte's rookie season in 2011, he was given one stipulation: to always keep the play in front of him. He often lined up 20 yards off of the ball in hopes of not getting beat deep.
In 2012, he was able to have more free range and was able to show the athleticism and speed that allows him to blitz and be able to drop back into coverage, yet not be out of position.

His role will likely continue to increase in his third season and his stats should reflect that.
Major Wright
78 tackles, 3 interceptions
Wright started all 16 games in 2012 and has the versatility to play both the strong safety and free safety position. He's been strong in the box at stopping the run (which will increase his tackle totals) and has shown to play well as a single deep safety. He finished the 2012 season with a career-high four interceptions, including one that he returned for a touchdown.
Craig Steltz
11 tackles
An All-American while at LSU, Steltz's game has failed to translate at the NFL level. He has played well at times, particularly when asked to stop the run, but he has been a liability at times in the pass game.
His ability on special teams will likely be where he accumulates his stats but he also has the ability to fill in at either the strong or free safety positions.
Anthony Walters
7 tackles
Walters has spent the majority of the past two seasons with the Bears splitting time between the 53-man roster and the practice squad. Due to an injury to Conte, he started the final game of the season against the Detroit Lions.

He is another solid special teams contributor and can fill in at the free safety position in a pinch.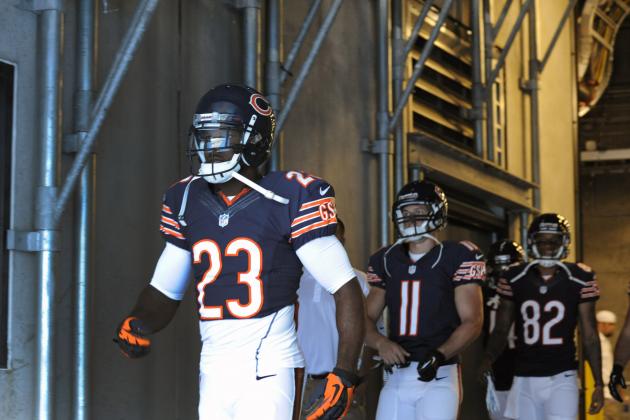 Sam Sharpe-USA TODAY Sports

Robbie Gould
26 field goals made, 92.8% accuracy, 55 long
After missing the final three games of the 2012 season, Gould eventually had to have surgery on his injured calf this offseason and did not begin kicking until training camp began.
He has connected on over 85.5 percent of field goals throughout his career, and he has improved his distance and kickoffs greatly in the last few seasons.
Adam Podlesh
72 punts, 38.2 yards per punt, 28 inside the 20
Despite the belief that Podlesh had a down year in 2012, he finished with a career-best 34 punts inside of the 20, as well as a net average of 39.4 yards per punt, second-best of his career. Given the belief that the Bears' new offense will have more sustainability than in years past, he may be seeing less time on the field.

Devin Hester
13.5 yard punt return average, 24 yard kick return average, 1 touchdown
Hester holds the NFL record for most kick/punt returns in NFL history with 18. But, he has been a shell of himself over the course of the last few seasons, as he has turned most of his attention to being an every-down wide receiver.
The Bears' new coaching staff has made it clear that Hester will be just a return man this season, and given less responsibility it could help him return to his All Pro form as a return man in 2013.
All stats courtesy of NFL.com and Pro-Football-reference.com