San Francisco 49ers 2013: Win-Loss Predictions for Every Game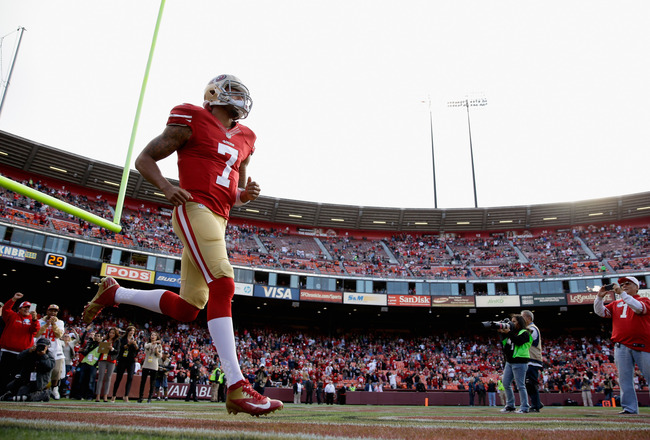 Ezra Shaw/Getty Images
The San Francisco 49ers approach the upcoming season with the highest of expectations, yet it is no secret that the team has several question marks lingering around its Bay Area headquarters.
Injuries and roster changeover will have coach Jim Harbaugh fielding a very different-looking squad in 2013, which adds a unique "unknown" element in regards to what the final product will be.
One thing the 49ers do know is that there is positively no time to linger during this structural transition, as this unit is set to take on one of the toughest schedules in the National Football League this year. Rallying behind new leader Colin Kaepernick, San Francisco needs to be firing on all cylinders by Week 1.
The 49ers' 2013 regular-season schedule is as follows:
Week Opponent
2 at Seattle Seahawks
4 at St. Louis Rams
7 at Tennessee Titans
8 at Jacksonville Jaguars
9 BYE WEEK
11 at New Orleans Saints
12 at Washington Redskins
13 St. Louis Rams
14 Seattle Seahawks
15 at Tampa Bay Buccaneers
17 at Arizona Cardinals
#49ers 2013 regular season schedule. https://t.co/h0mrjr69j7

— Taylor Price (@TaylorPrice49) June 7, 2013
Week 1 vs. Green Bay Packers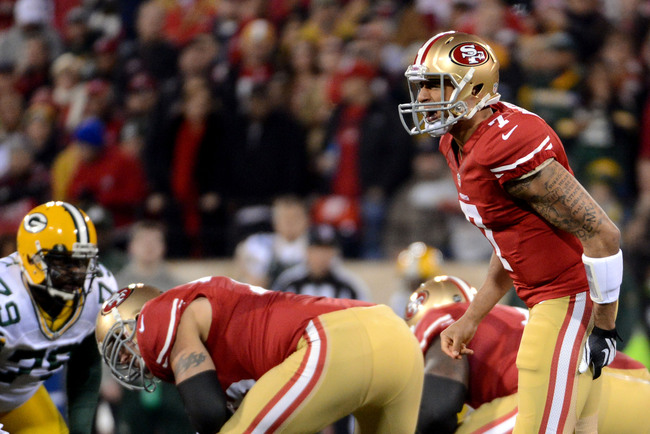 Harry How/Getty Images
Household names like Brett Favre and Aaron Rodgers have given the Packers 20-plus seasons of sensational quarterback play, keeping the Green Bay brand afloat with competitive teams year in and year out.
For the 49ers, its rivalry with the Cheeseheads took a turn for the worse in the 2000s when the team fell into a terrible stretch, losing eight straight to the Packers.
San Francisco recently broke that spell in 2012, outscoring the Pack 75-53 in two wins with two different quarterbacks. The 49ers are currently undefeated in the Jim Harbaugh era against this top NFC team and also hold a 2-1 lead in the series since Green Bay won a Super Bowl in 2010.
Heading into this game, the Packers find themselves at a considerable disadvantage with left tackle Bryan Bulaga (ACL) out for the season. This directly spotlights 49ers third-year All-Pro outside linebacker Aldon Smith, who may be in line for a potential field day once the first whistle blows in Week 1.
Offensively, the 49ers are now explosive and have proven that they can hang with Green Bay. No matter how bad it looks, San Fran is always in it. After the pick-six by CB Sam Shields in the divisional playoffs, Kaepernick went on to have 435 all-purpose yards and four touchdowns.
This has the makings for a defining game of the new-era Niners. The studs from the 2011 draft class have a chance to stand up tall in Week 1 to show the world who is in charge and where this team is headed.
PREDICTION: 49ers 38, Packers 27 (1-0)
Week 2 at Seattle Seahawks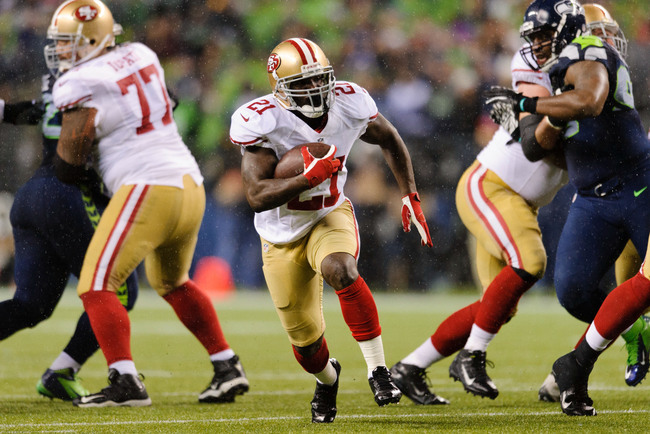 Steven Bisig-USA TODAY Sports
The 49ers undertake a real physical test early in the season in what will likely be a blood-spattered, body-rocking grudge match until both teams slog the lifeless shells of their former selves through the tunnel at the end of 60.
Pinpointing the vitality of this game, most will say it starts and ends in the trenches with these two. Moreover, there really is no margin for error.
With that said, this game will see the 49ers O-line—rated No. 1 by Pro Football Focus—gelling together in its second year as a cohesive unit versus a Seahawks defensive front that will not be at full strength.
Hurting badly on the edges, star pass-rusher Bruce Irvin will not be active due to a suspension for violating the league's substance abuse policy, via Matt Maiocco on Twitter.
Sack master Chris Clemons is also coming off a late ACL injury suffered in the playoffs against Washington, while new addition Cliff Avril has been stonewalled by 49ers right tackle Anthony Davis in two straight meetings, recording just two tackles with zero sacks or tackles for loss.
In a close one, the 49ers overcome the deafening volume at CenturyLink Field to roast the Seachickens, gaining momentum early on.
PREDICTION: 49ers 27, Seahawks 23 (2-0)
Week 3 vs. Indianapolis Colts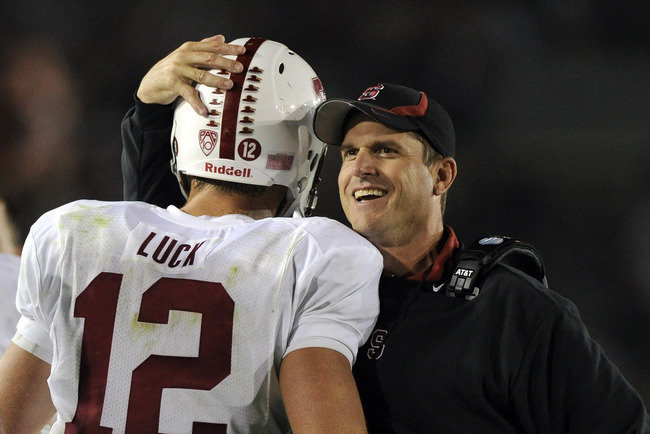 Harry How/Getty Images
In the third contest of the season, the 49ers return to the 'Stick to face their third-straight playoff contender from a year ago. After bottoming out in 2011, the Colts are thriving again under new leadership, fielding a sharp looking team spearheaded by golden boy Andrew Luck.
In a prodigious turnaround, Indianapolis improved to 11-5 behind Luck, after losing 87.5 percent of its games the season prior. From here on out, it seems like all upside on the offensive side of the football.
However, looks can be deceiving—the Colts rack up fewer points than their total yardage would denote. Indy could be more effective putting the ball in the end zone and also have deficiencies when it comes to performing on the road. Four of Luck's five career losses took place away from Lucas Oil Stadium.
Then there is 49ers quarterback Colin Kaepernick, who has not lost a game with home-field advantage (four wins, including playoffs). In a bout indubitably stamped Kaepernick vs. Luck, coach Jim Harbaugh's two finest proteges will face off in what could turn into a point bonanza.
Unfortunately for the visiting Colts, having one of the last-rated defenses in the NFL will not get you anywhere versus this explosive and innovative 49ers team. Even with bankroll to spare, GM Ryan Grigson and the front office did not do a whole lot to get better.
They completed two lowly signings—one being ex-49ers defensive lineman Ricky Jean-Francois and the other being linebacker Erik Walden, who is most famous for being torched on Kaepernick's 56-yard TD versus the Packers.
Colts show some gusto but can't score enough to keep pace with Kaepernick and the juggernaut Niners.
PREDICTION: 49ers 42, Colts 28 (3-0)
Week 4 at St. Louis Rams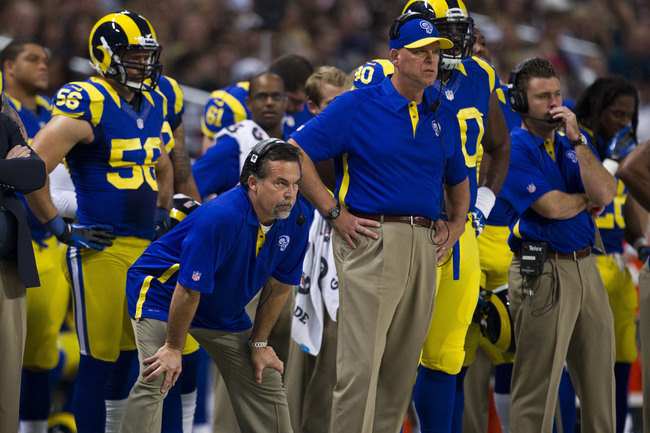 David Welker/Getty Images
The 49ers do not have to wait long before getting their first taste of this new-look offense and bolstered defensive unit in St. Louis. In Week 4 at the Edward Jones Dome, San Fran can expect a tactical challenge, leading the staff to rethink concepts versus the Rams down the line.
Coach Jeff Fisher and general manager Les Snead completely redressed this offense, forging their way out of the Steven Jackson era, followed by the additions of three new aerial weapons in wide receivers Tavon Austin, Stedman Bailey and hybrid tight end Jared Cook.
This offseason finalized the Rams' jump from a dink-and-dunk offense to high-octane explosiveness. So, even though Harbaugh's gang did not win one versus St. Louis last year, this is still more of a statement game for the Rams than it is for the 49ers, and that winds up being the difference.
PREDICTION: Rams 28, 49ers 21 (3-1)
Week 5 vs. Houston Texans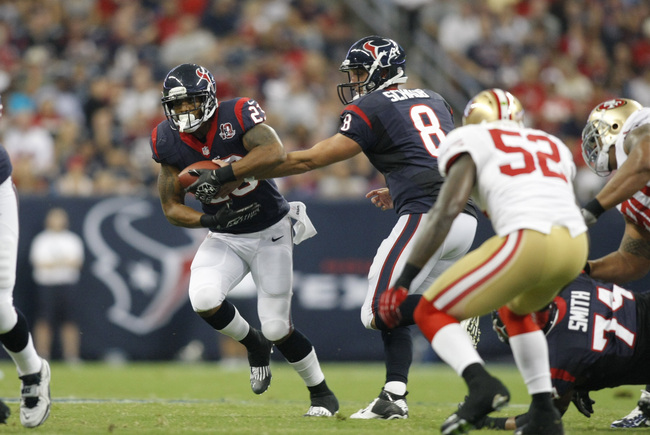 Brett Davis-USA TODAY Sports
Walking into Game 5, the brutality of SF's first quarter of the season really becomes evident. Facing four playoff teams in five games, with a combined 2012 regular-season record of 45-19, is no joke—even for reigning conference champions.
And the Texans only beefed up this offseason.
Bringing in future first-ballot Hall of Fame FS Ed Reed and rookie stud D.J. Swearinger to complement the play from J.J. Watt and Brian Cushing up-front could really put this defense over the top, helping the team complete the transition from annual divisional round loser to Super Bowl contender.
Not to mention, the Texans have cornerback Johnathan Joseph, who is still playing at a high, high level.
Moreover, the balanced attack on offense, featuring tailback Arian Foster, combined with the new-look receiving tandem of Andre Johnson and DeAndre Hopkins, proves to be a real shot to the jaw. Their ability to keep the 49ers honest on D, while slowing things down on offense and controlling clock, gives them an edge.
For the first time under Jim Harbaugh, the 49ers lose back-to-back games.
PREDICTION: Texans 21, 49ers 13 (3-2)
Week 6 vs. Arizona Cardinals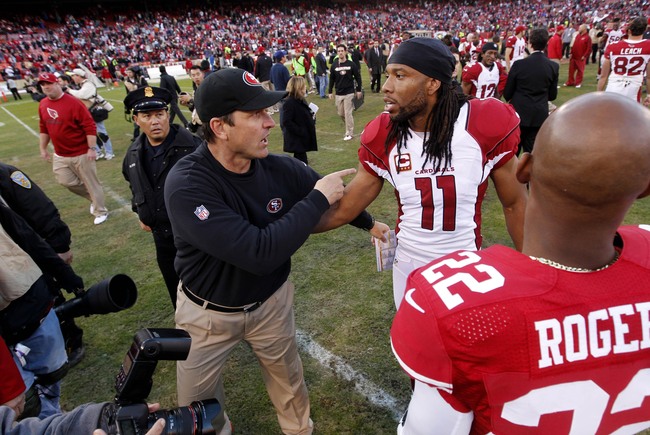 Cary Edmondson-USA TODAY Sports
After enduring a ruthless five-week gauntlet to start the season, the schedule begins to soften up a few weeks before the bye.
Arizona tended to what was the worst facet of its team last year, adding G Jonathan Cooper and T Eric Winston to this offensive line, which should, at the least, make a slightly more competitive team on a weekly basis.
Now getting the ball from one-time stud QB Carson Palmer, superstar wideout Larry Fitzgerald may get back into his usual productive habits (the pending rise of Michael Floyd is also something to be concerned about).
On D, veteran sack artist John Abraham and playmaking specialist Tyrann Mathieu are also two new elements to the team who can become potential difference-makers. This revitalized Cardinals team will be a challenge at first, but eventually Kap and the 49ers pull away.
San Fran rights the ship this week in a convincing win over the Cards.
PREDICTION: 49ers 30, Cardinals 7 (4-2)
Week 7 at Tennessee Titans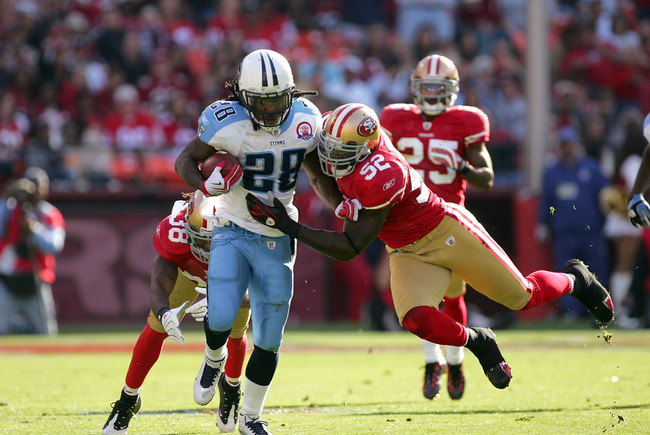 Ezra Shaw/Getty Images
The Tennessee Titans are like a Porsche 911 with a wheel boot on it.
This is a team with a house full of playmakers, a rebuilt offensive line and a competitive-enough defense where they could be going places, but instability at the most important position on the field has held the team back.
The add-ons to the line in guards Chance Warmack and Andy Levitre and center Brian Schwenke—who was the No. 2-rated player at his position in the draft behind first-rounder Travis Frederick—project to greatly improve the situation in the trenches, boosting the overall functionality on offense.
Still, the weak link looks to be at quarterback again with Jake Locker.
There is nothing in Locker's history to suggest he can engineer a conquest over the Niners, and that's what it'll boil down to. In the end, turnovers on his part and a failure to optimize the talent around him result in a victory for San Francisco.
PREDICTION: 49ers 24, Titans 9 (5-2)
Week 8 at Jacksonville Jaguars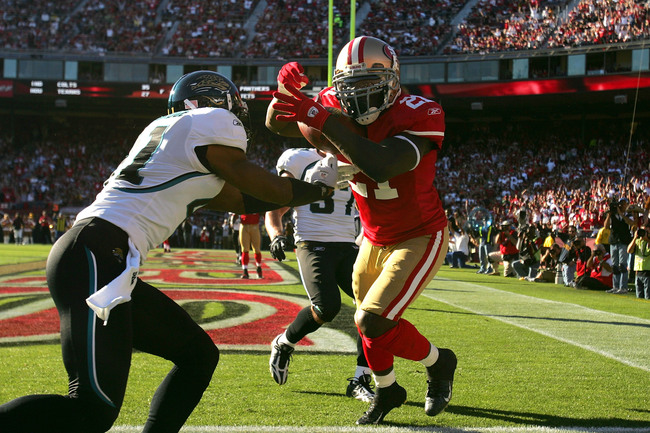 Ezra Shaw/Getty Images
In the eighth week of the season, the 49ers travel to jolly ol' London to take on Blaine Gabbert and the Jacksonville Jaguars. Now, if this were a contest between the 49ers and Seahawks, or another well-structured team, it might come down to whomever is less jet-lagged.
However, as a downward spiraling 2-14 team from a year ago, the Jags really don't stand much of a chance against the steamrolling 49ers. The team simply does not match up. In all likelihood, Colin Kaepernick and the Niners defense strike gold for fantasy football owners, slapping the spots off the Jags.
First-year head coach Gus Bradley—former defensive coordinator of the Seattle Seahawks—will have a real learning experience in a game that his former rivals should win quite handily.
San Francisco being more dynamic and making fewer mistakes gives it the edge.
PREDICTION: 49ers 38, Jaguars 10 (6-2)
Bye Week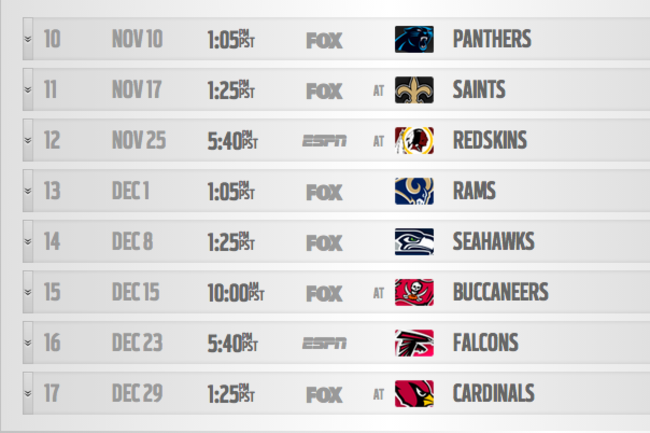 Screen grab via NFL.com

The 2013 San Francisco 49ers enter the Week 9 bye at 6-2, riding a three-game win streak. The defense had a rough start against talented offensive opponents but regained its swagger going into the off week, allowing only a total of 26 points over the last three games.
Linebacker Patrick Willis on #49ers tough schedule: "When you just glance at the schedule it's like, 'Wow, this is a heck of a schedule."

— Janie McCauley (@JanieMcCAP) July 24, 2013
Week 10 vs. Carolina Panthers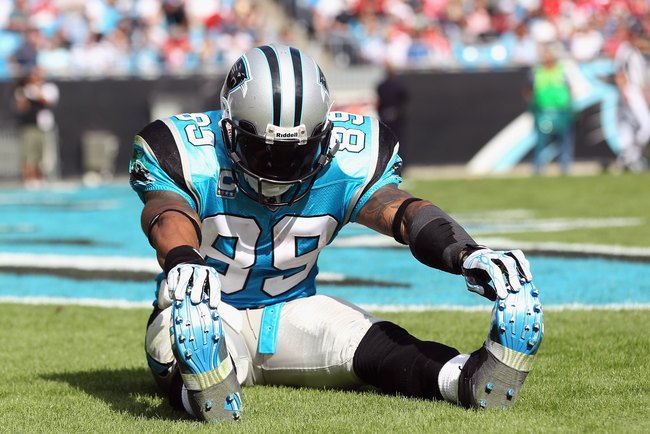 Streeter Lecka/Getty Images
Carolina is 13-19 in two seasons behind quarterback Cam Newton, losing more than 60 percent of games played. This is less a reflection of Newton and more so of the totality of the team, which, suffice to say, is not the complete product coach Ron Rivera hoped it'd be by now.
Frankly, Newton, receiver Steve Smith and a bulked-up defensive front are about all the Panthers have to hang their hat on. On the whole, there are still several components missing, which make this team leaky and exploitable.
On defense, it is a bunch that is still extremely susceptible to being torched on the back end, which could turn this into a shootout between the 2011 quarterbacks. Moreover, in a battle of dual threats, Newton (No. 1 overall pick) versus Kaepernick (No. 36 overall pick) will make for prime-time entertainment.
Defensively, the Niners lock up Carolina's run game, key in on No. 89, rattle Newton's cage with a fierce pass rush and force turnovers by a team that was top 10 in giveaways in 2012, via ESPN. On the other side of the ball, a refreshed Kap and Co. run away with the game, keeping up San Fran's win streak following the bye.
PREDICTION: 49ers 33, Panthers 16 (7-2)
Week 11 at New Orleans Saints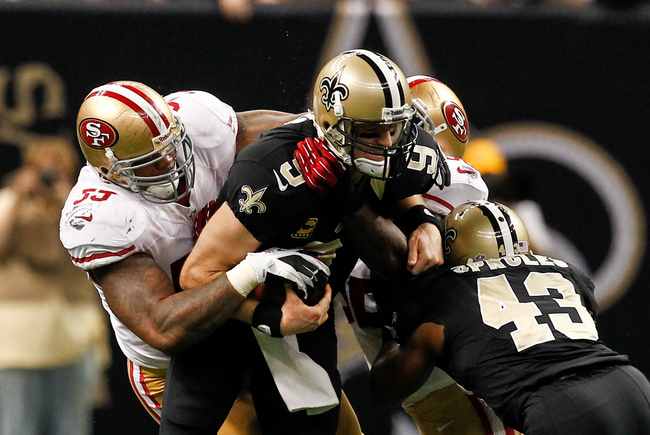 Derick E. Hingle-USA TODAY Sports
Coach Jim Harbaugh is 2-0 versus the powerhouse Saints. On Nov. 17, he will lead his group out of the tunnel at the earsplitting Superdome for the third time in less than 12 months—a stadium that hosted home losses to Washington, Kansas City, San Francisco and Carolina in 2012.
That being said, there will be a certain level of familiarity going into this matchup, which surely won't hurt San Fran.
Coming out on top in those games, the most telling factor was that the 49ers D proved it could put the clamps down on quarterback Drew Brees, effectively disrupting his rhythm. In two losses, No. 9 heaved the rock 104 times, failed to once achieve a 100 passer rating, was sacked nine times and averaged two interceptions per game.
For the Saints, it is all about what they can do on offense. And from a personnel standpoint, the team did not get a whole lot better on offense, losing offensive linemen, receivers and running backs. If the 49ers get this team in a vise and make the Saints O one-dimensional, which is very likely, it's over.
While the return of New Orleans head coach Sean Payton will be cathartic on paper and philosophically, the Saints do not match up well against the 49ers.
PREDICTION: 49ers 38, Saints 30 (8-2)
Week 12 at Washington Redskins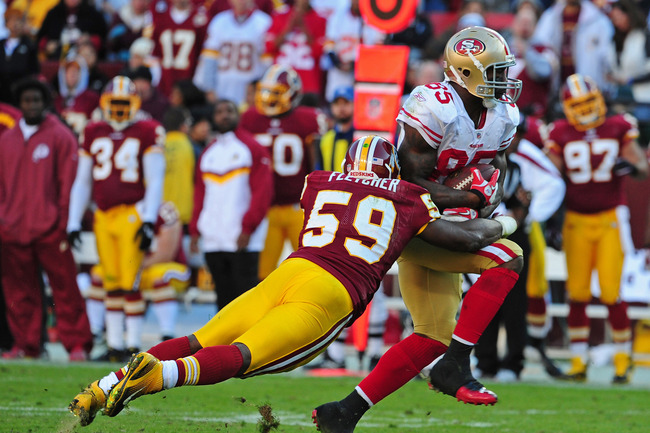 Scott Cunningham/Getty Images
This one may be coined "The Read-Option Bowl."
As far as throwing ability and straight-line speed, budding quarterbacks Robert Griffin III and Colin Kaepernick are in a class of their own. This subsequently makes the league's hottest new offensive wrinkle particularly dangerous for the 49ers and Redskins, due to the true dual-threat ability each has at QB. Both signal-callers have also been able to bring the best out of their receivers.
This game has all the makings of a tantalizing chess match on Monday Night Football, yet also bears promise for big-play explosiveness (San Fran and Washington combined for 140 plays for 20-plus yards in 2012, via NFL.com).
Considering RGIII and the Skins went undefeated in the regular season after the Week 10 bye in 2012—including an overtime thriller versus the reigning Super Bowl champion Baltimore Ravens—the team could be rolling by Week 12 this year.
It'll be a close one at FedExField, but trudging through an extremely brutal onslaught of games that takes place through Weeks 11-16, the road-warrior 49ers pull off a much-needed win over a less physical Redskins team.
PREDICTION: 49ers 26, Redskins 21 (9-2)
Week 13 vs. St. Louis Rams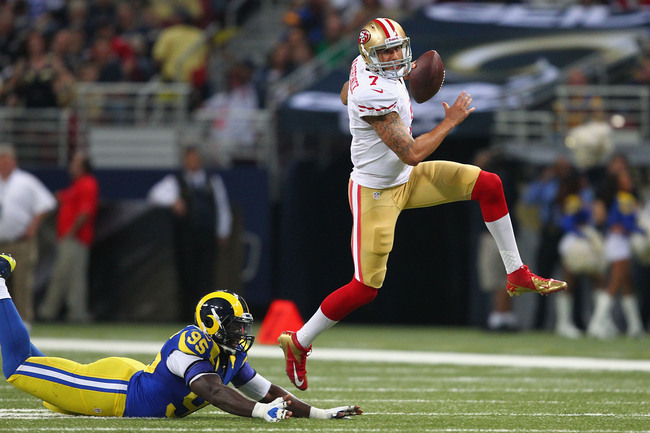 Dilip Vishwanat/Getty Images
After going 0-2-1 against St. Louis over the last three games, enough is enough.
In the final matchup between longtime adversaries at Candlestick Park, the 49ers engineer a clutch bounce-back game over the Rams in the series. Momentum from big wins against New Orleans and Washington, combined with the Week 4 film versus the Rams, are the difference-makers for San Fran.
The self-scouting and adjustments by the 49ers allow them to slow a vivacious attack that snuck up on the team nine weeks prior. Jim Harbaugh and Jeff Fisher wind up splitting the 2013 series at a game apiece, in what looks to be the rebirth of yet another hardcore rivalry in the NFC West.
PREDICTION: 49ers 28, Rams 14 (10-2)
Week 14 vs. Seattle Seahawks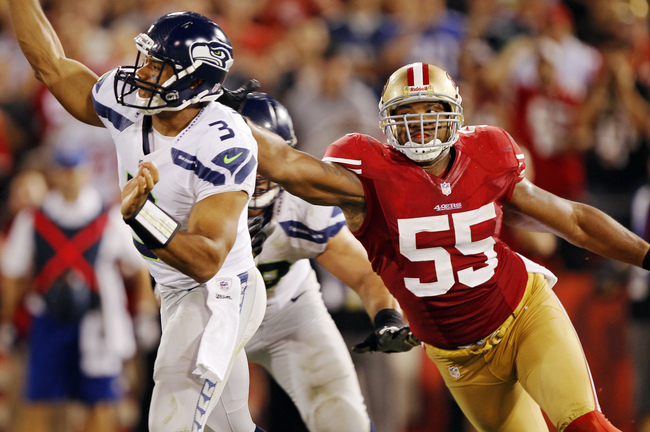 Brian Bahr/Getty Images
It's late in the season, and a healthier, hungrier Seahawks team arrives in Northern California, steely-eyed and on a mission. By this time, the 'Hawks project to be right there with the NFC West champs, likely a stones throw behind, needing the win just a little bit more.
Gaining defensive end Bruce Irvin and possibly Percy Harvin, Seattle comes in with its chest puffed out, immediately throwing haymakers at the 49ers, on a seven-game win streak.
Seeing as how the Seahawks finished 7-1 over the last eight games of the 2012 season—as Russell Wilson connected on an amazing 19 touchdowns while averaging a 116.6 passer rating in that time—it is conceivable that the sophomore quarterback gets hot again approaching the winter months.
In a low-scoring, physical contest, Seattle steals a much needed win at the 'Stick.
PREDICTION: Seahawks 17, 49ers 10 (10-3)
Week 15 at Tampa Bay Buccaneers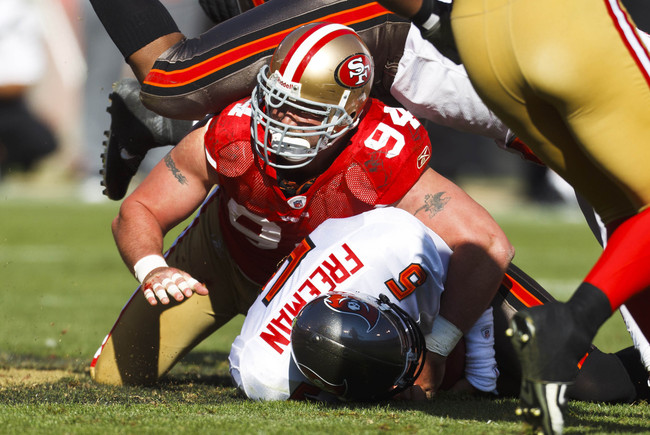 Jason O. Watson-USA TODAY Sports
The last time these two saw one another in regular-season play, the Alex Smith-led 49ers dropped a whopping 48 points on the Bucs in 2011, as QB Josh Freeman got swallowed up by San Francisco's defense.
Out of a possible 100, Freeman finished with a 9.6 Total QBR, via ESPN.
Though, two years later, the Buccaneers have had a bit of a face-lift under head coach Greg Schiano, since adding running back Doug Martin and beefing up the secondary with two All-Pros in CB Darrelle Revis and FS Dashon Goldson.
The 49ers' advantage behind center, combined with a savvy coaching staff that does an exceptional job at game-planning week-to-week, guides San Francisco to a rebound win on the road at Raymond James Stadium.
PREDICTION: 49ers 31, Buccaneers 17 (11-3)
Week 16 vs. Atlanta Falcons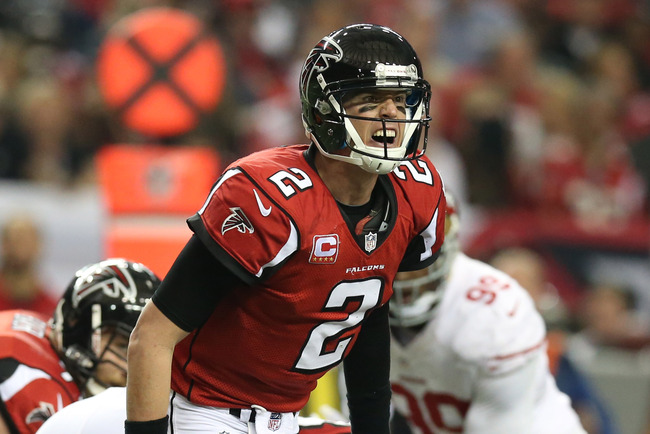 Matthew Emmons-USA TODAY Sports
Staging a rematch of the immensely climactic 2012 NFC Championship, Patrick Willis and the 49ers go head-to-head with Matt Ryan and the Falcons in San Francisco's last-ever regular-season game at Candlestick Park.
Even though Atlanta fell short at home in the postseason, quarterback Matt Ryan and the birds fly west for stiffer competition. With that said, Ryan is fully capable of winning away from the Georgia Dome, having finished with a 21:5 touchdown-interception ratio on the road last season, while going 6-2 with an 88.0 Total QBR.
The $100 million man also touts a supporting cast like no other in the league.
Now with bruising tailback Steven Jackson to balance out the Falcons' prolific arsenal of receiving threats, the 49ers defense will have no choice but to stay honest because they cannot overcommit to the pass or the run.
Pair that with Atlanta's one-track mind for revenge and you've got a formula that is potent enough to silence San Francisco, even at its own house. The Falcons muster up all their might to topple the 49ers in a potential playoff preview.
PREDICTION: Falcons 27, 49ers 19 (11-4)
Week 17 at Arizona Cardinals
Ezra Shaw/Getty Images
While the organization has gone out of its way to make radical improvements to both sides of the ball, Arizona is still a candidate to field a bottom five or 10 team in the National Football League this year.
By the season finale in Week 17, the Cards may be well into a slump—and almost certainly mathematically eliminated—leading to an empty-handed effort by several players.
To be honest, the additions of head coach Bruce Arians and quarterback Carson Palmer look like more of a stopgap than a game-changer. The idea sounds good in theory, but there are still several pieces missing, and the preexisting foundation is not solid enough to contend right now.
Moreover, the 49ers expect have WR Michael Crabtree back in the lineup, as close to 100 percent as he will be before playoffs begin. In last year's finish versus the Cardinals, King Crab had a career-game, racking up eight receptions for 172 yards and a pair of touchdowns.
The Niners may feed the beast to get No. 15 revved up for a Super Bowl run.
PREDICTION: 49ers 24, Cardinals 13 (12-4)
Keep Reading

San Francisco 49ers: Like this team?