Washington Redskins' Projected Preseason Depth Chart Nearly Identical to 2012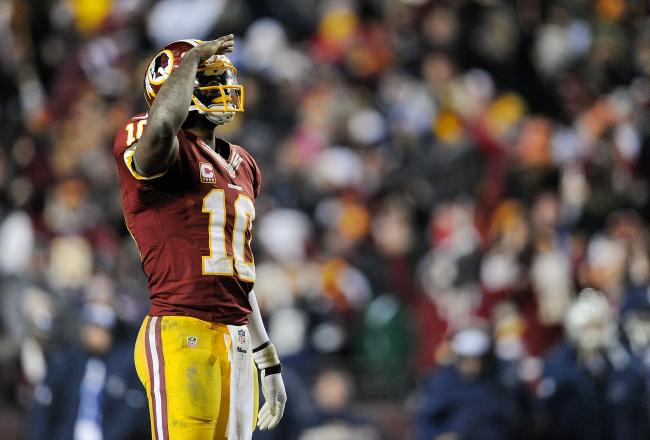 At the start of the 2012 preseason, all eyes were upon quarterback Robert Griffin III. This season is no different.
Patrick McDermott/Getty Images
The Washington Redskins released the 2013 preseason depth chart Monday and most players remain where they started one year ago—a few replaced players, a leap up the depth chart at running back and a starting quarterback still comfortable with not playing in the preseason.
When you compare last year's list to the projected starting lineup this season, the starting rotation on offense nearly match.
Robert Griffin III is not expected to start any preseason games for now, and "not a worry at all," according to the second-year quarterback (via The Washington Post.)
On the 2012 preseason depth chart, right tackle Jammal Brown was named No. 1 but penciled in as a starter even though he injured his hip on the eve of training camp during conditioning drills.
Brown's replacement, Tyler Polumbus, started all but one game last season at right tackle and is now slotted to be the No. 1 right tackle to start this year's campaign.
Other than that, the starters on the offensive line are identical. From left to right: Trent Williams, Kory Lichtensteiger, Will Montgomery, Chris Chester and Polumbus.
The tight end position is nearly the same except for the departure of longtime Redskins fan favorite Chris Cooley, listed at No. 2 last season who has moved into the booth to be a part of the Redskins' radio broadcast team for 2013.
At wide receiver, the names are the same but the positioning has been altered. One year ago, Pierre Garcon was the starting right wide receiver and Santana Moss on the left side. This season, Moss is listed No. 3 as the right side receiver, behind Josh Morgan and Leonard Hankerson.
Aldrick Robinson is second and Donte Stallworth third behind Garcon on the left.
This year's wide receiver unit does not have some of the names from one year ago, particularly Anthony Armstrong and Brandon Banks, but the core of the receiving unit remains intact.
The biggest surprise from this time one year ago certainly is the unexpected rise in the ranks achieved by running back Alfred Morris, who in 2012 was listed fourth on the depth chart to start the preseason. He was listed behind, in order, Tim Hightower, Evan Royster and Roy Helu.
Hightower, who never recovered completely from a 2011 ACL tear, played in just one preseason game and subsequently did not make last year's 53-man final roster.
As for the Morris, the rest is literally and figuratively Redskins history.
The final difference between this year's preseason depth chart and last's is that Kirk Cousins has moved up from No. 3 quarterback to be RG3's backup for 2013.
What a difference a year makes. Most importantly, the role of quarterback.
Riding the wave of excitement that followed the signing of a Heisman Trophy-winning quarterback, fans radiated an excitement and anticipation for the 2012 season that had been unseen in the Washington, D.C.-area for a long time.
Seeing their team's front office go "all-in" in to land RG3, a marquee player and a franchise QB, fans had much to look forward to after years of missing the playoffs and a place at or near the bottom of the intensely competitive NFC East.
Suddenly, an air of confidence and enthusiasm encompassed the fanbase (and, in some ways, the Redskins players themselves). Washington faithful were rewarded with the opportunity to watch a quarterback emerge as a leader who almost single-handedly rallied his team to a postseason appearance.
With essentially the same lineup as last year's playoff team, how much momentum can we expect to carry over from the end of the 2012 regular season? Could Morris' productivity exceed that of last year? Or will he fall victim to the scourge of the "sophomore slump" that sometimes plagues NFL players coming off successful rookie seasons?
My thoughts are not on answering the unanswerable, but playing with the cards that have been dealt.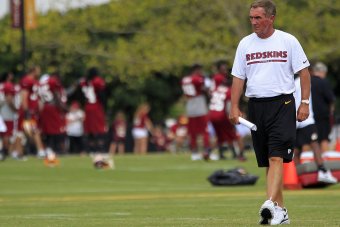 Geoff Burke-USA TODAY Sports
If the Redskins put forth the right combination of players, which Coach Mike Shanahan and his staff have by all accounts seem to have in place, the offense should be highly productive, which most observers would argue it was in 2012.
An NFL team usually needs both a high-octane offense and a formidable defense to succeed. This year's Redskin defensive unit appears to still be a work in progress, one that in all likelihood will be molded and crafted throughout the preseason, probably beyond.
The team's stated objective of improving the defensive secondary upon entering the offseason was met with the drafting of cornerback David Amerson and safeties Phillip Thomas and Bacarri Rambo. Of course, their success has yet to be determined.
Continuity and familiarity should help the Redskins offense become even more explosive. Hopefully the changes on defense will help the team develop even greater chemistry and allow it to build upon the success of last year's 10-6 regular season.
There is a saying, "Change isn't painful...it's resistance to change that is painful." The Redskins have embraced that saying, more so on defense this offseason than on offense.
But that is primarily where change most needed to occur.
Follow on Twitter @JohnBibb and view previous Bleacher Report articles I have written on the Washington Redskins here.
This article is
What is the duplicate article?
Why is this article offensive?
Where is this article plagiarized from?
Why is this article poorly edited?

Washington Redskins: Like this team?