Why LeBron James Is the Most Underpaid Player in the NBA
The best basketball player of this generation is underpaid? Yeah, you better believe it.
Steve Mitchell-USA TODAY Sports
Yes, LeBron James signed a six-year, $110 million deal with the Miami Heat in 2010. Yes, his salary for the 2013-2014 season will be over $19 million. And yes, he's underpaid.
The Heat have him at a bargain. Just for a second, think about how much he would make if there were no restrictions on contracts. What would his salary be? $30 million? $40 million? More?
He's underpaid for not only his skills on the court, but for the money he makes the Heat off of the hardwood. He's getting paid pennies compared to how much the Heat are raking in thanks to him.
Now before we get too embroiled in this topic, for the sake of this article, let's put aside any disbelief that someone getting paid almost $20 million a year can be underpaid.
The point being made here is not that $20 million is not a lot of money; rather that based on LeBron's earning potential compared to his current salary and the other players in the league on an open market, he would get much, much more.
But back to the point. Let's start with the part that LeBron is the best player in the NBA and one of the best players this world has ever seen. And that he's tied for the seventh-highest salary in the league.
He's behind players like Dirk Nowitzki, Amar'e Stoudemire and Joe Johnson. Based on talent alone—much less any revenue they bring a team—that's unbelievable.
And yes, LeBron took less money so he could play with Dwyane Wade and Chris Bosh in Miami. So this isn't him getting the short end of a deal. It was his choice.
And boy are Micky Arison and the Miami Heat happy with that choice.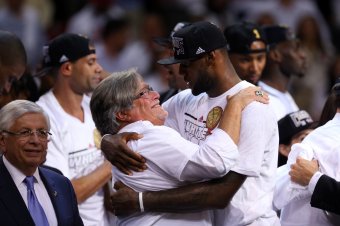 Mike Ehrmann/Getty Images
They've reaped the benefits of having LeBron in a Heat uniform for three years now. Forget three straight NBA Finals appearances or back-to-back titles. Let's talk just how much money they've made in the LeBron era.
In 2009, before the arrival of LeBron, Forbes valued the Miami Heat franchise at $364 million, 12th in the NBA. That valuation rose to $625 million in 2013, and the Heat are now the sixth-most valuable NBA franchise.
Before anyone says LeBron doubled the value of the Heat, let's look at the rest of the league in that time-span.
The Knicks almost doubled in value, from $580 million to the most valuable franchise in the NBA at $1.1 billion. The Lakers grew by $400 million and are now worth a cool $1 billion. And other teams grew by more than $300 million, like Boston and Chicago.
The important takeaway is the ascent up the rankings. Teams like Chicago, the Lakers and the Knicks are in huge markets and thus have a built-in advantage. And the Boston Celtics have a rich basketball history in a sports-crazed town, so they're very highly valued as well.
But after them, it's more or less up for grabs, and the Heat moved up six spots in four years. That's a huge jump.
In the last year alone, their valuation grew by 37 percent, which is sixth in the league. And their revenues are at $150 million, fourth in the NBA. The only teams ahead of them in that department are the Knicks, Lakers and Bulls—in that order.
Speaking of revenues, let's look at ticket prices since LeBron got to South Beach.
Thanks to this spreadsheet from University of Michigan professor Rod Fort, we know that in 2009-2010, the average Heat ticket cost $58.57. In 2013, the average cost of a Heat ticket was $72.50, fourth-highest in the league.
So since LeBron got to Miami, Heat tickets have gone up $13.93 while the league average has increased by $2.12.
Starting to see a trend yet?
And of course, LeBron is an attraction, so people still come, even if according to the Fan Cost Index, seeing a Heat game is the third-most expensive outing in the league.
What I'm getting at is the attendance history in Miami. In 2009-2010, the Heat averaged 17,730 per home game, 15th in the league. In 2012-2013, that jumped to 19,982, which would be third in the league.
Don't forget about all the added revenues from three seasons of NBA Finals runs. Thirty-seven games of playoff ticket prices certainly doesn't hurt that bottom line.
And to top it all off, LeBron's jersey is the best-selling jersey in the NBA. It's no wonder the Heat reeled in $150 million in revenues in 2013.
LeBron's reign in Miami coincides with the union of the big three. So maybe they're the real reason for all these increases.
But Dwyane Wade was there before LeBron and all the increases. And are you really going to tell me that Chris Bosh's addition was more lucrative than LeBron's?
Maybe the unit is a bigger reason for the increases. Or maybe the growing popularity of the NBA is what's really behind it all.
If you think that, then take a look at what happened to the Cleveland Cavaliers franchise when LeBron left.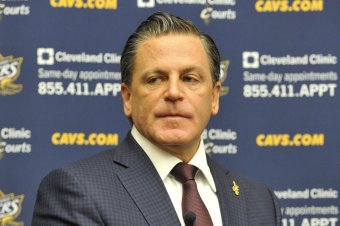 David Richard-USA TODAY Sports
The franchise value took a historical nosedive—a 26 percent nosedive. That translates to $121 million. No wonder Dan Gilbert was so angry when he lost James.
So with the stroke of a pen on that Miami contract, LeBron drove the Cleveland value down 26 percent and the Miami value up 17 percent in one summer. That's a swing of $182 million.
And that's franchise value alone. From one guy. That's unbelievable.
To recap, thanks to LeBron, the Heat get a robust franchise value, higher ticket prices and awesome attendance. All for a fee of $19.067 million.
That's a pretty sweet deal if you ask me.
This article is
What is the duplicate article?
Why is this article offensive?
Where is this article plagiarized from?
Why is this article poorly edited?

Miami Heat: Like this team?