Los Angeles Galaxy: 3 Takeaways from 2-0 Loss to Rapids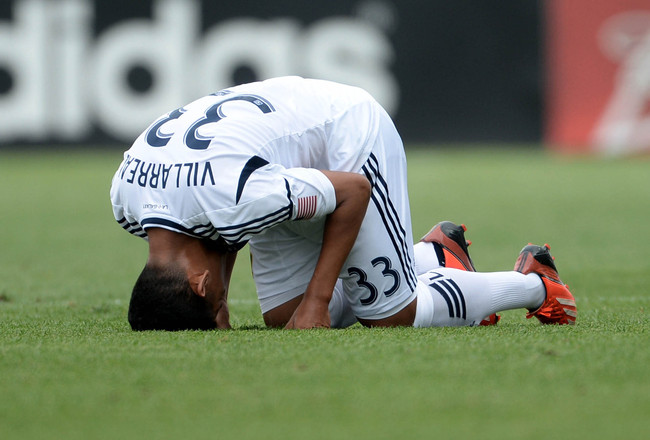 Ron Chenoy-USA TODAY Sports
In a tightly contested Western Conference, the Los Angeles Galaxy are now in fourth place after losing 2-0 to the Colorado Rapids on Saturday. With the win, the Rapids are now second in the West but have played 23 games so far, the most in MLS.
Just one point ahead of sixth-place FC Dallas, not to mention the game in hand Dallas has, the Galaxy are dangerously close to falling below the playoff line.
Without Robbie Keane, Landon Donovan and Robbie Rogers, the Galaxy played one of their worst matches of the season. Here are three takeaways from the lackluster performance.
Road Woes Continue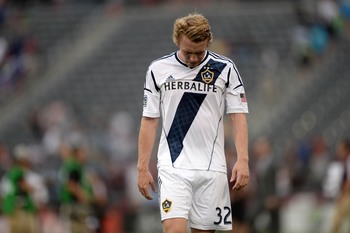 Ron Chenoy-USA TODAY Sports
The disappointing results on the road continue for Bruce Arena's team, as they've now lost their past six away from StubHub Center.
With a 3-8-1 record on the road this season, the Galaxy are far from being one of MLS' top teams away from home, as they were last season. Earning a total of 10 points on the road so far puts L.A. in the middle of the pack relative to the rest of MLS.
The Galaxy's road defense seems to be the problem. With 23 goals allowed, they are the worst in the league. And a road-goal differential of minus-nine only puts them behind D.C., San Jose and Chivas USA.
L.A. may be able to squeak into the postseason with a horrible road record, but come playoff time, not being able to get results away from home will all but crush any chance of a three-peat for the Galaxy.
Fortunately for the Galaxy, of their 12 remaining regular-season games, only five are on the road. Furthermore, of those five, one is against a slumping FC Dallas and another is against D.C. United. Vancouver, Portland and Seattle make up the rest of L.A.'s opponents on the road, and they all should present a tough challenge for Arena's team.
Gyasi Zardes' Inconsistency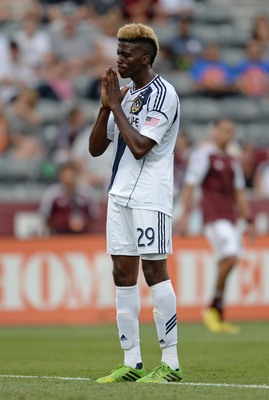 Ron Chenoy-USA TODAY Sports
As I said before, Gyasi Zardes had a great opportunity to shine against Colorado. Without its stars, the Galaxy had to rely a lot on Zardes for offense. However, the young forward has had a disappointing showing. His three shots in the game were all off target, and he missed some relatively easy chances to score.
With his stunning goal last week against Vancouver, Zardes frustratingly seems to botch some of his easier chances, a problem he must learn to fix.
Now with Landon Donovan and Robbie Keane back in the picture, who knows whether Zardes will continue to start? Perhaps Bruce Arena will give his other young strikers, Jose Villarreal and Jack McBean, a chance.
Luckily for Zardes, he's still young at 21 years of age and is learning from some of the best attackers MLS has to offer in Keane and Donovan.
Same Old Problems Plaguing L.A.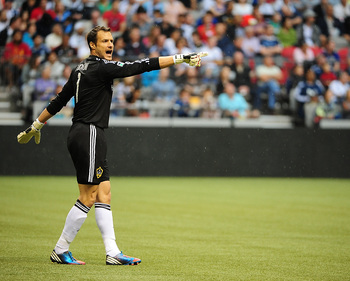 Anne-Marie Sorvin-USA TODAY Spor
All season long, goalkeeper Carlo Cudicini has failed to impress. Although the Italian keeper didn't make many obvious mistakes that led directly to goals this week, his lack of confidence was apparent. The Rapids could smell blood in the water with Cudicini's shaky play and took advantage.
Earlier in the season, Carlo was reluctant to come off his line, and now it seems like he does so too much. Looking at the other end of the field at Colorado's Clint Irwin was all it took to see what a confident keeper looks like.
In addition, set-piece defending and finishing scoring chances are both weaknesses that L.A. has struggled with for most of the season. It was no different against Colorado.
The Rapid's first goal came off of a corner kick, where the Galaxy's Tommy Meyer was guilty of some shoddy defending. As for finishing, L.A. had 11 total shots compared to Colorado's 10, but only two of them were on target. On the other hand, the home team was able to get four shots on frame.
Now the Galaxy get a much-needed break from MLS play. Participating in the first-ever International Champions Cup, L.A. will take on Real Madrid on August 1. Then it's off to Dodger Stadium on August 3 to face either Everton or Juventus.
Keep Reading