Why Lakers Moving Pau Gasol to Starting Center Is LA's Best Move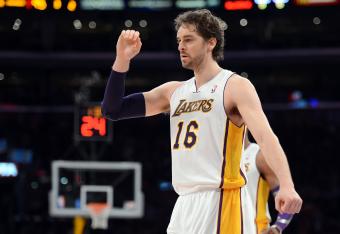 The LA Lakers need Pau Gasol at the center of it all.
Harry How/Getty Images
Once the 2013-14 campaign tips off, the Los Angeles Lakers will commence the season with Pau Gasol starting at center, and it makes perfect sense.
Gasol is a talented and multi-faceted big man, but his coaches have forgotten that on far too many occasions. In their stints coaching the Spaniard, Mike Brown and Mike D'Antoni have relegated him to the perimeter.
The decision was made to open up the floor and allow the likes of Andrew Bynum and Dwight Howard to camp out in the low post and score with their backs to the basket. The tactical adjustment has resulted in the decline of Gasol's scoring efficiency.
Since Phil Jackson left the Lakers at the conclusion of the 2010-11 season, Gasol's field-goal attempts in post-up situations have consistently dipped every season according to Synergy Sports.
For those in need of a refresher, have a look at Gasol's post skills from the 2010 NBA Finals against top-flight defensive competition:
No seriously, see if you recognize him here against the Phoenix Suns in the 2010 playoffs:
In his final season with Jackson, nearly 40 percent of the two-time champion's shot attempts resulted from post-ups. That figure has since dropped below 25 percent under Brown and D'Antoni, per Synergy Sports.
With Gasol moving further away from the basket, his shooting has plummeted. In 2010-11, the Spaniard converted 52.9 percent of his field goals.
However, the 2012-13 campaign brought on a different version of Gasol, one that resembled a perimeter player more than anything. He converted 46.6 percent of his field goals and attempted a career-high 28 treys.
Here is one of them:
It seems quite evident in the video that putting him out at the three-point line is a waste of his talents.
Thankfully for him, things are changing in LakerLand.
Bynum is no longer a member of the franchise, and the same thing is true of Howard. Instead, the Purple and Gold now have Chris Kaman, Jordan Hill and Robert Sacre rounding up the front line. Gasol is now the best interior big man on the team. It would behoove the Lakers to put him in a successful setting. That means establishing him once again in the low post, where he is at his best.
Gasol may have had a nightmarish season in 2012-13, but he's still a terror inside, as LaMarcus Aldridge can attest:
Gasol even unleashed the left-handed hook shot against the San Antonio Spurs during the 2013 playoffs, providing further evidence that he still gets it done on the block:
Furthermore, the Spaniard has demonstrated his usefulness in D'Antoni's pick-and-roll offense because of his superb passing and finishing ability. The Lakers should keep defenses off-balance by giving Gasol a steady diet of post touches coupled with the screen-and-roll action.
It's worth noting the coaching staff favors surrounding the interior players with shooters. The Lakers do not have any stretch big men on the roster and are also devoid of perimeter players that can play at the power forward spot every now and then.
Consequently, Los Angeles will play big in 2013-14. Kaman and Gasol will surely see some minutes alongside each other, but that once again relegates the Spaniard to the perimeter.
Consequently, starting Hill at power forward is the way to go. The reserve provides energy, toughness and rebounding. His constant movement off the ball will allow Gasol to operate in the low post against single coverage in some sets.
The eye test suggests the two-man unit fared well when they shared the floor together, and the data corroborates this. According to NBA.com, Hill and Gasol played 164 minutes together in 2012-13 and outscored opponents by 10.1 points per 100 possessions.
For context, the Miami Heat outgunned teams by 9.8 points per 100 possessions in 2012-13 on their way to a 66-win season.
The sample size is relatively small given that their time together on the court amounts to roughly 7.4 minutes per game. If we dig deeper into the archives, the duo played 29 minutes together (sample size alert!) in 2011-12 and destroyed the opposition by 49.4 points per 100 possessions.
Hence, there is definitely some value in unleashing them together as opposed to repeating past mistakes coaches made with Gasol.
He is skilled enough to masquerade as a power forward, but his natural position is center. One can only wonder if the Lakers will consider signing a big man with a bit of range such as Vladimir Radmanovic or a perimeter player that can fill in as a stretch power forward (think Luke Walton or James Johnson). The presence of shooters on the floor opens up the court for driving lanes and post-ups.
With that said, they must formulate their schemes based on the guys they have now. With Gasol playing center, stymieing the Lakers will prove difficult even if Kobe Bryant misses parts of the season recovering from his torn Achilles tendon.
The Spaniard will have a playmaking genius in the form of Steve Nash as well as some quality shooters surrounding him in Jodie Meeks, Steve Blake and Nick Young. Provided he remains healthy, Gasol will be an All-Star candidate in 2013-14.
He has repeatedly proven he is difficult to handle at center. It should come as no surprise when he produces great results playing the position.
J.M. Poulard is a featured columnist and can be found on Twitter under the handle name @ShyneIV.
This article is
What is the duplicate article?
Why is this article offensive?
Where is this article plagiarized from?
Why is this article poorly edited?

Los Angeles Lakers: Like this team?