Chicago Bears: Grading the Strength of Every Position Unit Heading into Camp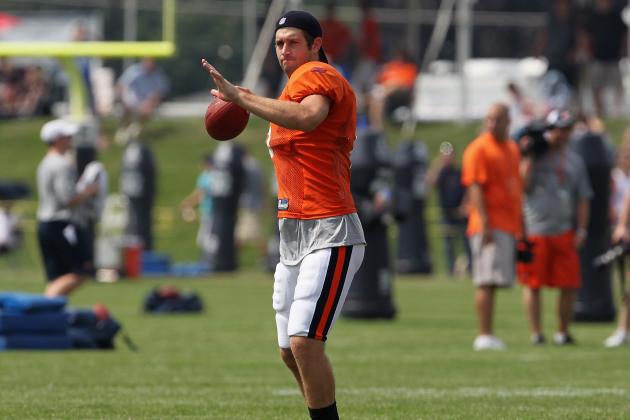 Jonathan Daniel/Getty Images
Jay Cutler
The time has arrived when we no longer have to wait for real football activities. Sure, we had OTAs and minicamps, but nothing beats the start of training camp. It's the first real indication football is around the corner.
There no doubt has been a ton of analysis and speculation into how the Chicago Bears will look this year. With all the moves they made, it has allowed people to discuss the team all offseason.
Where are the strong points for the Bears? Where will they struggle? Cycle through as we give you the grades of each position going into training camp.
Begin Slideshow

»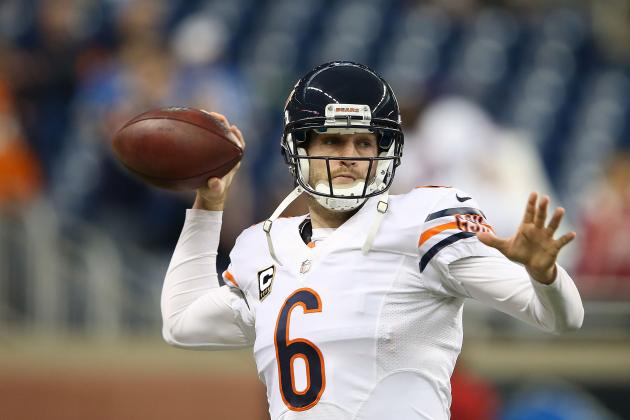 Leon Halip/Getty Images
Jay Cutler
Jay Cutler has had his ups and downs during his tenure in Chicago, but he is still considered an above-average quarterback.
The Bears don't have much depth behind Cutler. Josh McCown is considered more of a third option rather than a backup. Matt Blanchard has shown progress this offseason, and it will be interesting to see how much he has improved.
Should Cutler go down again with an injury, the Bears would have to be concerned with handing over the offense to McCown or Blanchard. Depth is a question at quarterback.
Grade: B-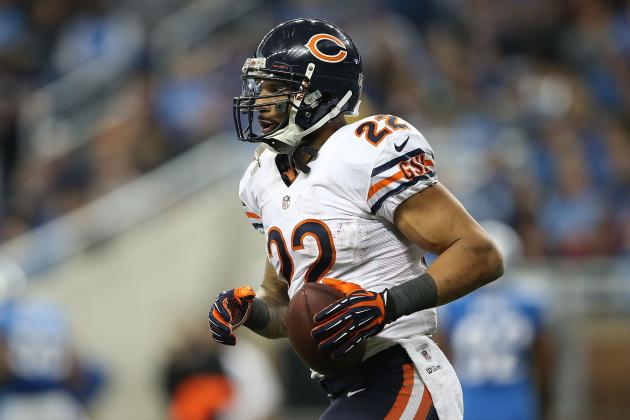 Leon Halip/Getty Images
Matt Forte
It wasn't that the Bears had a poor running back group last year; it was the fact that they were not properly used.
Matt Forte is an All-Pro who is a dual threat. There are not too many backs in the league who can contribute on the ground and through the air like he can. Offensive coordinator Mike Tice failed to play to Forte's strengths last year.
Michael Bush played all season with a shoulder injury and was the victim of a poor offense. The season before last, Bush rushed for nearly 1,000 yards in Oakland. He is fully capable of being something more than a short-yardage back.
When you factor in Armando Allen, the Bears have a good eclectic mix of backs at their disposal.
Grade: A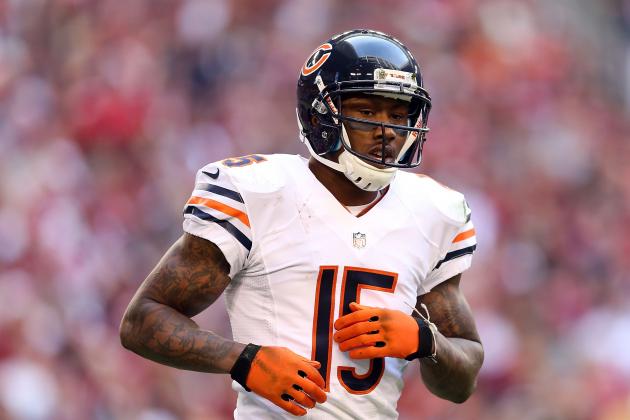 Christian Petersen/Getty Images
Brandon Marshall
Brandon Marshall is everything a team can ask for out of a No. 1 receiver. Unfortunately for the Bears, there just isn't much after him.
Alshon Jeffery has the potential to be a good receiver, but right now, you can only go off of potential. Earl Bennett has always been erratic, and Marquess Wilson, Eric Weems and Joe Anderson are all below-average right now.
Wilson and Anderson have the chance to be better players, but they both have a lot of growth to do. Right now, the Bears' wide receivers are a weakness.
Grade: C-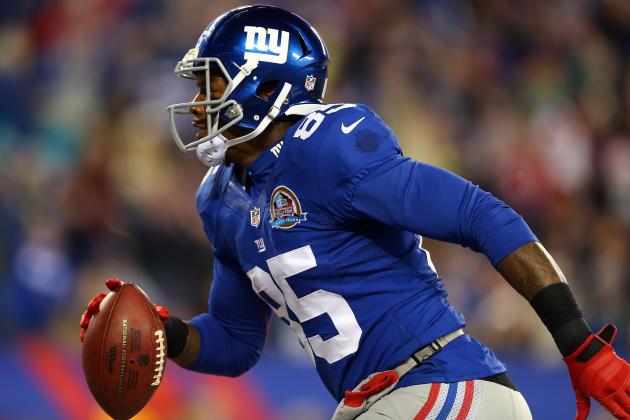 Elsa/Getty Images
Martellus Bennett
Last year, the tight ends were an epic disaster on this team. Martellus Bennett gives the Bears a major upgrade over Kellen Davis.
There's no doubt Bennett can be everything Jay Cutler needs him to be. He will be a playmaking security blanket over the middle of the field to take pressure off of Brandon Marshall.
When you look past Bennett, Steve Maneri and Kyle Adams don't excite too many people, but Fendi Onobun is intriguing. Maneri and Adams are primarily blockers, but they do it well. Bennett alone boosts the position to respectability.
Grade: B-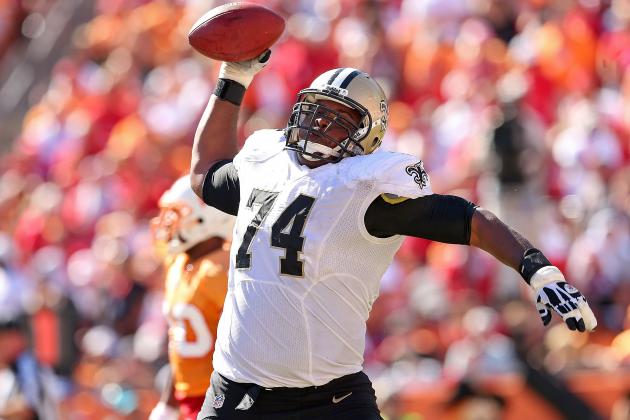 Mike Ehrmann/Getty Images
Jermon Bushrod
The Bears needed to do something to that offensive line after the disastrous run they had over the last couple of years. They went out and upgraded the position in a major way.
Jermon Bushrod is a tremendous acquisition at left tackle. Matt Slauson provides stability and experience, while J'Marcus Webb moving back to the right side instantly makes him a better football player.
Roberto Garza is a little long in the tooth, but he will benefit from having a more capable group around him.
Kyle Long has tremendous upside, but don't discount how valuable he will be right away. He is an athletic and physical specimen who will open some eyes his first season in the league.
It has been a long time since the Bears could say they had a line this good.
Grade: B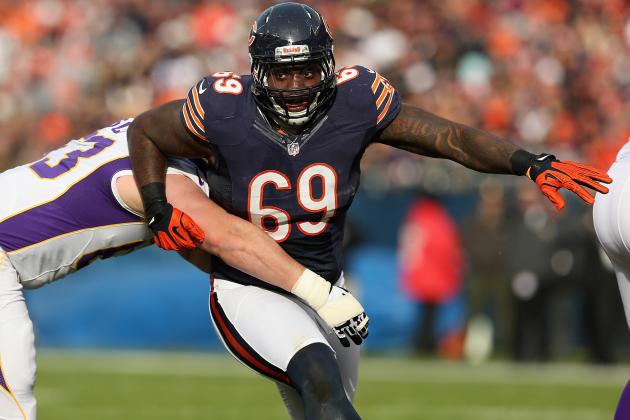 Jonathan Daniel/Getty Images
Henry Melton
Defensive line is arguably the deepest position on this team. When camp is over, there are going to be some quality football players from the line who will not make the team, and that's a good problem to have.
Everybody knows what Julius Peppers and Henry Melton bring to the table. Both are All-Pro players who are as talented as anybody in the NFL.
Corey Wootton came on very strong last year and will benefit from being in a rotation with second-year man Shea McClellin. McClellin has a lot to prove and will be more comfortable with a year under his belt.
Stephen Paea is rock-solid, and there are some quality veterans looking to redeem themselves behind the starters. Turk McBride, Sedrick Ellis and Nate Collins can all be starters when they are playing their best football.
Cornelius Washington could be a real steal in the draft. The Bears found him in the sixth round, but his relentless pass-rushing capability could very well earn him a spot on the team. Veterans Corey Irving and Cheta Ozougwu round out the competitive group.
Grade: A-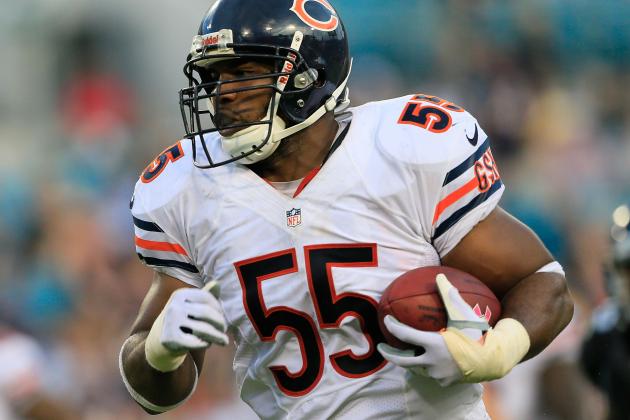 Sam Greenwood/Getty Images
Lance Briggs
Is it possible the Bears can lose a future Hall of Famer like Brian Urlacher and still be better at linebacker than last year? Going into camp, it looks as though that is the case.
The team did an admirable job replacing Urlacher and Nick Roach with veterans James Anderson and D.J. Williams. Both are quality starters who ensure there will be no drop-off in production.
The excitement comes from two rookies. Jon Bostic and Khaseem Greene are fun athletic playmakers who have the chance to wreak havoc on the league for years to come.
J.T. Thomas and Patrick Trahan provide even more depth and help on special teams, while Blake Costanzo might have a hard time making this talented unit.
Last but not least is Lance Briggs. Look for Briggs to assume the leadership role Urlacher left behind and really take control of this defense.
Grade: A+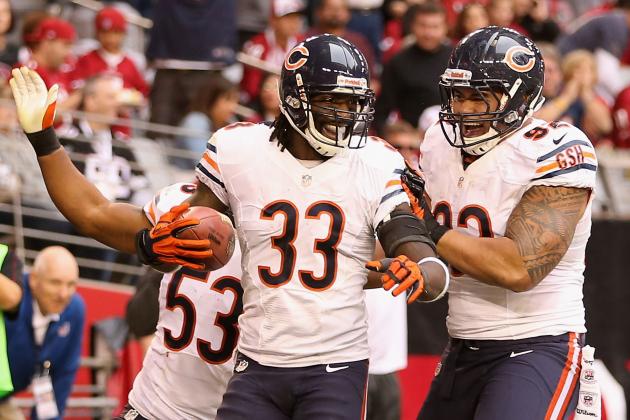 Christian Petersen/Getty Images
Charles Tillman
People keep waiting for Charles Tillman to hit a wall and start his decline, but like fine wine, he keeps getting better. When you throw in the emergence of Tim Jennings, you can say the Bears have one of the better corner tandems in the league.
Kelvin Hayden does a solid job as a nickel, and Zach Bowman is a special teams standout. Sherrick McManis contributes to special teams, and it will be interesting to see what C.J. Wilson and Isaiah Frey bring to the table.
Grade: A-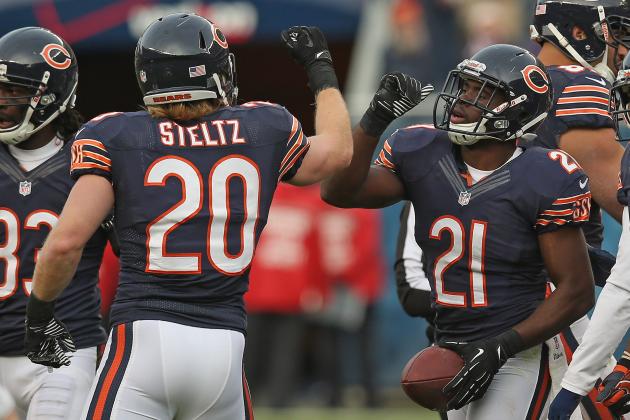 Jonathan Daniel/Getty Images
Craig Steltz & Major Wright
Chris Conte and Major Wright only missed one game between the two of them last year. The Bears hadn't had that kind of continuity from their safeties in a while.
There is a strong veteran presence in Anthony Walters, Craig Steltz and Tom Zbikowski. Should Conte or Wright go down, any of those guys can fill in and fill in well for a short period of time.
Brandon Hardin is back to show people what he's got after missing all of last year after going on injured reserve during the preseason. He could be a guy who rotates around a lot, even playing corner at some points.
Grade: B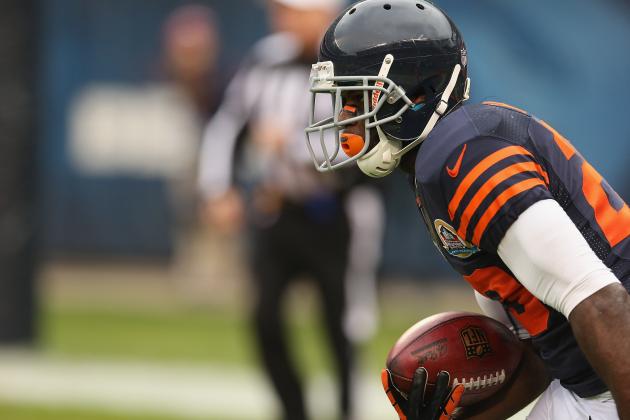 Jonathan Daniel/Getty Images
Devin Hester
The last time everybody thought Devin Hester was done, he bounced back with a 2011 season that made him the greatest return man of all time. The Bears can only hope he can gain some of that magic again.
Robbie Gould returns from his freak injury to anchor the kicking game. Adam Podlesh needs to build upon his solid finish to last season if he wants to hold off rookie Tress Way.
With Dave Toub gone, there will be a learning curve as the unit grows under special teams coordinator Joe DeCamillis, but special teams will still be a strong point of this team once again.
Grade: A