Indianapolis Colts: Grading Strength of Every Position Unit Heading into Camp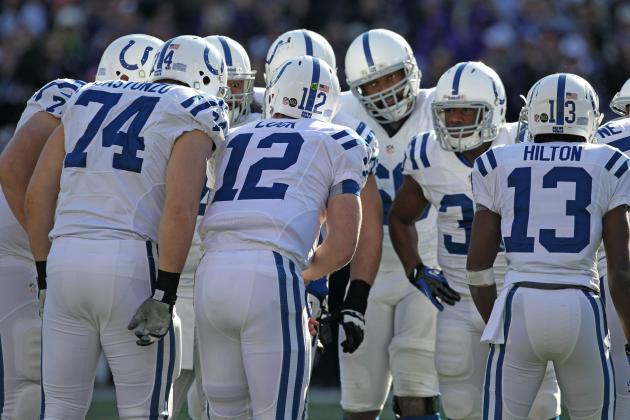 USA TODAY Sports

Training camp is fast approaching for the Indianapolis Colts, and the coaching staff will be taking a long look at each position to determine where their strengths and weaknesses are entering the 2013 season.
At the end of the 2012 season, the Colts had a lot of holes on their roster. Ryan Grigson and the rest of the front office understood that, and they came into free agency with a lot of cap space, using most of it to bring in a number of players.
Along with free agency, the Colts also had a solid draft in April. Now, the weaknesses don't seem so weak anymore, and the team is coming into camp feeling very optimistic about the coming season.
Taking a look at each position, we can grade how strong the Colts are in each area. Grades are determined by overall talent of the starters as well as the depth behind the starters.
Let's break down all of the units for the Colts entering training camp.
Begin Slideshow

»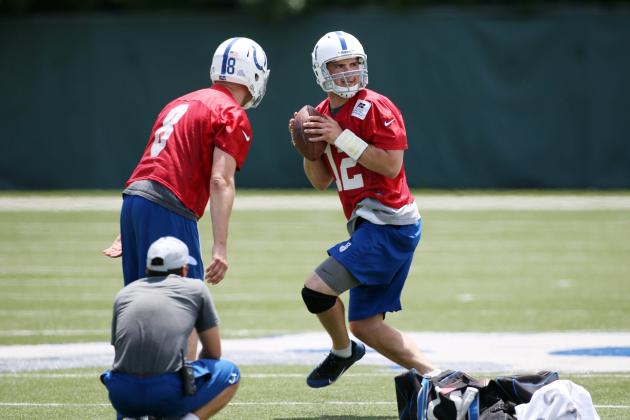 Brian Spurlock-USA TODAY Sports

I think it's safe to say that the Colts are pretty good at the quarterback position.
Andrew Luck proved to be the QB of the future for the Colts, and he's now looking for an even bigger sophomore season now that Pep Hamilton, his former offensive coordinator at Stanford, has joined the team's coaching staff.
The team also brought in Matt Hasselbeck to help mentor Luck as his career finally winds down. While he'll also be helping Luck, he can hold his own in the event that Luck has to sit out.
Chandler Harnish will be fighting for a roster spot, but he is certainly a solid No. 3 option on the depth chart. He's still developing as a passer, but he can learn a lot from both Luck and Hasselbeck and could make a nice backup for the coming seasons.
While other teams are fighting like crazy to find a starting quarterback, the Colts have a nice situation at the position.
Grade: A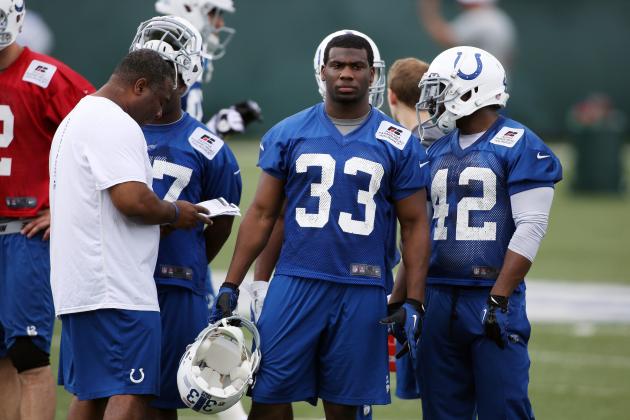 Brian Spurlock-USA TODAY Sports

The days of workhorse running backs appear to be gone, and the Colts have a decent amount of depth with their running backs.
Ahmad Bradshaw has been brought in to be the starter, and he's been a great running back when healthy. He ran for over 1,000 yards and had six touchdowns while playing in only 14 games last season. He's certainly not a back like Adrian Peterson or Arian Foster, but he's a good starter.
While he may not be a superstar back, Vick Ballard will give the Colts a nice one-two punch behind Luck. Ballard showed a lot of potential last season, running for 814 yards and grabbing 152 yards through the air. If Bradshaw is hurt, Ballard will be able to come in and be a productive starter.
Two guys that will be fighting for their jobs are Delone Carter and Donald Brown. The team may keep one of these two, but it's unlikely they keep both of them. Neither player is bad, but they will need to impress the coaches during training camp to keep their jobs.
At fullback, the Colts acquired Stanley Havili from the Philadelphia Eagles and Dan Moore as an undrafted free agent.
Havili was a strong fullback in the passing game while at USC, and he will be a nice fit for the team. Moore was a versatile back while at Montana, but he will have an uphill battle to earn a spot on the team.
There's some nice depth for the running backs, but there are a couple of questions marks that keep this unit from being one of the best in the nation.
Grade: B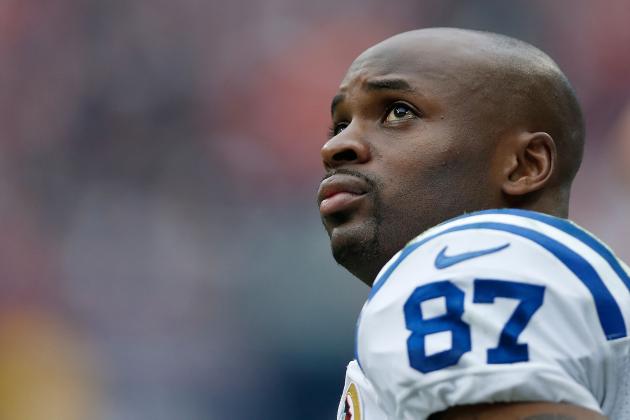 Scott Halleran/Getty Images

For now, the wide receiver position feels intact, but that may not be the case in a year.
Reggie Wayne is nearing the end of his career, but he's still a terrific receiver. He finished with 106 catches for 1,355 yards and five scores last season. He may not be able to surpass Marvin Harrison as the greatest Colts receiver of all time, but he may very well be a Hall of Fame receiver with a couple more years like 2012.
A breakout rookie campaign for T.Y. Hilton made him one of the most exciting players for the Colts last year. He showed his impressive speed for the team, making big plays on the outside as well as the slot.
The new addition is Darrius Heyward-Bey, who signed a one-year deal with the team. He's certainly a speedy receiver, but the concern, much like with Donnie Avery last season, is his drops. He will have a year to prove himself, then the Colts can decide whether to re-sign him or let him go.
There will be a lot of questions surrounding LaVon Brazill, who was suspended for the first four games of the season. Depending on what the team decides to do, his spot may be up for grabs unless he has a big training camp.
Other camp bodies who could prove themselves include Nathan Palmer, Griff Whalen, Jeremy Kelley and Rodrick Rumble. All of these guys have potential, but there might only be one or two spots open.
Overall, there's a lot to like about the receiving corps at the moment. However, things could be much different in a year.
Grade: B+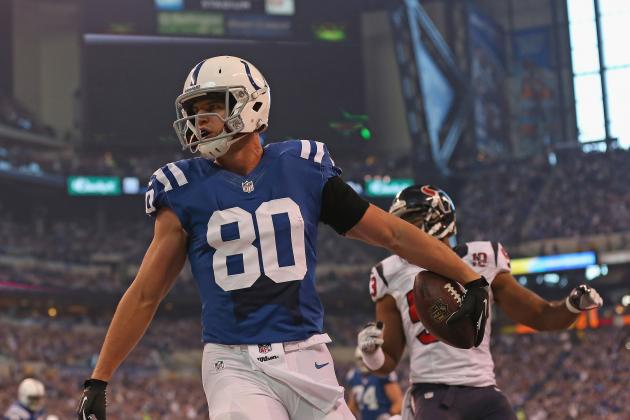 Jonathan Daniel/Getty Images

This might be the best unit on this team.
Coby Fleener, although he was hurt for quite a bit of last season, is bound to have a breakout season. He will be playing once again with his former college quarterback, but at the same time Hamilton is coming in as the offensive coordinator and running an offense that will probably be quite similar to the one he thrived in at Stanford.
While Fleener had ups and downs last year, Dwayne Allen was a big surprise on the team. He was an excellent blocker, but he also made a number of big plays, including an impressive play on a tight end screen against the Detroit Lions that went for 40 yards.
Weslye Saunders was a solid enough third-string guy, but he was suspended for eight games for PEDs (h/t USA Today). He will be able to return for the second half of the season, and he could come in if needed and be a decent enough backup.
The guy that's been turning some heads has been Justice Cunningham, the Mr. Irrelevant pick back in April. He was a great blocker in college, but his hands were an issue. While at rookie minicamp, Cunningham made some impressive plays in the passing game. He may not be a big receiving threat, he can be a useful player in certain situations.
Having two very good starting tight ends to go along with some solid backups makes this one of the best tight end groups in the NFL.
Grade: A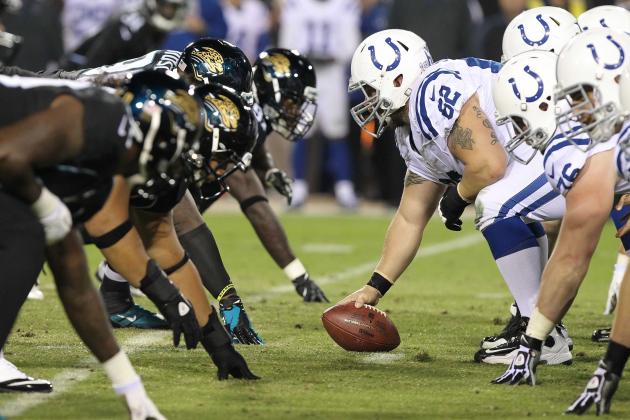 Kim Klement-USA TODAY Sports

If this was last year, I'd give the offensive line an D-minus. The line was banged up, but the mere lack of protection left Luck to make plays out of thin air while getting hit constantly.
This year, things are looking up.
The Colts understood that they needed to protect the future of the franchise, so they brought in plenty of new faces. They added Gosder Cherilus and Donald Thomas through free agency while also bringing in Khaled Holmes and Hugh Thornton through the draft.
The starting offensive line looks better than last season, but odds are that some of these guys will get hurt. Unfortunately, there isn't much depth behind the starters. Holmes could come in and play on the inside of the line, but the rest of these guys are big questions marks. Ben Ijalana could be a good backup, but two consecutive torn ACLs make him a big uncertainty.
As much as the offensive line has improved, there's still not much depth on the line. If they stay healthy, Luck will be in pretty good shape, but teams rarely stay healthy in the NFL.
Grade: C-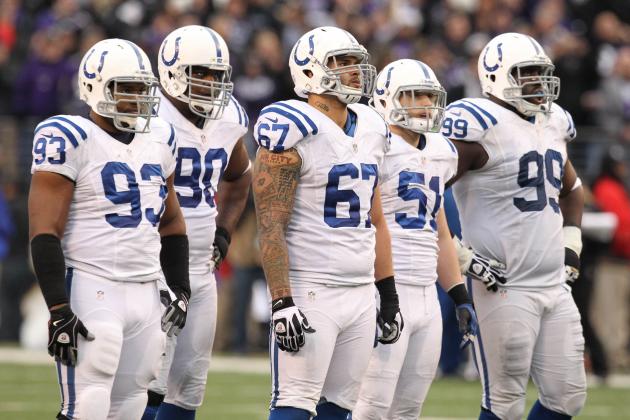 USA TODAY Sports

This is a tricky unit to grade. It's a group of guys that will be constantly moving in and out with substitutions, but the good thing for the Colts is that they have plenty of depth at the position.
Grigson brought in a few guys on the line, including Aubrayo Franklin and Ricky Jean Francois. Both guys are established veterans in the NFL and could provide leadership for some of the younger guys.
The team also brought in Montori Hughes in the fifth round of the draft. While his attitude and work ethic have been questioned, he's got all of the physical traits you look for in a guy that plays on the D-line.
Cory Redding did a good enough job in his first season with the Colts, and he'll be looking to stay productive at 32 years old. Ricardo Mathews will be looking to back up Redding and make plays when he needs a breather.
A healthy Josh Chapman is the biggest news at the position. After sitting out all of last season, the hype on Chapman has been big. He may be too overhyped, but at the same time was a great player at Alabama that will be looking to make a big impact on defense.
There are so many players at this position that will get on the field, and although none of them will take the NFL by storm, they all certainly will be good enough to make this a respectable unit.
Grade: C+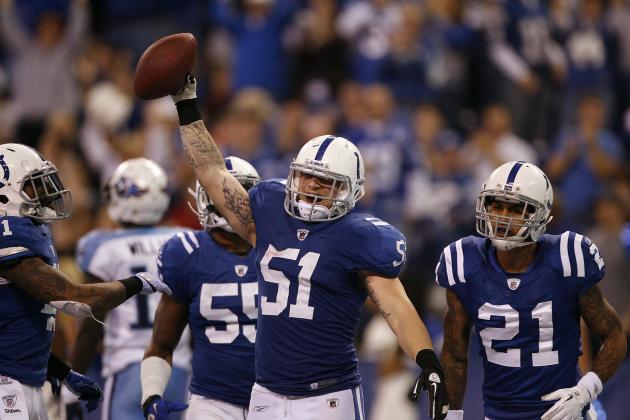 Brian Spurlock-USA TODAY Sports

The move to a 3-4 defense certainly had some growing pains last year for the Colts, but there's a lot to like about the linebackers this season.
On the outside, Robert Mathis will be looking to prove that he's still one of the best pass-rushers in the league. A lot of people felt that he didn't earn his Pro Bowl selection last season, and he will do what it takes to make sure he quickly silences those critics.
Erik Walden has been the most unpopular signing for the Colts this offseason. He was certainly overpaid, receiving a four-year deal worth $16 million, but many think he's a terrible linebacker after watching the game against the San Francisco 49ers.
While Walden may have struggled that game, he is actually a solid linebacker that can hold the edge and cover tight ends and running backs in the passing game. Pass-rushing may be a weakness for him, but he's a solid linebacker.
Bjoern Werner will be looking to get on the field as much as possible in his rookie season. The No. 24 overall selection was known at Florida State for excelling at getting to the quarterback, and the Colts are hoping that he can make the transition to a 3-4 outside linebacker in the NFL.
On the inside, Pat Angerer will finally be healthy to start the season, barring any setbacks in the preseason. When healthy, he's a been a solid anchor for the defense. Kavell Conner was able to step in last season and make a number of good plays while Angerer was hurt and is a great backup to have.
Jerrell Freeman took to the team by storm after returning an interception for a touchdown in Week 1 against the Chicago Bears. He was in on what seemed like almost every play last season, recording 145 combined tackles.
Other linebackers include Kelvin Sheppard, a guy that does a good job in coverage on the inside, and Lawrence Sidbury, a big guy on the outside that's been waiting for an opportunity to get more snaps on the field. Caesar Rayford, listed at 6'7'', is also looking to find a spot on the team.
It's tough to not like the linebackers. The outside may have some questions, but this is a strong group of players that will try to make sure that the defense improves this season.
Grade: B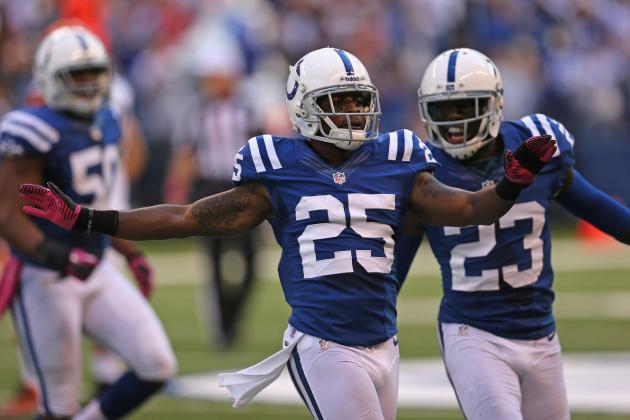 Jonathan Daniel/Getty Images

The Colts looked to improve their secondary, and they did just that heading into camp.
The front office signed both Greg Toler and LaRon Landry to help improve the secondary. Toler could be a good addition, but he's struggled to stay healthy, playing in only 38 games over the past four seasons. Still, he will be a good addition to possibly start at the beginning of the season.
With Landry, there's no denying that he's a hard hitter. He can make big plays in the running game, but at the same time, he's not a safety that's going to make plays against the pass. Although he was able to play in all 16 games last year for the New York Jets, he's had some injury concerns in the past.
Vontae Davis was a great addition from the Miami Dolphins for the Colts last season. He only played in 10 games last season, but he was able to come up with three interceptions, 51 combined tackles and a sack.
Darius Butler and Cassius Vaughn will come in in extra defensive back situations, and both can hold their own. Both Daxton Swanson and Sheldon Price have impressed as undrafted cornerbacks, but the odds are that only one will be able to make the team.
Antoine Bethea will be the leader of the secondary, playing with the Colts for the past seven seasons. He will be starting opposite of Landry, looking to make up for Landry's lack of pass coverage and making plays in the passing game.
John Boyett was taken late in the draft, and will be looking to back up both safeties. While Boyett is likely a lock to make the team due to need, Joe Lefeged is a different story.
Lefeged was all over the news for his recent arrest, and his future with the team is uncertain. While his arrest reflects poorly on the team, he is also needed as a No. 2 safety on the depth chart.
The secondary has improved over the past few seasons, but they are still not where they want to be. The lack of depth and truly great starters makes this a group that will look to show signs of improvement in 2013.
Grade: B-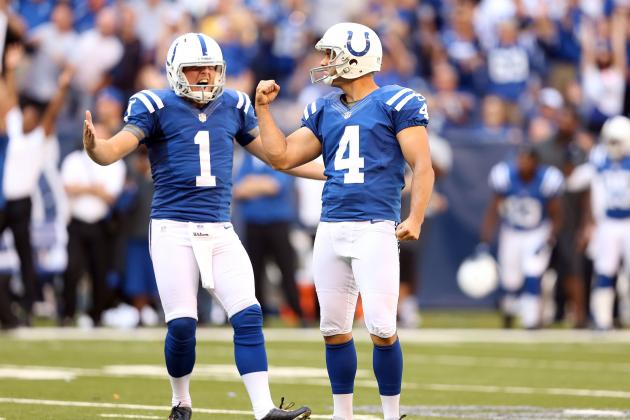 Andy Lyons/Getty Images

Last but not least, are the specialists.
Matt Overton isn't talked about a lot, and that's a good thing for a long snapper. As long as people don't know his name, he'll be happy.
Along with being a popular local celebrity, Pat McAfee is also a very good punter. While he has yet to be named to a Pro Bowl, he's still probably one of the best punters in the league.
With Adam Vinatieri, he isn't the same kicker he used to be, but he's still good enough to consistently make the easy kicks. At 40 years old, his career may be winding down, but he will still be able to make kicks for the 2013 season.
The Colts have a good kicker and great punter to go along with a consistent long snapper, and that's all you can ask for with your specialists.
Grade: B+