Predicting 8 Surprises of Patriots Training Camp
Jim Rogash/Getty Images

There's rarely a dull moment for the New England Patriots and training camp always seems to bring some of the biggest surprises, whether it's an unforeseen release, or an undrafted unknown securing an unexpected roster spot.
Yes, all 90 players New England brings to camp are on level ground when it comes to winning jobs in New England, and that always makes for a fascinating end of the summer.
This year should be especially fascinating with the receiver corps in near-complete turnover, and a collection of talented yet unproven players on the defensive side of the ball, all looking to win a job.
What will be the surprises this year? Here's our attempt to predict some of the players who might ascend and descend on the depth chart over the next six weeks.
Begin Slideshow

»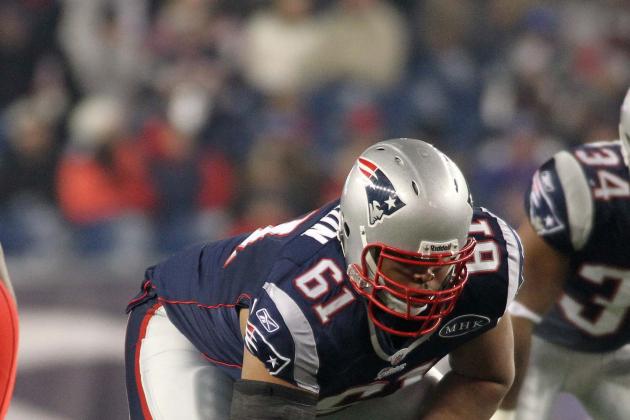 Stew Milne-USA TODAY Sports

Knowledgeable Patriots fans have been quietly wondering whether or not Marcus Cannon has what it takes to unseat Dan Connolly from the starting right guard spot. Cannon has always seemed like a better fit at guard than tackle, despite having a solid season as the swing tackle in 2012.
Connolly was inconsistent in his first year starting at guard after starting at center in 2011. He finished the season with a -3.7 pass blocking grade and a -1.7 run blocking grade, according to ProFootballFocus.com (subscription required).
At 6'5" and 368 pounds, Cannon is huge for a guard, but his light feet and movement skills make him an interesting fit inside. The question is whether or not his ceiling is higher than Connolly's and also whether Connolly is a better fit as the interior swing lineman. If Cannon secures the starting spot, it could allow the Patriots to carry only seven offensive linemen.
Cannon is an athletic freak, and in his third year, he looks primed to become a significant member of the offensive line.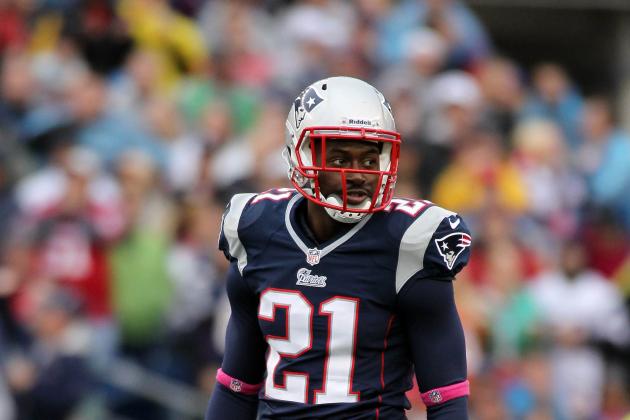 Stew Milne-USA TODAY Sports

Ras-I Dowling has ended his first two NFL seasons on injured reserve. But, as noted by ESPN Boston's Mike Reiss, Dowling looked very impressive in OTAs this spring. If he is finally healthy this year, he might live up to his No. 33 overall draft status and give the Patriots a second big corner who can play press man coverage.
In recent years, the Pats have had their right corner spot manned by undersized, physical players like Ellis Hobbs, Kyle Arrington and Alfonzo Dennard. Dennard might have showed the most promise of all in 2012, but with his availability in doubt due to another arrest, the spotlight now shifts to Dowling.
In a perfect world, Dowling would make an outstanding compliment to Aqib Talib and give the Patriots a new dimension at both cornerback spots. Kyle Arrington could slip back to the starting right corner spot if Dowling doesn't elevate his game, but his best position is in the slot, and he excelled in 2012 when he was able to focus solely on that role.
If Dowling can lock down the starting spot and become a three-down corner for the Patriots, the trickle-down effect would make the rest of the secondary better. Arrington could stay in the slot, Dennard's pending suspension would be inconsequential, and the Pats would have the ability to play man-to-man across the board.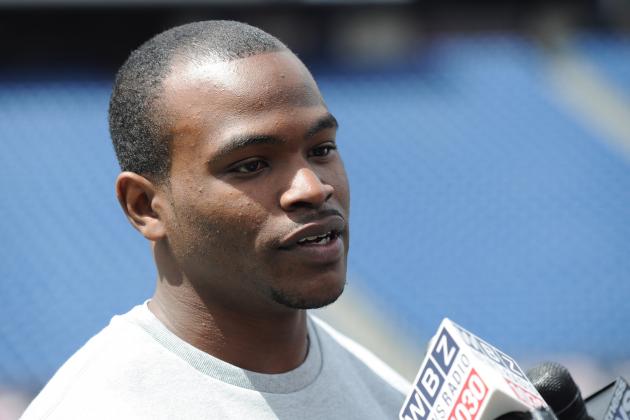 Bob DeChiara-USA TODAY Sports

While most eyes will be on Aaron Dobson when scouting the rookie receiving class, Josh Boyce just might be the one to make the most immediate impact. Boyce is experienced, both inside and outside, and as reported by Greg Bedard of The Boston Globe, he had the highest Wonderlic score of any Patriots rookie receiver since Deion Branch.
Oliver Thomas of Bleacher Report and NEPatriotsDraft.com had this outstanding piece on Boyce, which highlights all of Boyce's traits that the Patriots love to see in their receivers. Some scouts felt as though Boyce might already be maxed out on his frame and potential, but his physicality, smarts and explosiveness are a perfect fit for New England.
With a strong camp, Boyce could see significant time being paired with Danny Amendola. He'll surely split reps with others like Michael Jenkins and Dobson, but Boyce should be the first rookie to emerge and get heavy playing time.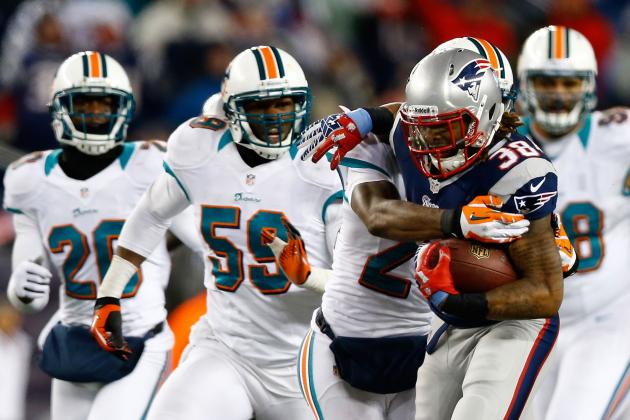 Jared Wickerham/Getty Images

Brandon Bolden didn't see many meaningful carries after returning from a PED suspension late in the 2012 season. It's unfortunate, because he flashed real potential early in the season before getting hurt against the Seahawks, which then led into his suspension.
The Patriots have never been shy about employing a running-back-by-committee approach. And while Stevan Ridley is coming off a 1,200-yard rushing season, Bolden should get plenty of touches this preseason to prove that he can regain the kind of form that saw him rush for 137 yards against the Bills in Week 4 last year.
Bolden's downhill running style is reminiscent of former-Patriot BenJarvus Green-Ellis, and in short-yardage situations, there is no better option on the Patriots roster.
With the passing game being turned over, the Pats might have to rely on their running game more than in recent years, and a one-two punch of Ridley and Bolden will lead the way.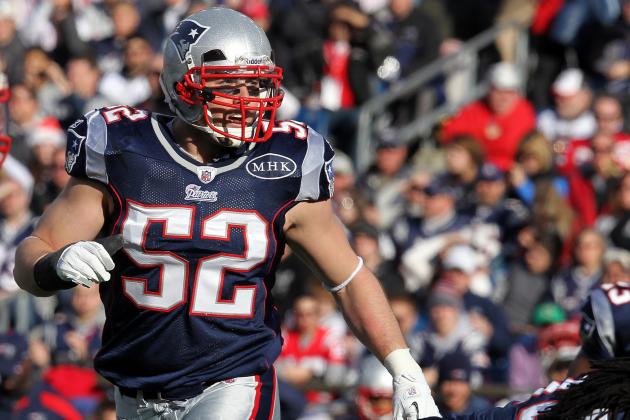 Jim Rogash/Getty Images

One thing the Patriots lacked on their roster last season was a quality coverage linebacker. While Brandon Spikes was the target of most analysts' wrath, Jerod Mayo wasn't much better, posting his worst coverage season by ProFootballFocus' standards in three years (subscription required).
Dont'a Hightower moves well, but he is 270 pounds and unlikely to ever truly excel in coverage.
The Patriots are a matchup defense, and the lack of a linebacker who has some coverage savvy limited them in 2012. But now that Dane Fletcher has returned from injury, he could be an interesting tool for Bill Belichick's defensive toolbox.
Fletcher played 304 snaps in 2011, an up-and-down season that saw him battle a persistent thumb injury while filling in for Brandon Spikes at times. He played every down in Week 16 against the Dolphins that year, though, and had the best game of his career—recording three stops, a quarterback hurry and two quarterback hits.
While Fletcher has shown a solid ability to cover running backs like Ray Rice, he's also shown solid anticipation in run defense. This season, Fletcher should become an important part of the linebacker rotation, even sending Brandon Spikes to the bench against more pass-happy teams.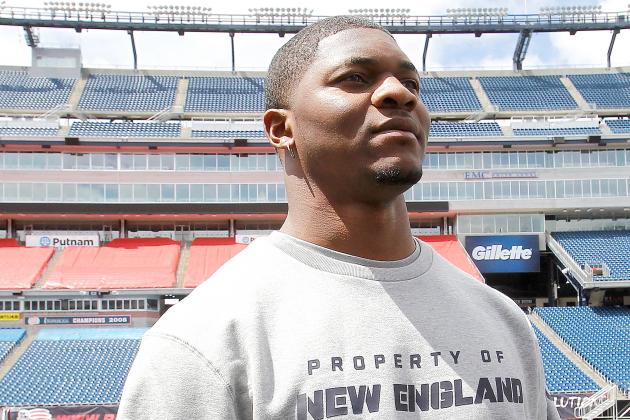 Jim Rogash/Getty Images

While it's easy to wonder about exactly how Bill Belichick will employ uber-athlete Jamie Collins on his defense, the simplest answer is likely that it will be on passing downs. Collins played all over the defense in college, and he has the explosion to rush the passer while also possessing the agility to drop into coverage.
Just as the football pundits are unsure where Collins will be lining up, so are opposing offensive coordinators, and that's why Collins will make an impact. Still, his exact fit in the base defense from the get-go is unclear, as all of last year's starters return at the defensive end and linebacker positions, and all seem fairly entrenched.
But with the Pats playing in sub-packages a majority of the time now, Collins should get plenty of chances to do a number of different things. His impact on third-down especially should be felt immediately.
The Patriots' concerted efforts to improve the toughness and athleticism in the middle of their defense this offseason is apparent. Collins, along free-agent additions like Adrian Wilson and Tommy Kelly, should all make an impact in that department.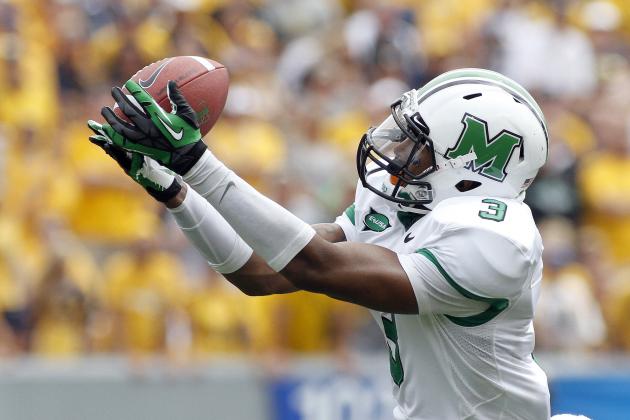 Justin K. Aller/Getty Images

All eyes will be on the wide receiver competition in camp, with Aaron Dobson being one of the most visible candidates as a 2013 second-round pick. The Patriots offense is notoriously difficult for receivers to pick up, and the rookies who have actually been able to do so can be counted on one hand.
While there's no question about the need for an X-receiver opposite Z-receiver Danny Amendola, ESPN Boston's Field Yates believes that Dobson's greatest early impact will likely be in the red zone. While he might not be on the field early in the season between the 20-yard lines, Dobson could find early chances once the offense is within striking distance of the end zone.
His height and ability to go up and get the ball at it's highest point are his biggest strengths, and that is something that Tom Brady has not had on the outside since Randy Moss departed. Dobson is certainly not Moss, but Dobson will bring a new wrinkle to the Patriots offense that could help open things up for Amendola, Rob Gronkowski and everyone else in the middle of the field.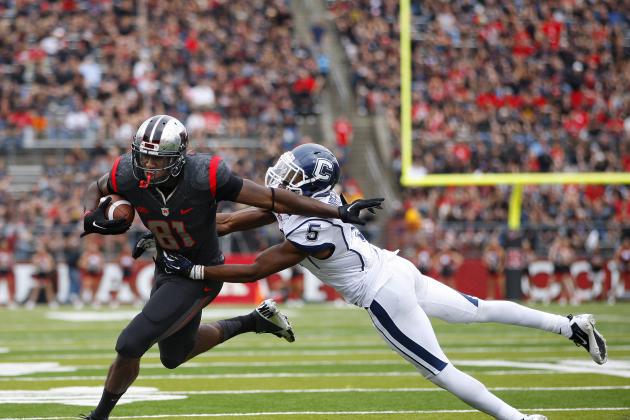 Rich Schultz/Getty Images

Every year, there is at least one undrafted rookie who makes the Patriots roster. This year, our bet is on Mark Harrison, a 22-year-old wide receiver out of Rutgers.
Despite starting camp on the PUP list, Harrison possesses everything the Patriots have lacked in their receiving corps in the last three seasons, when it was a based on "death by a thousand cuts" and limited quick-scoring drives.
Harrison has never overwhelmed with his stats, though he recorded the second-best receiving day in Rutgers history when he had 10 receptions for 240 yards and four touchdowns against Cincinnati in 2010.
What is most intriguing is Harrison's ability to get deep, and that's been one element the Patriots have lacked in their receivers since Moss. If he can find a synergy with Brady, Harrison has unlimited potential and could possibly be the biggest offensive impact player from this year's draft class.
The biggest key will be getting off the PUP list and missing as few practices as possible. Each day he remains sidelined, it becomes less and less likely that he'll make the roster.