Power Ranking the 5 Greatest Tight Ends in Minnesota Vikings History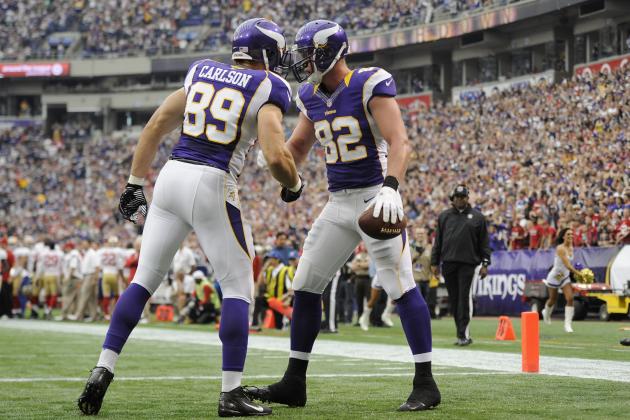 Hannah Foslien/Getty Images
The current Vikings tight ends.
Welcome to the latest in a series of slideshows that power rank the greatest Minnesota Vikings of all time by position. Each week, a different position will be featured. The best Vikings to ever take the field at that position will be ranked from fifth to first.
How does a guy get on the list?
It's all about being a Viking. While stats will be taken into account, there will be other, more subjective criteria as well. There's a certain feel to those classic Vikings standing on the sideline at Met Stadium in freezing conditions with steam coming out of their face masks. Those are the quintessential Vikings to many fans.
Certain players, such as Mike Morris and Scott Studwell, would have fit perfectly in that era. Those are true Vikings. Other players, particularly Adrian Peterson, would have been fun in any era.
These lists are filled with players who epitomize what it means to be a Viking.
Last week, we did the linebackers. This week, we'll focus on tight ends. The history of the tight end in the NFL is interesting. In the early years, the tight end was often the star of the limited passing games employed by NFL teams. Through the '60s and into the '70s, tight ends were valued more for their blocking ability than their prowess at catching the ball.
That all changed in the 1980s, when passing opened up offenses around the league. These days, tight ends are often some of the best athletes on the field.
There have been some great tight ends in Minnesota. In compiling this list of the greatest Vikings tight ends of all time, we included players known for receiving, great blockers and those with a combination of skills.
Click on as we power rank the top tight ends in Minnesota Vikings history.
(All statistics courtesy of Pro-Football-Reference unless otherwise noted.)
Begin Slideshow

»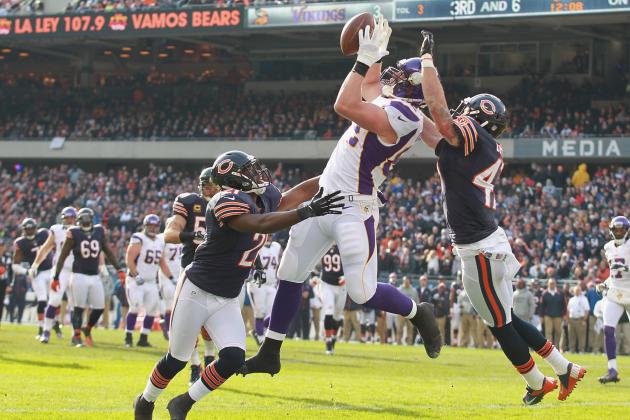 Dilip Vishwanat/Getty Images
Rudolph has amazing hands.
The Vikings have had a rich history of great tight end play. When the team drafted Kyle Rudolph from Notre Dame in the second round of the 2011 NFL draft, it likely ensured that Minnesota would continue to receive stellar output from the position for years to come.
Rudolph got off to a bit of a slow start, starting only eight games in his rookie year. During that season, he managed to catch 26 passes for 249 yards and three touchdowns. It wasn't the most auspicious beginning, but Rudolph flashed signs of potential.
In his second season, Rudolph became one of the best receiving weapons in the Vikings' arsenal. He was dominant at times (though strangely absent from the offense at others). By the end of his second season, Rudolph had caught 53 passes for 493 yards and nine touchdowns.
He was named as a replacement to the NFC Pro Bowl squad and made the most of his opportunity. Rudolph caught five passes for 122 yards and a touchdown in the game and was subsequently named Pro Bowl MVP.
For his promising potential and his solid production thus far, Rudolph earns honorable mention to the list of the greatest Vikings tight ends of all time.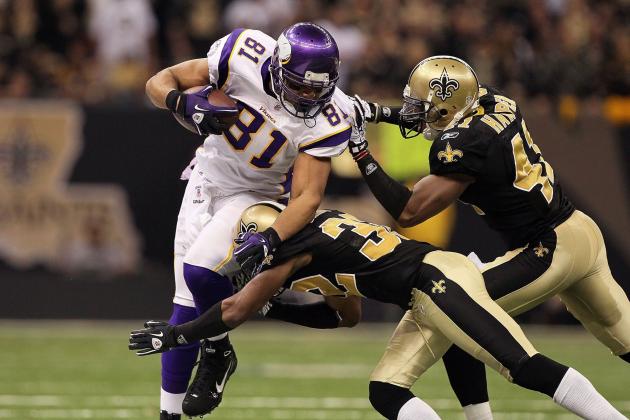 Jed Jacobsohn/Getty Images
Shiancoe made a big impact.
When the Minnesota Vikings shelled out a rich free-agent contract to Visanthe Shiancoe prior to the 2007 season, fans were confused. Shiancoe, who spent the first four years of his NFL career with the New York Giants, had caught a total of 35 passes and managed just three touchdowns.
His first year in Minnesota did little to assuage the bad feelings. Shiancoe managed 27 catches for 323 yards and a touchdown—hardly numbers worthy of a big free-agent deal. Fans and media members alike applied the "bust" label.
In 2008, Shiancoe began to blossom. He caught 42 balls for 596 yards and seven touchdowns. He became a bigger part of the Vikings offense and truly blossomed in 2009 when he caught 11 touchdowns, still a record number for Minnesota tight ends. For his Vikings career, Shiancoe caught 208 passes for 2,424 yards and 24 touchdowns.
Those numbers push Shiancoe just past Kyle Rudolph for the No. 5 spot on the list of greatest Vikings tight ends.
Stu Voight was a prototypical 1970s tight end for the Vikings. Drafted out of Wisconsin in the 10th round of the 1970 NFL draft, Voight was never a flashy player. In his 11 seasons in Minnesota, he was never named to the Pro Bowl. Voight never caught more than 34 passes in a season and never scored more than five touchdowns. His top yardage figure was 363. Those are good three-game stretches for today's tight ends.
What Voight did was contribute exactly what Minnesota needed from him to win. In his 11 years as a Viking, the team won nine division championships and went to the Super Bowl three times. Voight played in 15 playoff games, and the team went 111-50 during his tenure. Simply put, Voight was a winner.
His 177 catches are still good for 18th on the Vikings all-time list. His yardage total of 1,919 is 23rd. It was Voight's overall contribution that vaulted him past Shiancoe to the No. 4 spot on this list.
Joe Senser didn't play for the Vikings very long. Injuries shortened what looked to be a brilliant career, and Senser was forced to retire following the 1984 season. Senser missed the 1983 season while recovering from a knee injury and was a shell of his former self in 1984. In reality, Senser accomplished all of his NFL glory in just over two seasons.
What seasons they were, though. As a rookie in 1980, Senser caught 42 passes for 447 yards and seven touchdowns. He topped that the following year with 79 catches, 1,004 yards and eight scores. He was named to the Pro Bowl following that breakout 1981 campaign. Senser was off to a good start in 1982, with 29 catches through nine games, when a knee injury essentially ended his career.
In his too-brief time with the team, Senser caught 165 passes, third all time amongst Vikings tight ends. His 1,822 yards rank him in the team's top 25 all-time. Just imagine what he could have done if injuries hadn't ended his career prematurely. Senser does hold the distinction of dropping the last pass thrown at Metropolitan Stadium and catching the first touchdown ever thrown at the Metrodome.
For his great numbers in limited action, Senser slips past Stu Voight into the No. 3 spot on the list of greatest Vikings tight ends.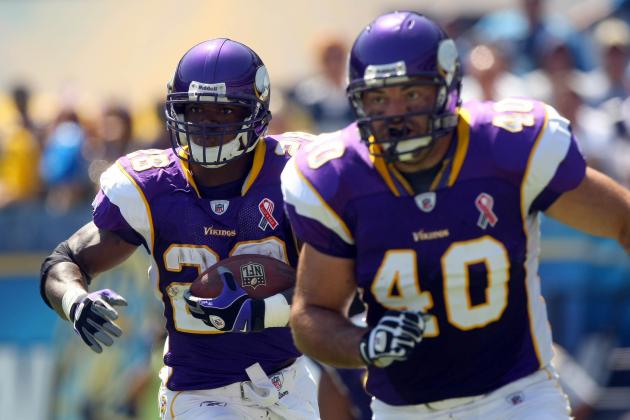 Donald Miralle/Getty Images
Kleinsasser was the best blocking TE in the NFL - maybe ever.
Putting Jim Kleinsasser at No. 2 on the all time list of Vikings tight ends is probably going to create controversy. Kleinsasser played 13 years for the Vikings and never really put up any kind of offensive numbers. With Kleinsasser, it was never about the numbers.
Drafted in the second round of the 1999 NFL draft out of the University of North Dakota, Kleinsasser was initially viewed as a fullback. However, he had fumbling problems in his first three years with the squad and was eventually moved to tight end.
It was that shift that allowed Kleinsasser to shine. Though he wasn't the most prolific receiver, his 174 receptions as a tight end rank him fourth in team history. He also amassed 147 rushing yards in his career and scored seven touchdowns. However, it was without the ball in his hands that Kleinsasser made his mark.
Many NFL experts and virtually all Vikings fans will tell you that Kleinsasser was the best blocking tight end in the NFL over the decade that he played the position. It's been said that he is the best blocking tight end to ever take the field. Kleinsasser dominated defenders in the run game, helping the Vikings rank first in the NFL in 2002 and 2007.
For his toughness and his continual contribution in a thankless role, Kleinsasser beats out Senser for No. 2 on the list of greatest tight ends in Minnesota Vikings history.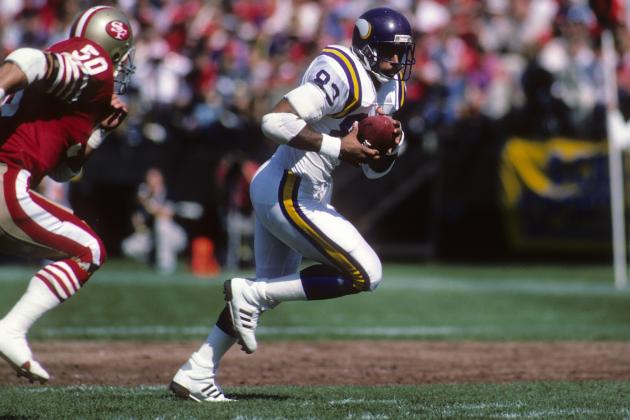 George Rose/Getty Images
Jordan is still third on the Vikings' all time receiving list.
While statistics didn't really tell the story for Jim Kleinsasser, when it comes to the greatest tight end in Vikings history, the numbers don't lie. Steve Jordan holds virtually every Vikings tight end receiving record, and in most cases, it's not even close.
Jordan was drafted from Brown University in the seventh round of the 1982 NFL draft. He might just be one of the best value picks ever made in Minnesota. After spending his first two years contributing on special teams and learning the game on the sidelines, Jordan took over the starting duties in 1984.
The rest is Vikings history. Jordan played 176 games as a tight end—the most in team history. He caught 498 passes, more than any other tight end, and good for third overall on the Minnesota career list. He gained 6,307 yards and scored 28 touchdowns. In 1986, Jordan had 179 receiving yards against the Washington Redskins. Every one of those numbers is a record for a Vikings tight end.
Jordan was named to six consecutive Pro Bowls, beginning in 1986, and was a first-team All-Pro selection in 1987. Jordan was simply one of the best players at his position throughout the mid-to-late 80s. He served as the prototype for later stars like Visanthe Shiancoe and Kyle Rudolph.
For his dominance of the Vikings record books, Steve Jordan is the runaway choice as the greatest tight end in Minnesota history. No one else comes close.
Check in next week for the next power ranking of all-time Vikings.
Is someone on the list who shouldn't be there? Have a player you'd like to nominate? Speak your mind in the comments section below.
Follow me on Twitter: