Power Ranking the 5 Greatest Linebackers in Minnesota Vikings History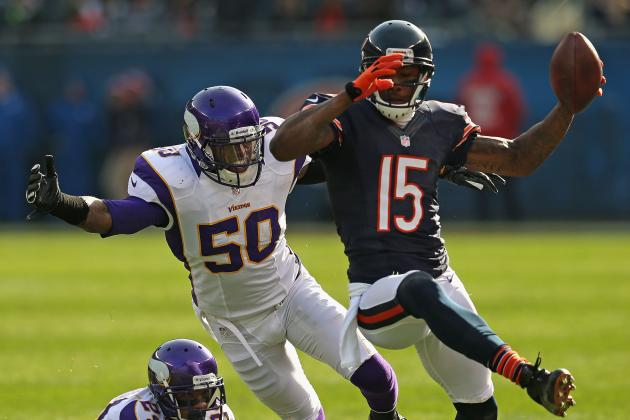 Jonathan Daniel/Getty Images
Erin Henderson hopes to make his name in the middle this year.
Welcome to the latest in a series of slideshows that power rank the greatest Minnesota Vikings of all time by position. Each week, a different position will be featured. The best Vikings to ever take the field at that position will be ranked from fifth to first.
How does a guy get on the list?
It's all about being a Viking. While stats will be taken into account, there will be other, more subjective criteria as well. There's a certain feel to those classic Vikings standing on the sideline at Met Stadium in freezing conditions with steam coming out of their face masks. Those are the quintessential Vikings to many fans.
Certain players, such as Mike Morris and Scott Studwell, would have fit perfectly in that era. Those are true Vikings. Other players, particularly Adrian Peterson, would have been fun in any era.
These lists are filled with players who epitomize what it means to be a Viking.
Last week, we covered the offensive tackles. This week, we'll focus on linebackers. Linebackers are highly visible performers in the Vikings' 4-3 defensive scheme. Since the team has never regularly played the 3-4, Minnesota doesn't have a history of great pass rushing linebackers. Instead, this list is made up of guys who made their names playing against both the run and the pass.
There have been a lot of excellent linebackers who've suited up for the Vikings. It was difficult to narrow this list down.
Click on as we power rank the top linebackers in Minnesota Vikings history.
(All statistics courtesy of Pro-Football-Reference unless otherwise noted.)
Begin Slideshow

»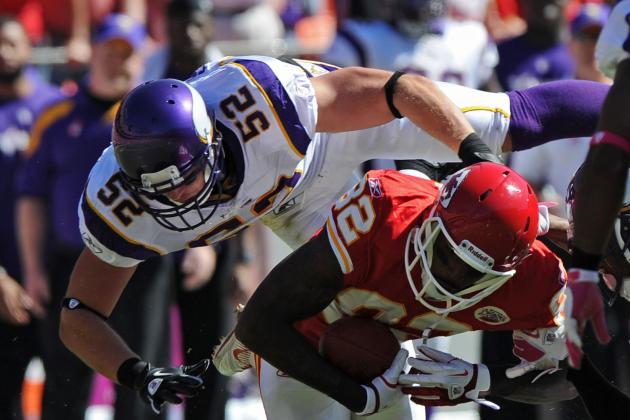 Peter Aiken/Getty Images
Greenway has a habit of leading the team in tackles.
This was a tough decision. Many Vikings linebackers have been outstanding performers over the course of their careers and are deserving of mention.
Lonnie Warwick was Minnesota's middle linebacker from the mid-60s to the early 70s and provided the backbone for some of the greatest defenses in Vikings history.
Fred McNeill played in the Super Bowl and recovered 16 fumbles playing for Minnesota.
Mike Merriweather and Jack Del Rio each spent a short time in Minnesota but had big impacts while they were around.
EJ Henderson and Ed McDaniel were also stalwart linebackers for the Vikings but just didn't have quite the cachet of the guys who made the list.
When all was said and done, Chad Greenway earned honorable mention status on our list of the greatest Viking linebackers of all time. Greenway has accumulated nearly 800 tackles in his six active seasons in Minnesota and consistently ranks amongst the league leaders. He's been named to the Pro Bowl after the last two seasons.
Greenway, because of his prodigious tackling totals and his status as one of the best outside linebackers in the league, gets honorable mention as one of the greatest linebackers ever to play for Minnesota.
The NFL didn't start recording tackles as an official statistic until 2001. If they had, Winston (No. 60 in the video) would almost surely be in the top 25 or so. The Vikings' fourth-round pick of the 1962 NFL draft, Winston was a mainstay on the Minnesota defense for 14 years.
Winston played guard in college at LSU but switched to linebacker upon his arrival in Minnesota. He'd go on to play 191 games for the Vikings (second all time amongst linebackers). He played on all four Vikings Super Bowl teams and recorded more than 100 tackles in a season three times.
Winston was a ferocious hitter in the run game and was also adept at pass coverage. He recorded 12 interceptions over the course of his career and recovered 14 fumbles. For his longevity and his part in the Vikings' dynasty of the 60s and 70s, Winston edges out Greenway for No. 5 on the list of greatest Viking linebackers.
When Wally Hilgenberg was picked up by the Minnesota Vikings after three nondescript years in Detroit, Minnesota was probably looking for a spot starter and special teams contributor. Little did anyone know that once Hilgenberg arrived in 1968, he wouldn't leave for 12 years.
Hilgenberg combined with Roy Winston early in his career to give Minnesota one of the most fearsome linebacking corps in the NFL. In later years, the Iowa alum worked with Jeff Siemon, Scott Studwell and Matt Blair to help the younger players break into the NFL.
Hilgenberg was a versatile 'backer. He intercepted eight passes in his career and recovered 14 fumbles. He played in all four Vikings Super Bowls and was named All-Pro in 1973. Hilgenberg died of ALS in 2008.
For his longevity and his contributions to other players on this list, Hilgenberg edges Roy Winston for fourth place on the Vikings all-time list at linebacker.
Jeff Siemon arrived in Minnesota just as the Vikings were peaking as an NFL power. The Vikings selected Siemon with the 10th pick in the first round of the 1972 NFL draft. The former Stanford standout played in Minnesota for 11 seasons.
Siemon was a tackling machine. His 1,382 tackles are third on Minnesota's all-time list, according to Vikings.com. He also intercepted 11 passes and recovered 11 fumbles, all in his first six years in the league. Siemon was named to four Pro-Bowl squads and played in three Super Bowls for the Vikings.
Siemon edges out Hilgenberg for the No. 3 spot on the list due to his high number of tackles, and his leadership role in the middle of the Vikings defense. Siemon was a prototypical Viking, always solid and never flashy. A smart player, Siemon simply got the job done.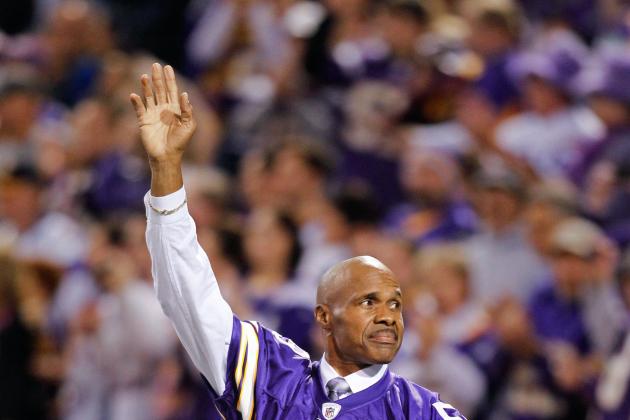 Bruce Kluckhohn-USA TODAY Sports
Blair is a member of the Vikings' Ring of Honor.
The Minnesota Vikings did an outstanding job of drafting linebackers in 1974. In the first round, the team tabbed Fred McNeill of USC, who became a fixture at the outside linebacker spot for many seasons. In the second round, the Vikings grabbed Matt Blair of Iowa, who would turn out to be one of the best players in team history.
Blair was an athletic marvel. At 6'5" and 232 pounds, Blair was fast, intimidating and had a nose for the ball. He is second on the Vikings all-time tackles list with 1,452. He was also a demon on special teams, blocking 20 kicks over the course of his career. Blair also recorded 16 interceptions and 20 fumble recoveries in 12 seasons.
Like Wally Hilgenberg, Blair played at least one season with every other player on this list (with the exception of Chad Greenway—the honorable mention). What is remarkable about Blair is that though he played with great linebackers throughout his career, he was almost always the best 'backer on the field for the Vikings.
Blair played in six consecutive Pro Bowls from 1977-1982 and was first or second-team All-Pro three times. He also played in two Super Bowls. There is little doubt that Blair should be in the Hall of Fame. He was a great Viking off the field, as well. His campaign with the MS Read-A-Thon raised millions of dollars, and he was Man of the Year in 1981.
For his sustained excellence and his No. 2 spot on the team's all-time tackles list, Matt Blair edges out Jeff Siemon as the No. 2 Viking linebacker of all time.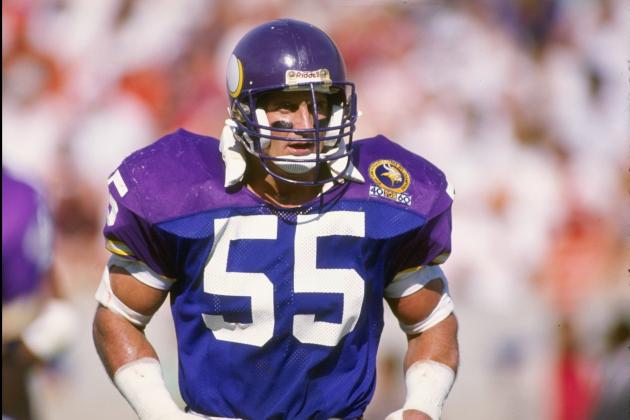 Allen Steele/Getty Images
Studwell is still with the organization.
When the Vikings drafted Scott Studwell out of Illinois in the ninth round of the 1977 NFL draft, fans were pleased. How bad could a linebacker named "Studwell" be? Further, it was only a ninth-round selection, so expectations weren't too high.
No one could have predicted that Scott Studwell would someday be named the greatest Minnesota Vikings linebacker ever. Further, Studwell is still with the team as the Director of College Scouting. On and off the field, Studwell is one of the greatest Vikings of all time.
Some would argue that Matt Blair was more impactful, or that Wally Hilgenberg played longer. Studwell played "only" 14 years for the Vikings, but his name is all over the team's record book. Studwell racked up a team record of 1,981 tackles. His total of 230 tackles in 1981 is a team record, as is his mark of 24 stops in a single game in 1985. (All tackle stats courtesy of Vikings.com.)
Studwell's tackle total is more than 500 more than that of the second-place Blair. He also intercepted 11 passes and recovered 16 fumbles in his 14-year career. Studwell was only named to two Pro Bowl teams over his career, though many of his teammates and Vikings fans feel that he should have made six or seven. Studwell also holds the distinction of being the only player in team history to play with both Jim Marshall and John Randle.
For his sheer volume of tackles and his leadership role both on the field and off, Scott Studwell edges out Matt Blair for the top spot on the list of best Vikings linebackers in history.
Check in next week for the next power ranking of all-time Vikings.
Is someone on the list who shouldn't be there? Have a player you'd like to nominate? Speak your mind in the comments section below.
Follow me on Twitter: