Previewing the Players on the Chicago Bears' Roster Bubble
Josh McCown
Jonathan Daniel/Getty Images
The first 45-47 players on an NFL roster are usually the easy part for a coach to figure out. It's the final slots as you make your way to 53 that are the hardest.
You never know what you are going to get from a new head coach, making this year's camp and potential bubble players very tough to read. Will new head coach Marc Trestman favor offense over defense? Will he value guys on special teams like former head coach Lovie Smith?
Here are the players who will be on the bubble when it's time to make the final cuts.
Wide Receiver Eric Weems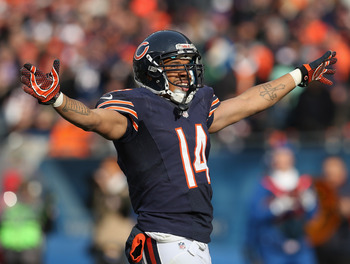 Eric Weems
Jonathan Daniel/Getty Images
The issue with Eric Weems is he provides little to nothing on offense and takes up a wide receiver spot. Yes, he is a quality special teams player, but, in a new explosive offense, that spot might be better served elsewhere.
Last season, Weems had only one reception. He had 13 kickoff returns and one punt return, but with Devin Hester focusing on that area full-time, there is no real need for Weems.
You can find a young corner who provides what the Chicago Bears need as a coverage specialist. This makes Weems very expendable unless he completely wows during training camp.
Running Back Armando Allen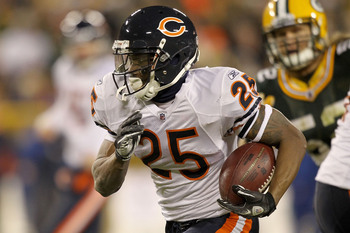 Armando Allen
Matthew Stockman/Getty Images
This seems to be a trend every season. Armando Allen does just enough to make the coaching staff think strongly about putting him on the roster, but not enough to actually make it.
Then, something happens during the year and Allen always comes back into the fold. Last camp, Allen had to duke it out with Lorenzo Booker, and he lost. Booker was placed on IR shortly after, and Allen came back to the team.
This camp, Allen will have to battle with Michael Ford, an undrafted free agent from LSU. Ford is a stocky back with good speed and some experience in the return game. He could factor in as a hybrid fullback/running back combo at the next level.
Allen had just 27 rushing attempts last year for 124 yards.
Defensive Lineman Turk McBride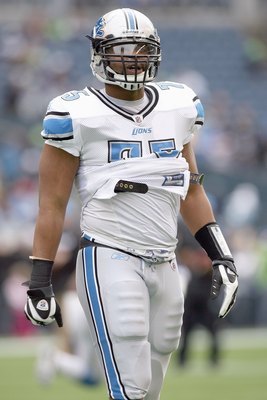 Turk McBride
Otto Greule Jr/Getty Images
Turk McBride was supposed to come from New Orleans to provide depth at both the end and tackle positions on the defensive line, but there's a good chance he might not even break camp with the Bears.
Since the Bears signed McBride back in March, they drafted Cornelius Washington, signed Kyle Moore and signed Sedrick Ellis.
McBride only played in 15 games over the past two seasons in New Orleans. You have to go back to Detroit in 2010 to find his best season. He had five sacks that year.
The final roster spots shape up to be probably the most competitive on the team and McBride could be on the outside looking in.
Safety Craig Steltz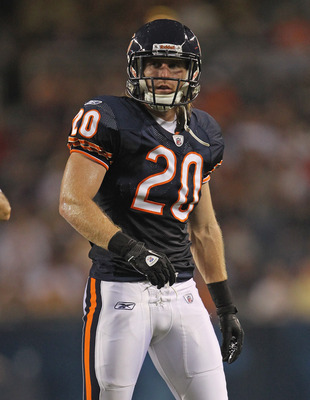 Craig Steltz
Jonathan Daniel/Getty Images
Craig Steltz has had an underrated run in Chicago, but that could come to an end very soon. The Bears have so many safeties, there just might not be a spot for him going forward.
What goes against Steltz is the free-agent signing of Tom Zbikowski, a native of Park Ridge, Ill., and the return of last year's third-round selection, Brandon Hardin.
You have to figure the Bears did not sign Zbikowski for him not to play on the roster. Zbikowski provides all the things Steltz has done for the team. He is a viable backup with excellent skills on special teams.
The Bears have already let go of too many draft picks to not get a good look at Hardin. This spells trouble for Steltz who has spent his entire five-year career in Chicago.
Linebacker Blake Costanzo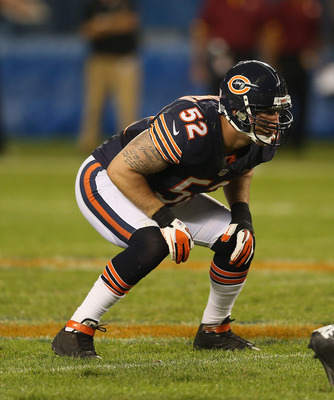 Blake Costanzo
Jonathan Daniel/Getty Images
Last year, when the Bears were thin at linebacker, they needed Blake Costanzo. Even with the departure of Brian Urlacher and Nick Roach, the team's depth is better than last year, and that could be trouble for Costanzo.
The Bears went out and signed free agents D.J. Williams and James Anderson to start immediately. Then they drafted Khaseem Greene and Jon Bostic as they peered into the future.
When you factor in Lance Briggs, JT Thomas, Patrick Trahan and long-shot option Jerry Franklin, Costanzo might not make it through camp.
Special teams is where Costanzo excels. The two rookies will see time there, making Costanzo expendable.
Quarterback Josh McCown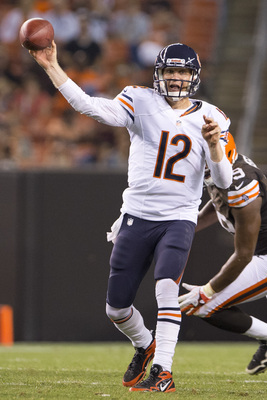 Josh McCown
Jason Miller/Getty Images
Many coaches have a hard time keeping three quarterbacks on the roster. Josh McCown's future with the Bears rests solely on Marc Trestman's philosophy and how much Matt Blanchard emerges in camp.
Last season, McCown was the third quarterback who saw no time on the field. It is always up for debate whether a team should take up a roster spot by keeping a third quarterback.
Should Blanchard come out hot under Trestman's tutelage, the Bears can always let go of McCown and bring him back at a later point in the season should he be needed.
Keep Reading

Chicago Bears: Like this team?