Projected Arizona Cardinals' 53-Man Roster, Training Camp Edition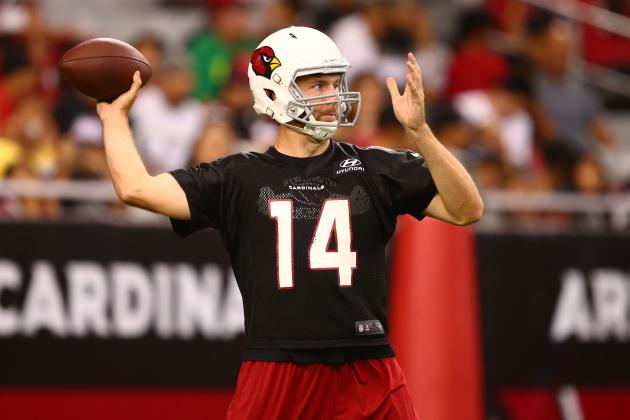 Mark J. Rebilas-USA TODAY Sports
Will Ryan Lindley make the 53-man roster?
Competing in the NFC West in 2013 will be a tough task, so the Arizona Cardinals must choose well when making out the 53-man roster.
While most parts of the depth chart are easy to figure out, a few players could be surprised when the team releases them. Others know their time is limited despite giving their all every play, every practice, every snap and every preseason game.
Here is a projection of the Cardinals' 53-man roster.
Begin Slideshow

»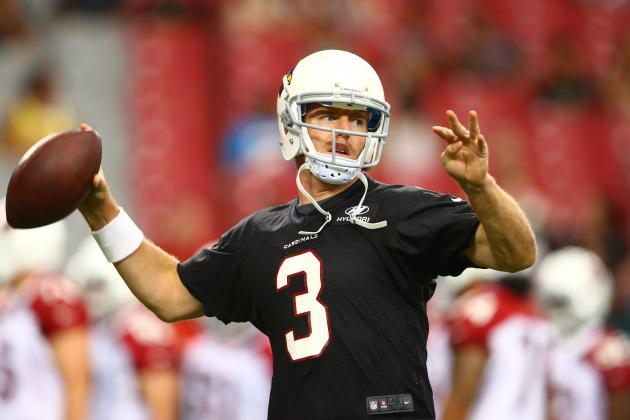 Mark J. Rebilas-USA TODAY Sports

(3): Carson Palmer, Drew Stanton, Ryan Lindley
Analysis: With Carson Palmer the starter and Drew Stanton his backup, Ryan Lindley will be a third-string quarterback for the Cardinals—for now.
It is only a matter of time before the team uses his roster spot on a player who can contribute on the field, so Lindley's days are numbered. He is not a threat to start, and holding a clipboard for the backup is a little demeaning.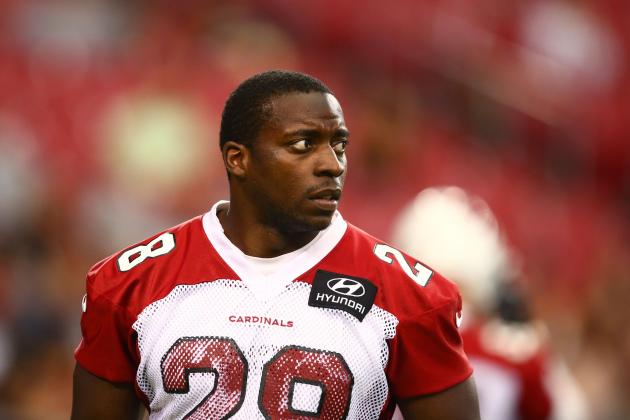 Mark J. Rebilas-USA TODAY Sports

(4): Rashard Mendenhall, Ryan Williams, Stepfan Taylor, Andre Ellington
Analysis: Rashard Mendenhall is the oldest running back on the roster at just 26 years old. The battle will be for the No. 1 back—the workhorse of head coach Bruce Arians' offense.
Ryan Williams will compete with Mendenhall for the brunt of the regular-season carries, but rookie Stepfan Taylor could push them.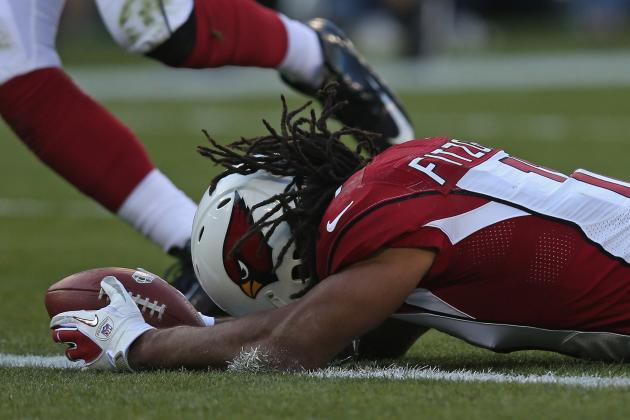 Jonathan Daniel/Getty Images

(6): Larry Fitzgerald, Michael Floyd, Andre Roberts, Ryan Swope, LaRon Byrd, Robert Gill
Analysis: Larry Fitzgerald is the face of the franchise, while Michael Floyd and Andre Roberts will battle for the No. 2 receiver spot. Despite not being cleared by doctors yet, rookie Ryan Swope will make the team; the same goes for LaRon Byrd, who is hanging onto a roster spot by the skin of his teeth.
And for 29-year-old rookie Robert Gill, his time has finally come. Arians loves fast receivers, and Gill certainly is fits the bill (here's proof).
This could be a solid bunch of receivers from top to bottom if healthy. Arians is great with receivers and he will get their best every day.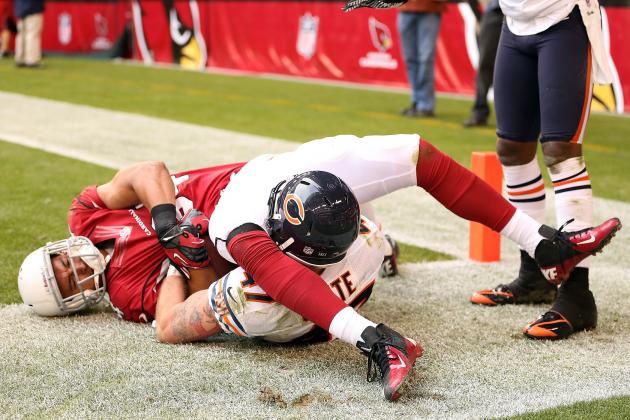 Christian Petersen/Getty Images

(4): Rob Housler, Jeff King, Jim Dray, D.C. Jefferson
Analysis: Third-year tight end Rob Housler is in need of a big statistical season. Without adequate quarterback play his first two seasons, he has been underutilized and has underperformed.
There is no excuse this season.
He and Jeff King will be on the field a lot together, as Arians uses multiple tight-end sets on the regular. Housler will serve as the down-the-middle deep threat who can be moved all over the field before the snap, while King is an above-average blocker with underrated receiving skills.
Jim Dray doesn't have much on-field experience despite his three years of NFL service. The former seventh-round pick out of Stanford could be moved down the depth chart depending on rookie D.C. Jefferson's early development.
This April's seventh-round pick, Jefferson is a former quarterback with minimal tight end experience. He has some potential, but the Cardinals could choose to bring him along slowly rather than put him right into the fire.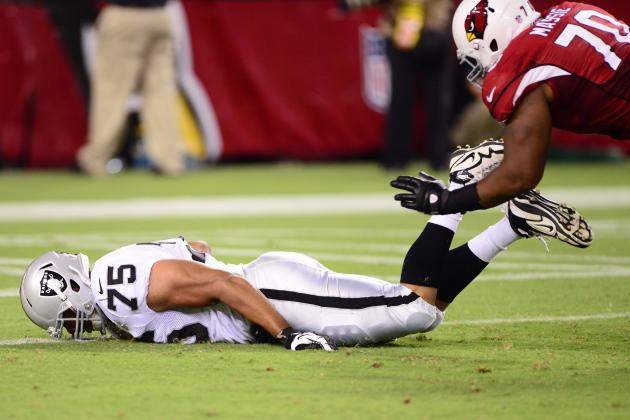 Mark J. Rebilas-USA TODAY Sports

(3): Levi Brown, Bobby Massie, Nate Potter
Analysis: With a capable backup in Nate Potter, both Levi Brown and Bobby Massie will serve as the starting left and right tackles, respectively. Carrying just three tackles on the roster may seem gutsy, especially considering the gobbledygook at the position the last handful of years.
But having versatile interior linemen who can kick outside if needed allows Arians to keep less tackles and use the extra roster spot(s) on a position in need of real depth.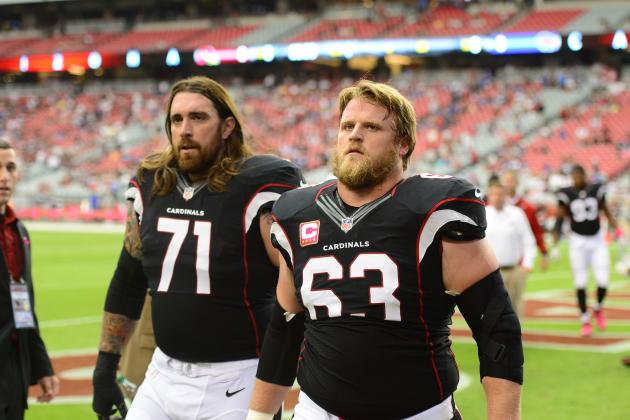 Mark J. Rebilas-USA TODAY Sports

(5) Jonathan Cooper, Daryn Colledge, Lyle Sendlein, Earl Watford, Chilo Rachal
Analysis: The rookie, Cooper, will start at left guard, moving the veteran, Colledge, to the right side. It's a difficult thing to do, but for a player of Jonathan Cooper's caliber, Colledge has been more than accepting so far.
The old bell cow of the offensive line, Lyle Sendlein, returns to man his center position. He is coming off an injury that ended his 2012 season, so in the event he re-injures the knee, there are options—Colledge, Cooper and Chilo Rachal can play center in a bind; even rookie guard Earl Watford can do so.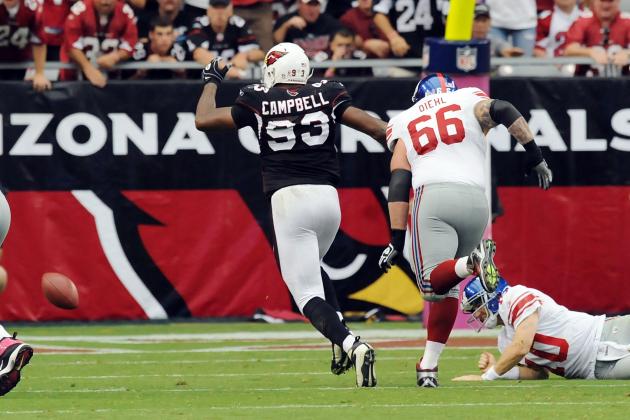 Norm Hall/Getty Images

(4): Calais Campbell, Darnell Dockett, Matt Shaughnessy, Frostee Rucker
Analysis: Veteran starters Calais Campbell and Darnell Dockett will be rushing the passer more often this season. Veteran newcomers Matt Shaughnessy and Frostee Rucker provide an upgrade in depth over last year's roster, and though they are not known for their pass-rushing prowess, they are both astute run defenders.
There are many options from which to choose when deciding on defensive packages simply due to the different skill sets provided by these four players.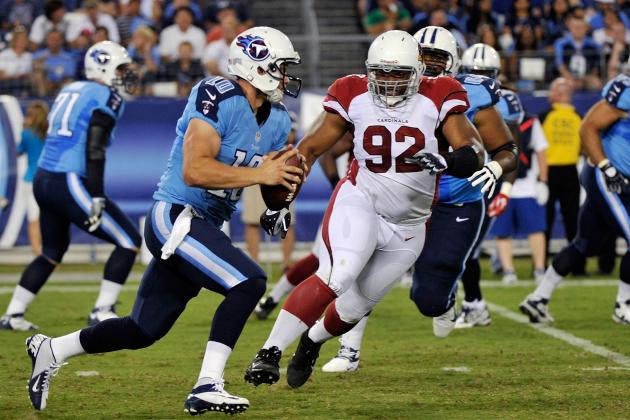 Frederick Breedon/Getty Images

(3) Dan Williams, David Carter, Padric Scott
Analysis: Former first-round pick Dan Williams is a solid run defender. He may get his chances to rush the passer, but on most passing downs, he could serve as a lane-opener for linebackers.
David Carter hasn't seen much action in two NFL seasons, and though he's had his ups and downs, there have been more ups than downs. And undrafted free agent Padric Scott is very talented and has the mindset to prove people wrong.
Matt Kartozian-USA TODAY Sports

(4): Sam Acho, O'Brien Schofield, Lorenzo Alexander, Alex Okafor
Analysis: Sam Acho returns to his post at right outside linebacker, but as of now, the left outside linebacker position is a bit muddled. Any of the remaining three could legitimately wind up the starter, and there could be a good competition to determine who it will be.
Lorenzo Alexander is listed as the starter for now, but things could change over the next six weeks.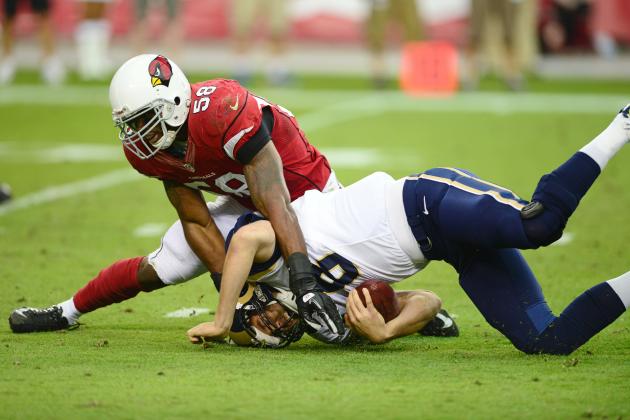 Mark J. Rebilas-USA TODAY Sports

(4): Daryl Washington, Karlos Dansby, Kevin Minter, Jasper Brinkley
Analysis: The Daryl Washington four-game suspension creates an issue at inside linebacker, but the depth is good enough to handle it. Karlos Dansby should be one of the two starters both before and after Washington's suspension, but what happens once Daryl returns?
Rookie Kevin Minter could start the first month, or it could be free-agent signee Jasper Brinkley.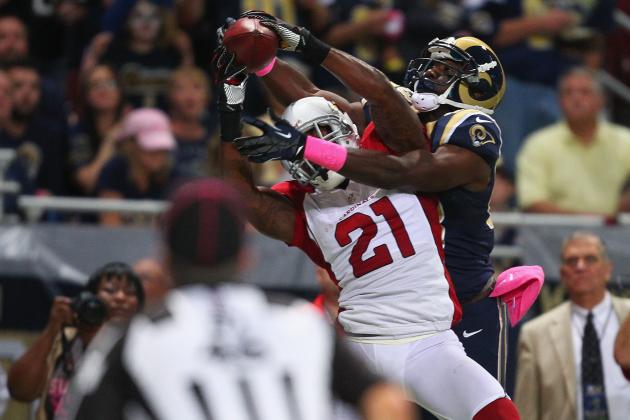 Dilip Vishwanat/Getty Images

(6): Patrick Peterson, Antoine Cason, Jerraud Powers, Javier Arenas, Jamell Fleming, Justin Bethel
Analysis: After Patrick Peterson, it could be either Antoine Cason or Jerraud Powers starting games this season. Or, it could be both depending on matchups.
Javier Arenas is a slot corner to the "T," and his place is there, likely as the nickel.
It will be interesting to see what happens to second-year players Jamell Fleming and Justin Bethel. Both could contend for a starting safety spot this season, but both play corner. Could one of them be trade bait down the road? It wouldn't be the first time team president Michael Bidwill pulled the trigger on trading a defensive back.
He did so last offseason when he sent A.J. Jefferson to Minnesota for what would become the sixth-round pick he traded to Oakland to get Carson Palmer. (Has anyone called Bidwill a genius lately?)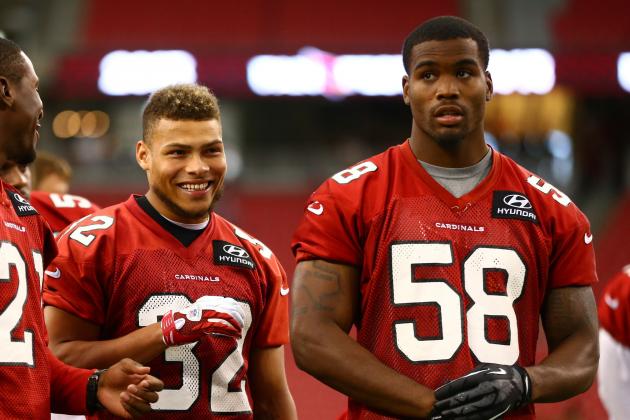 Mark J. Rebilas-USA TODAY Sports
Tyrann Mathieu (No. 32)
(4): Rashad Johnson, Tyrann Mathieu, Yeremiah Bell, Tony Jefferson
Analysis: If you think Yeremiah Bell is locked in as the Cardinals' starting free safety, you may be mistaken. Nothing is for sure with this bunch, as rookie Tyrann Mathieu could start rather than Bell.
But you can't count UDFA Tony Jefferson out either. He is a playmaker in the secondary, and if he impresses coordinator Todd Bowles this preseason, he could earn snaps in early action.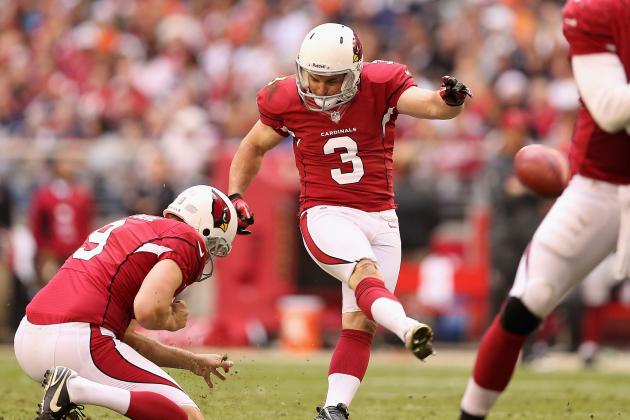 Christian Petersen/Getty Images

(3): Jay Feely, Dave Zastudil, Mike Leach
Analysis: Not much analysis needed here. Jay Feely will switch back to No. 4 for Carson Palmer after switching to No. 3 for Kevin Kolb. He must be a rich man for all the times his number has been bought.
Dave Zastudil had a great bounce-back season after a poor 2011, but he's not getting any younger.
Long snapper Mike Leach enters his fifth season in Cardinal Red, and he's the best LS in the NFL. (This is purely opinion and is based on zero percent fact.)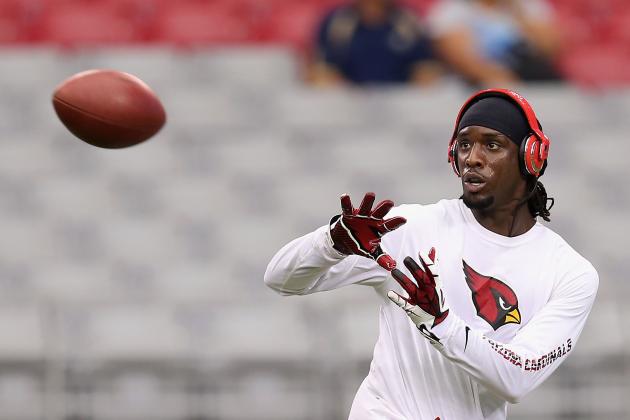 Christian Petersen/Getty Images
WR LaRon Byrd
Offense
WR LaRon Byrd
WR Robert Gill
Defense
NT Padric Scott
S Tony Jefferson
DB Justin Bethel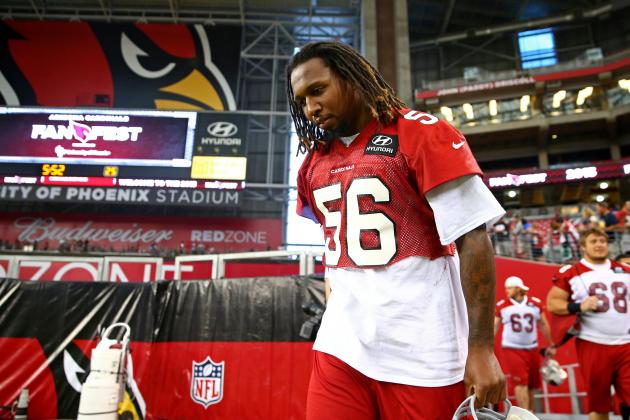 Mark J. Rebilas-USA TODAY Sports
ILB Reggie Walker
Offense
WR Jaron Brown
OG Senio Kelemete
Defense
ILB Reggie Walker
S Jonathon Amaya
CB Bryan McCann