Ranking LeBron James' 5 Most Dangerous Offensive Weapons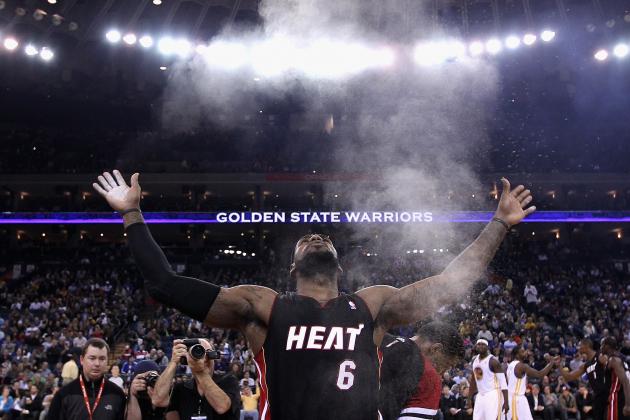 Ezra Shaw/Getty Images
LeBron James is one of the most dominant offensive players in the game.
At 28 years old, LeBron James has won two NBA titles, two Olympic gold medals and four MVP awards.
James is an elite two-way player excelling on the defensive and offensive ends of the court. Offensively though, James can fool opposing defenses by pulling out any number of offensive weapons from his arsenal.
Whether James decides to take a step-back jumper, drive the lane or post up, opposing defenses are usually left scratching their heads.
The 6'8'' small forward has used these offensive moves to average nearly a triple-double for his career.
In his 10 seasons in the league, James has averaged 27.6 PPG, 6.9 assists and 7.3 rebounds.
With all that being said, let's see how he does it.
All stats unless otherwise indicated come from ESPN.com.
Begin Slideshow

»
Arguably the scariest thing about having to defend LeBron James is that he can pretty much score anywhere from half court to the basket.
James' ability to shoot the three-ball earns an honorable mention because, while he can do it, he doesn't do it often.
LeBron shot .290 from the three-point line in his rookie season. He has worked on this each year and shot .406 last season from behind the arc.
While he has the ability to knock down these shots, he doesn't take them often.
James only averaged 3.3 attempts from three-point land last year.
As the video shows, though, when James wants to make a three-pointer, he can at will.
With the game on the line and a defender in his face, James calmly rises up and knocks down the three-point jumper.
The reaction from the defender sums it all up perfectly. How are you supposed to guard this guy when he can do that?
LeBron James seems to be able to predict the future.
He can see the play develop and make sure he is in the right spot to be able to make a play seemingly at all times.
The above play is a perfect example of James' ability to move away from the ball.
He brings the ball up and passes it to Wade and makes a lightning quick cut that leaves his defender in the dust. That type of move requires a certain kind of athleticism due to the sheer quickness of it all.
James is just as dangerous without the ball as he is with it, at times, because, he is so quick, he can knife through a defense for an easy bucket.
That is why his off-ball movements earns a spot on the list of his five most dangerous offensive moves.
The reason it doesn't rank higher is, while it is the basis for his offensive game, to be a NBA-caliber player, you have to have some sort of quality off-ball movement. That isn't to say that what LeBron does isn't special because, while most players do it well, LeBron does it exceptionally.
As stated earlier, LeBron James is a scoring threat basically anywhere from half court to the basket. He is lethal, though, when he gets in the paint.
ESPN's John Hollinger (subscription required) says that LeBron is a "bruising wing with a point guard's handle and a center's body. Deadly at rim."
That center's body makes him a threat in the post, but the reason his post game earns the No. 4 spot on the countdown is because of how nimble he moves when he gets down there.
The video shows two reasons why James' post game is so good.
To start, he can open up shots for others. When Shane Battier passes it inside to LeBron, the defense collapses, opening up a shot opportunity for Battier that LeBron sees.
The second reason is that he is seemingly unstoppable.
When Battier passes it back in, James is already engaged with a defender, but that doesn't stop him. He backs his man down, then rolls off him with ease for a simple layup.
As the announcer says, that truly is a dynamic play from a dynamic player.
LeBron James is unique in the sense that he can play basically every position on the floor.
While he would be undersized for a center, his post moves allow him to play in the paint, and he has the court vision to play point guard and set up plays.
James has averaged nearly seven assists per season throughout his career.
That is a testament to LeBron's court vision and his ability to read plays.
As the above play shows, James has patience and is calm when he has the ball. With the game clock winding down and the ball in his hands, James patiently waits and reads the defense until he finds his man.
His court vision also allows him to showcase his passing skills which aren't shabby either.
The reason James' court vision is No. 3 on the list is because it allows him to be whatever his team needs him to be.
If the Heat need LeBron to score, he can, but if they need him to be a facilitator, he can do that, too, thanks to his ability to read plays and see the court so well.
Over his career, LeBron James has worked on and perfected his jump shot.
The reason his jump shot is No. 2 on this list is because of how versatile it is.
James can hit fadeaways, leaners, three-pointers and much more. Basically, he can take a shot from anywhere in any situation, and he has a darn good chance of putting it through the hoop.
The video shows a simple pick-and-roll play where James finds a soft spot in the defense to do what he does best, knock down an open jumper.
James is a career 49 percent shooter from the field.
To put that number in perspective, Reggie Miller was a career 47 percent shooter.
Yes, James and Miller play two very different styles of basketball, but it still goes to show how lethal LeBron is on the offensive end.
His jump-shooting ability allows him to score from anywhere at anytime cause it's that good.
No, this has nothing to do with DMVs or cars. It has everything to do with LeBron James' ability to get to the rim and wreak havoc on opposing defenses.
The reason LeBron's ability to drive to the rim ranks as his most dangerous offensive move is because he is so good at it and can strike with it at any time.
Defenders must always be vigilant, or before they know it, they will be the next poster child of one of his monstrous slam dunks.
The video shows one of two ways LeBron gets to the rim.
In the video, James uses his explosive first step around the pick then spins into the lane. He can use any number of crossovers or spin moves to get into the lane because he can handle the ball like a point guard.
The other way James drives the lane is with his brute power and quickness.
When a defender sees James lower his shoulder and take that first step to the basket, they might as well just concede the impending layup or dunk.
James gets so low and is so quick, he leaves defenders in the dust.
LeBron has dominated the league since he was drafted in 2003.
These were five of his most dangerous offensive moves that have helped him win back-to-back NBA titles and become a force on the offensive end.