Full Training Camp Roster Breakdown for the Houston Texans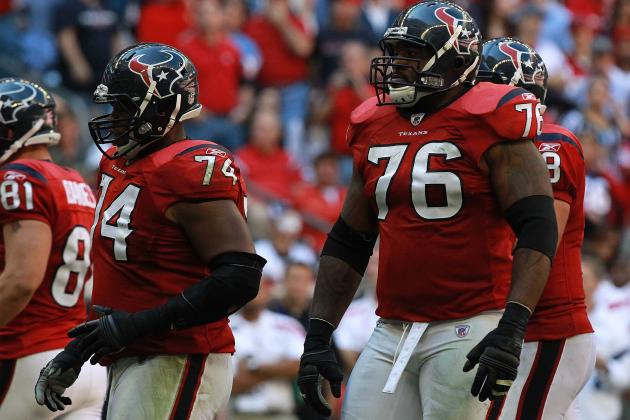 Ronald Martinez/Getty Images

Training camp is on the horizon, and the Houston Texans will be approaching one of the most important seasons in franchise history.
Following an embarrassing defeat in the playoffs at the hands of the New England Patriots, the Texans are desperate to prove that they are actually Super Bowl contenders.
Each and every player on the Texans is important to the team's success, so before training camp begins, here is a full breakdown of the Texans' roster.
Begin Slideshow

»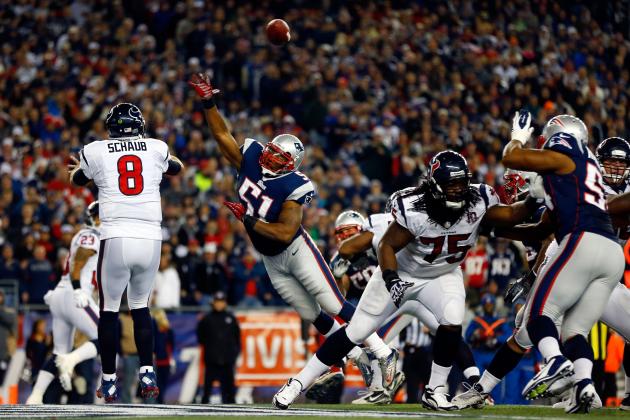 Jared Wickerham/Getty Images

Matt Schaub
The 2013 season will be a defining one in Matt Schaub's career. After last year's miserable late-season collapse, Schaub became a scapegoat. Many detractors fairly questioned his ability to lead the Texans to a Super Bowl.
Schaub will have to prove his doubters wrong this season, or many more fans will lose faith in him.
T.J. Yates
After an emotional 2011 season when T.J. Yates clinched a playoff berth and won the franchise's first playoff game after Matt Schaub suffered a season-ending lisfranc injury, Yates didn't get much of an opportunity to make noise in 2012. He'll continue to be a solid backup in case anything happens to Schaub.
Case Keenum
The Texans don't normally keep more than two quarterbacks on their 53-man roster, but Case Keenum might change their minds. He apparently had a terrific rookie minicamp, and he appeared to be very composed in OTAs. An excellent training camp might earn him a roster spot.
Stephen McGee
Currently the fourth-best quarterback on the team, McGee has no chance of making the final roster. He's just there to provide Matt Schaub, T.J. Yates and Case Keenum with much-needed breaks during training camp.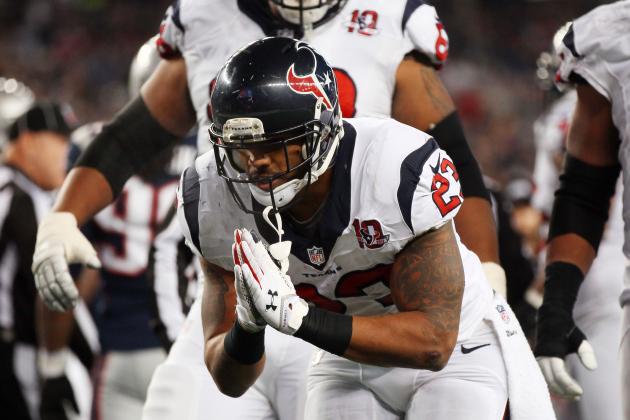 Elsa/Getty Images

Arian Foster
Arian Foster is currently rehabbing a calf injury, but he is expected to be ready for training camp. Foster's workload was an issue last season, but if he can remain healthy, he should continue being one of the NFL's top running backs.
Ben Tate
After an incredible 2011 season, Ben Tate struggled with injuries last year. He never was fully healthy, and he rarely made important contributions to the offense. The Texans need him to return to his old form in order to take some of the pressure off Arian Foster.
Dennis Johnson
Dennis Johnson, undersized at 5'7", is one of the favorites to claim the third-string job. Like Ray Graham, he's small but tough. He has excellent vision and is a perfect fit in the Texans' zone-blocking scheme.
Ray Graham
One of the contenders to win the third-string running back job, Ray Graham will take part in an extremely competitive training camp battle. Standing at only 5'9" and weighing 199 pounds, Graham is actually a very physical player for his small size.
Deji Karim
Deji Karim, who returned a touchdown against the Texans last season, has a very good chance of winning the third-string running back job. He is the sole veteran competing for the job, and his veteran experience will give him an edge.
Cierre Wood
After a successful season at Notre Dame, Cierre Wood went undrafted in this year's draft. He stands just as good a chance as anyone of winning the third-string running back job.
Greg Jones
The Texans have finally realized the need to bring on a physical fullback to lead the way for Arian Foster. Greg Jones is a bruiser, and he has been recognized as one of the top fullbacks in the NFL. Foster will love running behind him.
Zach Boren
An extremely versatile player, Zach Boren flip-flopped between playing fullback and linebacker during his college career at Ohio State. Despite being an athletic, physical specimen, Boren went undrafted in this year's draft.
The Texans scooped him up to play fullback, but the only way Boren will make the roster is if he proves himself too valuable of a special teams' asset to cut, as the Texans have fullbacks Greg Jones and Tyler Clutts on the roster.
Tyler Clutts
Before the start of the season last year, the Texans shipped a promising young cornerback prospect in Sherrick McManis to the Chicago Bears for Tyler Clutts. A physical thumper, Clutts was expected to contribute heavily in goal-line and short-yardage scenarios.
However, Clutts was never really featured on defense, and he spent the majority of the season playing on special teams. He will have to outplay Zach Boren in training camp to maintain his roster spot.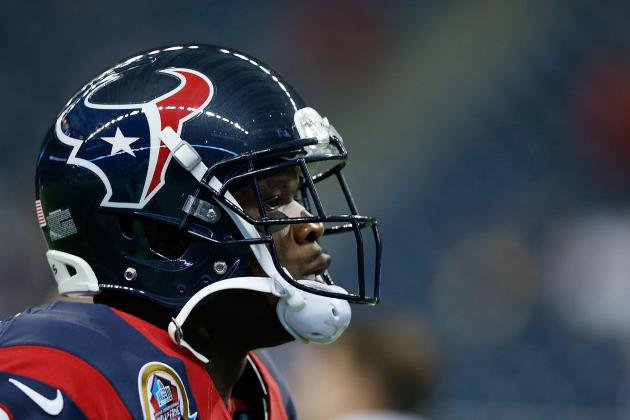 Scott Halleran/Getty Images

Andre Johnson
Coming off an injury-ridden season in 2011, Andre Johnson wowed the league last season by putting up career numbers. He will continue to be Matt Schaub's favorite target.
DeAndre Hopkins
The Texans' first-round pick, DeAndre Hopkins will need to produce right away. And by all accounts, he is certainly ready. His route-running ability is beyond his years, and he can catch any ball that is thrown remotely close to him. He will be exciting to watch during training camp.
Keshawn Martin
Crafty and quick, Keshawn Martin will likely be the Texans' slot receiver come the start of the season. He will also contribute heavily as a punt and kick returner.
DeVier Posey
After suffering an Achilles tear in the divisional round of the playoffs, DeVier Posey is progressing well in his rehab. He was coming on strong at the end of last season, and when he finally returns healthy to the Texans, he will hopefully continue to produce.
Alan Bonner
When Alan Bonner's name was called in the sixth round of the NFL draft, many Texans fans scratched their heads. Bonner—hailing from Jacksonville State—was a relative unknown.
But after rookie minicamp and OTAs, fans quickly found out why Gary Kubiak was so high on the sleeper wide receiver. Bonner has big-play potential, and his pure speed will allow him to contribute on special teams.
Lestar Jean
The annual training camp darling, Lestar Jean didn't live up to the hype in the regular season last year. He was unable to produce on a consistent basis, and now, with the emergence of Alan Bonner in the offseason, his roster spot is in jeopardy.
Mike Smith
Out of all the undrafted receivers, Mike Smith out of UConn has the best chance of sticking with the Texans after training camp. Apparently, the Texans called Smith on draft day and informed him that they really wanted to select him, but they did not have a seventh-round pick. The Texans quickly scooped him in the free-agency pool, and it appears they are very intrigued by his skill set.
Jeff Maehl
The Texans really, really like Jeff Maehl. Unfortunately, they've never been able to find a spot on the roster for him. He spent all of last season on the practice squad, and he might be subject to the same fate for much of 2013.
Alec Lemon
Undrafted out of Syracuse, Alec Lemon will have to perform at an unbelievable level in order to stick with the Texans past training camp. The Texans don't have much room at wide receiver, and Lemon likely won't be part of the future.
Andy Cruse
Undrafted out of Miami Ohio, Andy Cruse's prospects are bleak for making the Texans' 2013 roster. The Texans have depth at wide receiver, and there are several more talented receivers competing for one of the final spots.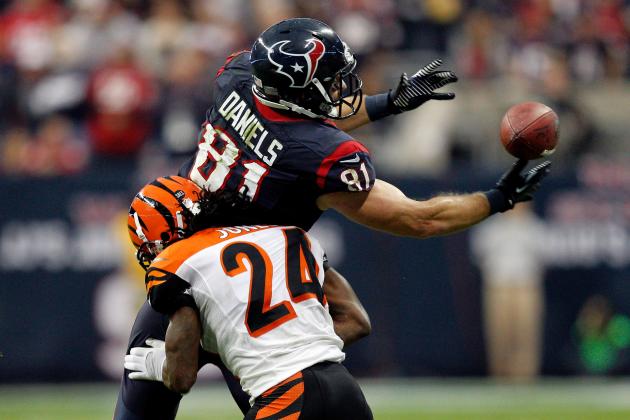 Bob Levey/Getty Images

Owen Daniels
One of Matt Schaub's most dependable targets, Owen Daniels has been a key cog in the Texans' offense for the majority of his career. Expect nothing to change in 2013.
Garrett Graham
After years of being buried on the depth chart behind Owen Daniels and Joel Dreessen, Garrett Graham finally got his opportunity last season when Dreessen left to play for Peyton Manning and the Denver Broncos. He did not disappoint.
He became a dependable target for Matt Schaub in short-yardage situations, and he should be even better next season with a year of playing experience under his belt.
Ryan Griffin
One of the Texans' sixth-round draft picks, Griffin will be forced to compete for the third-string tight end job. Griffin has dependable hands and is a solid blocker, so he has a very high chance of earning a roster spot.
Phillip Supernaw
As with the majority of the young tight ends on the current roster, Phillip Supernaw will be involved in an all-out competition for a roster spot. Supernaw is a great run-blocker, and he possesses dependable hands, but his route-running ability is lackluster.
Jake Byrne
A solid tight end prospect, Jake Byrne finished last season on the Texans' practice squad. The Texans are clearly interested in Byrne, but he will have to outplay several young tight ends to even have a shot of making the roster.
Adam Schiltz
Adam Schiltz is yet another rookie tight end who will be competing for a roster spot in training camp. He didn't impress during OTAs, so his career with the Texans will likely be coming to a close soon.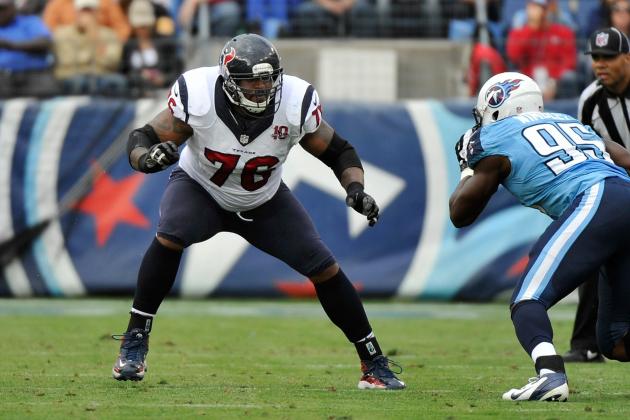 Frederick Breedon/Getty Images

Duane Brown
One of best offensive linemen in the entire NFL, Duane Brown is easily one of the most important players on the Texans' offense. Possessing a rare combination of both strength, speed and quickness, Brown is a perfect fit in the Texans' zone-blocking scheme. He is a major reason why Arian Foster has established himself as a superstar.
Derek Newton
After a terrible 2012 season as the starting right tackle, Derek Newton's starting job was already in jeopardy. Now that he is recovering from major knee surgery, it is even more likely that either Brennan Williams or Ryan Harris will steal his job. He needs to get healthy soon and prove to the coaching staff that he has what it takes to be a starter in the NFL.
Ryan Harris
A veteran right tackle, Ryan Harris might be called on to contribute often if Derek Newton struggles with his recovery from knee surgery. Also, if Brennan Williams proves himself incapable of consistently producing for the offense early in his career—which is entirely plausible—then Harris will definitely become a familiar face on the offensive line.
Brennan Williams
Brennan Williams was drafted to challenge Derek Newton for the starting job this offseason. Williams, however, suffered a minor knee injury during rookie minicamp, and he yet to participate in any organized team activities this offseason. He will likely be ready for training camp, and then the coaching will be able to judge whether or not Williams is worthy of being a starter.
David Quessenberry
A sixth-round pick in this year's draft, David Quessenberry is looking like a steal. He can play either tackle or guard, and he has impressed so far this offseason. Keep an eye on him during training camp.
Andrew Gardner
A swing tackle for the offense, Andrew Gardner is an emergency offensive lineman for the Texans. He is solid enough to warrant a roster spot, but he will likely never become a consistent contributor on the offensive line.
Nick Mondek
The Texans' seventh-round draft pick in 2012, Nick Mondek was cut after training camp; he was later signed to the practice squad. Now that he has a year of experience, he stands a much better chance of making the roster.
Dann O'Neill
Dann O'Neill's skills perfectly fit the zone-blocking scheme. He'll really have to impress during training camp to earn a spot on the roster, but his length and agility might force the Texans to consider him for the practice squad.
Alex Kupper
Alex Kupper appears to be just training camp filler. He certainly will be given the opportunity to compete, but the Texans are pretty much set at offensive tackle.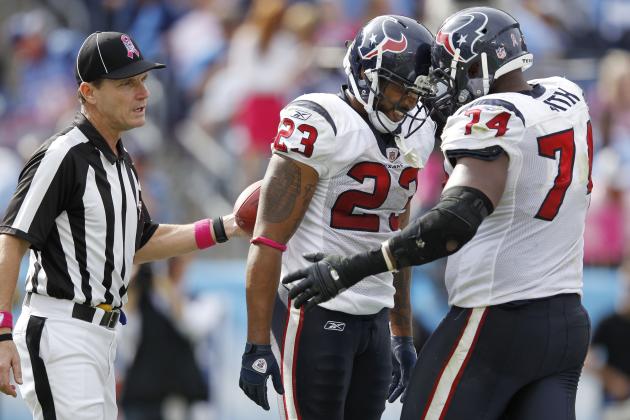 Joe Robbins/Getty Images

Wade Smith
The Texans' starting left guard, Wade Smith earned Pro Bowl honors last season. He must continue his solid play next season for the Texans to maintain their dominant rushing attack.
Brandon Brooks
Brandon Brooks will be one of the most important players for the Texans this season. After showing up to training camp last season at an outlandishly high weight, Brooks was never able to establish himself as a starter on the Texans' offensive line that desperately needed a dominant presence.
This offseason, however, Brooks has slimmed down tremendously. He is the favorite to become the Texans' starting right guard this upcoming season.
Ben Jones
Despite being a natural center, Ben Jones played right guard for the Texans for the entire year last season. The reasons behind this are clear: Chris Myers is a Pro Bowl center, and Jones would never see the field if he were forced into solely being a backup center.
Jones, though, was unimpressive as a guard, and he will likely lose his starting job to Brandon Brooks.
Cody White
Cody White, despite being unproven, could be a valuable asset for the Texans. He can play either the guard or center position, so he would provide important offensive line depth. If he can prove himself capable during training camp, the Texans will certainly find a spot for him.
Bryan Collins
An undrafted free agent out of Southern Methodist University, Bryan Collins appears to just be training camp filler. It is unlikely that he will make the roster, but he will likely attempt to play well enough to convince Texans management to consider him for the practice squad.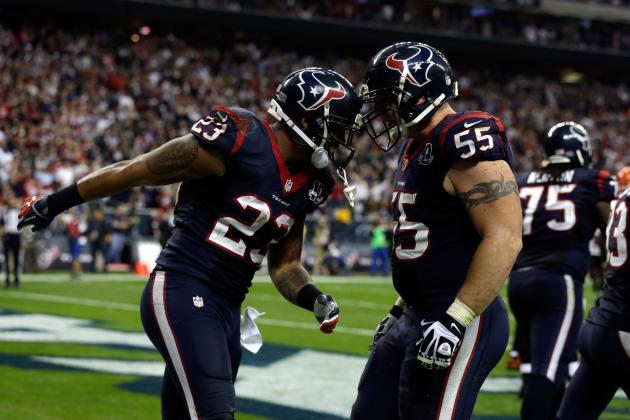 Scott Halleran/Getty Images

Chris Myers
A Pro Bowl center, Chris Myers is an extremely important piece to the Texans' offensive line. He is an integral part of the zone-blocking scheme. Like Duane Brown, he deserves much of the credit for Arian Foster's success.
Tyler Horn
Tyler Horn, who went undrafted in 2012, bounced around the NFL last season. After getting cut by the Atlanta Falcons, he spent the final weeks of the season on the Tennessee Titans' practice squad.
Unfortunately for Horn, he has little chance of sticking with the Texans after training camp is over.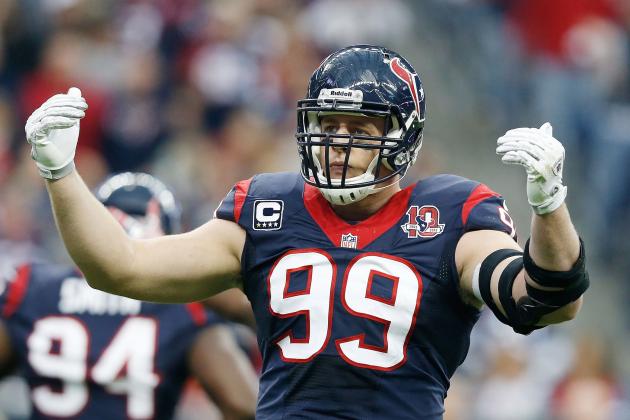 Scott Halleran/Getty Images

J.J. Watt
The best defensive player in the NFL. Period. J.J. Watt can dominate the game on so many different levels, he's nearly impossible to stop. The only question regarding Watt heading into next season is whether or not he'll rock the iconic elbow brace.
Antonio Smith
The starting defensive end opposite of J.J. Watt, Antonio Smith had the second-most amount of sacks on the team last season. His pass-rushing skills are impressive, and the ninja's importance to the Bulls on Parade defense in undeniable.
Jared Crick
A highly touted prospect coming out of Nebraska, Jared Crick's draft stock dropped dramatically due to injury issues in the 2012 NFL draft. The Texans picked him up in the fourth round, and he went on to become a solid backup for the defense.
Fully healthy now, Crick will be expected to contribute even more next season.
Tim Jamison
Tim Jamison is one of the most underrated players on the Texans' roster. Although he will never become a starter—unless multiple injuries occur, heavens forbid—he has always been a dependable backup who could fill in for a starter in a pinch. He is extremely trustworthy coming off the bench.
Delano Johnson
Delano Johnson spent the entirety of last season on the Texans' practice squad, and during that time period, the Texans realized his vast potential. Johnson is an athletic freak who has a strong work ethic; he is dedicated to constantly improving his skills. The Texans love Johnson's potential, and they will likely find a spot for him on the roster.
Earl Okine
Earl Okine has tantalizing upside. His game isn't developed yet, but should he work heavily on his technique, he could someday become a force in the NFL. The Texans will definitely want to stash him on the practice squad.
Keith Browner
Keith Browner will be a long shot to make the roster. The Texans are loaded with depth at defensive end right now, and Browner is simply not good enough—currently—to claim a job from one of his fellow ends.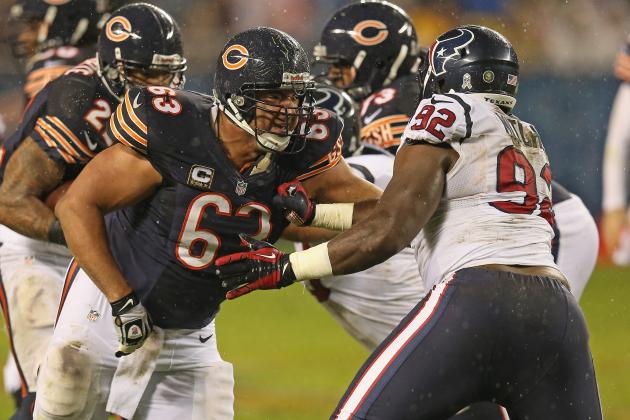 Jonathan Daniel/Getty Images

Earl Mitchell
Unless anything dramatic occurs, Earl Mitchell will be the Texans' starting nose tackle in 2013. Mitchell has long been Shaun Cody's backup, and now he will finally have a chance to make a name for himself.
Terrell McClain
The favorite to win the backup nose tackle job, Terrell McClain must continue to impress during training camp or he might lose ground to his fellow competitors.
Ra'Shon Harris
Ra'Shon "Sunny" Harris will be one of the several nose tackles competing for the backup job. Like all the other competing nose tackles, he will need a stellar training camp to win the job.
Chris Jones
A sixth-round draft pick in this year's draft, Chris Jones is a relentless defender who never stops working. His inexhaustible motor is extremely similar to J.J. Watt's, but he does not yet have the full skill set required of an NFL nose tackle. He will be forced to fight for a roster spot.
David Hunter
Out of all the nose tackles on the Texans' roster, Hunter has the most minimal chance of winning the backup job. He has been unimpressive so far this offseason, unable to distinguish himself from the rest of the crowd.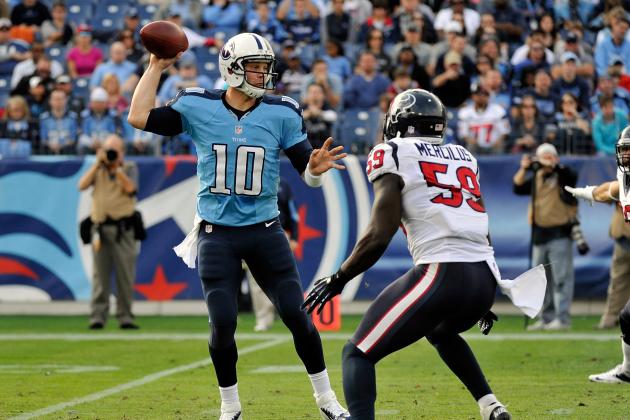 Frederick Breedon/Getty Images

Brooks Reed
Brooks Reed, like he was last season, will be a starting linebacker for the Texans. The only question is which linebacker position he will be playing.
Due to the lack of depth at inside linebacker, many have speculated that the coaching staff will move Reed from outside to inside. Reed played inside linebacker during OTAs, but the position switch is still considered unlikely. Only time will tell.
Whitney Mercilus
After Connor Barwin left for the Philadelphia Eagles in free agency, Whitney Mercilus instantly was promoted to the starting job. He amassed more sacks than Barwin in limited playing time last year, and he might be on the verge of a breakout season.
Sam Montgomery
Sam Montgomery will be one of the most intriguing players to observe during training camp. One of the main critiques of Montgomery heading into the NFL draft was that he had little care for the game and possessed a terrible work ethic. Hopefully, Montgomery will prove his doubters wrong and work his tail off.
Trevardo Williams
An athletic pass-rusher who specializes in running around offensive tackles, Trevardo Williams will have to acquire a much more developed skill set if he wishes to move ahead of fellow rookie Sam Montgomery on the depth chart.
Bryan Braman
A long-time special teamer for the Texans, Bryan Braman has endeared himself to fans by being a relentlessly hard hitter. Braman has an endless motor, and with the departure of Connor Barwin in free agency, he might finally get a shot to contribute on defense.
Ja'Gared Davis
An outside linebacker prospect solely known for his raw pass-rushing ability, Ja'Gared Davis does not yet have a refined enough skill set to make an NFL roster.
However, if the Texans decide to stash him on the practice squad and let him develop his game, he could become a sleeper to contribute to the Texans as a pass-rusher later in his career.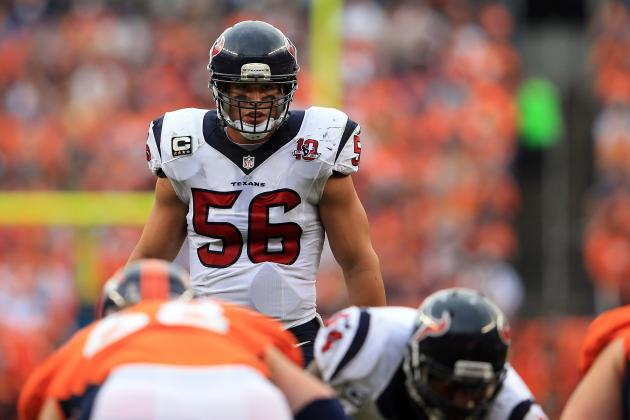 Doug Pensinger/Getty Images

Brian Cushing
Coming off a devastating ACL tear, Brian Cushing looks like he will be ready to go as soon as training camp starts. The star inside linebacker is desperate to prove that his injury will not hold him back, and he will likely work as hard as his trainers will let him throughout the remainder of the offseason.
Darryl Sharpton
Darryl Sharpton is a starter-quality linebacker. He has good range, and his coverage in passing situations is actually decent.
However, he has been unable to stay healthy for the majority of his career. The Texans desperately need a healthy Sharpton heading forward, and him staying healthy is certainly not a guarantee.
Tim Dobbins
A solid inside linebacker most known for his ability to come up with clutch goal-line stops, Dobbins will be expected to contribute often on defense in 2013. He will be featured in mainly all goal-line and short yardage situations, and he will certainly be a constant on special teams.
Cameron Collins
Having spent the majority of last season on the Texans' practice squad, the Texans are already very familiar with Cameron Collins. He can play either outside or inside linebacker, and due to the Texans' lack of depth at inside linebacker, he has a legitimate shot of making the roster.
Willie Jefferson
An exciting linebacker, Willie Jefferson showed off his incredible athletic ability during minicamp and OTAs. He was fluid in coverage and displayed solid ball skills. He could find himself on the roster as a special teams contributor.
Justin Tuggle
An athletic linebacker, Justin Tuggle has impressed this offseason. He has looked comfortable in coverage, and he could certainly contribute on special teams. Tuggle has a real shot of making the final roster.
Mike Mohamed
Mike Mohamed, formerly of the Denver Broncos, will be given a chance to prove his worth on special teams. In all likelihood, he won't remain on the Texans' roster past training camp.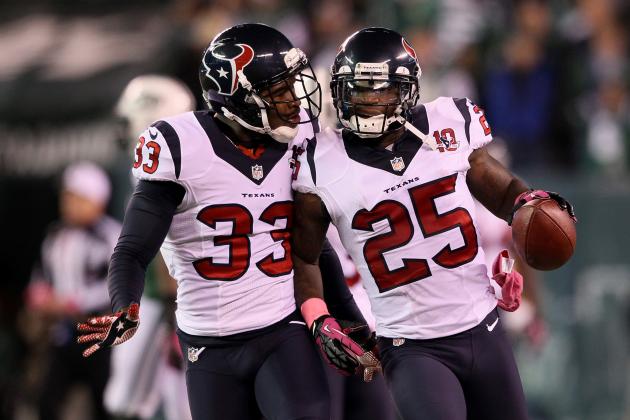 Alex Trautwig/Getty Images

Johnathan Joseph
After a stellar 2011 season, Johnathan Joseph struggled severely last season. He was battling several injuries, and he never looked like his true self. Now healthy, he will hopefully return to his shutdown form in 2013.
Kareem Jackson
For the first two seasons of his career, Kareem Jackson was the scapegoat of the Texans' defense, and he deserved it; he was prone to giving up big play after big play.
Last season, Jackson was a changed man. He displayed a never-before-seen confidence, and he became a key contributor to the Texans' defense. Expect that trend to continue.
Brice McCain
Known as a shutdown slot cornerback in 2011, Brice McCain was having an up-and-down 2012 season before ultimately being placed on the IR with a season-ending injury. The Texans need him to get back to 2011 form this season.
Brandon Harris
Thrust into game action as the Texans' nickel cornerback after Brice McCain was placed on the IR, Brandon Harris had little time to adjust to the speed of the NFL. Harris struggled early on, but as the season progressed, he actually became a solid defensive player. He should be even better next season.
Roc Carmichael
An intriguing young cornerback, Roc Carmichael has the potential to be a contributor on defense. Last season, however, Carmichael was buried on the depth chart, and he rarely saw any playing time on defense. He will have to prove himself a consistent and reliable player before he can graduate from just being a special teams asset.
Johnny Adams
A star at Michigan State, Johnny Adams surprisingly garnered zero interest during the draft and ultimately was forced to enter the UFA pool. The Texans quickly snatched him up, realizing the potential the two-time All-Big 10 selection possessed.
The Texans are deep at cornerback, however, and Adams will need to prove he can contribute on special teams if he wants to make the roster.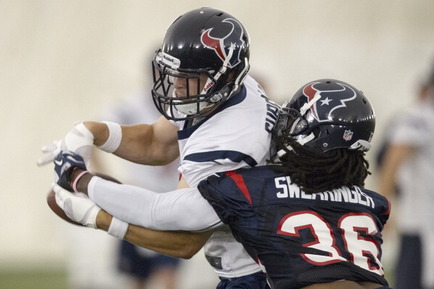 Bob Levey/Getty Images

Ed Reed
At his old age, Ed Reed is no longer the Hall of Fame-caliber safety that he was during his prime. He is still a ball hawk, though, and he will certainly force opposing quarterbacks to think twice before throwing the ball. His health after hip surgery is still a relative unknown, and no one is certain whether he will be able to participate during training camp.
Danieal Manning
A consistent contributor, Danieal Manning is a very important piece of the Texans' defense. He and Ed Reed should be a dangerous starting tandem this season.
D.J. Swearinger
By far one of the most confident players on the Texans, D.J. Swearinger is ready to go into Hunt Mode this season. After all, if you don't hunt, you don't eat. Swearinger is a vicious hitter, and he will provide a never-ending source of energy off the bench for the Texans.
Shiloh Keo
Despite being a valuable special teams contributor, Shiloh Keo struggled when he played on defense. He often gave up big plays. His role on defense will likely be diminished this season if D.J. Swearinger lives up to the hype.
Eddie Pleasant
Eddie Pleasant, like Shiloh Keo, was an important special teamer, but he never really made much of a positive impact on defense. This will not change in 2013.
Orhian Johnson
Orhian Johnson has the size and athleticism to be an NFL safety, but unfortunately for him, he'll likely never become one with the Texans. The Texans' depth chart at safety is essentially set. There is no room for Johnson on the team, unless he proves to be an indispensable special teams player.
Jawanza Starling
An undrafted free agent out of USC, Jawanza Starling's only chance of sticking with the team is impressing the coaching staff enough to be placed on the practice squad.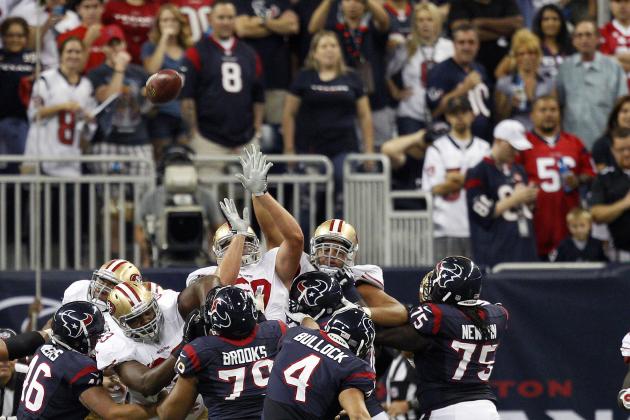 Bob Levey/Getty Images

Randy Bullock
Stashed on the IR last season with a groin injury, Randy Bullock—a fifth-round selection—was forced to watch Shayne Graham kick for the Texans all last season. Barring anything ridiculous, though, the kicking job for next season will be Bullock's.
Shane Lechler
Shane Lechler—one of the best punters in NFL history—was a surprise signing by the Texans this offseason. He has the ability to completely flip the field, and he will certainly help the Texans win field-position battles this season.
Andrew Shapiro
Andrew Shapiro was brought onto the Texans' roster to provide rest for both Randy Bullock and Shane Lechler. He's capable of filling the punting and kicking duties for the Texans during training camp.
Jon Weeks
Do not deny the importance of the long snapper. By all reports, Jon Weeks is extremely dependable. Just think, Weeks could ruin the entire outcome of a game with a poor snap on a field-goal attempt. Be glad he's dependable.