Burning Questions for Chicago Bear's Training Camp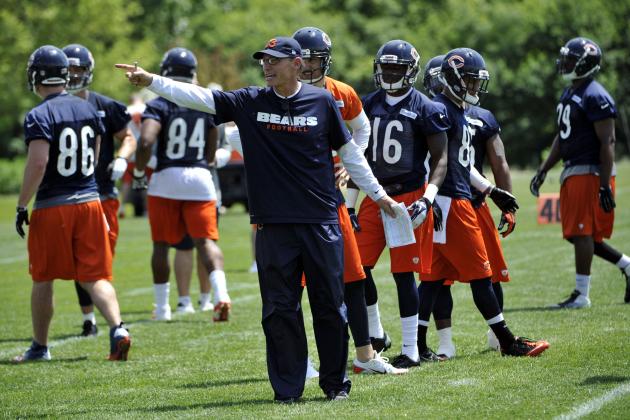 David Banks-USA TODAY Sports

As the Chicago Bears get ready to open training camp in a make-or-break year, they have a lot to figure out as they head into training camp.
While much has changed around the Bears team, many of the players are the same. Nine of 11 starters on defense will return this year.
They're also returning more than half of their offensive starters, although they do expect to have three new starters on the offensive line.
General manager Phil Emery has added some young players and veterans to increase competition with all of the returning starters.
The biggest changes will be at a higher level, as they have an almost entirely new coaching staff this year. Marc Trestman has taken over as the head coach, while Aaron Kromer is the offensive coordinator/line coach and Mel Tucker is the defensive coordinator.
Their defensive system is expected to remain very similar to what they've run in the past, but the Bears will have drastic changes offensively.
Like most teams, the Bears have a lot of questions that need to be answered. If the answers turn out to be favorable, there is no reason they shouldn't be considered Super Bowl contenders.
Begin Slideshow

»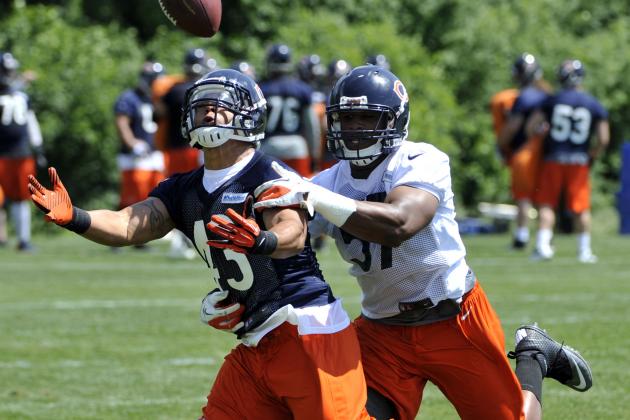 David Banks-USA TODAY Sports

The Bears spent two of their first three draft picks on linebackers, but it's possible neither will play in the base defense this year.
In Jon Bostic and Khaseem Greene, the Bears have two guys who could become the next Lance Briggs and Brian Urlacher— the faces of the defense for the next decade—at least that's what they're hoping happens.
Both are athletic and hard-hitting and were productive at a collegiate level. There is little question that they have the talent to start from Day 1. However, they have veterans sitting in their spots.
Before the draft, the Bears signed D.J. Williams from the Broncos and James Anderson from the Panthers. Both have been very good NFL players in the past, but struggled a year ago.
It's possible that both Bostic and Greene will start for the Bears this year, but it's also possible neither will play a down in their base defense.
The Bears have to be hoping at least one of them wins a starting job, because both are likely going to be forced into the lineup at this time next year.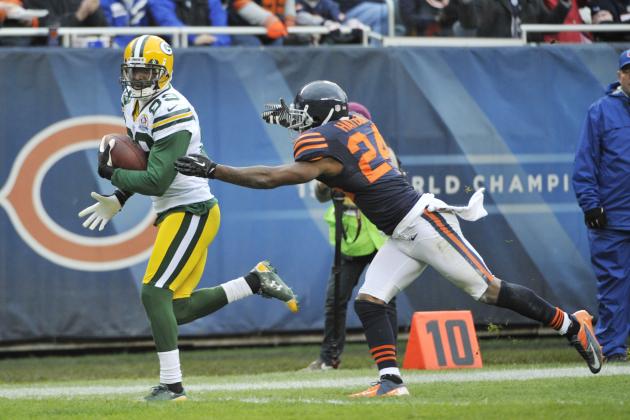 David Banks/Getty Images

Perhaps the biggest weak spot on the Bears defense last season was nickelback Kelvin Hayden, but he may be returning as a starter this year.
According to Pro Football Focus (subscription required), opposing passers had a rating of 93.2 when throwing to the player Hayden was covering. He gave up three touchdowns, with just one interception and two passes defensed.
He didn't just struggle in the nickel defense. In the two games he started, Minnesota's Christian Ponder and Green Bay's Aaron Rodgers combined to complete 10 of the 14 passes they threw in his direction as both finished with passer ratings over 100.
The Bears let D.J. Moore leave as a free agent and weren't able to bring another veteran in. They also left the position untouched in the draft.
There are a number of guys who could compete for the spot in the nickel and dime packages.
Sherrick McManis and Zackary Bowman both played primarily special teams for the Bears last year, but should be given a chance to fight for Hayden's job. Young players Isaiah Frey, C.J. Wilson and Demontre Hurst could also compete, although they may be long shots.
The most interesting name in the mix, however, is safety Brandon Hardin. Hardin missed all of last season, as well as his senior year at Oregon State, but was a third round pick in the 2012 draft. He was a cornerback in college, but projects as a safety in the NFL.
Once upon a time, the Bears had success using Danieal Manning as a slot corner, and Hardin has similar physical skills.
The only certainty is that they need better play out of the position, regardless of who it is.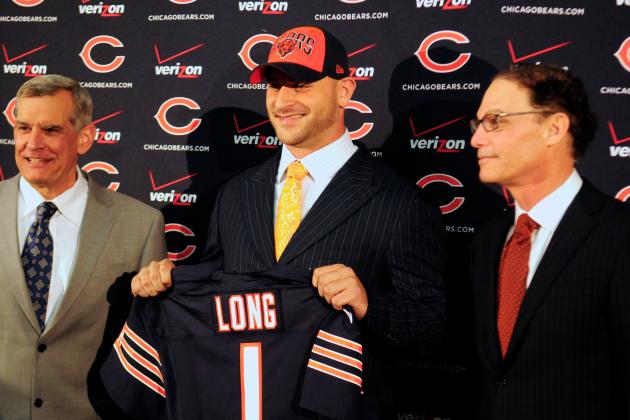 Reid Compton-USA TODAY Sports

2013 first-round draft pick Kyle Long has a ton of raw potential, but he'll have to be a fast learner to crack the opening day lineup for the Bears.
The Bears didn't spend the 20th pick of the draft on Long thinking he'd sit on the bench his rookie season. However, he wasn't able to win a starting job at the beginning of the season for Oregon last year, so he may be a long shot this year.
He did eventually break the Oregon lineup, starting four games for them and rotating in others.
He played well when he finally got on the field and worked out very well for teams prior to the draft. Still, most had him pegged as a second- or third-round pick before the Bears took him 20th overall.
The hope is that Kromer will be able to get the most out of Long and his physical skills. If Long can learn the offense and the NFL game quickly, he should have a bright future.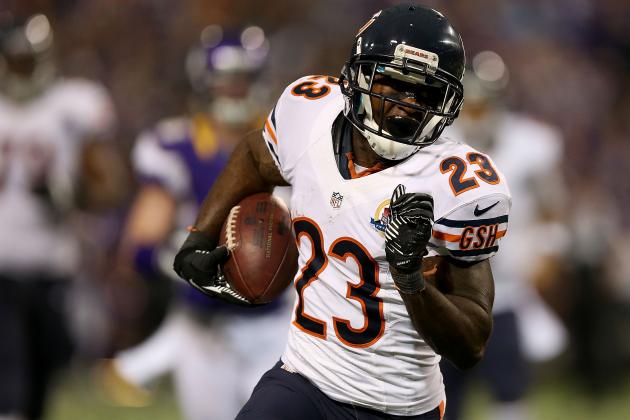 Matthew Stockman/Getty Images

Hester struggled as a returner and receiver last year, leaving many to question if he'll ever be the weapon he once was again.
The Bears have finally given up on Hester as a receiver. It was a project that isn't nearly the failure some claim, but far from being as successful as the Bears hoped.
The curious part from the 2012 season was his struggle as a returner. His kick return average of 25.9 yards was pretty good, but he had a pedestrian average of 8.3 yards per punt return. Most importantly, he didn't take any of his 64 opportunities back for touchdowns.
Hester has slumped before and broke out of it in a big way. He averaged under 23 yards per kick return and eight yards per punt return in 2008 and 2009 with no touchdowns, but returned six punts and kicks for touchdowns in 2010 and 2011.
He's not that far removed from being a dominant returner, so there's reason to think he can be again. If he's going to remain on the team, the Bears are going to need him to regain elite status in that area.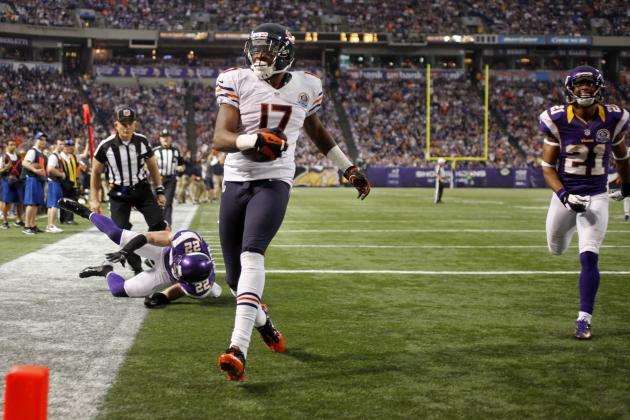 Bruce Kluckhohn-USA TODAY Sports

The Bears finally got their star wide receiver in Brandon Marshall last year, and now they need to find players to compliment him.
The common thought was always that the Bears had two or three receivers who were ideally fit to be complimentary receivers, but needed a star. Last year, they had a star and little else, as no other receiver caught 30 passes.
Their second and third receivers—Alshon Jeffery and Earl Bennett—only played six games together as they both struggled with various injuries. Even when they were healthy, they struggled to beat man coverage consistently. The Bears need them to win those battles.
If they don't stay healthy or can't beat man coverage, the Bears could be in big trouble. With Hester no longer playing the position, the only experienced player they have behind their top three is Devin Aromashodu.
They figure on being able to use new tight end Martellus Bennett in the middle of the field more this year, and running back Matt Forte should have a bigger role in the passing game. Still, the Bears need another receiver to step up and add another dimension to their offense.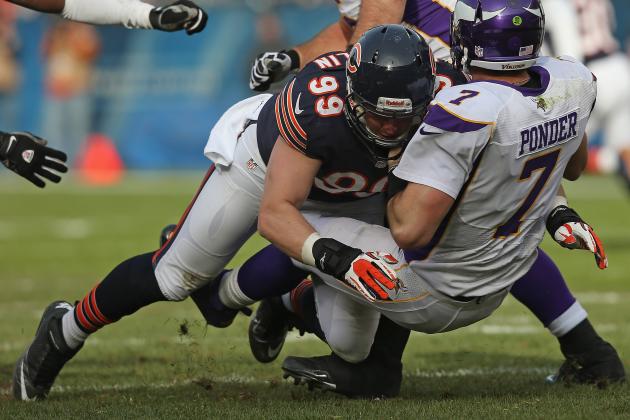 Jonathan Daniel/Getty Images

In a pass-happy league, teams are always looking for pass rushers, and the Bears think they have a good one in second-year man Shea McClellin, but he has to show it.
Part of the problem with McClellin was that he was limited to mostly speed rushes. He didn't play defensive end in college, so he isn't as strong as most would like and doesn't have a lot of moves.
Because of his lack of strength, he wasn't able to play much on running downs. Although he made an impact as a situational rusher last season, the Bears are looking for more. He was taken in the first round to take the quarterback down.
With Julius Peppers on the wrong side of 30, the Bears need McClellin to show he can be a starter and can consistently get to the quarterback.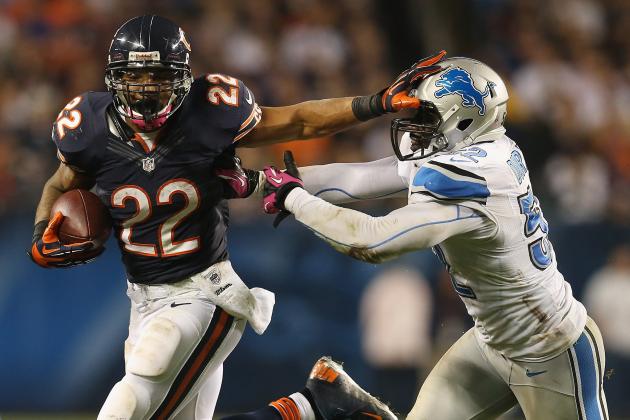 Jonathan Daniel/Getty Images

Perhaps the biggest mistake former offensive coordinator Mike Tice made was accepting a job he wasn't qualified for. The next biggest mistake was not finding a way to involve Matt Forte in the passing game more.
Forte finished 2012 with a career low 44 catches. That was eight fewer than he had in 2011, despite playing three more games. Even when he did catch passes, he averaged just 7.7 yards per reception, a full yard lower than his career average.
If there is one guy who knows how to get running backs the ball in the passing game, it's Trestman. In his eight years as an offensive coordinator in the NFL, Trestman had six different running backs—Eric Metcalf, Derek Loville, Terry Kirby, Larry Centers, Michael Pittman and Charlie Garner—catch over 50 passes, and one more had 49.
Even more impressive, he had two running backs catch over 80 passes as Garner caught 91 passes with the Raiders in 2002, and Loville caught 87 with the 49ers in 1995.
In his career, Forte has averaged nearly 54 receptions per year. With a coach who likes to use running backs in the passing game, it will be interesting to see how Forte is used.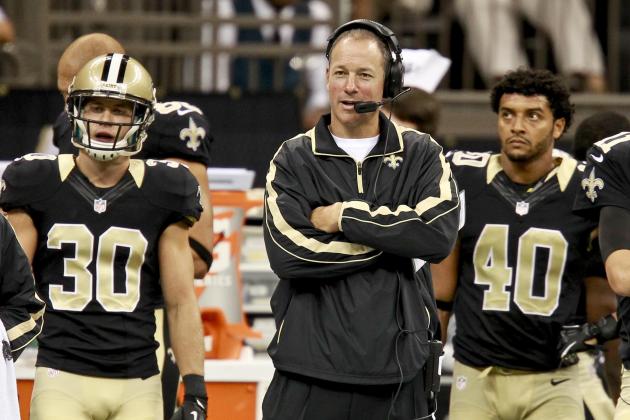 Derick E. Hingle-USA TODAY Sports

It seems like we ask this every year and the answer is always "no." This year, the Bears have new players and new coaches, so might they finally be able to block?
The Bears will have three new starters and a fourth player will be starting in a different position this year.
They added two-time Pro Bowl left tackle Jermon Bushrod from New Orleans and a very solid veteran guard Matt Slauson from the Jets. The signing of Bushrod means former left tackle J'Marcus Webb moves to the right side.
The other guard spot will be a competition between Long and 2012 undrafted free agent James Brown, while Roberto Garza is likely going to be the starting center again this year.
On paper, it looks like they should be much better. However, things always seem to go wrong with the Bears line.
Webb's ability to switch to the right side is no sure thing, and Jonathan Scott isn't an ideal starter. If Bushrod isn't better than he was in 2012, the Bears won't be much better at tackle than they were a year ago.
Slauson was solid for the Jets last year and should be again, but he's not the kind of player you want anchoring the line. If neither Brown nor Long progress as the Bears hope, they could be just as bad as they were last year.
Perhaps the biggest upgrade will come with the coaching. Kromer has an impressive résumé when it comes to developing linemen. Trestman's offense is likely going to feature more quick passes, helping Jay Cutler get rid of the ball faster.
Of course, Tice also claimed his playbook and strategy would keep the quarterback clean.
If the Bears can block up front and everyone else stays healthy, there is no reason their offense shouldn't be one of the 10 best in the league. It all depends on how they do at the line of scrimmage.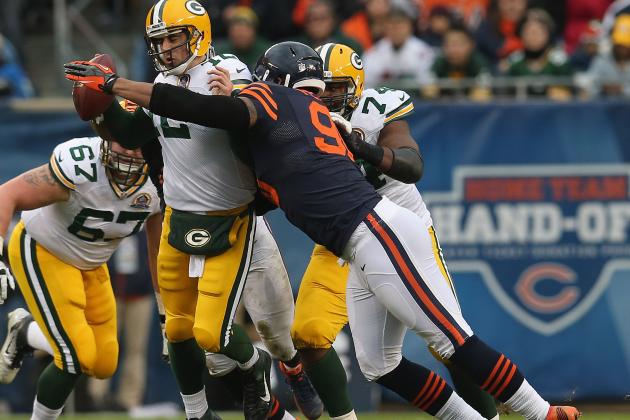 Jonathan Daniel/Getty Images

When it comes to sports and life, Father Time is undefeated.
This was the big question heading into last year, and they answered it with a resounding yes, as one of the best units in the league. However, they're another year older, so the question must be asked again.
Six of their starters are either already 30 years old or will be before the end of the season.
As great as Charles Tillman has been, he's 32 years old. That's about the same age Deion Sanders was when he started to decline. Lance Briggs is also 32; Julius Peppers is 33. If the Bears' defense is going to be as good as it was last year, they need all three to keep playing at a high level.
The team does have plenty of young players as well, but, for the most part, their best players are their veterans.
They've all been great for the Bears, but NFL players only last so long. Counting on three players who are 32 or older on defense is a huge risk.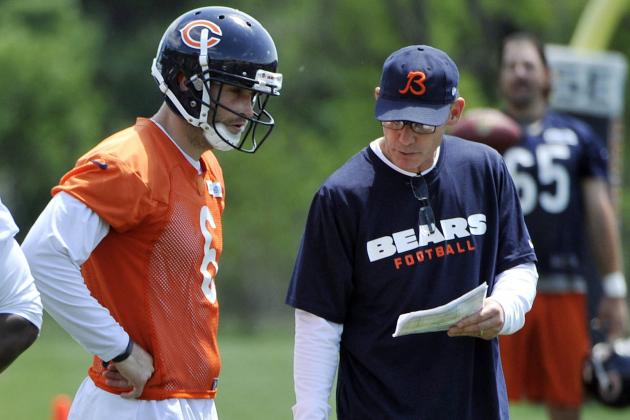 David Banks-USA TODAY Sports

Every thing is great before training camp starts. The coaches are all buttering up the quarterback, and so far, he's a fan of the offense. We've seen all of this before, but will it last?
Based on each of their styles, Jay Cutler and Marc Trestman go together like oil and water. They'll need to find a happy medium if they're going to have a good working relationship and be successful on the field.
Trestman puts an emphasis on short passes and taking care of the ball. Cutler has a big arm and he likes to show it. He fires the ball down the field often and tries to fit the ball in places he shouldn't. Whether he did that because he had to and their receivers couldn't get open or he wanted to is up for debate.
There's reason to believe it will work out best for both of them.
Cutler had success in a similar offense when he first came into the league with Denver under Mike Shanahan.
Despite his reckless streak, Cutler is smart. When he does throw interceptions, they're rarely back-breakers and often just him trying too hard to make plays when nothing else is working.
The best thing Trestman can do to make Cutler into a believer is find ways to get players open where they can make plays. Cutler will still like to throw the ball up for grabs at times, but if he doesn't have to do it all the time, they should get along fine.
The immediate future of the entire franchise is on the line when it comes to this relationship. If Cutler and Trestman can co-exist, it will lead to wins on the field and both will get job security.