Full Training Camp Roster Breakdown for Philadelphia Eagles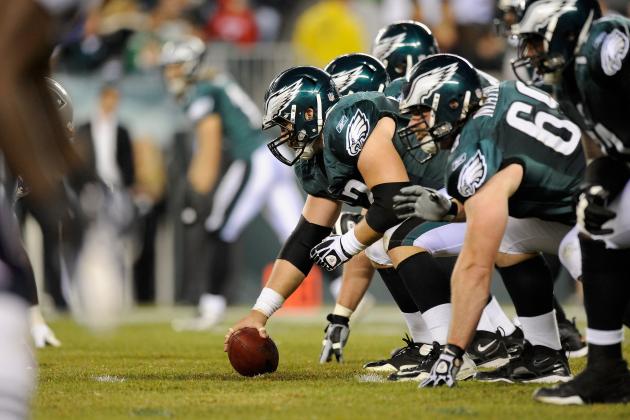 Patrick McDermott/Getty Images

Despite hiring a new head coach in Chip Kelly, the Philadelphia Eagles will field an offensive roster similar to the one that went 4-12 in 2012.
Michael Vick and Nick Foles are competing for the quarterback spot, which will be an interesting battle expected to last until the season opener. But other than that, the same playmakers will return in LeSean McCoy, DeSean Jackson and Jeremy Maclin. The offensive line is intact again after last year's slew of season-ending injuries.
It will be the defense undergoing an intense change. Kelly brought in six new potential starters, and he added a handful of players via the draft that can be expected to compete for instant spots.
Kelly will have until the end of the summer to reduce his roster from the current 90 players to the mandated 53 players. Training camp and the preseason contests will provide an early look at which players on the bubble can grab spots.
Begin Slideshow

»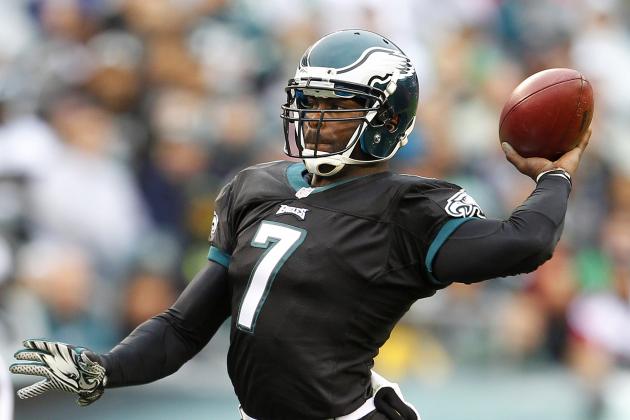 Rich Schultz/Getty Images

Michael Vick (No. 7)
Michael Vick is entering his fifth season on the Philadelphia Eagles, although he's only started for three of those, and he's only entered training camp as the starter twice. He may win Chip Kelly's much-publicized quarterback competition, or Kelly may opt to go with the younger Nick Foles.
What Vick still has—even at age 33—is blazing speed and the ability to rank among the NFL's finest in gaining yards on the ground. He will need to keep his turnovers down in preseason games to have a shot at winning the starting job.
Nick Foles (No. 9)
Foles enters training camp with a chance to unseat Vick as the Eagles' starter in 2013. Foles played extended time as a rookie, seeing action in seven contests and making six starts. The Eagles averaged 20 points per game during Foles' starts, compared to just 16.3 under Vick.
Foles was also taking his snaps with a far inferior group of playmakers, playing with mostly backups at that point in the season. Foles won't win the job with his mobility; if he does, it will be his quick decision-making and precision-passing.
Matt Barkley (No. 2)
Count Matt Barkley as a very long shot to win the starting job for the start of the regular season, but Barkley will see his time. The odds that Barkley plays regularly this year are fairly high.
Vick will likely get hurt, and Barkley was enough of a collegiate superstar that Kelly may want to see what he can do right away. Barkley has been criticized for his less-than-stellar arm strength, but he will be a master at the no-huddle offense.
Dennis Dixon (No. 3)
If Vick is a surprise preseason cut, Dennis Dixon will likely make the 53-man roster. Dixon spent 2012 on the practice squad of the Baltimore Ravens, and he's now earned a pair of Super Bowl rings in five seasons as a backup (2008 Pittsburgh Steelers). Dixon is a marginal passer at this level, but he was one of Kelly's collegiate quarterbacks, and he has experience directing Kelly's offense.
G.J. Kinne (No. 4)
It's tough to even envision a scenario in which G.J. Kinne makes the 53-man roster. The practice squad may be pushing it for Kinne, who was signed directly from the San Antonio Talons of the Arena Football League. Kinne did briefly spend time on the New York Jets last season, but he's an undrafted free agent in the mold of Dixon—a terrific runner with very limited passing skills.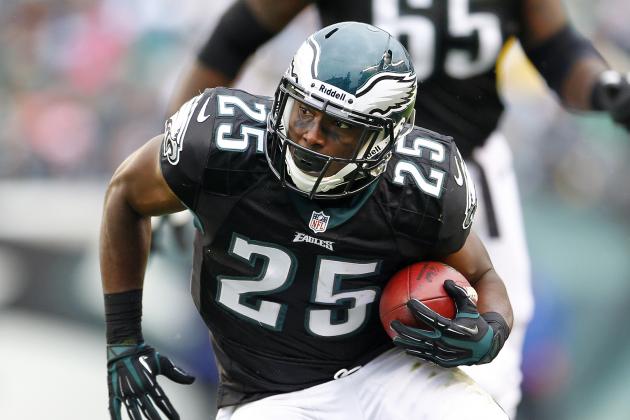 Rich Schultz/Getty Images

LeSean McCoy (No. 25)
LeSean McCoy should shine in his debut season under Chip Kelly. McCoy has the potential to be an All-Pro running back, as he was in 2011, when he rushed for 1,309 yards and scored 20 total touchdowns. McCoy is still just 25 years old, and he's playing behind a much-improved offensive line in a system that will be predicated around the running game.
Bryce Brown (No. 34)
Bryce Brown may be one of the deciding factors as to how the 2013 Philadelphia Eagles perform. He showed glimpses of absolute stardom last year, rushing for 169 and 178 yards in consecutive games, while scoring multiple touchdowns in each of them. But he really tailed off down the stretch, and he will need to secure the football better and run between the tackles to gain touches.
Felix Jones (No. 38)
A former first-round pick of the Dallas Cowboys, Felix Jones never quite lived up to his potential. He was signed at a low-risk, one-year deal and will fight with Bryce Brown for the backup spot in camp. It's expected that Brown will secure his role as the No. 2 back behind McCoy, but Jones should easily be able to beat out Chris Polk for the third spot.
Chris Polk (No. 32)
At one point, many experts thought Polk would be a high pick in the 2012 NFL draft. He dropped off and eventually went undrafted, although Andy Reid did grab him and stash him on last season's roster. Polk has still never carried the football in an official game, and he's no lock—at all—to make this year's club. The fact that Dion Lewis was traded to Cleveland does benefit Polk as well.
Matthew Tucker (No. 39)
Matthew Tucker is likely just a camp body taking up repetitions. He had a disappointing senior season, which may have dropped his draft stock. If he does make the roster, it will probably be because of an injury to someone ahead of him.
Emil Igwenagu (No. 41)
The fact that Kelly traded Stanley Havili to the Indianapolis Colts means Emil Igwenagu is the only fullback left on the roster. That could bode well for Igwenagu, but Kelly doesn't utilize fullbacks too much. James Casey probably took Igwenagu's spot as a hybrid fullback/tight end.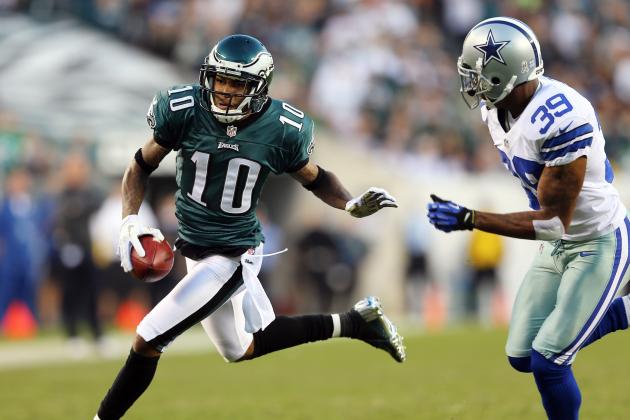 Elsa/Getty Images

DeSean Jackson (No. 10)
DeSean Jackson signed a five-year, $51 million extension prior to last season, then went out and caught just 45 receptions for 700 yards and two touchdowns. He's a far cry from the player who captivated the NFL in 2009 and 2010 with his penchant for scoring 50-plus-yard touchdowns.
The new offense under Chip Kelly should bring out the best in Jackson, although Jackson's small stature does leave him as a fairly one-dimensional force on the Philadelphia Eagles.
Jeremy Maclin (No. 18)
Expect Jeremy Maclin to finally have his long-awaited breakout season in 2013. He's entering his fifth year with the team, which also happens to be his contract season. Maclin has been productive in this offense, but he still hasn't yet reached 1,000 yards. Last year, Maclin led the team with 69 receptions for 857 yards and seven touchdowns. While those are good numbers, they're not first-round pick numbers.
Jason Avant (No. 81)
Jason Avant is attending camp, hoping to hold onto his role as the team's slot receiver. He's a slower, possession receiver who is a near-lock to put up 50 catches for the Eagles. Avant has the best hands on the team, although he will see fierce competition from Arrelious Benn and Damaris Johnson for the top slot receiver role.
Arrelious Benn (No. 17)
The Eagles brought over Arrelious Benn via a trade, hoping to get the production out of him that would warrant the high second-round pick the Tampa Bay Buccaneers spent on him in 2009. Benn was an afterthought in Tampa Bay last season, and his playing time will depend on his ability to use his impressive size and speed to make plays.
Damaris Johnson (No. 13)
An undrafted free agent last year, Damaris Johnson won a spot on the 53-man roster in camp and worked his way up to being the starting punt returner. He played sparingly as a receiver, but did catch 19 passes. He's a poor man's version of Jackson, and if Kelly can use him as the versatile weapon he can be, it makes the offense even more difficult to defend.
Riley Cooper (No. 14)
Riley Cooper was a pleasant surprise for the Eagles in 2012, finishing second on the team with three touchdown catches. He's the biggest receiver the team had last year, checking in at 6'4". Cooper may find himself on the way out because Benn has good size and better speed.
Greg Salas (No. 19)
Greg Salas is a former fourth-round pick of the St. Louis Rams who is probably a long shot to make the official roster in 2013. He caught 27 passes as a rookie in '11, then struggled to make an impact on both the New England Patriots and Eagles last year.
Russell Shepard (No. 11)
Russell Shepard was a former high school sensation who didn't quite see the success at LSU that many expected. He's a weapon who can conceivably line up anywhere on the field (including quarterback). The problem is, his numbers weren't eye-popping in college, and he faces an uphill climb to make the Eagles.
Ifeanyi Momah (No. 80)
Ifeanyi Momah is already a camp favorite among Eagles fans, even though he's likely not going to make the team. Momah has tremendous size at 6'8", which means he must make his mark on third downs and inside the red zone in preseason. Missing a whole year of football, while recovering from a torn ACL, suggests Momah may spend the year on the practice squad, if at all.
Nick Miller (No. 16)
A former punt returner with the Oakland Raiders and St. Louis Rams, Nick Miller is struggling to hang on in the NFL. He doesn't offer much as a receiver and will have to make his mark via special teams. Considering the Eagles' wide-open competition in the returning game, Miller does have a chance to make the roster.
B.J. Cunningham (No. 88)
B.J. Cunningham spent all of 2012 on the Eagles' practice squad. He was a former sixth-round pick of the Miami Dolphins, but hasn't made enough of an impact at the next level. Cunningham may be looking at another season on the practice squad.
Will Murphy (No. 84)
Will Murphy is a former walk-on for Kelly's Oregon Ducks, who was signed to a contract with the Eagles recently. He's a camp body for now.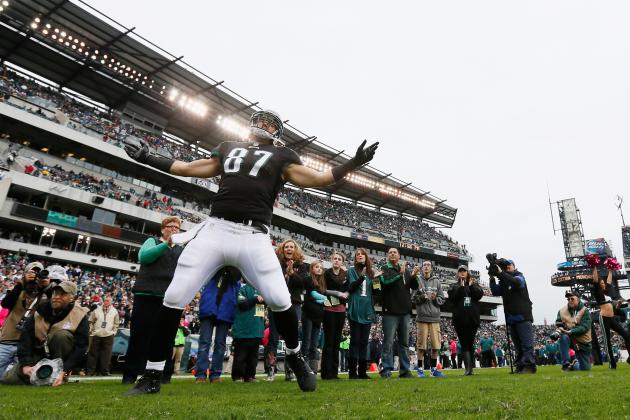 Rob Carr/Getty Images

Brent Celek (No. 87)
Brent Celek has been the Philadelphia Eagles' starting tight end for the last five seasons, and he's under contract through 2016, according to Spotrac. The problem is, Celek has shown signs of regression recently, and he missed time due to injury for the first time in '12. Celek dropped eight passes a year ago, and his one touchdown catch was less than his backup, Clay Harbor, had in far fewer snaps.
Zach Ertz (No. 86)
As I've said before, Zach Ertz was made for Chip Kelly's offense. He has tremendous size and speed for a tight end, and he can line up at multiple positions as opposed to just the standard tight end spot next to the offensive tackle. Ertz will push Celek immediately for playing time and will force Kelly to use a variety of two-tight end sets.
James Casey (No. 85)
James Casey was one of the more underrated signings of the offseason, and he will make an impact for the Eagles in 2013. Casey is a versatile player who will see time at fullback and tight end. Because of his versatility, the Eagles traded away last year's starting fullback, Stanley Havili. Forty to 50 catches is a reasonable prediction for Casey in '13.
Clay Harbor (No. 82)
Clay Harbor's arrow is pointing down for next season. He's been a three-year backup on the roster, and he's played well when given the snaps. Last year, Harbor even caught more touchdowns (two) than Celek (one).
The problem is, Harbor doesn't do anything exceptionally well, and both Ertz and Casey will take playing time from him. Maybe, Harbor's ability to play outside linebacker will put him on the roster, although it's doubtful he actually sees time there in '13.
Derek Carrier (No. 89)
Derek Carrier spent last summer fighting for a spot on the Oakland Raiders' roster, although he was eventually released. The odds of Carrier making the Eagles in 2013 are slim to none.
Will Shaw (No. 47)
Will Shaw was signed when the Eagles released Miguel Maysonet, meaning Kelly essentially traded one undrafted free agent for another. Shaw is very undersized for a tight end, and there's almost no way he makes the roster.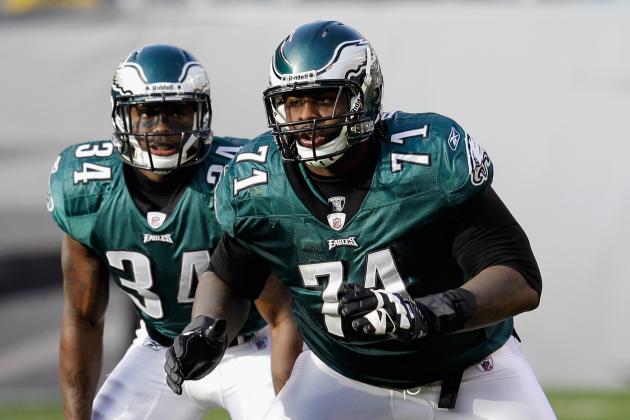 Rob Carr/Getty Images

Jason Peters (No. 71)
Two years ago, Jason Peters was the MVP of the Philadelphia Eagles. His tremendous combination of passing and run-blocking skills paved the way for All-Pro runner LeSean McCoy, who scored 20 total touchdowns.
Peters suffered a pair of devastating Achilles injuries last spring, which kept him out all season. His ability to return at full strength is absolutely vital for the Eagles contending for the NFC East title in 2013.
Lane Johnson (No. 65)
Starting opposite Peters should be first-round rookie Lane Johnson, a player Chip Kelly made his fourth overall draft selection. Johnson has supreme athleticism for an offensive tackle, which warranted his draft selection, despite limited experience as a blindside tackle.
Johnson is ridiculously fast for his position, posting a 4.72 time in the 40-yard dash. He can get to the second level in the run game, although it will be his ability to handle the most adept speed rushers that will determine his success in the NFL.
Dennis Kelly (No. 67)
Dennis Kelly was forced into action as a fifth-round rookie in 2012 because of injuries to both Peters and Todd Herremans. In fact, the ineptitude of right guard Danny Watkins meant Kelly was even used at guard as a rookie. Kelly struggled at both positions, surrendering five sacks and 29 pressures in just 703 snaps. He should enter '13 as the top backup at offensive tackle.
Allen Barbre (No. 76)
Entering his seventh NFL season, Allen Barbre has experience at both tackle and guard. His ability to play both positions could give him an edge over the competition, as well as the fact that he's been in the league for quite some time.
Matt Kopa (78)
Matt Kopa did spend a few games on the 53-man roster last season after the Eagles' line was decimated with injuries. Kopa will compete with Barbre and the other tackles for the second backup spot behind Kelly.
Ed Wang (No. 77)
Ed Wang was the first Chinese-American player drafted into the NFL when the Buffalo Bills picked him in 2010. He saw action in six games as a rookie, but has bounced around the league ever since. He may just be a camp body with a long shot to make the roster.
Nate Menkin (No. 74)
Nate Menkin spent 2012 on the Eagles, although he never actually appeared in a game. He is physically gifted, having benched 225 pounds 39 times and recorded a 5.0 in the 40-yard dash coming out of college. For now, he's simply in the mix for the final tackle spot.
Michael Bamiro (No. 72)
Michael Bamiro was just inked to a three-year contract. He's a massive body at 6'8", 335 pounds, and he has loads of potential. He's essentially a poorer man's version of Johnson. Bamiro expected to return to college in 2013, but found out in May he had used up his collegiate eligibility, and, thus, signed with the Eagles.
Nic Purcell (No. 73)
The New Zealand native is an undrafted free agent, although he's already 27 years old. Purcell will be getting his chance with the Eagles after having been ruled ineligible by the NCAA.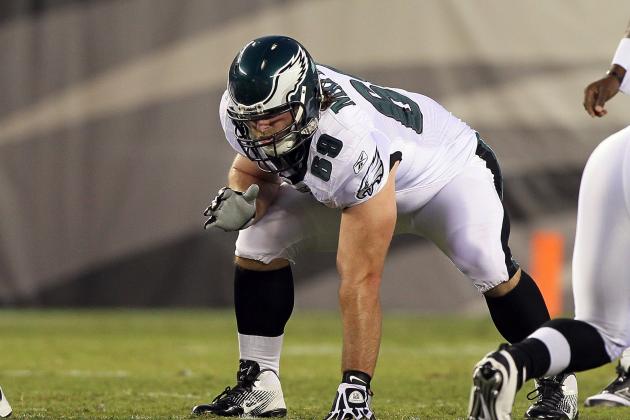 Jim McIsaac/Getty Images

Evan Mathis (No. 69)
The Philadelphia Eagles weren't expecting much when they signed Evan Mathis as a free agent in 2011. But he's rewarded them with two consecutive All-Pro-caliber seasons, rating twice as efficient as any other guard in the NFL in 2012, per Pro Football Focus (subscripton required). Mathis has allowed just one sack in two seasons with the Eagles, and he's a truly exceptional run blocker as well.
Todd Herremans (No. 79)
Todd Herremans did the Eagles a huge favor by moving to right tackle last season, even though he's a far superior guard. Herremans struggles against the quickest defensive ends, but he will return to his natural guard position in 2013 to replace first-round bust Danny Watkins. Herremans is expected to be at full strength following last year's season-ending foot injury.
Danny Watkins (No. 63)
After two underwhelming seasons at guard—during which he was benched twice—Danny Watkins has finally been relegated to that of a backup role in the offense. Watkins may rejuvenate his career under Chip Kelly, but it seems that the five starting spots are filled, and Watkins will likely spend 2013 as the top backup at guard.
Julian Vandervelde (No. 61)
There aren't many true guards on the Eagles, which means Julian Vandervelde may have a shot at making the roster. He is a former fifth-round pick of the team and has bounced from the Eagles to the Tampa Bay Buccaneers and back to the Eagles since '11.
Matt Tobin (No. 64)
Matt Tobin is merely a camp body with a long shot to make the team as a backup guard. He would need an injury and a great performance in the preseason games to do so.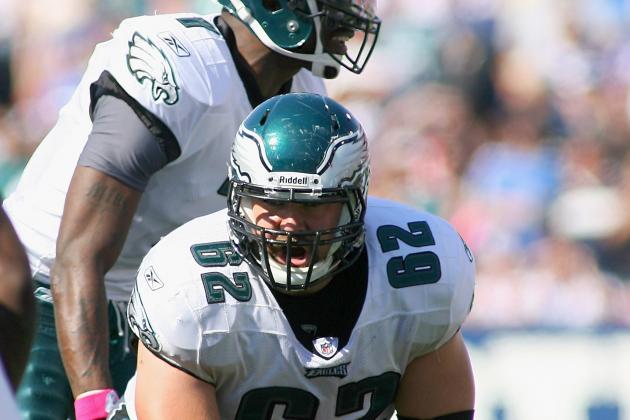 Rick Stewart/Getty Images

Jason Kelce (No. 62)
Jason Kelce was just a sixth-round pick, but beat out veteran starter Jamaal Jackson in training camp during his rookie season. Kelce struggled in 2011, but was poised for a big year last season before suffering a season-ending knee injury early on.
He is a perfect fit for Chip Kelly's offense, though, having tested at 4.83 in the 40-yard dash, according to NFL Draft Scout. He's undersized, but quick enough to get downfield on screen passes and can open up holes for LeSean McCoy even at the second level.
Dallas Reynolds (No. 66)
When Kelce went down with an injury in 2012, it forced Dallas Reynolds into a starting spot. After three seasons as a practice-squad player, Reynolds struggled as a full-time starter. Per Pro Football Focus (subscription required), he rated 33rd among 35 qualifying centers and led his position by surrendering 10 quarterback hits. Reynolds should have the edge for the backup spot behind Kelce.
Matt Tennant (No. 68)
Matt Tennant could give Reynolds a run for the backup center spot. Tennant was a former fifth-round pick for the New Orleans Saints and has seen time with the Saints, New England Patriots and Eagles. Last year, Tennant saw action in one play for the Eagles, dropping a wide-open pass in the end zone on a tackle-eligible play.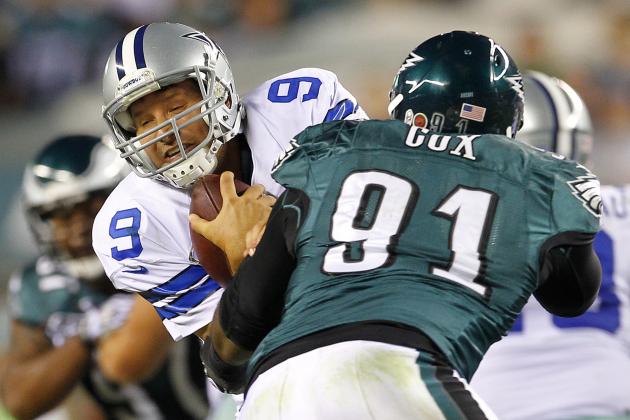 Rich Schultz/Getty Images

Fletcher Cox (No. 91)
Fletcher Cox's starting spot is safe, even with the switch to a 3-4 defense. He will slide from one-gap defensive tackle to 5-technique defensive end. Considering he was a former first-round pick and possesses top athleticism, Cox should be able to make the switch. He's a talented pass-rusher, having picked up 5.5 sacks as a rookie defensive tackle.
Cedric Thornton (No. 72)
There is a collection of other 3-4 defensive ends fighting for spots opposite Cox, and Cedric Thornton leads the group for now. He spent all of 2012 on the roster, playing in the rotation as a defensive tackle. The fact that Trent Cole and Brandon Graham are both moving to pass-rushing linebacker lessens Thornton's competition.
Vinny Curry (No. 75)
It took Vinny Curry more than half the season to get on the field last season, which isn't too encouraging for a second-round pick. Curry is now 280 pounds, up from 260 last season.
Clifton Geathers (No. 64)
The Eagles acquired Clifton Geathers via a trade for fullback Stanley Havili. Geathers is a former sixth-round pick playing for his sixth NFL team in four seasons. He will provide depth at defensive end, if he makes the roster.
Joe Kruger (No. 73)
A seventh-round rookie, Joe Kruger was seen as a steal for having been selected that late in the NFL draft. He's the younger brother of Cleveland Browns pass-rushing specialist Paul Kruger, who helped the Baltimore Ravens win the Super Bowl a year ago. Kruger will be fighting for a spot on the roster, notably against fellow rookie draft pick Dave King.
Dave King (No. 93)
Like Kruger, King was a seventh-round rookie who will be competing for a spot at 3-4 end. King has long arms and experience playing both tackle and end. He spent the last two seasons battling offensive tackle Lane Johnson during Oklahoma practices.
Damion Square (No. 77)
Damion Square spent four seasons at the University of Alabama, helping deliver three national championships to Crimson Tide fans. Square was signed by the Eagles as an undrafted free agent, where he will spend training camp and preseason contests fighting for a roster spot at end.
Isaac Remington (No. 61)
Another former Oregon Duck, Isaac Remington will be reunited with his college coach on the Eagles. Remington has terrific size for the position, as he's 6'6" and close to 300 pounds, although it's doubtful he can make anything more than the practice squad.
Daryell Walker (No. 78)
Daryell Walker is competing with a handful of other undrafted free-agent defensive linemen for even so much as a practice-squad spot.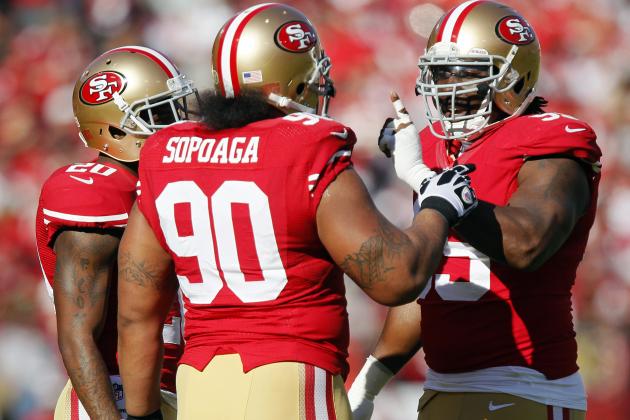 Brian Bahr/Getty Images

Isaac Sopoaga (No. 97)
A veteran from the San Francisco 49ers, Isaac Sopaoga was signed because he has years of experience playing as a 0-technique nose tackle. Sopoaga is 32 years old and can't be expected to play regularly at this point, but he should still provide 20-30 snaps per game for the Philadelphia Eagles. He offers nothing as a pass-rusher, but he's a very fine defender against the run.
Bennie Logan (No. 96)
Bennie Logan and Isaac Sopoaga aren't so much fighting for the same spot, as Logan is pushing for time anywhere on the defensive line. He is a third-round draft pick and has the ability to play either 3-4 end, 3-4 nose tackle or 4-3 defensive tackle should the Eagles employ a 4-3 Under formation. Logan was a first-team All-American at LSU in 2012 and should be counted on to play regularly as a rookie.
Antonio Dixon (No. 90)
Antonio Dixon is hanging on to his NFL career, and there might not be a spot for him on this year's roster. He's a mammoth of a man, checking in at about 350 pounds, which means he's a similar player to Sopoaga. Dixon spent four years on the Eagles from 2009 through '12, but his better days are behind him.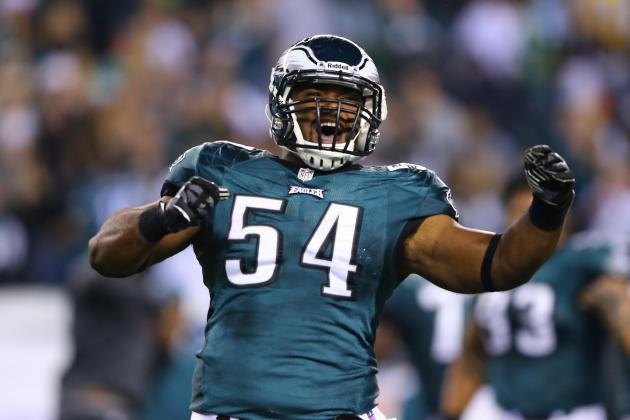 Al Bello/Getty Images

Trent Cole (No. 58)
Moving to a 3-4 outside linebacker position won't be easy for Trent Cole. He's made his mark over the last eight seasons as a 4-3 end, a complete player at that. Cole has been able to defend against the run and average 10 sacks per season, and he's done so as a former fifth-round pick.
Cole will start at outside linebacker to begin 2013, but if he doesn't show the ability to play well, he will lose playing time to Brandon Graham and Connor Barwin.
Connor Barwin (No. 98)
The decision to give Barwin a six-year, $40 million deal, per Spotrac, was surprising, considering the Eagles already had Cole and Graham on the roster. Barwin's contract is essentially a two-year contract with options after that, which doesn't seem so bad when taken into context. Barwin struggled in 2012, but he did register 11.5 sacks in '11, and the Eagles are hoping to recapture that success.
Brandon Graham (No. 54)
The switch to 3-4 outside linebacker should be a good move for Brandon Graham, who played a similar role at the University of Michigan. Graham has struggled to fulfill his status as a first-round pick since entering the NFL, but he broke out down the stretch last season.
Graham's 31 quarterback hurries in just 435 snaps, according to PFF (subscription required) led all defensive ends in hurries-per-snap rate. He will probably begin the season as a backup, but will push for time, especially on passing downs.
Phillip Hunt (No. 56)
A former CFL player, Phillip Hunt hasn't quite enjoyed the success with the Eagles that the team thought. Hunt saw his snaps dwindle to almost none by the midway point of last season, but he picked up as the season progressed. Hunt will spend training camp and the preseason fighting for a spot as a pass-rushing linebacker.
Everette Brown (No. 57)
A former second-round pick, Everette Brown is looking to latch on with the Eagles after four disappointing NFL seasons thus far. Brown has just six sacks since entering the league, and he will fight with Graham and Hunt for spots on passing downs.
Chris McCoy (No. 94)
Chris McCoy is a former seventh-round pick of the Miami Dolphins, although he's spent the last two seasons in the Canadian Football League. McCoy had just five sacks in two years with the CFL, and it's highly doubtful he makes it with the Eagles.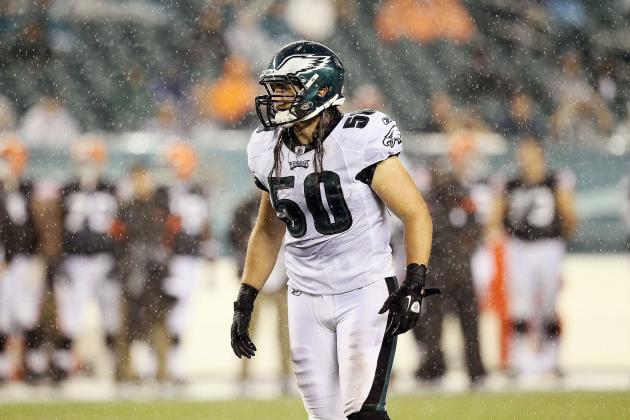 Jim McIsaac/Getty Images

DeMeco Ryans (No. 59)
DeMeco Ryans had a quietly productive first season with the Philadelphia Eagles, leading the team in tackles, while recording four passes defensed and a sack. Ryans doesn't make many big plays, but he's stout against the run; he appears to be fully recovered from his Achilles injury. Ryans is due to make $6.7 million in 2013, according to Spotrac, and the Eagles will need continued fine play against the run to justify that.
Mychal Kendricks (No. 95)
Mychal Kendricks will move from 4-3 outside linebacker to 3-4 inside linebacker in year two in the league. He played inside linebacker some while at the University of California, and he has the athleticism to play both positions. Kendricks' best asset is his speed, and if he can cover tight ends, he will be an asset to this defense.
Casey Matthews (No. 50)
The days of Casey Matthews as a starter are long over, and he's no guarantee to make the team, even though he did play for the Oregon Ducks. Matthews offers little value as a pass-rusher, and he doesn't have the speed in coverage, so his best bet is to make the team by tackling every ball-carrier in sight.
Jamar Chaney (No. 51)
After playing at a high level down the stretch in 2010, Jamar Chaney has fallen off in his quality of play. He doesn't really play special teams, so he needs to make an impact as an inside linebacker to make the roster.
Emmanuel Acho (No. 53)
A sixth-round pick of the Cleveland Browns a year ago, Emmanuel Acho missed his entire rookie season due to injury. He is the younger brother of Arizona Cardinals' linebacker Sam Acho. This Acho will push for one of the final linebacker spots.
Jake Knott (No. 54)
Jake Knott is an undersized rookie free agent looking to impress his coaches with a fine performance in training camp and the preseason contests.
Jason Phillips (No. 52)
A former fifth-round pick of the Baltimore Ravens, Jason Phillips has bounced from the Ravens to the Carolina Panthers to the Eagles over the last several seasons. He was acquired by Philly via free agency this past offseason and is looking to make an impact in training camp.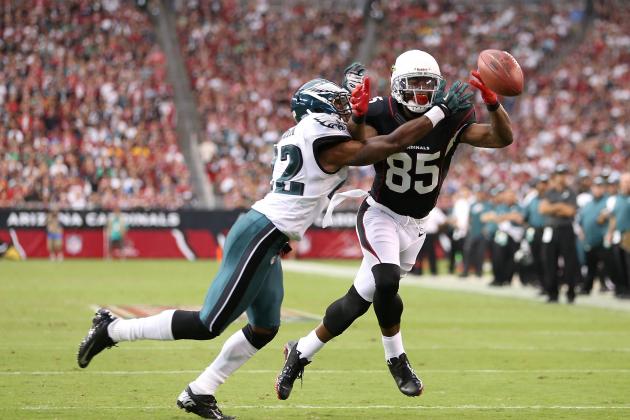 Christian Petersen/Getty Images

Cary Williams (No. 26)
Cary Williams was brought over via free agency and is expected to be the starting cornerback for a Philadelphia Eagles team that lost Nnamdi Asomugha and Dominique Rodgers-Cromartie this past offseason.
Williams helped the Baltimore Ravens win the Super Bowl last season, picking off four passes and recording 17 passes defensed. The only problem is, he was torched repeatedly, allowing the fourth-most passing yards of any corner in the NFL in 2012, according to PFF (subscription required).
Bradley Fletcher (No. 24)
Adding Bradley Fletcher to replace Dominique Rodgers-Cromartie may be a stretch, although Fletcher did play well as a nickel and dime cornerback in 2012. He will be tasked with the more difficult assignment of covering receivers on the outside in '13, assuming he wins a starting job.
Brandon Boykin (No. 22)
Brandon Boykin played regularly as a nickel cornerback in 2012 and will look to resume that role again in 2013 unless he can push Fletcher for the starting spot opposite Williams. Boykin recorded a sack, forced fumble, and five passes defensed as a rookie, although he's still looking for his first career interception.
Jordan Poyer (No. 33)
It's puzzling that Jordan Poyer fell to the seventh round, considering draft boards pegged him as at least a third-round prospect. Poyer should make the team and push Boykin for the nickel corner spot right away in 2013.
Curtis Marsh (No. 31)
The former Utah State running back is still trying to latch on with the Eagles as a cornerback. It's now year three for the third-round pick, and while Marsh has spent the previous two seasons on the roster, it's no guarantee he can be assured a spot this season.
Brandon Hughes (No. 27)
Brandon Hughes was a fifth-round pick of the San Diego Chargers back in 2009, although he's spent the past three seasons on the Eagles. Hughes will compete with Poyer, Trevard Lindley and Marsh for the dime spots.
Trevard Lindley (No. 35)
Like Hughes, Lindley has spent some time on the Eagles before, but still finds himself vying for one of the final spots on the 53-man roster. Lindley is technically in his third stint with the Eagles, and it's doubtful he sticks.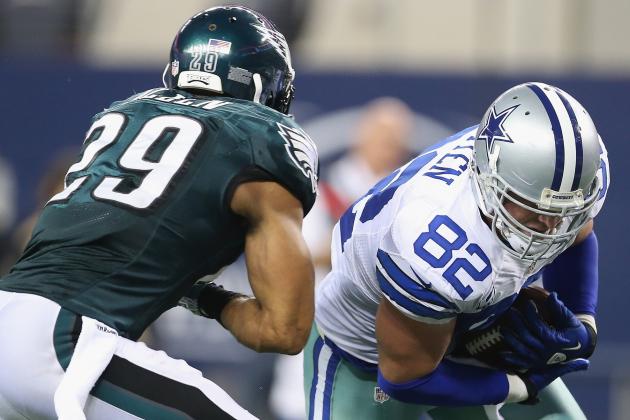 Ronald Martinez/Getty Images

Kenny Phillips (No. 21)
Kenny Phillips has the potential to be a spectacular cover safety for the Philadelphia Eagles. The trick will be his ability to stay healthy, and the fact that he has already experienced problems with his knee doesn't help his case to claim a roster spot. Phillips' contract doesn't include any guaranteed money, so it will be easy to part ways with him should it be necessary.
Patrick Chung (No. 23)
Like Phillips, Patrick Chung was signed as a free agent to resurrect his career with the Eagles. Chung made an impact on special teams for the New England Patriots, also enjoying some fine moments as a safety. Chung will try to ward off Nate Allen, Kurt Coleman and Earl Wolff for the other starting safety spot.
Nate Allen (No. 29)
After a terrific rookie month, Allen has regressed and dealt with a serious knee injury. He hasn't recaptured the form that made him a ball hawk in 2010, and Allen struggled when asked to start in 2012. To grab a starting spot in '13, Allen will have to impress in training camp and preseason games.
Kurt Coleman (No. 42)
Coleman was vastly overmatched as a starter a year ago, and there's almost no way the Eagles put him in position to start again in 2013. Coleman actually might be a surprise veteran cut heading into the season, especially with the acquisition of fifth-round rookie Wolff.
Earl Wolff (No. 28)
Wolff will be out to prove what he can do in training camp and preseason, considering he has a chance to start from game one with the Eagles. Wolff has tremendous speed, and the safeties ahead of him have struggled with injuries and inconsistencies.
Colt Anderson (No. 30)
As a safety, Colt Anderson has limited skills. He's overmatched in pass coverage, but can hold his own against the run. Ideally, Anderson doesn't have to see any action in safety. What he can do, though, is play special teams with the best of them. Anderson is a Pro Bowl-quality special teams player, which will be his ticket onto the roster if he makes it.
David Sims (No. 43)
David Sims does have the advantage of having been on the Eagles in 2012, seeing action as a reserve and on special teams. He's a long shot to make next year's roster, though. There are just too many safeties.
Eddie Whitley (No. 37)
Eddie Whitley is merely a camp body at safety, and he's so buried on the depth chart that there's really no way he grabs a spot.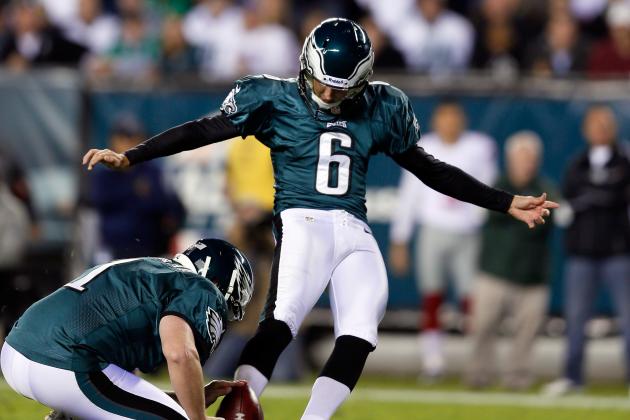 Rob Carr/Getty Images

Alex Henery (No. 6)
Alex Henery could use a little more leg strength to his kicks, but he's been deadly accurate from inside 40 yards since the Philadelphia Eagles drafted him. Henery will see no competition in camp from another kicker.
Donnie Jones (No. 8)
Donnie Jones is a two-time NFL All-Pro, and he's averaged as many as 50 yards per punt for a whole season. Jones should have the edge on the punter competition, considering the success he has had.
Brad Wing (No. 1)
Like Jones, Brad Wing is a former LSU punter. Wing is fresh out of college, where he was one of the nation's finest punters. He will compete with Jones for the punting duties.
Jon Dorenbos (No. 46)
For years, Jon Dorenbos has been among the absolute best in the business. He's never had a bad snap, and, for that, he's locked up to a long-term extension.