NBA Draft 2013: 5 Potential Draft-Day Trades for the Cleveland Cavaliers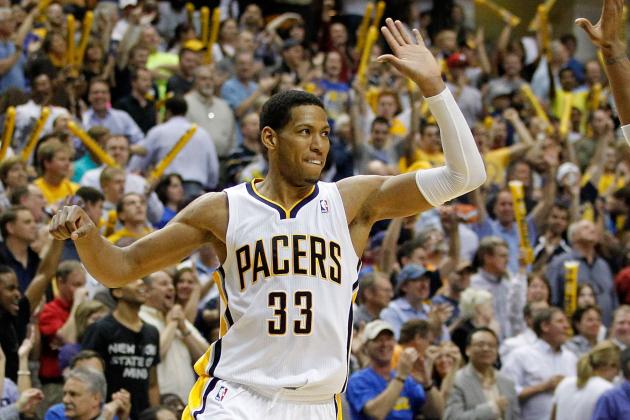 Gregory Shamus/Getty Images

The 2013 NBA draft is slowly drawing nearer, and perhaps no draft has ever been as wide open as this year's appears to be.
With no set No. 1 pick and a variety of talent at every position, this year's draft could be one of the most intriguing in recent memory.
Everything in the draft will be based on the Cleveland Cavaliers' selection at No. 1—that is, if they do end up staying put there.
With so much trade speculation surrounding teams like the Cavaliers, it's almost certain that some deals will go down. Cleveland, already with a young roster, owns four total draft picks and likely won't be bringing four rookies into training camp.
A trade or two is almost a certainty for the Cavs, and here are five deals they could pull off on draft day.
Begin Slideshow

»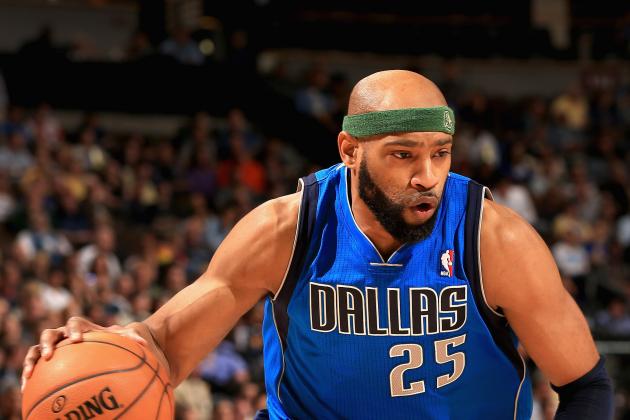 Doug Pensinger/Getty Images

Cleveland Cavaliers Receive: 13th overall pick, SG Vince Carter

Dallas Mavericks Receive: 31st overall pick, 33rd overall pick, future first-rounder (Sacramento Kings)
There are few draft experts who believe Dallas will keep its 13th overall pick.
Cleveland and Dallas have been linked in possible trade talks for a while and are still discussing a possible deal. According to Sam Amico of FoxSportsOhio.com:
Numerous teams, including the Cavs, continue to talk with the Dallas Mavericks about the 13th pick. The Mavs are looking to get out of the first round and shed salary -- more specifically, the salary belonging to veteran small forward Shawn Marion.

The Cavs continue to debate whether they want to take on money in any potential deal with Dallas. Both of the Cavs' second-round picks (Nos. 31 and 33 overall) are in play in the talks, sources said.
Marion has yet to pick up his player option next season for $9.3 million, which could put a snag in the deal.
A possible alternative would be Vince Carter, who's owed $3.18 million next season. Cleveland would love to pick up his tab if it means the 13th overall pick. Since there isn't much of a difference in money owed to the 19th and 13th overall picks, it would make more sense financially for the Cavs to give up their second-rounders and a future first-rounder.
This is where the Sacramento Kings' pick would come into play, acquired by the Cavs in a trade for J.J. Hickson in 2011. The pick is top-12 protected in 2014, and becomes less restricted in the following years.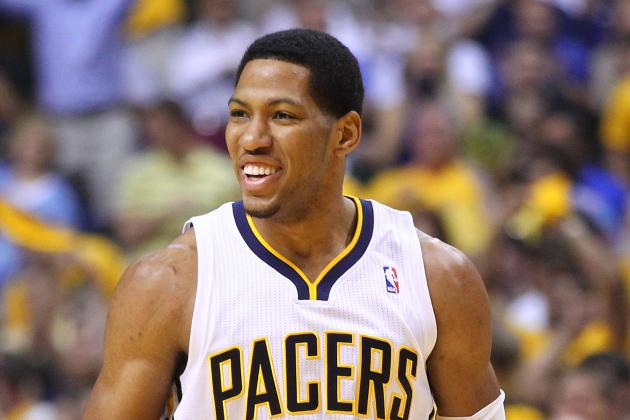 Michael Hickey-USA TODAY Sports

Cleveland Cavaliers Receive: SF Danny Granger

Indiana Pacers Receive: 19th overall pick, C Anderson Varejao, PF Kevin Jones
Few will be surprised if Indiana looks to trade its injured small forward, as the team was one win away from the NBA Finals without him this season.
That being said, Danny Granger still brings a lot to the table if his knee issues are in the past. Cleveland needs a small forward, and he would more than fit the bill.
The asking price for Granger is very much up in the air. One thing the Cavs have going for them in an attempt to land Granger is cap space. Since he's owed about $14 million next season, many teams won't be able to pursue the veteran like Cleveland.
While I wouldn't part with the first overall pick for a 30-year-old on a one-year contract, the 19th overall pick would be a different story.
Cleveland should even consider throwing in its own injured star, Anderson Varejao, to provide an excellent backup big behind Roy Hibbert and David West.
If the Cavs can get a healthy Granger along with a center like Nerlens Noel or Alex Len, the 2014 playoffs would be a very real possibility.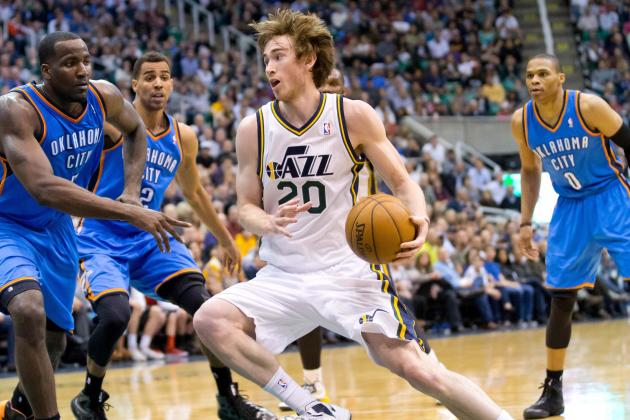 Russ Isabella-USA TODAY Sports

Cleveland Cavaliers Receive: SF Gordon Hayward

Utah Jazz Receive: 19th overall pick, SF Alonzo Gee
We could be looking at a youth movement in the mountains, as the Utah Jazz will likely see three of their starting five depart in free agency.
With Al Jefferson, Paul Millsap and Mo Williams all hitting the open market, the Jazz may want to consider a complete rebuild. Already with two picks in the first round, Cleveland could offer them a third to help kick-start their rebuilding process.
Gordon Hayward is a player few talk about, but don't let that fool you when it comes to his skills.
The 23-year-old forward averaged 14.1 points, 3.0 rebounds and 3.1 assists per game last season. He shot 41.5 percent on three-pointers and 82.7 percent from the free-throw line.
Kicking in Alonzo Gee would help offset the loss of Hayward for Utah, and adding another mid-first-round pick may be too tempting for the Jazz to pass up.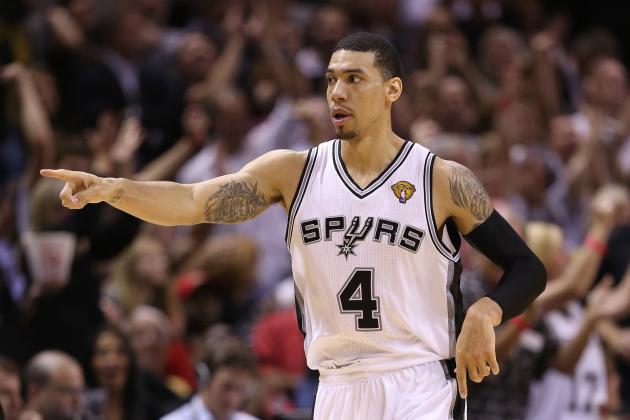 Christian Petersen/Getty Images

Cavaliers Receive: SG/SF Danny Green, PG/SG Aaron Brooks

Spurs Receive: PF Thomas Robinson, SG C.J. Miles

Rockets Receive: PG Cory Joseph, 31st and 33rd overall picks via Cavaliers
The Cavaliers don't want to bring in four rookies, so they'll likely end up parting with at least one of their second-round picks.
In this deal, Cleveland gets a much-improved Danny Green back who, at 6'6", could be the answer at small forward. He's a deep threat who needs to improve his ball-handling, but that could be covered up with Kyrie Irving or Dion Waiters on the court with him.
Aaron Brooks could be the primary backup at either guard position and would give the Cavs some insurance should they lose Shaun Livingston via free agency. The best part? Cleveland would only take on about $3 million worth of salary in this deal.
San Antonio would hate to lose Danny Green but would agree to part with him if it can get its next young big man to build around in Thomas Robinson. Being around Tim Duncan and Gregg Popovich would help Robinson blossom into a star. C.J. Miles would help make up for Green's outside shooting.
It's no secret Houston is trying to shed salary to bring in Dwight Howard, Chris Paul or both.
With this trade, the Rockets clear about $5 million while still collecting two second-round picks. They could even elect to draft players to stay overseas for a season or two to avoid adding them to their salary cap this season.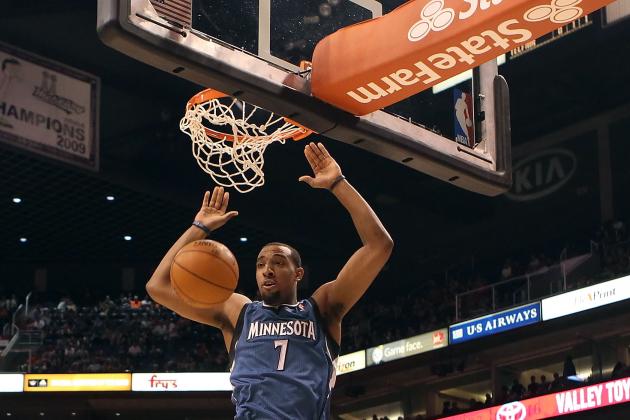 Christian Petersen/Getty Images

Cavaliers Receive: Ninth overall pick, SF/PF Derrick Williams, PG Luke Ridnour

Timberwolves Receive: First overall pick, SG C.J. Miles
There has already been chatter that Minnesota may try to package Derrick Williams and the No. 9 pick in an attempt to move up in the draft.
Could Cleveland be a willing partner at No. 1 overall?
In this deal, Cleveland gets its new starter at small forward in Williams who really began playing good basketball toward the end of last year. The former No. 2 overall pick behind Kyrie Irving will be whipped into prime defensive shape by Mike Brown and add some much-needed athleticism to the small forward position.
Cleveland also gets one year of veteran Luke Ridnour on an affordable $4 million salary. The Cavs could then use the No. 9 overall pick on center Steven Adams of Pittsburgh to secure their three weakest spots.
Minnesota craves outside shooting and would likely go with Ben McLemore or Victor Oladipo first overall. The Timberwolves also get a reliable backup in Miles who is an excellent three-point threat.