With the deal that would send Boston Celtics head coach Doc Rivers and 37-year-old Kevin Garnett to the Los Angeles Clippers falling apart on Friday, Adrian Wojnarowski of Yahoo! Sports reports that Rivers will take the weekend to decide what his future is with the team.
General manager Danny Ainge previously wanted a first-round pick from the Clippers in exchange for letting Rivers out of his contract, yet, all Wojnarowski reported they would offer was a future second-rounder.
If Rivers ever wanted to coach the Clippers, things currently look bleak:
Rivers informed the Clippers on Friday afternoon that he no longer had interest in L.A.'s job, sources tell Y! It's Celtics or TV now.

— Adrian Wojnarowski (@WojYahooNBA) June 21, 2013
And his future in Boston is still very much in doubt:
Doc Rivers and Danny Ainge plan to talk through weekend and have a resolution on the coach's future with Celtics on Monday, sources tell Y!

— Adrian Wojnarowski (@WojYahooNBA) June 21, 2013
The Celtics may not be title contenders as currently constructed, but the backcourt is solidified with Rajon Rondo and Avery Bradley, presuming they can stay healthy. Jeff Green had a huge postseason, and if Paul Pierce, KG and the supporting cast stick around, this is still a formidable unit in the Eastern Conference.
Will Doc Rivers be the Celtics coach in 2013-14?
The roster was decimated by injuries last season, making Boston's 41-40 record all the more impressive. Not counting lesser-used players, Rondo, Bradley and Jared Sullinger all missed significant time.
One does get the feeling that if someone were to leave, coach or player, things could be very different entering the 2013-14 season.
Wojnarowski reports that Rivers is expected to have a decision on Monday, and if he doesn't come back to Beantown, leaving for television is a very real possibility.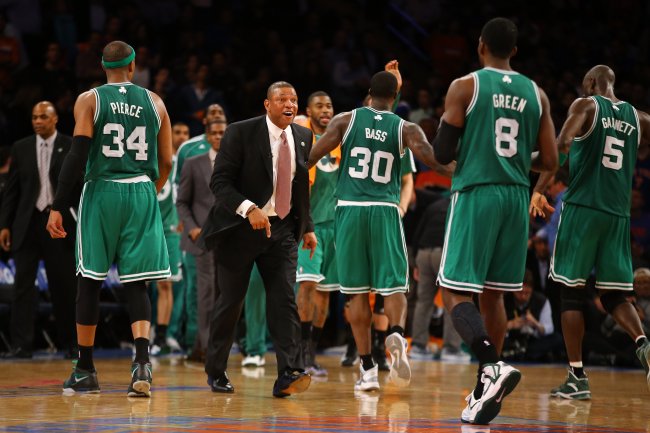 Al Bello/Getty Images
In addition to what could be an awkward feeling in the locker room should he return, Rivers is still owed a chunk of change: $21 million over three years, to be exact.
Until Monday, Celtics fans will have to wait on their coach of nine seasons.