Examining Washington Redskins' Offseason and Key Preseason Positional Battles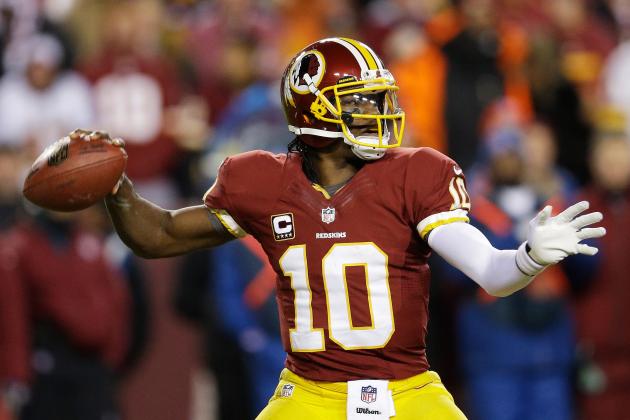 Rob Carr/Getty Images

Patience is a virtue. For the Washington Redskins, patience is what this offseason has been all about.
After trading away much of their 2013 draft in acquiring Robert Griffin III last year, the Redskins weren't expected to make a big splash in late April. With only two picks in the top 100 and no first-round selection, Washington would walk away from the draft with a solid class with considerable upside, but very little to be overly excited about.
But just as Washington was without many options in the draft, it also had a difficult salary cap situation to deal with following the NFL's ruling to strip the team of $36 million in cap space over the last two seasons. As reported by Rich Campbell of the Washington Times, the Redskins currently have just $1.4 million in salary cap space following offseason dealings.
As a result of their cap situation, the Redskins didn't make many big moves in free agency. General manager Bruce Allen kept things in-house for the most part, re-signing players like cornerback DeAngelo Hall and tight end Fred Davis to facilitate as much continuity as possible following a successful 2012 campaign.
Again, patience has been key. Allen would have probably loved to make some additional signings to build on last year's success, but it simply wasn't in the cards.
Still, the Redskins are in position to make even bigger strides in 2013. Provided Griffin can make a full recovery from surgery to repair his ACL and LCL to take the helm from Week 1 this season, there's no reason to believe Washington can't top its 10-win mark of a season ago.
With the league's best rushing attack in place—headed by Alfred Morris and his 1,613-yard rookie campaign—and an explosive dual-threat quarterback in Griffin, Washington won't have problems scoring points this season. The biggest question mark, however, is the team's defense.
The Redskins fielded the No. 28 defense in the NFL in 2012—a unit that surrendered 377.7 yards and 24.3 points per game. Without the ability to make many impactful defensive signings this offseason, that defense will have a lot of questions to answer in 2013.
Allen did what he could in the draft to augment some of those issues, though. Four of the Redskins' seven selections went toward defensive players, including Washington's second-round selection in cornerback David Amerson and fourth-round safety Phillip Thomas.
We'll take a closer look at the Redskins' 2013 draft class, as well as some additional offseason dealings and positions to watch as the 2013 season draws near.
Begin Slideshow

»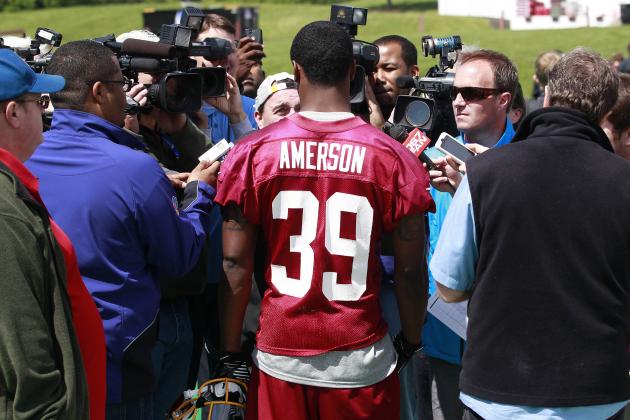 Geoff Burke-USA TODAY Sports

Round 2 (Pick 51): CB David Amerson, North Carolina State
Round 3 (Pick 85): TE Jordan Reed, Florida
Round 4 (Pick 119): S Phillip Thomas, Fresno State
Round 5 (Pick 154): RB Chris Thompson, Florida State
Round 5 (Pick 162): DE Brandon Jenkins, Florida State
Round 6 (Pick 191): S Bacarri Rambo, Georgia
Round 7 (Pick 228): RB Jawan Jamison, Rutgers
Grade: C+
Granted, the Redskins were without a first-round pick this year. But with seven selections and plenty of positions to address, it was a bit of a surprise to see Bruce Allen and Mike Shanahan use two picks on running backs.
Then again, Shanahan has a propensity for employing a deep stable of running backs year in and year out. Still, with Evan Royster and Roy Helu still on the roster, using fifth- and seventh-round selections on running backs was unconventional at best, though Shanahan deserves a little slack after finding Morris in the sixth round last year.
There isn't much to dislike about the tandem's first three picks, though. Washington was in desperate need of another starting-quality cornerback opposite the re-signed DeAngelo Hall, and North Carolina State's David Amerson may fit the bill.
Amerson didn't have a great 2012 season with the Wolfpack, but he does have the size, speed and ball skills to be a tremendous playmaker at the NFL. With a little coaching and some time to develop, Amerson could easily be a solid building block in Washington's secondary.
Likewise, fourth-round safety Phillip Thomas and sixth-round safety Bacarri Rambo could see considerable playing time this season. The Redskins fielded the No. 30 passing defense in the league last season, and no roster spot should be considered safe at this point.
Thomas was expected to be a mid-round selection—and Washington did well to match value with need to acquire him—but Rambo may have been the best selection the Redskins made on draft day, both from talent and value perspectives.
The Georgia product shined at the Senior Bowl in January and some expected that performance to propel him into Day 2 discussion. Ultimately, off-field issues while in college forced his slide down the draft board and into the sixth round.
But Rambo is a tremendous talent, and as long as Shanahan can keep him in line at the NFL level, the safety could prove to be one of the biggest steals of the entire 2013 draft.
Third-round tight end Jordan Reed will add some much-needed depth behind Fred Davis and Logan Paulsen, but where need and value are concerned, the Redskins probably could have gone another direction with the 85th pick. In any case, Reed certainly adds some intriguing upside to a group of targets that should be an improvement of the 2012 incarnation the Redskins fielded.
In all, Allen and Shanahan filled a couple big holes and added quite a bit of potential to the roster, but there wasn't much about their draft class that would suggest the duo went above and beyond what was expected on draft day.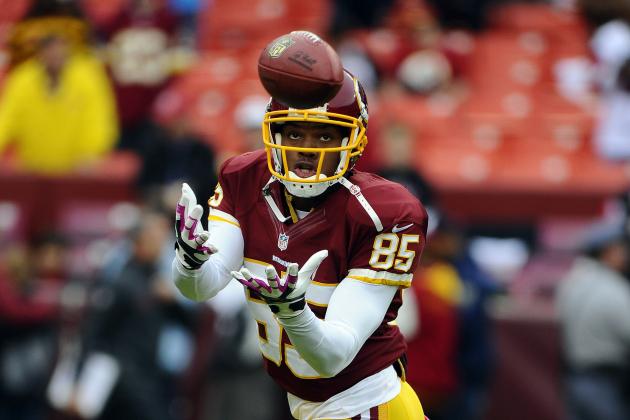 Brad Mills-USA TODAY Sports

Many expected Washington to target a wide receiver with one of its early-round draft picks this year, and while the Redskins failed to address the position in late April, it also wasn't really necessary.
With a healthy Pierre Garcon back on the field this season, as well as veteran receiver Santana Moss and third-year wideout Leonard Hankerson, the Redskins have a solid core in place for the 2013 season.
Along with the team's leading trio of targets, Josh Morgan and former New Orleans Saints receiver Devery Henderson round out a group that boasts talent, depth and upside at the position.
Henderson was a recent free-agent acquisition, who, along with Donte' Stallworth, will add another veteran presence and give Robert Griffin III another deep threat to take advantage of. What looked like a potentially weak group heading into the offseason suddenly doesn't look so thin.
Granted, Stallworth isn't the 40-plus-cath-per-season target he once was—nor is Moss a 1,000-yard receiver at this point in his career—but there's something to be said for the depth Washington has accrued with very little cap space this offseason.
With Aldrick Robinson and Dezmon Briscoe also included on the list, the Redskins shouldn't struggle with providing targets for Griffin. The only issue is figuring out where they all fit.
Garcon missed six games last season, but when healthy, he's far and away Washington's top receiving threat. In 10 games last season, the former Indianapolis Colts standout recorded 44 catches for 633 yards and four touchdowns, and won't be in any danger of losing his No. 1 role this offseason.
Hankerson, a 2011 third-round selection, pieced together a solid 2012 campaign with 543 yards and three touchdowns. With a terrific blend of size and speed, Hankerson appears to be the versatile target on which the Redskins can rely opposite Garcon. Unless something unforeseen happens prior to the season, Garcon and Hankerson will be Griffin's top targets in 2013.
But beyond Washington's top-two pass-catching weapons, the depth chart gets a little murkier. Josh Morgan could split some time with Hankerson as the team's No. 2 after catching 48 passes for 510 yards and two touchdowns last season. Morgan has been extremely inconsistent in his five-year career, but he's also a better blocker than Hankerson—something Mike Shanahan loves from his starting wideouts.
At 34, Moss is likely to continue seeing a decline in snaps, mostly from the slot. While he hauled in eight touchdowns in 2012, it's unlikely he comes anywhere close to that production this season.
Perhaps the most intriguing receiver to watch, however, is Robinson.
Arguably the team's best deep-threat option, Robinson posted a 21.5 yards-per-catch average last season and tallied three touchdowns on just 11 receptions. The second-year speedster probably won't crack the top three early in the season, but there's certainly room for a player like Robinson who can take the top off opposing defenses.
It's always good to have options. At this point, it seems Washington has more than enough to field a solid receiving corps in 2013.
Projected WR Depth Chart
| | |
| --- | --- |
| No. 1 | Pierre Garcon |
| No. 2 | Leonard Hankerson |
| No. 3 | Josh Morgan |
| No. 4 | Santana Moss |
| No. 5 | Devery Henderson |
| No. 6 | Aldrick Robinson |
| No. 7 | Dezmon Briscoe/Donte' Stallworth |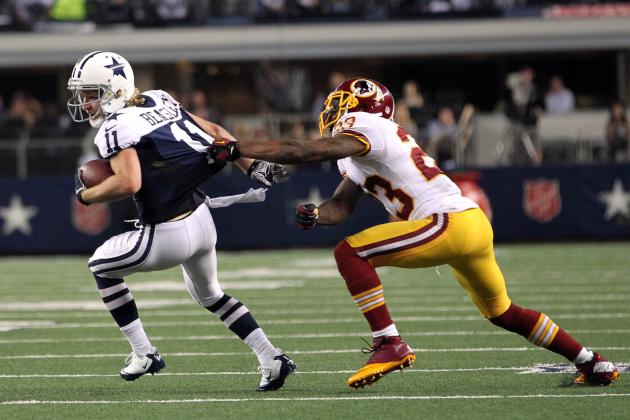 Tim Heitman-USA TODAY Sports

Brandon Meriweather is coming off a torn ACL. E.J. Biggers was a free-agent acquisition. DeAngelo Hall is, well, DeAngelo Hall.
There are some massive question marks surrounding Washington's secondary this offseason, beginning with those three players.
Hall is terrific for what he is—a speedster who can cover an opposing offense's best receiving threat down the field. But Hall also struggles in defending the run and stopping bigger receivers on underneath routes. At the very least, the Redskins know what to expect from their No. 1 cornerback. Where uncertainty is concerned, Hall is near the bottom of the list.
Meriweather's recovering ACL is a bigger concern, though. If the veteran safety is healthy enough to play a full season in 2013, Washington's secondary will be a much stronger unit. Whether that will happen remains to be seen.
Biggers will be competing with Josh Wilson for the starting role opposite Hall, and as quoted by Chris DeLisi of Redskins.com, he's up for the challenge:
We have a great room full of talent, a great team. It's a pleasure and an honor to play with guys like DeAngelo [Hall] and Josh Wilson. It's a great room to be around. It makes you want to compete and be your very best at all times. Coach Morris is amazing. The kind of guy he is. The kind of coach he is. He challenges you to bring out your very best. That's every day. Walking around the hallway, in meetings, all that. Just to know he wants you to bring your best at all times makes me want to work harder each day.
The biggest question involving Biggers will be his ability to transition from Tampa Bay's predominantly man-coverage defensive schemes to Washington's zone-heavy schemes. That's not to suggest Biggers can't make the transition, but it still remains a proving point.
With David Amerson in the mix, though, there won't be a lack of competition at the position. Competition fuels progress, and Washington's group of cornerbacks certainly needs to make a lot of it this offseason.
But as Washington's draft strategy suggested, safety is also an area in which the Redskins simply must get better in 2013. Provided Meriweather is back to full strength, that will be a little easier than expected.
Reed Doughty is the front-runner to retain the starting free safety role, but Phillip Thomas will be pushing him for the job. The Fresno State product may have been a mid-round pick, but he has the ball skills and playmaking ability to surprise some people in his formative years—especially if Washington's secondary struggles with injuries again this season.
Thomas and Rambo don't come without question marks of their own, however. While each is a high-upside option, both players need to work on their recognition skills and tackling ability. Those particular factors could be what ultimately relegates them to reserve and sub-package duties.
The questions are many, but this much should prove true in 2013: With added depth at each secondary position, the Redskins are in much better position to improve a unit that finished near the bottom of the league in 2012.
Projected Depth Chart
| | |
| --- | --- |
| CB 1 | DeAngelo Hall |
| CB 2 | Josh Wilson |
| Nickel | E.J. Biggers |
| SS | Brandon Meriweather |
| FS | Reed Doughty |
| Sub-Package | David Amerson |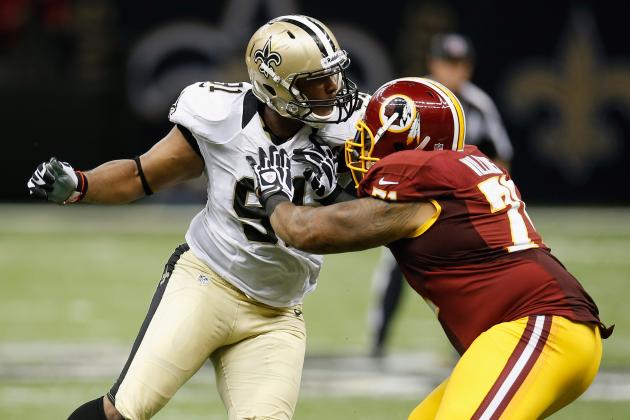 Chris Graythen/Getty Images

With Robert Griffin III's health and Alfred Morris' production at stake, the Redskins have to focus on perpetuating a solid offensive line in 2013. Seems obvious, right?
Even more obvious: Continuity is the key to doing that. With all five starters returning this season, that hopefully won't be an issue.
According to Football Outsiders' metrics, Washington's offensive line ranked seventh in the league in run-blocking last season—not much of a surprise given the team's league-leading 2,709 rushing yards in 2012.
But as a pass-blocking unit, Washington's offensive line needs to show improvement this year.
Football Outsiders ranks the Redskins' offensive line as the No. 23 pass-blocking unit in the league in 2012 with an adjusted sack rate of 7.8 percent. While the offensive line allowed just 33 sacks last season (tied for 12th best in the NFL), the Redskins also attempted the third-fewest passes with 442.
For Griffin to remain healthy and on the field in 2013, Washington's pass protection has to get better. Hopefully the continuity provided from fielding five returning starters will help the cause.
Here's what the starting five should look like to begin the season:
| | |
| --- | --- |
| LT | Trent Williams |
| LG | Kory Lichtensteiger |
| C | Will Montgomery |
| RG | Chris Chester |
| RT | Tyler Polumbus |
But depth may come into question at some point in 2013. Veteran tackles Jeremy Trueblood and Tony Pashos haven't seen much action in recent years, and both are on the wrong side of 30. While neither presents a reason for major concern, the Redskins could certainly use a little more youth backing up the bookend starters.
Tom Compton and Xavier Nixon each provide some youth, but neither has shown enough development to be considered a viable option in backing up either Trent Williams or Tyler Polumbus. As it stands, the offensive tackle positions yield plenty of question marks behind the team's starters.
On the interior of the line, much of the same holds true. Kory Lichtensteiger, Will Montgomery and Chris Chester played tremendously last season, but the depth behind the trio consists of young players with little experience in Josh LeRibeus, Adam Gettis, Maurice Hurt and Tevita Stevens.
It may seem tacit, but avoiding injuries will be paramount to the sustained success of Washington's offensive line this season.
There isn't necessarily much reason to worry about the line in 2013—and it's entirely likely Washington could find a pleasant surprise in one of its backup linemen should a starter go down this year. But with so much at stake, it's easy to be skeptical about the unit's sustained success this season.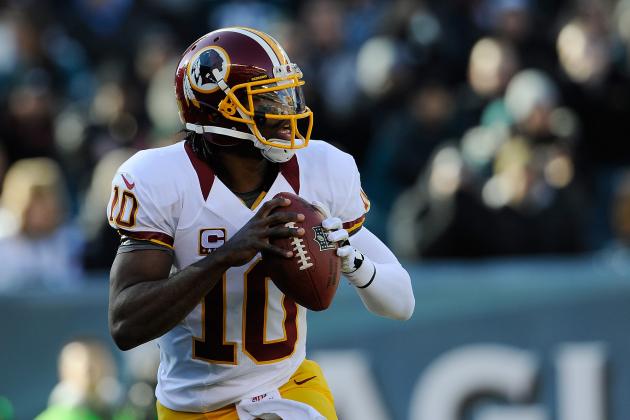 Patrick McDermott/Getty Images

*For a complete look at Washington's 2013 schedule, check out NFL.com.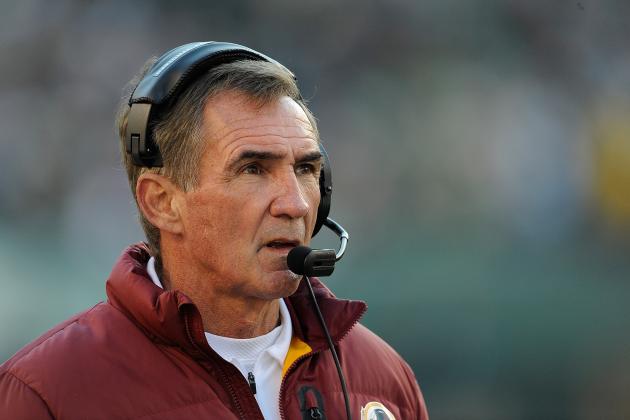 Patrick McDermott/Getty Images

When looking at the 2013 schedule—and taking into account RG3's recovering knee—the words "boom" and "bust" come to mind.
There's really no reason to believe the Redskins can't churn out another 10-plus-win season, especially if Griffin returns to full strength.
But the upcoming slate is also littered with difficult matchups, most notably with the Green Bay Packers, Atlanta Falcons and San Francisco 49ers. Paired with division matchups with the New York Giants and Dallas Cowboys, it wouldn't be a surprise to see Washington come away from that portion of the schedule with at least three losses.
There are, of course, several matchups in which the Redskins should be heavily favored. But as a whole, the 2013 schedule won't be an easy one to traverse.
Washington proved it can't be overlooked in the NFC East with a division title last year, though, and until New York, Dallas or Philadelphia dethrones the Redskins, they'll be the favorites to repeat the feat this season.
Prediction: 11-5, First in NFC East
Expectations for this season should be tempered given the health concerns of Griffin and the relative uncertainty at the back end of Washington's defense. Realistically, the Redskins could win anywhere from eight to 12 games this year based on the look of their schedule, but expecting more than 11 wins would be a little too optimistic at this point.
Still, the status quo remains unchanged. Washington didn't improve by leaps and bounds this offseason, but it did enough to remain the favorite in the hunt for the 2013 NFC East title.