Tom Brady is older than most recent Super Bowl champion quarterbacks.
In fact, Brady would potentially be only the second quarterback in the past 15 years to win a Super Bowl over the age of 31. That's if the Patriots were to actually win the Super Bowl in 2013.
Brady turns 36 before the start of the 2013 season and despite the recent trend of younger quarterbacks bringing home the Vince Lombardi Trophy, this season will not be Brady's last chance at adding another ring to his collection.
There are a few reasons why 2013 isn't Brady's last chance to win a Super Bowl, but that is also not to say that the Patriots should be any kind of favorite heading into the season.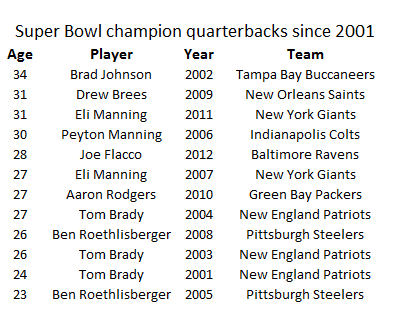 As you can see, only four of the last eight Super Bowl champion quarterbacks have been over 30 years old, and only one of them was over the age of 31.
That quarterback was then-34-year-old Brad Johnson with the Tampa Bay Buccaneers back in Super Bowl XXXVII in 2003.
In the Buccaneers' three playoff games of the 2002 season, Johnson completed just 53-of-98 (54.1 percent) passes for 670 yards, five touchdowns and three interceptions. Those aren't exactly MVP-like numbers and probably not the kind of evidence you're looking for in searching for historical reasons why Brady has opportunities beyond 2013 to get another Super Bowl ring.
History, however, doesn't change the fact that Brady is one of the best quarterbacks in the NFL over the past 12 years. Brady isn't Johnson, either. Trends don't work when you're talking about players with the pedigree that Brady brings to the table.
Age didn't matter for John Elway when he led the Broncos to a Super Bowl title to crown the 1998 season when he was 38 years old. Brady is more along the lines of Elway than he is of Johnson in terms of pedigree, anyhow.
Since Brady's return from a torn ACL that sat him almost all of the 2008 season, here's a look at his past four seasons with his regular and postseason numbers.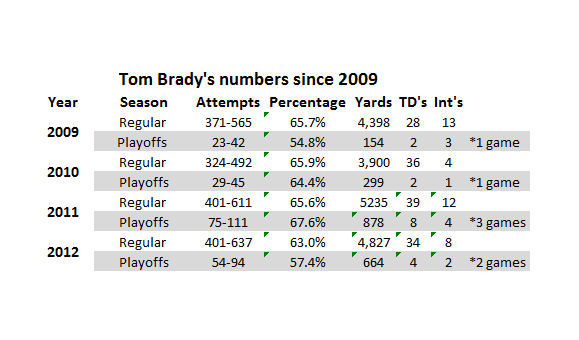 The playoff numbers don't jump out at you but what's interesting is that they came in four playoff runs. Since turning 32 four years ago, Brady has still consistently led the Patriots to the playoffs. The more chances a quarterback gives a team by getting to the playoffs, the better chance the team has at actually winning a Super Bowl.
Much has been made of the departure of former Patriots wide receiver Wes Welker to the Denver Broncos this offseason. Welker caught 449 passes for 5,119 yards and 26 touchdowns over the past four years for the Patriots with Brady at quarterback. New England obviously is going to have a huge hole to fill in terms of production.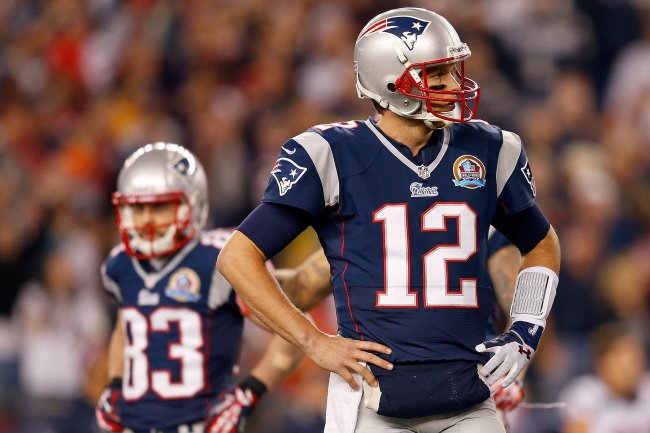 Jim Rogash/Getty Images
It's not whether or not new Patriots wide receiver Danny Amendola, who came over via free agency from the St. Louis Rams this offseason, can make up for that production by himself, but if the Patriots' offense can still consistently put points on the board.
The Patriots led the NFL in scoring offense last season by averaging 34.8 points while their defense finished tied for ninth in the NFL by giving up just 20.7 points per game. Those are solid numbers to look at when determining where the Patriots' offense would fit even if it took a slight dip in production.
This offseason, the Patriots' defense added defensive tackle Tommy Kelly from the Oakland Raiders and safety Adrian Wilson from the Arizona Cardinals. They join a young, but talented, Patriots' defense that still has perennial Pro Bowler Vince Wilfork holding down the middle.
The arrow is pointing up on defense as young players like Jerod Mayo, Chandler Jones and Donta Hightower develop and lead the way for the next few years. The defense shouldn't be a huge reason, barring any major injuries, that the Patriots don't give Brady another chance at a Super Bowl.
The big news heading into the season for Brady is the health of his starting tight end, Rob Gronkowski. Gronkowski has caught 145 passes for 2,117 yards and 28 touchdowns over the past two seasons despite only playing in 11 games in 2012 due to injury.
He's a dynamic target over the middle of the field for Brady, but an offseason full of surgeries has Gronkowski's effectiveness to start the 2013 season in doubt.
Could not get tweet oembed code for tweet 345711903064092673
The Patriots need Gronkowski to be healthy in order to at least compete at the level they have over the past four years. New England brought in free agents Michael Jenkins and Donald Jones at wide receiver in addition to Amendola.
They also drafted talented Aaron Dobson out of Marshall in the second round (No. 59 overall) of the NFL draft to boost their receiving core. That's a lot of new faces for Brady to work with and that development might take some time.
Tom Brady makes most of his plays from the pocket.
Brady isn't exactly a mobile quarterback. His "game" translates better to getting older than you'd see from a player like Michael Vick, whose athleticism is his forte. Brady is a prototypical pocket passer who doesn't have to get outside the pocket in order to make plays.
There's another aging veteran quarterback right now who's the prototypical pocket passer that's also having some success, and that's the Broncos' Peyton Manning, who just turned 37 years old this offseason after another fantastic season in 2012, his first in Denver.
Manning completed 68.6 percent of his passes and threw 37 touchdowns with just 11 interceptions last season. Not bad for an old(er) man.
Brady isn't having to reinvent himself as a player as he gets older. He can stick with what he's been doing and still has the physical ability, even at an older age, to continue playing at the same level. His statistics and play on the field over the past few years tell us he's still among the best in the game.
If the argument against Brady having the chance to get the Patriots deep into the playoffs beyond 2013 boils down to a few bad throws in the playoffs over the past three years, it's looking a little too much at a handful of misfires. He's consistently in position to make those throws, which tells you more than the few over-analyzed bad throws he has made.
The bottom line is that Brady keeps getting the Patriots to the playoffs and that gives him a chance at another Super Bowl championship.
The uncertainty surrounding Gronkowski and the addition of what should be several high-producing wide receivers in Amendola, Jones, Jenkins and Dobson give the Patriots solid options for 2013, but they could be even better in 2014 with time to heal and further develop.