The Los Angeles Lakers have decisions to make this offseason, and the team should avoid pursuing Blake Griffin of the rival Los Angeles Clippers.
ESPN's Marc Stein reported on Saturday that the Clippers are interested in a sign-and-trade with the Lakers.
Among scenarios Clips considering, sources say, is offer of Blake Griffin & Bledsoe in sign-and-trade pitch Lakers for Dwight after July 1

— Marc Stein (@ESPNSteinLine) June 15, 2013
Adrian Wojnarowski of Yahoo! Sports reported that a source close to the situation said the Lakers would never do it.
Among scenarios Clips considering, sources say, is offer of Blake Griffin & Bledsoe in sign-and-trade pitch Lakers for Dwight after July 1

— Marc Stein (@ESPNSteinLine) June 15, 2013
Despite the temptations to get an All-Star in return for Dwight Howard, the Lakers are right to decline this opportunity.
Howard and point guard Chris Paul are both free agents this summer and have been rumored to want to play together next season. In order to do that, Griffin would likely have to be traded.
The Lakers should not help their crosstown rival in this situation. Not only would they be giving the Clippers an All-Star center, but they would also be helping the Clippers keep the NBA's best point guard.
The Clippers could always find another trade partner to try to get a sign-and-trade done, but the Lakers are the best option because they can offer Howard the most money.
With Kobe Bryant trying to rehab and get ready for the start of the season, the Lakers could have trouble early in the season if they don't find a way to keep Howard.
Bryant may not be able to participate in practices leading up to the start of the season, so the team would have to find a way to mesh without any reps together if they traded for Griffin.
It took a long time for the Lakers to be healthy and play well together last year, but it looked like they were starting to put it together. It's unclear if Howard will re-sign with the Lakers, but they can give him a huge contract and a chance at a championship.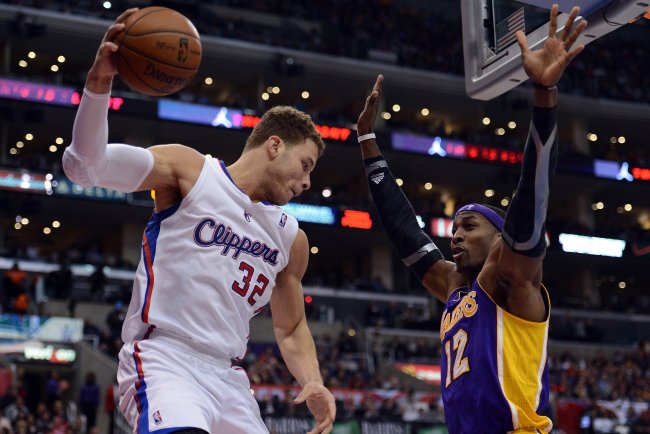 Harry How/Getty Images
What would the Lakers gain from acquiring Griffin?
The biggest positive would be that they would have a big man under contract through 2018. He fits coach Mike D'Antoni's system better than Howard because he is an explosive offensive player.
However, Griffin's style doesn't look like it would work well with Bryant's game. Bryant still has good years left—assuming he recovers from the injury.
Everyone knows about Griffin's high-flying antics. He can throw down dunks with the best, but he wouldn't give the Lakers much else.
Griffin is a slightly better at free throws than Howard, but the rebounding numbers would take a hit if the teams made this swap. The Lakers would also lose a big presence in the paint if they dealt Howard.
If Howard makes it clear that he won't re-sign with the Lakers, they may have to explore opportunities for a sign-and-trade so they can get something in return. They could also let him test the market and see if the contract they can offer is too much to turn down.
Griffin would give the Lakers athleticism, but the team would be better off looking for help on the perimeter if they can't keep Howard. The Lakers need someone who can hit three-pointers consistently and take pressure off of Bryant, and Griffin doesn't fit that role.
This deal would give the Lakers a big man who is locked up for the next few years, but the team has bigger needs to address. Griffin isn't much of a threat outside of the paint, and the Lakers need shooters.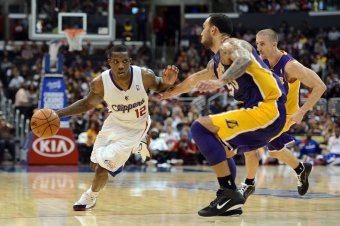 Harry How/Getty Images
Point guard Eric Bledsoe is also part of the rumored proposal. He would be a good backup for Steve Nash, but he hasn't shown the ability to hit shots consistently. He has shot 43 percent from the field in his career, but he hasn't put up good numbers in back-to-back seasons.
Bledsoe and Griffin would give the Lakers youth, but it doesn't give them a huge boost on offense. If the Lakers could get more than just those two players, it would be worth considering the deal.
The main priority should be to try to re-sign Howard, not help the Clippers put together a loaded roster. Flirting with the idea of Griffin in a Lakers uniform is fine, but Griffin and Bledsoe wouldn't be able to carry the franchise after Bryant is done playing.