Ranking the Most Likely 2013-14 NBA Rookie of the Year Candidates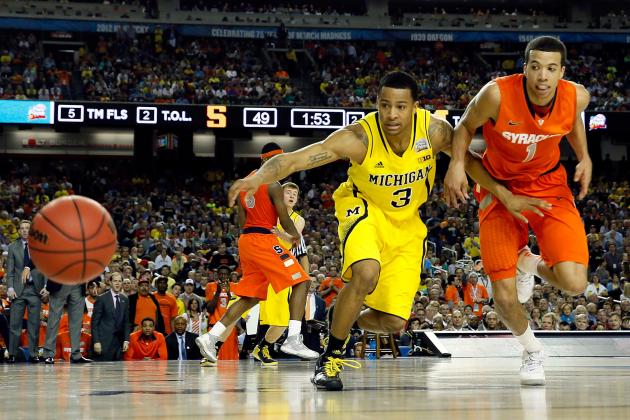 Streeter Lecka/Getty Images

Handicapping the 2013-14 NBA Rookie of the Year race before draft day might seem a little crazy.
There's a lot of guesswork to do about who will end up where, especially since the first pick of the draft may no longer be a foregone conclusion. It's a safe bet that if the top of the draft board is uncertain, so is the race for Rookie of the Year.
Still, even with a lot left to be decided, there are certain historical trends that can help us narrow in on realistic candidates. We know what things matter to voters, and we know what types of players have won in the past.
Ball-dominant guards (Chris Paul, Brandon Roy, Derrick Rose, Tyreke Evans, Kyrie Irving, Damian Lillard) have won six of the last eight years, and in the last 25 years, no player taken out of the top-10 has won the award.
With those guiding principles in mind, here are the most likely 2013-14 NBA Rookie of the Year candidates.
Begin Slideshow

»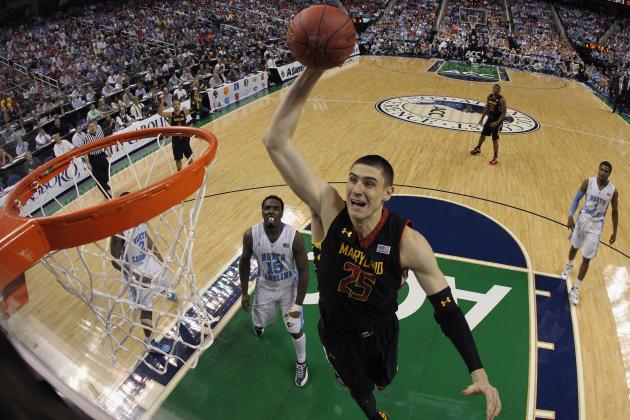 Streeter Lecka/Getty Images

Maryland big man Alex Len has garnered some buzz as the potential first pick in the draft, so it may be a little surprising to see him rank so low.
No matter where he falls in the draft, though, Len faces an uphill battle.
Over the last decade, only one rookie center has scored over 15 points a game in his rookie season (Emeka Okafor). Perhaps non-coincidentally, Okafor is the only rookie center to win the Rookie of the Year award in the last decade as well.
This is an award that favors scorers, and the post game in today's NBA just doesn't get as much play as it once did. Add in that big men usually face a steeper learning curve than guards do, and Len probably shouldn't be considered a favorite to win, despite possessing good potential as a scorer down the line.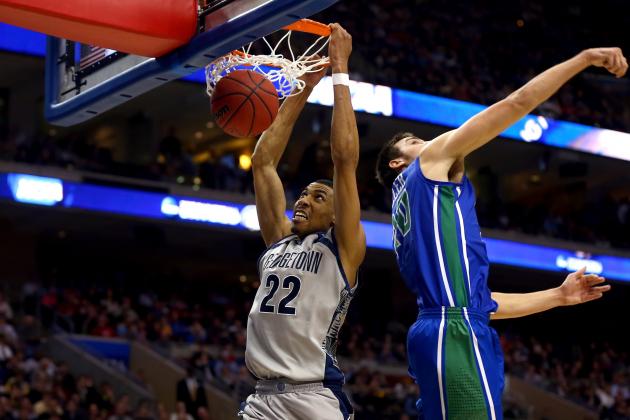 Elsa/Getty Images

Otto Porter is a really solid player who does a lot of things that don't show up in the box score to help his team win games. But that's kind of the problem.
Porter has compared himself to a Tayshaun Prince type, a glue guy who doesn't necessarily need the ball to have an impact on a game. If the Washington Wizards select him with the third pick like many have speculated, he'd be a fourth option offensively behind John Wall, Bradley Beal and Nene.
Porter did do an admirable job filling the scoring load at Georgetown this past season, but it's fair to assume he won't be asked to do the same at the pro level. Barring a very good overall stat line and trip to the playoffs for the team who selects him, Porter will likely stay on the peripherals of the Rookie of the Year award chase.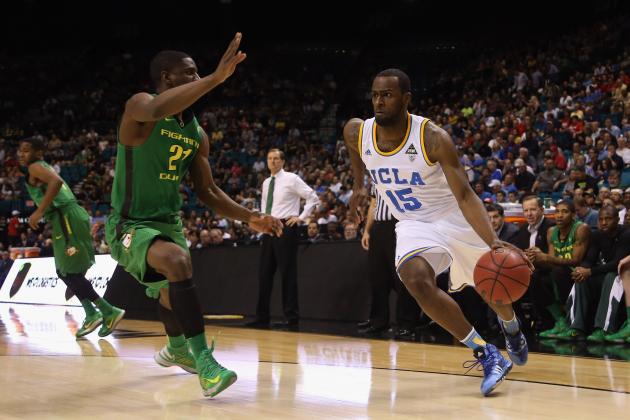 Jeff Gross/Getty Images

Shabazz Muhammad may come cloaked in red flags, but it's impossible to ignore his aggressiveness and knack for scoring.
At UCLA last season, Muhammad attempted 18.5 field goals per 40 minutes, which, for comparison sake, is five more shots per 40 minutes than fellow wing prospect Ben McLemore put up. Muhammad loves to shoot and loves to draw contact, and any team drafting him knows what they're getting. No team will be taking Muhammad because he's a good passer.
Will Muhammad defend consistently and be enough of a team player to stay on the floor and get enough minutes? That's a big question, but so long as he gets the playing time, I wouldn't bet against Muhammad finding a way to get his numbers. That's what he does.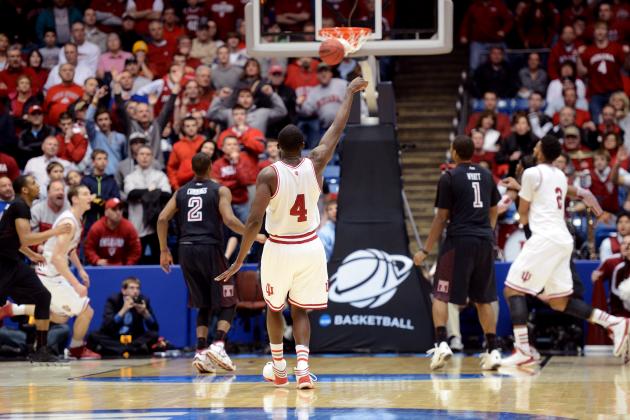 Jason Miller/Getty Images

Victor Oladipo has gobs of potential. He's a freak athlete who can cause all kinds of problems in transition, and he's an improved shooter. Maybe more importantly, his defense and hustle will keep him on the floor.
There's an awful lot to like going forward with Oladipo, but he's never been a player you give the ball to and say, "go get a bucket." In his three seasons at Indiana, Oladipo never attempted more than 12 field goals per 40 minutes, which is a really low number for a top prospect. Can he be a top option on an NBA team this year? That's very much up in the air.
To his credit, Oladipo was one of the most efficient scorers in all of college basketball last year. While his raw numbers likely won't bowl anyone over, his percentages should be solid. If he gets on a team that plays good enough defense to get out and run a lot, he can finish much higher than this.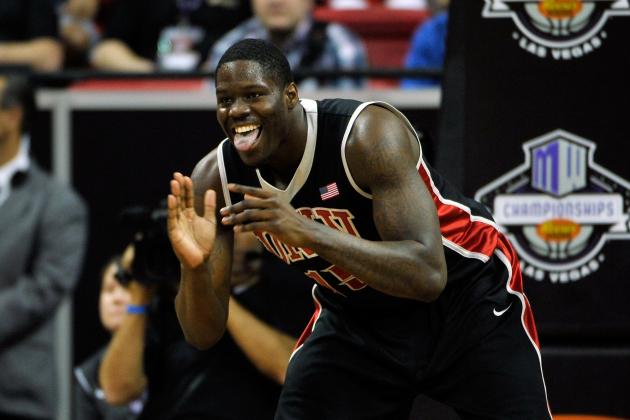 Jeff Bottari/Getty Images

Anthony Bennett is the toughest prospect to slot in this race.
The offensive skills make you drool. Bennett possesses a freakish mixture of size, strength and athleticism, and he has the perimeter touch to be a stretch 4 in the NBA. He can rebound, he can run, he's not afraid of contact and he can score in a variety of different ways.
So what's the problem? Defense.
Bennett often looks clueless defensively, and back-line defenders who miss rotations or don't show sustained effort find themselves on the bench more often than not. Hornets coach Monty Williams won't stand for that, and neither will Kings head coach Mike Malone. Earning playing time is the big concern here.
If Bennett can get it together defensively, improve his stamina and just find a way to stay on the floor, he has as good of a shot as anyone to be the 2013-14 Rookie of the Year.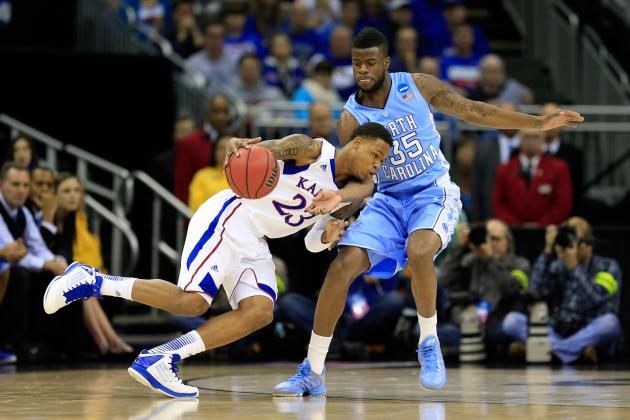 Jamie Squire/Getty Images

Ben McLemore is an extremely similar player to Wizards guard Bradley Beal, who happened to finish third in last year's Rookie of the Year voting. Beal took a while to get his feet wet before turning it on late last season, and you could certainly see the same thing happening with McLemore.
While he may be a very effective spot-up shooter and transition player, McLemore has been criticized for his lack of aggression and tendency to float throughout games. Complimentary swingmen who don't dominate the ball rarely win the award (Mike Miller being the last), but in an already weak class that's been further weakened by long-lasting injuries (Nerlens Noel), solid and steady play may be enough to put McLemore in serious contention.
McLemore is similar to Otto Porter in this regard: If whatever team he goes to magically makes the playoffs, he'll have likely been an important contributor on both ends.
Remember, Damian Lillard was considered a runaway for the award last year in large part because Portland, at least for a bit, was contending for a playoff spot. Anthony Davis had the numbers to make it interesting, but the Blazers' brief success all but locked it up for LIllard. McLemore's stats are unlikely to do it on their own, but team success can always factor in.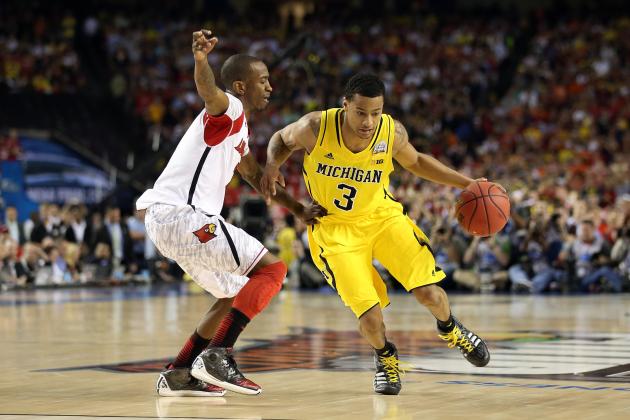 Andy Lyons/Getty Images

Trey Burke's game probably translates to the pros better than any other prospect. He's adept in pick-and-roll situations, his range is insane and he's a solid distributor who can make something out of nothing. For a bad team, handing 30 percent of your possessions to Burke isn't the worst idea at all.
So why is the stud scoring point guard who won every National Player of the Year award sitting at No. 2 on this list?
Because of where he'll likely fall. The Cleveland Cavaliers (Kyrie Irving), Washington Wizards (John Wall), Charlotte Bobcats (Kemba Walker) and Phoenix Suns (Goran Dragic) are all set at point guard. The Orlando Magic look to be more interested in a wing. So who does that leave?
The New Orleans Pelicans at pick six and the Sacramento Kings at pick seven. Problem is, there are a couple of pretty good point guards already there too. Greivis Vasquez had a breakout year for the Pelicans, averaging 9.4 assists per 36 minutes with a 16.3 PER. Isaiah Thomas, despite former coach Keith Smart's refusal to stick with him, has a career PER of 17.6.
Are those guys good enough to pass up drafting Burke? Probably not. But will they cut into his minutes or be more than suitable options to start should Burke stumble out of the gates? You bet.
If Burke fell to the Detroit Pistons with the eighth pick, he'd be the favorite. But since he's not working out for any team behind Sacramento, it doesn't seem likely he'll fall.
Negativity aside, Burke is a strong favorite to win regardless, as he's easily the best pick-and-roll player in the draft.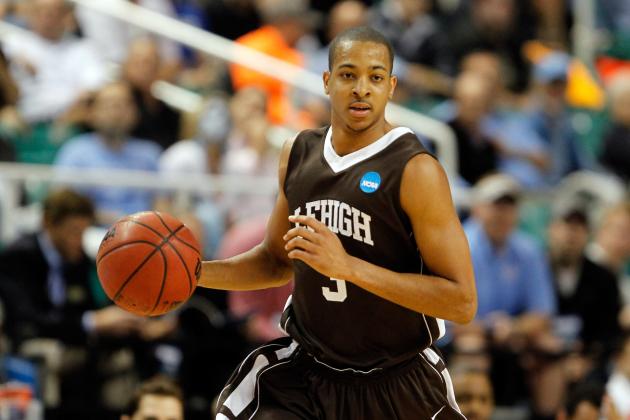 Streeter Lecka/Getty Images

Surprised? Don't be.
C.J. McCollum can be the 2013-14 Rookie of the Year for a few reasons. He's more experienced than any other prospect in the top 15, he averaged over 24 points per 40 minutes all four years at Lehigh, he's a combo-guard that can fit with a variety of different players and he's right in the wheelhouse for two sleeper playoff teams (Portland Trail Blazers and Minnesota Timberwolves) that need perimeter scoring badly.
The fit makes sense, because McCollum is a lights-out scorer who can do it every which way. He's probably the best isolation player in the draft, and he might be the best shooter off his own dribble as well. While I'm not suggesting he's as good as Kyrie Irving, McCollum scores in a similar fashion, utilizing elite ball-handling and manipulation of defenders. In a draft that lacks shot-creators, McCollum is head and shoulders above everyone else, with the exception of Burke.
But it's not just all about scoring. McCollum is a heady player who understands the game and won't hurt you defensively, and his rebounding numbers per 40 minutes have been outstanding. There is some concern about the level of competition at Lehigh, naturally, but Steph Curry and Damian Lillard have put some of those worries to bed.
McCollum isn't a great distributor yet, but if he's asked just to focus on scoring or even carry a second unit (hello, Portland), he'll be capable of putting up gaudy numbers with great percentages across the board for a team in contention. This could be Damian Lillard all over again.