There will be no quarterback controversy in New England in 2013. There will be much more of a focus on the Patriots offense next season, however, after the team signed free agent signal-caller Tim Tebow on Monday according to the team's official website.
According to ESPN NFL insider Adam Schefter, the deal is worth two years:
Tim Tebow signed a two-year contract with the Patriots that included no guaranteed money.

— Adam Schefter (@AdamSchefter) June 11, 2013
But more importantly, Schefter also reports that the Pats signed Tebow to play his preferred position, quarterback:
Patriots did not sign Tim Tebow to play RB nor TE. They signed him to play QB. Backup QB. Tom Brady will not lose a play.

— Adam Schefter (@AdamSchefter) June 11, 2013
The move is a brilliant one by Bill Belichick and the New England front office. After all, playing Tebow at running back or tight end will ultimately make him even more of a distraction.
With a three-time Super Bowl champion and a future Hall of Famer in place in Tom Brady, Belichick and the Pats won't have to worry about a disgruntled fanbase shouting for Tebow to get the nod under center.
That reason alone makes signing Tebow, who was drafted in 2010 by current New England offensive coordinator Josh McDaniels, a harmless transaction for the Pats.
On top of that, New England now has a proven winner behind Brady on the depth chart. Injuries are a huge part of the game. If Brady goes down or misses time for any reason, Belichick can start a dual-threat quarterback with a winning record in Tebow.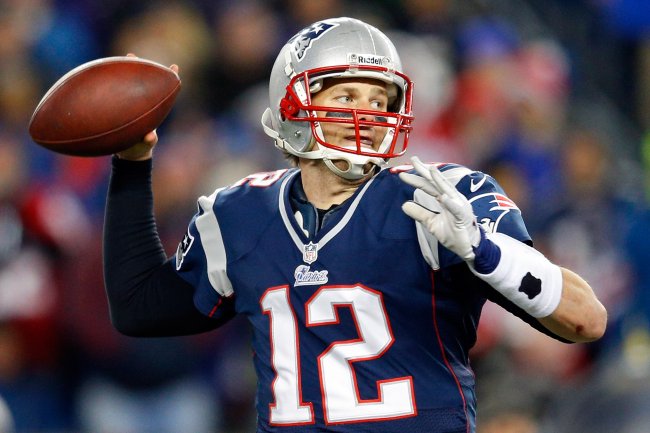 Jim Rogash/Getty Images
But the idea of Brady missing time is almost unthinkable. The 35-year-old is one of the most durable players in the NFL, having missed just 15 starts since Week 3 of the 2001 season. Brady missed those 15 games in 2008 after suffering a torn ACL in the season opener.
He's made 64 consecutive regular-season starts dating back to the beginning of the 2009 season.
In New York last season, Tebow was forced to constantly remain on edge week after week as Mark Sanchez struggled to lead the offense. But in New England, Tebow has to know that the only way he'll see the field during the regular season is if an injury demands it, assuming the coaching staff has no plans to develop a gimmick package for him.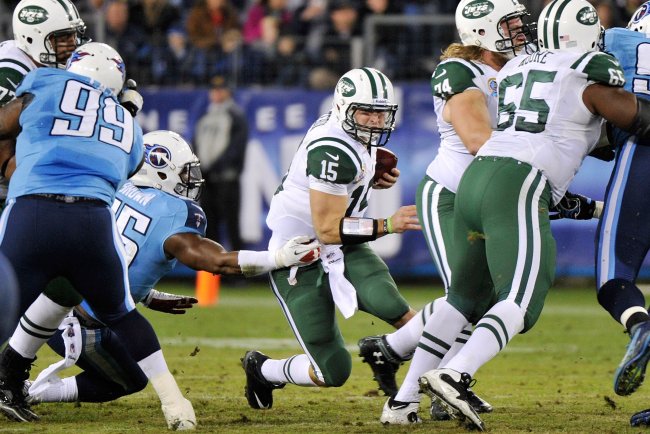 Frederick Breedon/Getty Images
But if Tebow is forced into the action, there's no reason for Patriots Nation to panic. No, the numbers aren't exactly eye-popping when it comes to Tebow's passing prowess, but the results are certainly difficult to argue with.
Despite completing just 46.5 percent of his passes for 1,729 yards, 12 touchdowns and six interceptions with the Denver Broncos in 2011. Tebow finished the regular season that year going 7-4 as a starter and leading the Broncos to an AFC Wild Card playoff win over the Pittsburgh Steelers.
What do you make of the Pats' decision to sign Tim Tebow?
But unlike the Broncos two seasons ago and the New York Jets in 2012, the New England Patriots have a successful system in place to overcome the drama associated with Tim Tebow off the field.
As long as Belichick is running the show, no one player is going to be bigger than the team, that's a given.
Plus, with Brady cemented into the starting job, the 25-year-old Tebow will have a golden opportunity to sit behind and learn from one of the best to ever play the position.
Instead of learning what not to do behind Mark Sanchez, Tebow is set to learn a lot about how to play quarterback at a high level in the NFL. The Patriots now have a proven leader and winner to backup their most important position.
Follow Bleacher Report Featured Columnist Patrick Clarke on Twitter.