Predicting the Indianapolis Colts Depth Chart, Post OTAs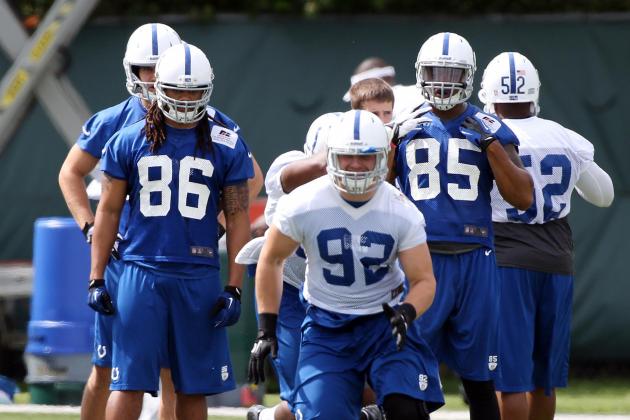 Brian Spurlock-USA TODAY Sports

Every year, one of the offseason rituals is the constant tweaking of potential rosters and depth charts. As rosters consistently change, fans and analysts alike will be penciling in their depth charts and erasing cuts.
With OTAs completed, one more step in the offseason march toward training camp gets crossed off the list, and we update our depth charts.
The following chart will include starters for every position on the Indianapolis Colts, along with one or two other categories.
"Rotational Backups" is a category for positions where players will regularly rotate in throughout games, positions such as running back, defensive line, linebacker, etc.
"Key Backups" is reserved for positions where backup players come in and play, but not as replacements for the starters, but as additions. Positions like this would be wide receiver, defensive back, etc.
"Backups" are players who will likely make the team and back up the starters, only getting most of their snaps due to injury.
"Special Teams" includes players who will be battling for roster spots, and will likely only be playing on special-teams units if they even make the team.
With that in mind, let's dig in.
Begin Slideshow

»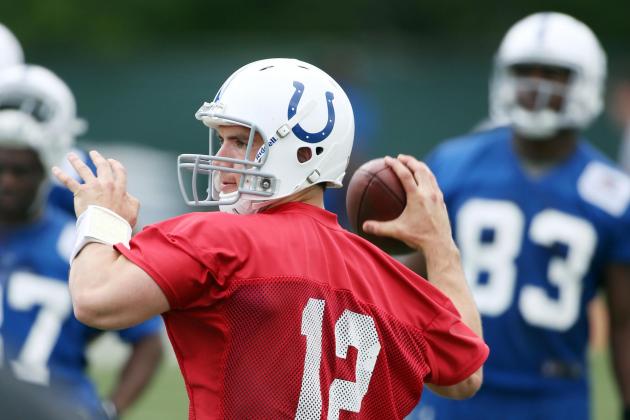 Brian Spurlock-USA TODAY Sports

Starter: Andrew Luck
Backups: Matt Hasselbeck, Chandler Harnish
The easiest slide of them all. Andrew Luck is and will be the starter as long as he's healthy—he's the face of the franchise and the barometer for the Colts' future. Hasselbeck will be the primary backup for the season.
The only real question is what happens to Chandler Harnish.
Harnish has shown promise, but the Colts' showed that the trust level simply isn't there by signing Hasselbeck. Harnish could make the final roster, but the more likely result is that Harnish gets cut and then gets stowed on the practice squad (if he makes it through waivers).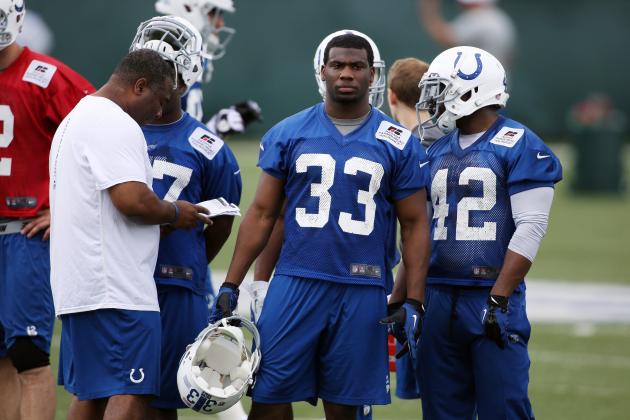 Brian Spurlock-USA TODAY Sports

Starter: Vick Ballard
Rotational Backups: Donald Brown, Delone Carter
Fullback: Stanley Havili
Special Teams: Kerwynn Williams, Denodus O'Bryant, Davin Meggett, Dan Moore
The news about Ahmad Bradshaw's impending contract talks could change this dramatically, as I discussed for Colts Authority last week.
If Bradshaw is signed, which seems to be more and more likely, he would likely join a three-man rotation at running back consisting of Ballard, Brown and Bradshaw. Bradshaw, the most talented of the three, would compete with Ballard for the starting spot, while Brown would get a few snaps here and there.
If that happens, Delone Carter and Kerwynn Williams would be fighting for the last spot. Carter has talent as a short-yardage back, but Williams can contribute as a returner. O'Bryant and Meggett have little chance of making the final roster.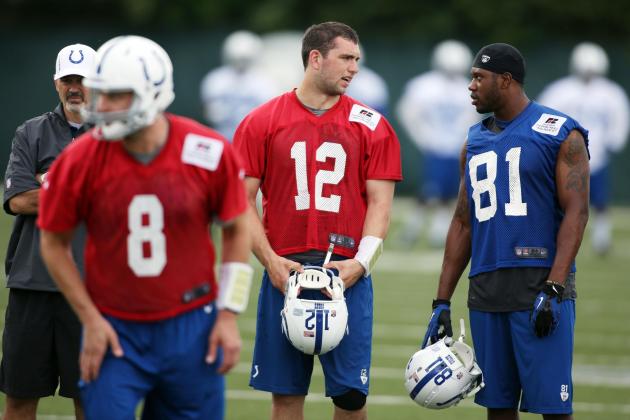 Brian Spurlock-USA TODAY Sports
Andrew Luck talking with new wide receiver Darrius Heyward-Bey
Starters: Reggie Wayne, Darrius Heyward-Bey
Key Backups: T.Y. Hilton, LaVon Brazill
Special Teams: Griff Whalen, Nathan Palmer, Jabin Sambrano, Rodrick Rumble, Jeremy Kelley, Lanear Sampson
Wayne, Heyward-Bey and Hilton are assumed to make up the group that will get most of the snaps in 2013, but Brazill's role could expand as well.
One player that could surprise is Griff Whalen. Whalen has experience both with Luck and Pep Hamilton's offense. He's shown that he has a connection with Luck and is helping his teammates learning the offense.
With reports that the Colts' could be frustrated with Brazill, Whalen's experience with Luck and Hamilton could launch him into a contributing role.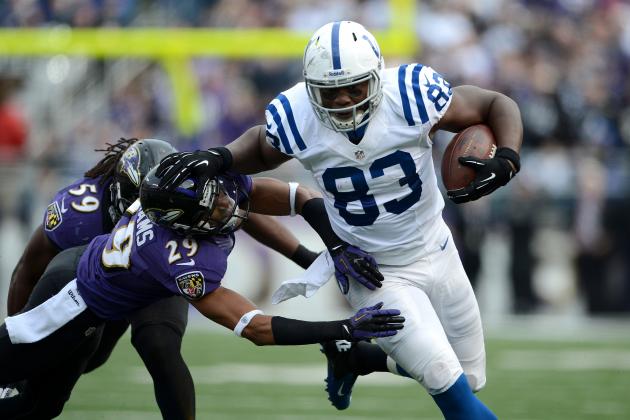 Patrick Smith/Getty Images

Starters: Dwayne Allen, Coby Fleener
Backup: Justice Cunningham
Special Teams: Weslye Saunders, Dominique Jones
One of the most intriguing battles of the 2013 offseason is the battle for the third tight-end spot. Allen and Fleener are the de facto starters, leaving Cunningham, Saunders and Jones to compete for the backup spot.
The Colts likely will keep three tight ends on the roster, and the other two will get cut.
Weslye Saunders has the edge over Jones, as the Colts' chose him over Jones last season. But the Colts drafted Justice Cunningham because they wanted to improve that third tight-end spot.
Ideally, Cunningham would beat Saunders out, but we haven't heard much about Cunningham since he caught eyes during rookie minicamp.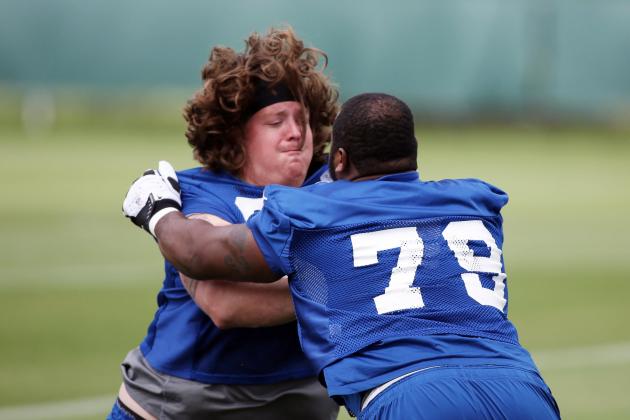 Brian Spurlock-USA TODAY Sports

Starters: Anthony Castonzo, Gosder Cherilus
Backups: Justin Anderson, Jeff Linkenbach
Special Teams: Bradley Sowell, Emmett Cleary, Lee Ziemba
Again, the two starters are entrenched for the Colts, but behind them is a mess. Justin Anderson has been playing with the second team at right tackle and is a prime candidate to make the roster as a backup tackle. Linkenbach can play tackle or guard and will almost certainly make the roster due to that quality.
Cleary is a possible dark-horse target to make the roster. He roomed with Castonzo in college, and was one of the top UDFAs this year. With the Colts lacking depth at offensive tackle, Cleary clearly has a shot.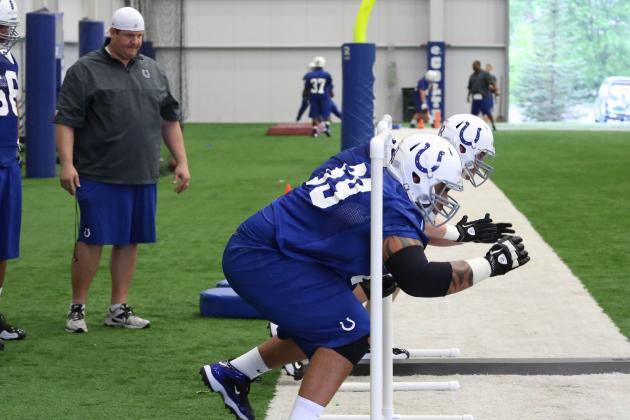 Brian Spurlock-USA TODAY Sports

Starters: Donald Thomas, Hugh Thornton
Backups: Mike McGlynn, Joe Reitz
Special Teams: Ben Ijalana, Robert Griffin
Donald Thomas should start at left guard but the starting right-guard position is still up for grabs. Mike McGlynn is the incumbent, but the Colts have shown they want to upgrade. Thornton has worked on the right side, both with the first and second teams. The Colts certainly hope he beats out McGlynn during training camp, and I expect him to.
Reitz will likely back up Donald Thomas at left guard, as he started in Thomas' absence during OTAs. Ijalana is on his last chance to make a living as an NFL player. His knee injuries in consecutive years will make it extremely difficult, but he had the talent.
If his knee will hold up and he can still move well, he may still be able to contribute.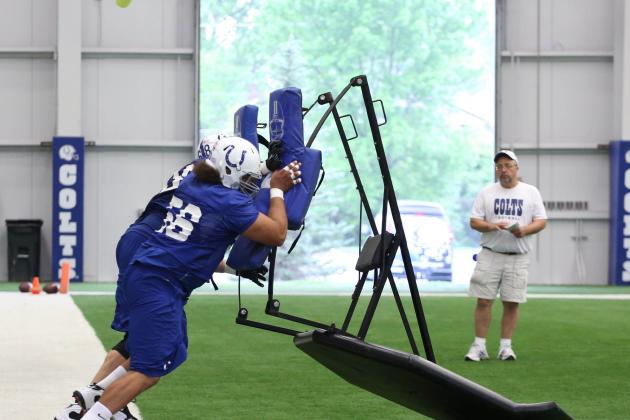 Brian Spurlock-USA TODAY Sports

Starter: Samson Satele
Backup: Khaled Holmes
Special Teams: Rick Schmeig
Center is arguably the Colts' weakest starting position going into the offseason. Samson Satele slates into the starting spot as training camp approaches.
However, Satele was awful last season, as he finished 33rd in PFF's rankings for centers in 2012 (subscription required).
Holmes is the future of the position—at least that's what the Colts hope. They, and fans, should and will be rooting for Holmes to take the spot from Satele, but it will be an uphill battle.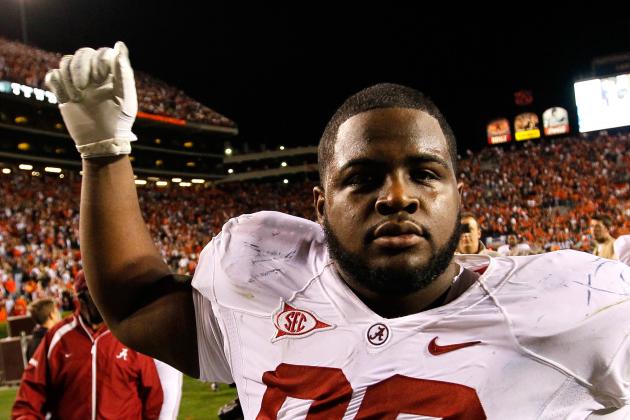 Kevin C. Cox/Getty Images
Josh Chapman should see his first NFL action in 2013.
Starter: Josh Chapman
Rotational Backups: Aubrayo Franklin, Brandon McKinney
Special Teams: Martin Tevaseu
Nose tackle is one position where the starting spot is a bit of a question. Josh Chapman was supposed to come in and contribute last season but never got quite healthy enough. With a healthy start to the 2013 offseason, he looks primed to come in and play a relatively large amount.
Franklin's experience could give him the boost to start the season as the technical starter, but I'd expect Chapman to get the advantage (if healthy) over the course of the season. Brandon McKinney could make the roster, but the Colts started the season last year with just two nose tackles on the roster, and McKinney has already spent a year of his contract on the sideline.
Tevaseu played well when called upon last year, but he's a depth player who likely just won't find the room necessary to make the roster.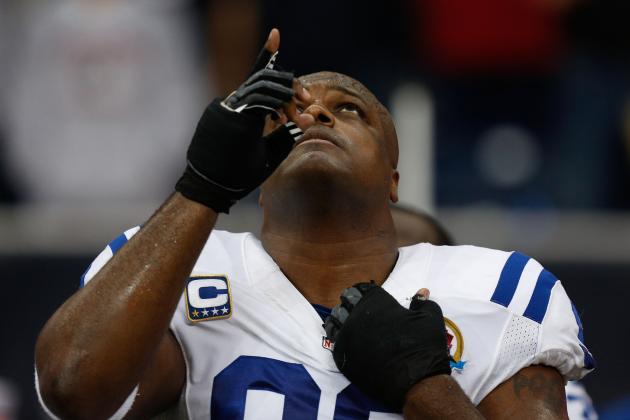 Thomas Campbell-USA TODAY Sports

Starters: Cory Redding, Ricky Jean-Francois
Rotational Backups: Fili Moala, Drake Nevis, Montori Hughes
Special Teams: Ricardo Mathews, Lawrence Guy, Kellen Heard
The Colts' defensive-end corps was one of their weakest last season after injuries ended Fili Moala and Drake Nevis' seasons, while Cory Redding also missed time. Guy and Heard ended the season playing major roles and hurting the team.
Jean-Francois projects as the starter opposite Redding. Jean-Francois signed a four-year, $22 million contract, and that's not the kind of money one takes to be a backup.
Redding's body, on the other hand, is fading as he ages, and I expect to see Moala and Nevis to get a fair amount of snaps this season. Hughes has the potential to be a starter eventually but will need time to adjust to NFL speed.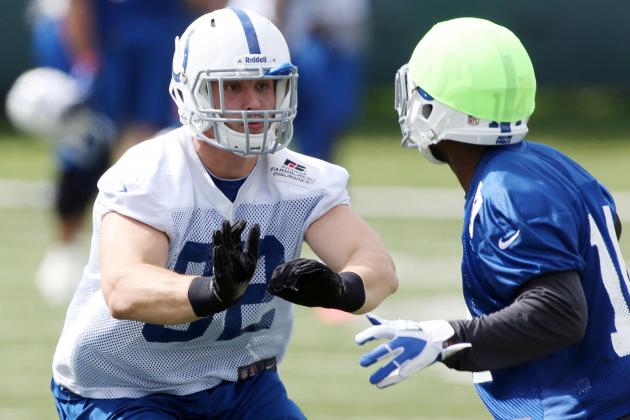 Brian Spurlock-USA TODAY Sports

Starters: Robert Mathis, Erik Walden
Rotational Backups: Bjoern Werner, Lawrence Sidbury, Justin Hickman
Special Teams: Quinton Spears, Monte Simmons, Caesar Rayford
Robert Mathis, free-agent signing Erik Walden and first-round pick Bjoern Werner make up the rotation that will dominate most of the snaps. Walden will likely start the season as the starter at strong-side outside linebacker (SOLB), with Mathis in the rush outside-linebacker (ROLB) spot.
Rookie OLB Werner could find himself in the starting position by the time the season ends, as Walden (if history tells us anything) will likely disappoint.
LB Josh McNary could join this group as well when his time with the Army is complete.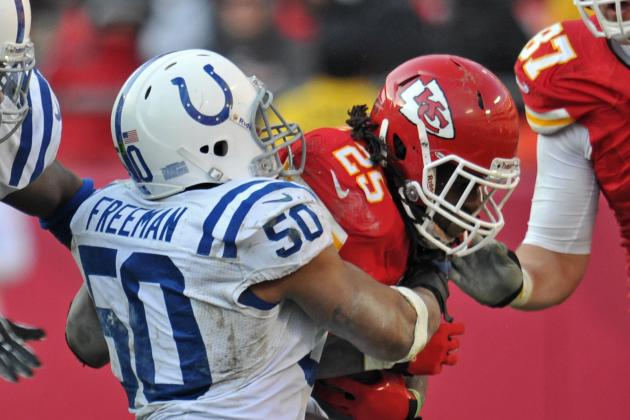 Peter Aiken/Getty Images

Starters: Jerrell Freeman, Pat Angerer
Rotational Backups: Kelvin Sheppard, Kavell Conner
Special Teams: Mario Harvey, Scott Lutrus, C.O. Prime
One of the Colts' cheapest positions also happens to be one of their strongest. The Colts don't have a true star, but their top four are all passable starters, giving them depth necessary for the position.
Freeman earned himself a permanent starting spot last season with his surprisingly active season in 2012. Angerer is a guy whose foot injury slowed him last season, and the Colts started him down the stretch in place of Kavell Conner.
Conner hasn't been talked about much this offseason, and newcomer Kelvin Sheppard looks to be the nickel linebacker. It's unfortunate, because Conner has a lot of potential, especially as a run-stopper, but I'm afraid he may get buried this season underneath the other three.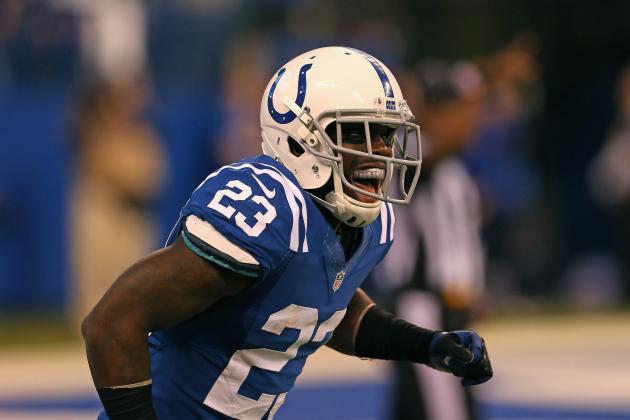 Jonathan Daniel/Getty Images

Starters: Vontae Davis, Greg Toler
Rotational Backups: Darius Butler, Cassius Vaughn, Josh Gordy
Special Teams: Daxton Swanson, Sheldon Price, Marshay Green, Teddy Williams, Allen Chapman
Like other positions on this list, the Colts' starting duo of Davis and Toler is set in stone. Davis started out the season very inconsistent, but played better near the end of the season. He still needs to take the next step to be a true No. 1 corner, but he's good enough to start and be effective. Toler has shown great flashes as a nickel but hasn't been leaned upon as a full-time starter for most of his career.
Darius Butler is a safe shot for nickel corner, but after that things are unstable.
Cassius Vaughn and Josh Gordy have the edge on the final two spots, playing significant time last season (especially Vaughn).
But, some of the undrafted free agents, like Swanson and Price, have chances to make the final roster, depending on how training camp unfolds.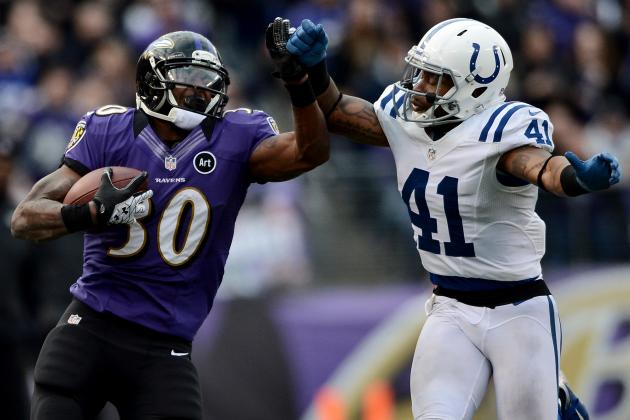 Patrick Smith/Getty Images

Starters: Antoine Bethea, LaRon Landry
Backups: Joe Lefeged, John Boyett
Special Teams: Sergio Brown, Delano Howell, Larry Asante
Bethea and Landry are both Pro Bowl caliber safeties when playing up to their potential and lead a safety group with injury questions.
LaRon Landry has been injured quite often over the past three years, appearing on the injury report countless times and missing 13 games. With John Boyett's knee injuries calling his availability for 2013 into question, there is some definite uncertainty at the position.
Fortunately, Antoine Bethea and backup Joe Lefeged have been very durable, Bethea not missing a game in the last five years, and Lefeged playing in all 16 regular-season games in each of his two seasons.
Lefeged has also been fairly dependable when called upon to fill in for the starter over the last couple years, especially in 2012, when he outplayed Tom Zbikowski.
Even if Boyett can't play much in 2013, he'll be able to learn from two solid veterans in Landry and Bethea while prepping for the long-term future.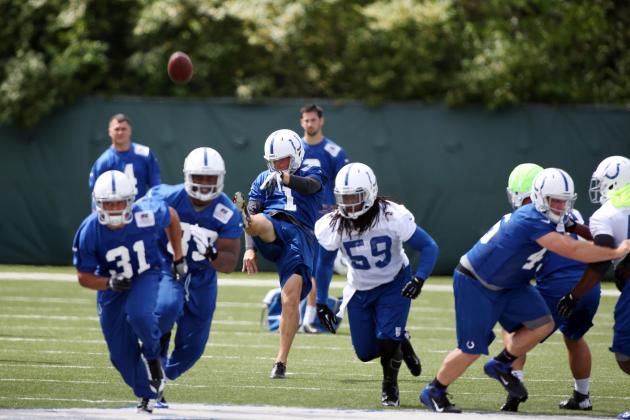 Brian Spurlock-USA TODAY Sports

Punter: Pat McAfee
Kicker: Adam Vinatieri, Brandon McManus
Long Snapper: Matt Overton
Kick/Punt Returner: T.Y. Hilton, Kerwynn Williams
Brandon McManus is a camp leg, and nothing more, unfortunately for him. Even if something happened to Vinatieri, I'd rather see the Colts indulge Pat McAfee's desire to kick field goals than keep a guy like McManus around.
Matt Overton replaced long-time Colt Justin Snow last season and performed very well as a long-snapper.
At returner, I'd like to see Williams win the spot and allow T.Y. Hilton to focus his attention on his receiving game, especially since Williams likely won't contribute at running back much his rookie season.