The Indiana Pacers aren't necessarily a better team than the San Antonio Spurs, but in about a week, that will be the consensus belief. The Miami Heat will dispatch the Spurs easier than they did the Pacers.
It's all about matchups and style. Big Threes are nothing new, it's just that the Heat version is a newer model of the concept. NBA analyst Brett Poirier tweets the hype and an awesome image:
Two of the greatest trio's of all time meet up Thursday. #Spurs vs #Heat pic.twitter.com/tTSu6qSdSL

— Brett Poirier NBA (@BrettNBA) June 4, 2013
Indiana pushed the Heat to the brink and forced Dwyane Wade to emerge from his slumber. The physical play from the Pacers provided all the Heat players could handle. Roy Hibbert's presence in the middle changed the series.
As good of a defender as Tim Duncan still is, he isn't the defensive presence that Hibbert is.
Aside from LeBron James, Mario Chalmers and Chris Anderson, most of the Heat players performed well below their normal standards. Chris Bosh, Norris Cole, Ray Allen and Shane Battier had their worst series of the postseason statistically.
Moving past Indiana will represent daylight for those players. In the video below, the Heat discuss their next challenge.
These players will be more comfortable against the Spurs.
Wade's Wake-Up Call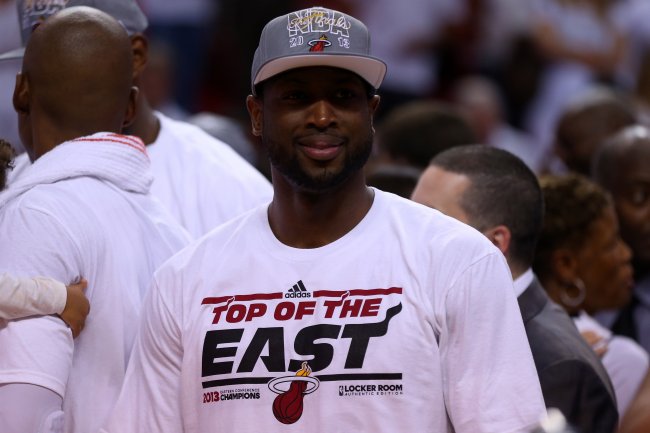 Mike Ehrmann/Getty Images
Were it not for Wade's 21-point, nine-rebound effort in Game 7, he would been included in that group as well. He, James and head coach Erik Spoelstra know that in order for the Heat to be a special team, Wade has to be aggressive like he was in Game 7.
When he's attacking, the Heat are terribly tough to defend and keep off the free-throw line. The Heat shot 38 free throws in Game 7 after not shooting more than 28 in any other game in the series.
Wade was a perfect 7-of-7 from the line.
Bosh Will Be Better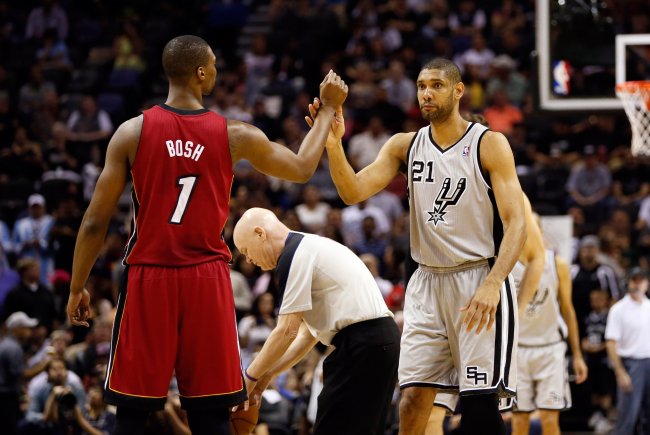 USA TODAY Sports
Being matched with Hibbert was the reason for Bosh's struggles. A guy who has averaged 19.5 points and 8.9 rebounds per game in his career didn't suddenly lose his talent. Sometimes we forget, Bosh is 6'11", 235 pounds, and he's not a center.
He just plays the position because the Heat don't have a traditional big man.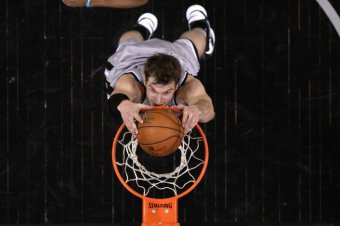 Ronald Martinez/Getty Images
As big as Tiago Splitter (6'11" 240 pounds) and Tim Duncan (6'11" 255 pounds) are, they don't compare to the length and girth Hibbert brings (7'2" 280 pounds). Bosh will be able to go back to his inside-outside game instead of being transformed into a jump-shooter.
His series averages against the Pacers of 11 points and 4.3 rebounds per game are bound to improve against the Spurs. I'm not taking anything away from Duncan, he's the greatest power forward that ever played the game.
Had he played center most of his career he'd be in the discussion there as well. But at 37 years old, he's not the same guy anymore.
Bosh could and should play much better against him than he did against Hibbert.
Cole Should Get More Minutes Against Tony Parker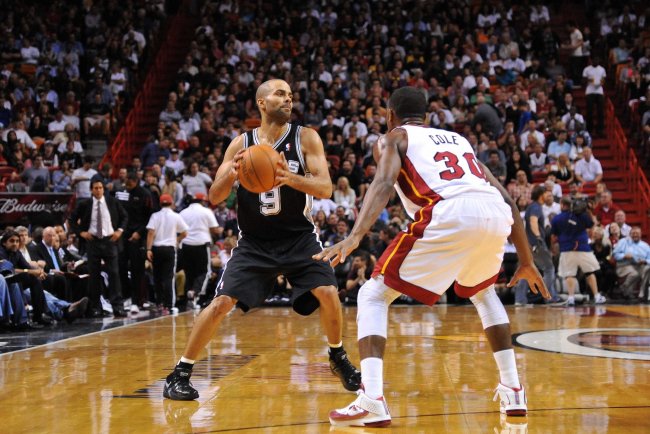 Steve Mitchell-USA TODAY Sports
Cole's ineffectiveness during the Pacers series is connected to the fact he played fewer minutes. After averaging 23.6 minutes per game against the Chicago Bulls in the conference semifinals, Cole played over 20 minutes just once in the entire series against the Pacers.
Why were his minutes down a little?
It is quite simple, matchups. George Hill is a bigger point guard who Mario Chalmers matched up better with. Chalmers took advantage of the opportunity. He had a very underrated series (11.3 points, 90 percent free-throw shooting and 40 percent three-point shooting); aside from James, he was the most consistent Heat player in the Eastern Conference Finals.
It will be a surprise if Chalmers continues to play this well against the Spurs. Cole's speed and defensive pressure is a better fit for attempting to contain Tony Parker.
Spurs head coach Gregg Popovich does so many different things with Parker on and off the ball. Checking him is one of the five toughest defensive assignments in the NBA.
Because of his speed, Cole should get the call a little more than Chalmers. If he's making his outside shot, he'll be able to make Parker work on the other end.
Ray Allen and Shane Battier Are Too Good of Shooters To Stay Cold For Two Series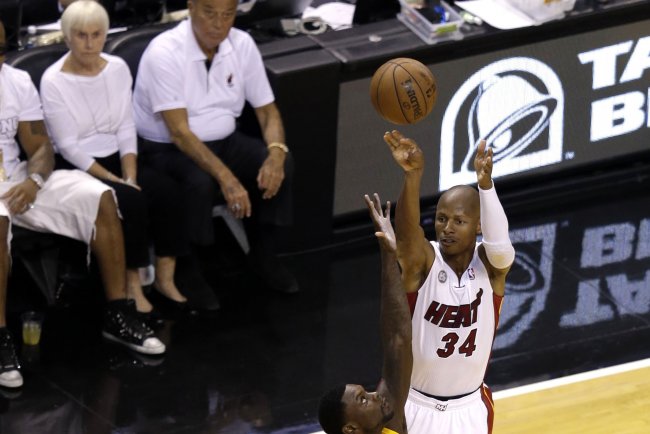 Robert Mayer-USA TODAY Sports
Ray Allen broke out of his funk in the first half of Game 7 to give the Heat a lift, but he was dreadful in the series overall. He shot 31 percent from the field and just 67 percent from the free-throw line.
He should be better in the Finals.
Game 7 was big for his confidence and the Spurs aren't as physical on the perimeter as the Pacers. In addition to that, without Hibbert on the floor, the driving lanes should open up a bit for James and Wade.
This should create more opportunities for Allen and Battier.
Battier was perhaps even more overmatched against the Pacers than Bosh. He usually plays good defense, but Indiana's size had him resorting to questionable tactics—even by Battier's standards—and he couldn't shoot a Skittle in the ocean the entire series.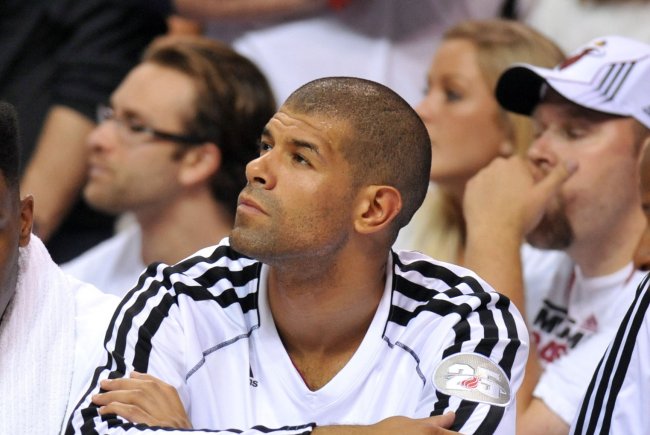 Steve Mitchell-USA TODAY Sports
He was 2-for-15 from three-point range during the series. When you're too small to defend anyone in the frontcourt, too slow to defend Paul George, unable to post or create off the dribble and you can't make an outside shot, you get a DNP-coach's decision in Game 7.
Battier may face a similar dilemma against the Spurs with Splitter and Duncan on the floor, but he should have better luck defending Kawhi Leonard, Danny Green or even Matt Bonner against the Spurs.
I'm not expecting a big series from Battier, but the Heat know anything would be better than the 2.3 points per game and the 12 percent field-goal shooting they got from him against the Pacers.
Sean Deveney of The Sporting News tweeted this funny, but brief conversation between Battier and a fan:
Fan, to #Heat Shane Battier, who was benched in G7, as he left AAA: "Great game, Shane." Battier: "Thanks. But I didn't do anything."

— Sean Deveney (@SeanDeveney) June 4, 2013
There's Also the Matter of The League MVP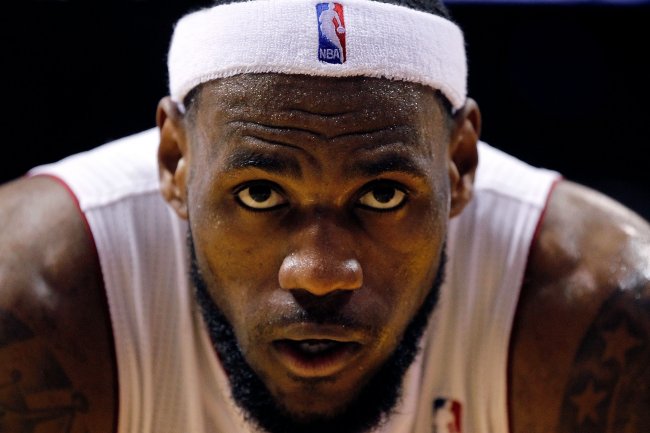 Mike Ehrmann/Getty Images
Some players are so good that even when the matchups don't quite work, their greatness supersedes all. James is on that level.
In the game Wade finally showed up to help, James still had 32 points and eight rebounds. What was more impressive, he did it while guarding George more than he had through most of the series.
Checking George significantly slowed Wade down, but James was still dominant on offense with one of the toughest defensive assignments.
James may have his best all-around series yet against the Spurs. San Antonio doesn't have a player who will demand as much from him on the other end.
Heat Speed, Perimeter Length and Pressure Against the Spurs' System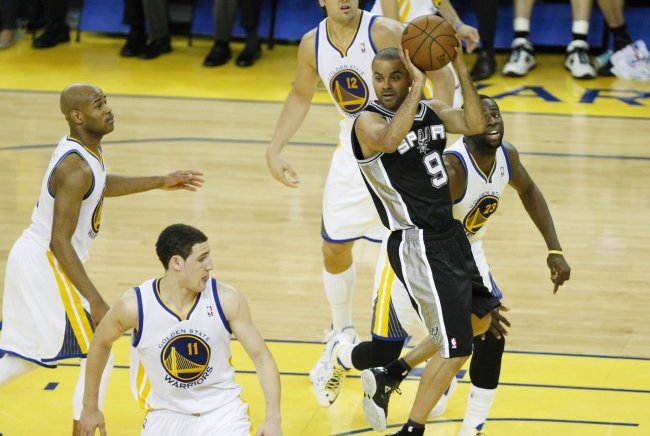 Kelley L Cox-USA TODAY Sports
The biggest key for the Heat defensively is maintaining ball pressure and obscuring passing lanes without lunging in the half court. The Spurs' motion offense is very intricate, but if long and athletic athletes stay active, but disciplined, they can have success against it.
San Antonio is easily the best passing team in the NBA. The Spurs move the ball in a way that is beautiful to watch. The Heat's length on the perimeter will allow them to obstruct penetration more. Thus other defenders should be able to stay home on shooters.
Who wins the series and how?
This could also prevent Bosh, Andersen and Haslem from leaving their men and creating easy tip-in attempts from Spurs bigs on the weak side.
When Cole is in the game for the Heat, Miami can get after teams as well as any team in the league on the perimeter. This will be essential in slowing the Spurs attack.
Heat in Six
Though I respect what the Spurs have accomplished this season and I acknowledge Popovich is peerless among NBA coaches today, the Spurs don't play a style that will trouble the Heat as much as the Pacers did.
If Miami stays focused and hungry, it could even finish this series in five games.
Follow me, because I watch more basketball than anyone should admit.