Examining Green Bay Packers' Offseason and Key Preseason Positional Battles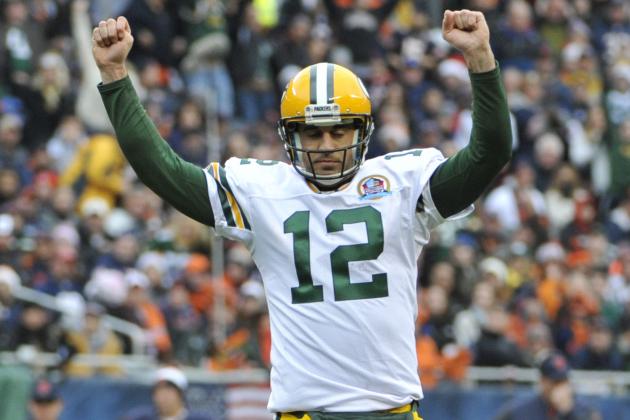 David Banks/Getty Images

For the second straight season, the Green Bay Packers stormed through the regular-season NFL slate and into the divisional round of the playoffs for an encounter with an eventual Super Bowl contender.
In 2012, the Packers amassed an 11-win season in a difficult NFC North division, only to fall 45-31 to the San Francisco 49ers in the second round of the playoffs at the hands of a budding superstar signal-caller in Colin Kaepernick, and one of the league's most dominant defenses.
San Francisco exploited some of Green Bay's biggest weaknesses in that contest, and while the loss had to sting for Ted Thompson and the entire Packers organization, it also gave the general manager a blueprint for an offseason of retooling and reloading.
Thompson's offseason began with the decision to let Greg Jennings walk in free agency to sign with the rival Minnesota Vikings. Despite Jennings' overwhelming production in his seven-year career in Green Bay, durability concerns and the presence of some young, up-and-coming receiving talents made losing the 29-year-old a far less risky decision.
Jennings' departure opens the door for third-year speedster Randall Cobb to take on an even larger role in the offense after catching 80 balls for nearly 1,000 yards and eight touchdowns last season. Paired with Jordy Nelson and James Jones, the void left by Jennings's departure shouldn't be all that noticeable.
Rodgers, the recipient of a massive contract extension to make him the highest-paid player in NFL history, has been the cog that has kept the wheels moving since he assumed the starting role in 2008. Green Bay's success starts and ends with the three-time Pro-Bowler, and with Rodgers under center, the Packers don't have to worry about falling out of relevancy in the Super Bowl hunt.
Thompson also made it a point to lock up Green Bay's best defensive player in elite pass-rusher Clay Matthews, who signed a five-year extension with the team this offseason. Given his tremendous production in his four-year career with the Packers (42.5 sacks), the $66 million extension ($20.5 million guaranteed) was a tremendous value for Green Bay.
Future Hall of Fame defensive back Charles Woodson wasn't so lucky, however. With his career winding down and a contract that far exceeded the 36-year-old's production, Thompson opted to release Woodson, who later signed with the Oakland Raiders at a bargain-bin rate.
Veteran center Jeff Saturday and wide receiver Donald Driver retired this offseason as well, but neither player represented a huge loss for the Packers. In an offseason full of youthful rebuilding, their departures opened the door for the Packers to bring in more young talent to continue building a stronger foundation.
And part of that foundation includes an explosive defensive end, a couple tremendously talented running backs and a pair of mid-round offensive linemen to shore up an improving offensive line.
With his first pick in the draft, Thompson took advantage of huge value in selecting UCLA defensive end Datone Jones with the 26th pick. At 6'5" and 280 pounds, Jones isn't a typical 5-technicque defensive end in a two-gap scheme, but his athleticism and high-octane motor will allow Dom Capers to move Jones around the defensive front as an additional pass-rusher capable of sliding inside or even playing a stand-up edge-rushing role on passing downs.
Two of Thompson's following four selections came at the running back position, along with a pair of offensive tackles versatile enough to add a lot of depth to Green Bay's line. With those first five picks, the Packers' draft was an instant success, to say nothing of the six picks that would follow.
The Packers didn't make any high-impact signings on the free-agent market, but that strategy is typical of Thompson and his offseason dealings. The crafty general manager made his mark in the draft (as he often does), ensuring Green Bay will have the financial flexibility and young talent to sustain its winning ways for the foreseeable future.
We'll take a closer look at the Packers' offseason in the following slideshow, highlighting a few key positional battles to keep an eye on as the 2013 season closes in.
Begin Slideshow

»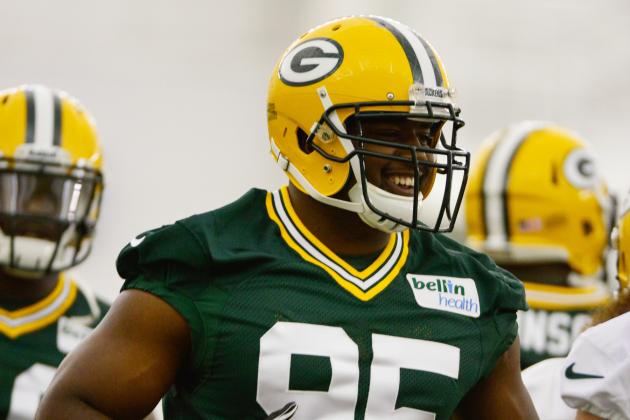 Benny Sieu-USA TODAY Sports

Round 1 (Pick 26): DE Datone Jones, UCLA
Round 2 (Pick 61): RB Eddie Lacy, Alabama
Round 4 (Pick 109): OT David Bakhtiari, Colorado
Round 4 (Pick 122): OT J.C. Tretter, Cornell
Round 4 (Pick 125): RB Johnathan Franklin, UCLA
Round 5 (Pick 159): CB Micah Hyde, Iowa
Round 5 (Pick 167): DT Josh Boyd, Mississippi State
Round 6 (Pick 193): LB Nate Palmer, Illinois State
Round 7 (Pick 216): WR Charles Johnson, Grand Valley State
Round 7 (Pick 224): WR Kevin Dorsey, Maryland
Round 7 (Pick 232): OLB Sam Barrington, South Florida
Grade: A
Ted Thompson drafts as well as anyone in the business, and he proved it again this season with another tremendous draft class highlighted by some immediate difference-makers on both sides of the ball.
With the No. 26 pick, Thompson selected a player in Datone Jones who adds a new element to Green Bay's defensive front. He's powerful, athletic, quick and explosive—a great fit in a Dom Capers scheme that requires a certain level of versatility from his front seven.
Despite being a little thin for the tradition 3-4 defensive end position, Jones makes up for it with his ability to close the gap on opposing signal-callers with relative ease. He has a good anchor and a high motor, and it's extremely likely Jones gets slotted in the starting role opposite Ryan Pickett by the time the season rolls around.
Jones could have been a much higher selection on draft day, and it's no surprise Thompson pulled the trigger at No. 26. The value and need lined up as it often does for the Packers, and their first-round selection alone warrants a favorable grade.
But it was Rounds 2 and 4 that highlighted why Thompson is a forward-thinking general manager who understands the game.
With the 61st pick, the Packers acquired a player some considered the best running back in this draft class. Eddie Lacy didn't impress in his offseason workouts, but his production at Alabama can't be overlooked.
With the Packers' running game in a state of perpetual disrepair, Thompson made it a point to key in on runners who can give an immediate boost to Green Bay's offense. He continued to do so in the fourth round by selecting UCLA speedster Johnathan Franklin—the lightning to Lacy's thunder, if you will.
With the pair of rookie runners in its backfield, Green Bay's offense will likely take on a new look in 2013. Aaron Rodgers will continue to propel the majority of the offense, but Lacy and Franklin provide the kind of balance the team has lacked since Rodgers took the reins.
Part of that balance will also include a rejuvenation of the offensive line, facilitated by an infusion of young talent through the draft.
Thompson doubled up on offensive linemen with back-to-back picks in the fourth round, selecting David Bakhtiari and J.C. Tretter to add some depth to a unit that has slowly improved in the last two seasons. Neither player is likely to earn an immediate starting role, but again, that wasn't Green Bay's plan for the pair. Youth and depth was the goal, and the Packers found both in the fourth round.
Entering Day 3, many expected Thompson to wheel and deal with a bevy of late-round picks in his pocket. Instead, the GM used six picks in the final three rounds to add a little more depth on defense and at the wide receiver positions.
None of the six are projected to see substantial time on the field this season, but sometimes the draft is a numbers game. If even one or two of those players pan out, Thompson will have done his job.
In all, it was an extremely strong draft for the Packers, who filled some immediate needs and also keyed in on value throughout. Once again, Green Bay showed why it isn't in any danger of losing long-term sustainability at the forefront of the Super Bowl chase.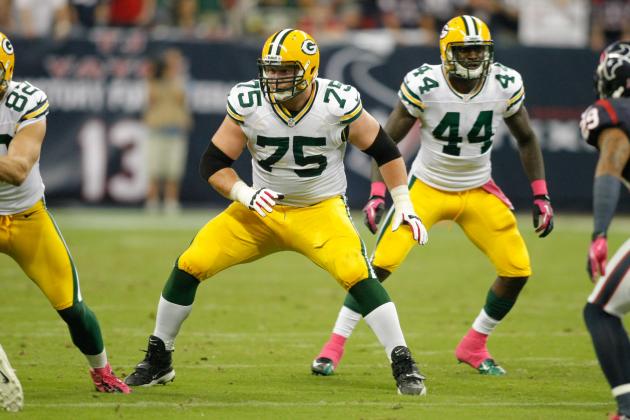 Brett Davis-USA TODAY Sports

According to Football Outsiders' rankings, the Packers finished the 2012 season ranked 31st in the league in pass protection, allowing 51 sacks for an adjusted sack rate of 8.6 percent. Considering Aaron Rodgers' critical importance to Green Bay's success, those numbers simply must get better in 2013.
But numbers can also be deceiving. The Packers' offensive line showed some signs of progress in 2012, and Rodgers isn't exactly an easy quarterback to block for. As talented as he is, the All-Pro signal-caller does have a tendency to hold onto the ball a little too long at times. Paired with his propensity for moving the pocket to avoid the pass rush, Rodgers also plays a small role in how often he ends up on the turf.
But the job of the quarterback is to make plays, and sometimes that's all a necessary piece of the puzzle. Regardless of Rodgers' few shortcomings, he still needs to get better protection from his entire offensive line.
Part of that improvement comes with consistency and continuity, and there hasn't been quite enough of either in recent years.
That may not be so much the case this season.
Right tackle Bryan Bulaga will be transitioning back to left tackle this season (where he played in college), as noted by PackersNews.com. Bulaga didn't seem too upset about the switch, either:
They approached me, told me and that was that. When they told me I was going to switch, (that) I was going to play left tackle, just do whatever I'm told that's going to help the team. That's kind of the way I operate.
With a couple years of NFL experience under his belt, Bulaga shouldn't struggle with the move. At the very least, Green Bay will have a young option who can give the offensive line some continuity and longevity at the position, allowing other pieces to fall in place.
Bulaga will be joined on the left side by Josh Sitton, who will move from right guard to left guard as part of the offensive line overhaul. As Paul Imig of Fox Sports noted, offensive line coach James Campen wanted his best, "most accomplished" players on the left side.
Things get a little shaky from there, though.
Evan Dietrich-Smith will start the season at center (barring any major setbacks)—a position at which he didn't start until Week 16 last season. The importance of the position is often overlooked in favor of pass-blocking offensive tackles, but it will be interesting to see how well Dietrich-Smith and Rodgers can mesh both from a practical standpoint and that of a protection-calling unit.
T.J. Lang will be supplanted by Sitton and transition to right guard with the move. Given Lang's struggles in pass protection and his high-upside run-blocking ability, the move makes sense—though it remains to be seen how easily he makes the transition.
Bulaga's move to left tackle leaves one big hole left to fill for Campen and Mike McCarthy—an open competition between Marshall Newhouse, Don Barclay, Derek Sherrod and David Bakhtiari at the right tackle position.
Considering Green Bay's offensive line shortcomings last season, it couldn't hurt to shake things up. Bulaga and Sitton are likely to settle in nicely on the left side, but there are still some big question left to address this season.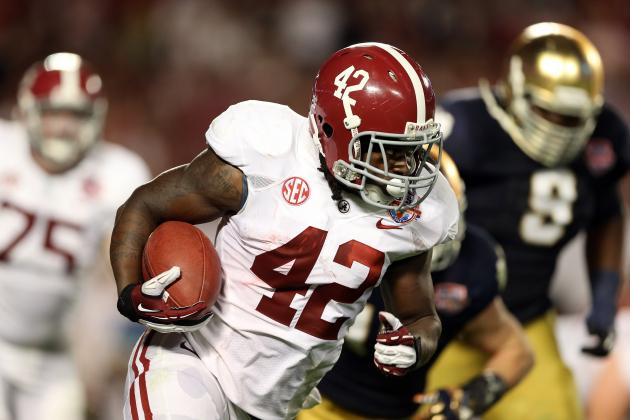 Streeter Lecka/Getty Images

From DuJuan Harris and Alex Green to Eddie Lacy and Johnathan Franklin.
I'd say that's a pretty substantial upgrade.
With the addition of the pair of rookie running backs, there's a new feel of excitement surrounding the Packers 2013 offense, and it has nothing to do with Aaron Rodgers and his dangerous receiving corps.
It's no secret Green Bay is an offensive juggernaut when it comes to airing out the football. But for an offense that has dominated the NFC in recent years, there hasn't been much of a running game to speak of.
In the last three seasons, the Packers have finished 20th, 27th and 24th in the NFL in rushing yards, respectively. Part of that ineptitude is a result of shaky offensive line play and pass-heavy offensive schemes, but a large portion of the blame goes to a backfield that hasn't featured a dominant runner—let alone two.
Lacy is in line to earn the starting role in Green Bay's backfield this offseason, but he'll be pushed by Franklin and his combination of speed, quickness and tremendous field vision. Even if Lacy starts the season at the top of the depth chart (as many expect), Franklin is likely to still play a big change-of-pace role in an offense that would love to feature more short passes to its running backs.
Mike McCarthy has never shied away from attempting to establish a running game, but the personnel just hasn't been right. For an offense to find balance in the modern NFL, it isn't enough to just hand the ball off 30 times a game and hope for the best.
For the Packers to find effective balance, Lacy and Franklin have to perform up to expectations—something that shouldn't be difficult given the competition between the two backs.
Harris and Green won't be completely out of the picture, but it's unlikely either will see substantial touches if Lacy and Franklin are healthy.
There is one more running back to keep an eye on, however.
According to Tyler Dunne of the Milwaukee Journal Sentinel, via TwinCities.com, McCarthy has been impressed with rookie running back Angelo Pease as well:
I'm going to do it to him again. I thought Pease of Kansas State had a very good weekend. He had another run today. I think he's a good young back. He's here for a reason. So that's a credit to the player and that's a credit to our personnel department.
The 5'10", 211-pound undrafted free agent probably won't find himself in the mix at the top of the depth chart by the start of the season, but he does offer a certain level of quickness and explosiveness that rivals only Franklin in Green Bay's backfield.
As it stands, expect to see Lacy earn the starting role this offseason with Franklin playing a change-of-pace role in relief. No spot is guaranteed, but there's a reason Ted Thompson made an uncharacteristic move in selecting Lacy in the second round.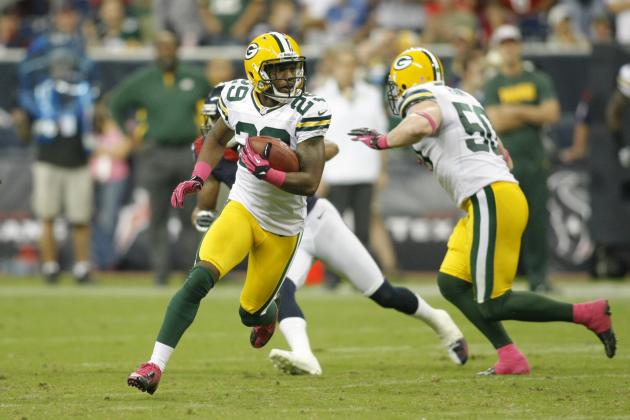 Brett Davis-USA TODAY Sports

The idea of every team putting its best two corners on the outside is a bit of a fallacy in the modern NFL. With most defenses employing a high percentage of nickel and sub-package looks, even a team's best corner can spend a lot of time in the slot.
That was exactly the case with 2012 Defensive Rookie of the Year candidate Casey Hayward, who lined up in the slot almost exclusively for the Packers last season. In his rookie campaign, the second-round pick tallied six interceptions and made a legitimate case for never coming off the field in 2013.
It's not unlikely that Hayward could garner some extra attention to play on the outside this year, but it's more likely Tramon Williams and Sam Shields start the season in those positions—at least until the status quo changes.
Williams, despite some inconsistency the last two seasons, has earned his keep as a starter on Green Bay's defense. The same holds true for Shields, who after looking like a practice-squad player two seasons ago put together a much stronger 2012 campaign, no doubt aided by the emergence of Hayward in the slot.
But whatever the case, the Packers have a little depth to work with behind the trio. Davon House and rookie fifth-round pick Micah Hyde add a couple more options at the position, as well as Jarrett Bush—though Packers fans probably don't want to see Bush on the field in any capacity in 2013.
But for the relative strength of Green Bay's cornerbacks, there's a lot of uncertainty at the safety positions.
Morgan Burnett is the only safety on the roster virtually guaranteed a starting spot in 2013 after a strong 2012 campaign. With Charles Woodson gone, however, Green Bay needs to find a player who can line up next to Burnett and buckle down the back end of its secondary.
Jerron McMillian and M.D. Jennings are the only clear-cut contenders to battle for that role.
Mike McCarthy plans to leave the position up for grabs as an open competition between the two, as quoted by Paul Imig of Fox Sports:
It's an opportunity to compete. When you look at how much M.D. and McMillian played last year, those are two young players that played a lot of snaps. I look for them to make that jump. I look for M.D. to make that second-year player jump. And I look for Jerron McMillian to make that second-year jump. It's going to be very competitive.
There isn't much depth behind the pair of young safeties, though, and when the 2013 season begins, one of the two is extremely likely to be lining up next to Jennings. But as of right now, consider it a giant question mark yet to be answered.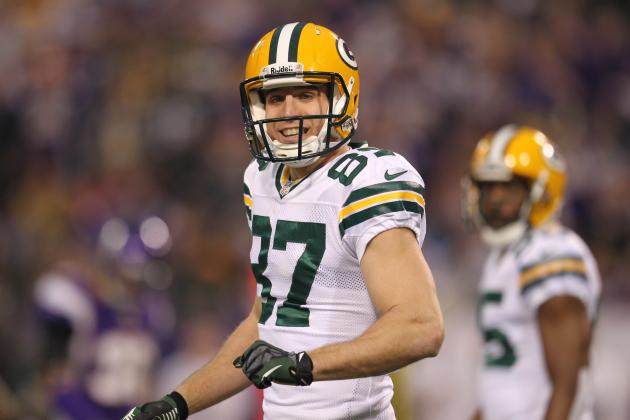 Brace Hemmelgarn-USA TODAY Sport

Green Bay has 11 receivers on its roster, but there are really only three names that need to be thrown in the mix this season.
With Greg Jennings now a member of the Vikings and Donald Driver now in retirement, Jordy Nelson, Randall Cobb and James Jones will take on even bigger roles in the Packers' offense in 2013.
That's not to say the trio wasn't the biggest part of it last season with Jennings on the shelf for eight games and Driver taking a back seat, but there will be no more questions this year—both Jennings and Driver are gone. The receiving corps is now in the capable hands of a young trio that amassed 2,483 yards and 29 touchdowns a season ago.
Aaron Rodgers is an equal-opportunity distributor, and with all three taking on a larger role this season, it wouldn't be a big surprise to see those numbers increase slightly. Apart from fantasy football implications, it really doesn't matter which of the three does the most damage.
What does matter, however, is which of the remaining eight receivers keep their roster spots and find a way into the mix as legitimate NFL receivers this season.
Jarrett Boykin is the early favorite to be that receiver after seeing limited time in a crowded receiving corps in 2012. He didn't tally much production (five catches for 27 yards), but he seems to have shown Packers brass enough to warrant a closer look this season.
There's an outside chance seventh-round picks Charles Johnson or Kevin Dorsey garner some attention at the position, but it's unlikely either of the final-round receivers will show enough polish to jump into the mix at any point this season.
As it stands, the Packers have a strong unit in place for 2013, but that No. 4 receiver spot will be an interesting position to keep an eye on as the season approaches.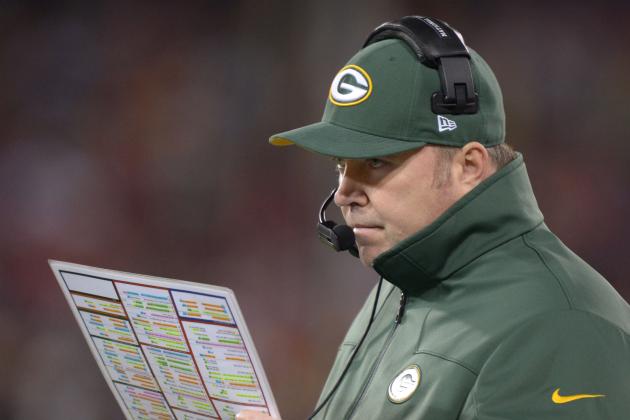 Kirby Lee-USA TODAY Sports

*For a complete look at Green Bay's 2013 schedule, check out NFL.com.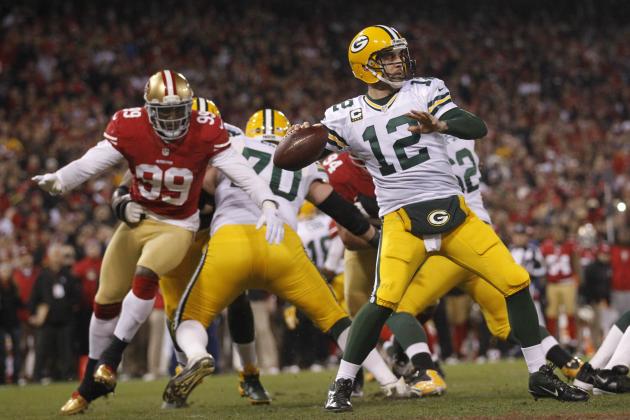 Cary Edmondson-USA TODAY Sports

The 2013 season opener may seem like déjà vu for the Packers as they travel back to Candlestick Park to face the San Francisco 49ers, right where Green Bay's 2012 season left off.
Hopefully, for Green Bay's sake, that game will yield different results.
Either way, it won't be an easy way to start the season. San Francisco had a tremendous offseason and appears geared up for yet another run at the Super Bowl, and that pursuit will start with a measuring-stick game of sorts.
Each of the next two contests (and three of the next four) will pit the Packers against playoff teams from a season ago. While Green Bay has just seven matchups with 2012 playoff squads, several teams on the 2013 slate are capable of making a run at the Super Bowl this season—namely the New York Giants and Pittsburgh Steelers.
Both teams failed to make a playoff appearance in 2012, but given each franchise's solid foundation and winning history, both games could turn out to be must-win affairs for the Packers in their attempts to take down the NFC North title again this season.
When looking at the schedule, it's hard to pick out more than a couple games Green Bay may not be favored in. It's also hard to pinpoint more than a couple easily winnable games.
Anything can happen on any given Sunday, though, and Green Bay should expect another difficult road to travel in its pursuit of another Lombardi Trophy.
Prediction: 12-4, first in NFC North
For all the talk of San Francisco, Seattle and Atlanta making big waves in the conference this season, the Packers have shown they can't ever be counted out.
With perhaps the league's best quarterback at the helm of an organization that continually rebuilds its talent from the bottom up, year in and year out, Green Bay is poised for another big season in 2013.
But with a few extremely difficult non-division matchups and an NFC North slate that doesn't feature any surefire wins, it wouldn't be a surprise to see the Packers escape the regular season with three or four blemishes, either.